Farmer, 'pen can't harvest seeds of gem
Righty holds Reds hitless into fifth before unraveling in sixth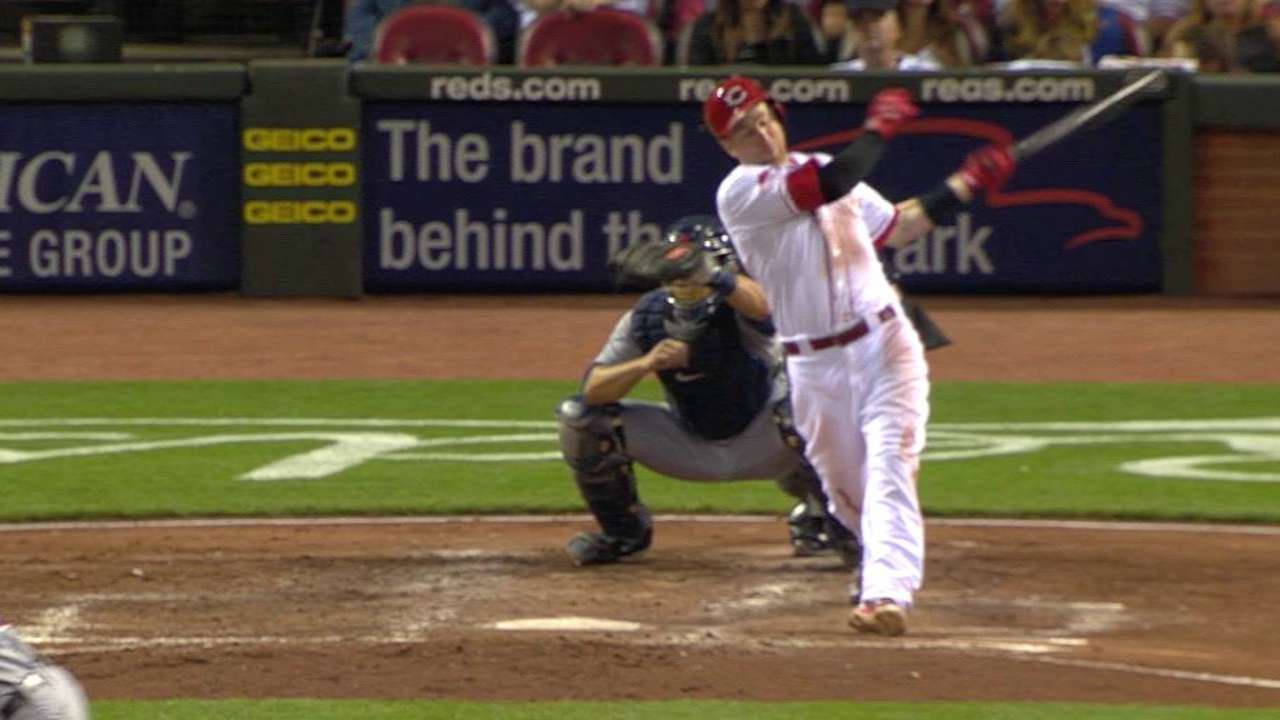 CINCINNATI -- Tigers manager Brad Ausmus has had to talk plenty about his pitching all season. Monday's 12-5 loss to the Reds, after the Tigers once held a 5-0 lead, was just the latest, and he summed up the 10-run sixth inning off Buck Farmer and the relief corps succinctly.
"I think he hit a little bit of wall when the inning started," Ausmus said of Farmer. "And then everything blew up."
Farmer no-hit the Reds for 4 1/3 innings and held them scoreless through the fifth, but pitched with the intensity of a reliever. He had been a reliever for most of August.
The pitchers who followed have been relievers for a while. Try as they might, including an intense Neftali Feliz, they couldn't get outs. Al Alburquerque and Tom Gorzelanny faced four hitters without recording an out. Feliz battled five batters before he could get the third out of the inning.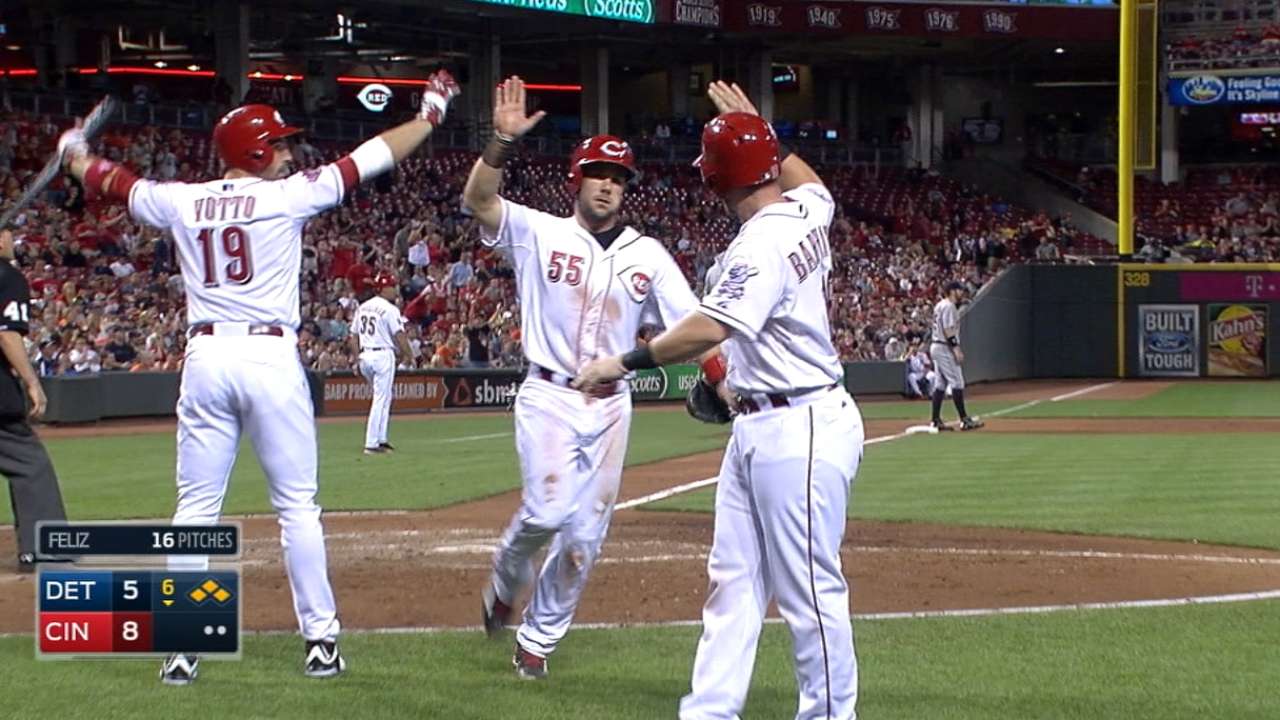 Seven consecutive batters reached base safely between the first and second outs -- two on home runs, three on walks. Three relievers combined for 42 pitches over 10 batters, recording two outs. They allowed five hits, giving up the cycle, walked three batters, one intentionally.
It was their first 10-run inning allowed since April 28, 2009. That, too, was a bullpen collapse, a 10-run Yankee seventh off Ryan Perry, Nate Robertson and Brandon Lyon, after six scoreless innings from Edwin Jackson.
But the story was more than numbers. The Reds went from helpless against Farmer, who enjoyed by far the best outing of his career, to unstoppable, with very little transition in between.
"The last few games we pitched well enough and weren't scoring," Ausmus said. "Now we didn't pitch well and we scored. That seems to have been a theme for most of the season."
So, too, for Ausmus, has the bullpen. The 10-run inning was rare, but the Tigers have now given up at least a six-run rally at some point this season in every inning but the second. Their largest inning this season was the seven-run ninth in July at Minnesota.
Monday's struggles turned an aggressive move by Ausmus to play matchups in the sixth inning into an unraveling. Alburquerque, usually effective with no runners on, looked rattled after Todd Frazier's bunt single, and didn't have it from there. His normally reliable slider deserted him, and his fastball couldn't make up the gap.
"Al probably would want that back today," catcher Alex Avila said. "He's a lot better than that. Today he just couldn't command his pitches."
Gorzelanny, too, struggled, walking eighth hitter Tucker Barnhart -- 6-for-31 off lefties this season -- on five pitches. That loaded the bases with one out for Feliz, who came within a pitch of a game-tying walk before overpowering Ivan De Jesus Jr. He nearly did the same with Skip Schumaker, who got enough of his 1-2 heater to push it into short center field for a go-ahead two-run single.
Asked how he deals with the difficulty of managing a bullpen that has lacked reliability, Ausmus was less succinct.
"Sometimes they go out there and look pretty good," Ausmus said, "so you hope that when they struggle, they learn from their mistakes, and the next time they're better."
Jason Beck is a reporter for MLB.com. Read Beck's Blog, follow him on Twitter @beckjason and listen to his podcast. This story was not subject to the approval of Major League Baseball or its clubs.