DYK: Facts from Reds' 10-run inning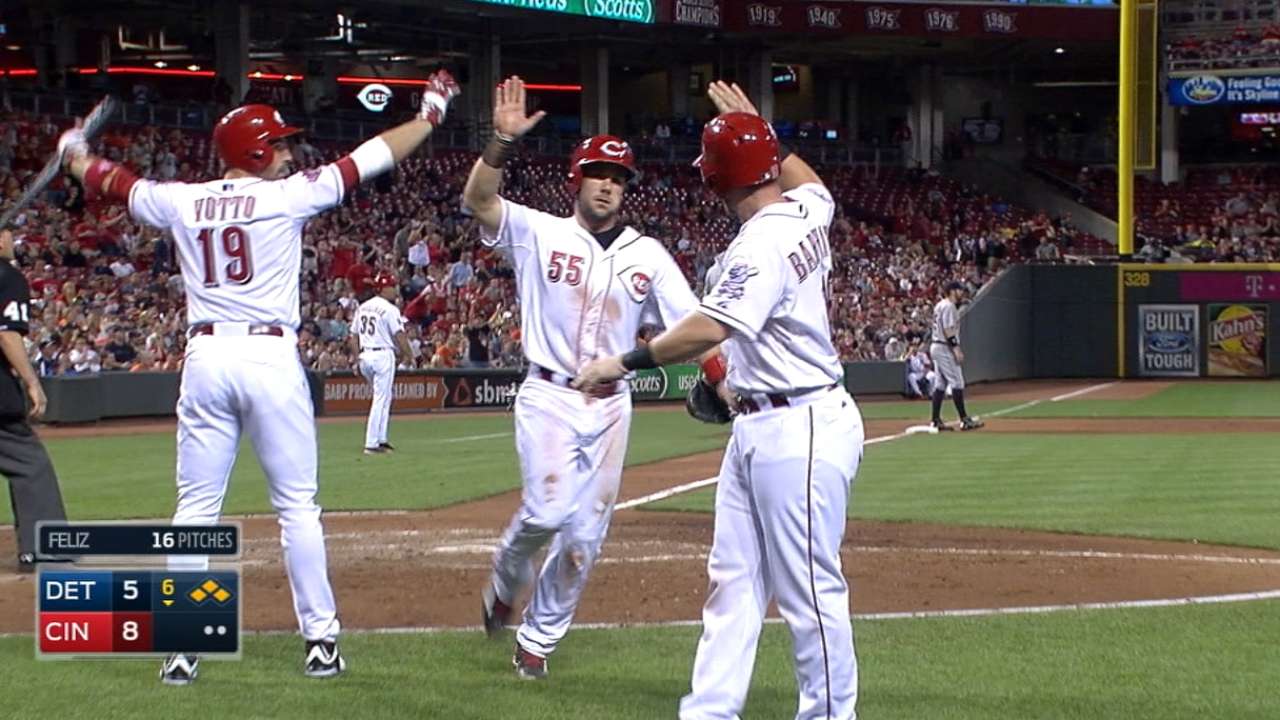 CINCINNATI -- Little did Skip Schumaker know Monday night that he was starting the biggest Reds rally in years with a groundout to first base vs. the Tigers. Against Buck Farmer in the sixth inning, Schumaker bounced a ball to Miguel Cabrera and unsuccessfully tried to slide headfirst to beat the throw to the pitcher covering.
What followed was extraordinary as the next seven batters reached safely, and 14 batted in the bottom of the sixth overall. Cincinnati scored 10 runs -- including the go-ahead runs from Schumaker -- on its way to a 12-5 victory over the Tigers that snapped a season-high nine-game losing streak.
"There was just a lot of really good things that happened right there and guys didn't try to do too much in that situation and took advantage of some mistakes and handled some really good pitches later in the at-bats," Reds manager Bryan Price said.
A whole bunch of notable numbers came out of the big bottom of the sixth.
• The 10 runs scored were a season high and the first time the Reds have done it since Aug. 19, 2005, vs. the D-backs.
• The last time the Tigers surrendered 10 runs in one inning was in the seventh inning vs. the Yankees on April 28, 2009 with Ryan Perry, Nate Robertson and Brandon Lyon. Three years later, Perry was traded to the Nationals for pitcher Collin Balester. The winning pitcher for the Reds on Monday was none other than Balester, who last won a big league game on May 15, 2012, while with Detroit.
• The Reds battled back after being down, 5-0, for their biggest comeback win of the season. The previous largest deficit they survived was three runs vs. the Nationals on May 30.
• Eugenio Suarez and Brandon Phillips were the first Reds with two hits in an inning since Jay Bruce doubled twice in the third inning vs. the Brewers on May 11, 2013.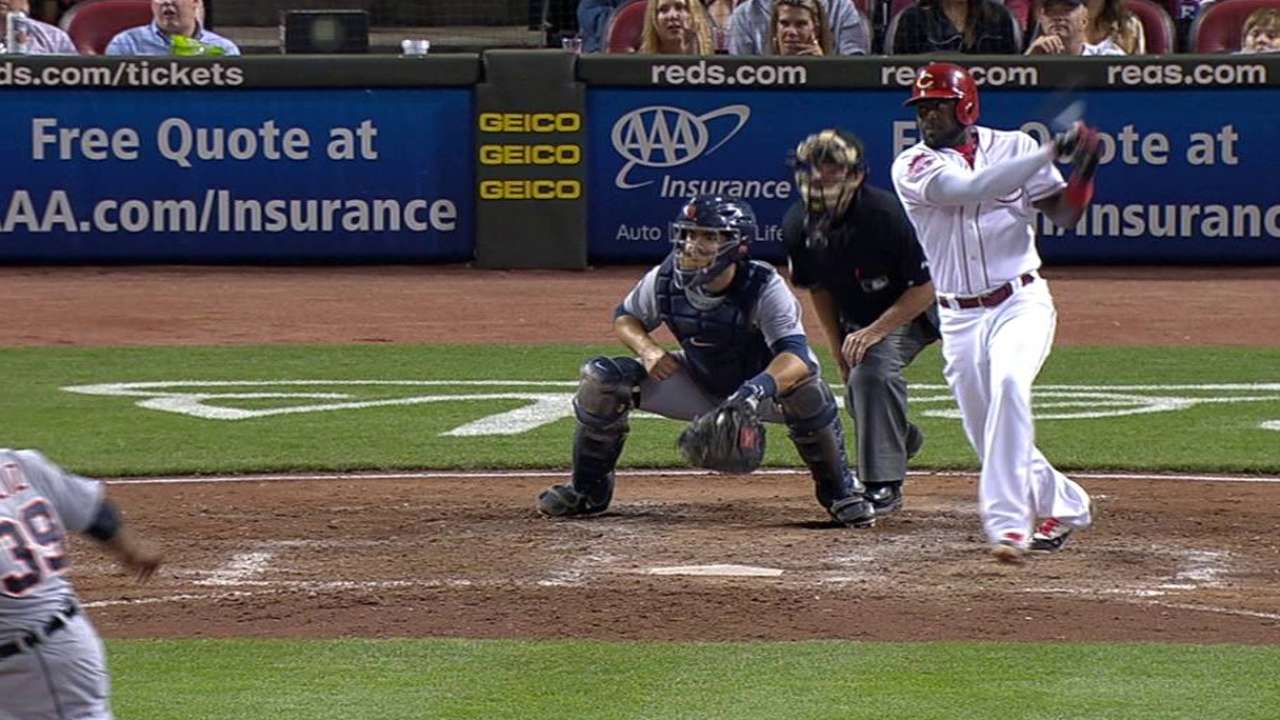 • According to the Elias Sports Bureau, Suarez and Phillips are also the first pair of teammates with two extra-base hits in the same inning since Schumaker and Allen Craig did it for the Cardinals vs. the Cubs on July 21, 2012.
"Those are not the names you think of -- Schumaker for sure -- in that conversation," Schumaker said. "I'll take it. I'm not a huge stat guy but I like the positive ones more than the negative ones that's for sure."
Suarez started the rally by following Schumaker with a one-out solo homer against Farmer. Suarez also blooped a two-run double near the right field line with two outs. Phillips hit a two-run homer and two-run triple that capped the inning's scoring.
• Phillips is also the first Major League player, according to Elias, to homer and triple in the same inning since Edwin Encarnacion did it for the Blue Jays on May 7, 2014, vs. the Phillies.
Suarez and Phillips might not have made some notable moments had it not been for a big at-bat by Schumaker vs. Neftali Feliz. Down in a 1-2 count with two outs and the bases loaded, Schumaker flared a 97-mph fastball into center field for a two-run single that put the Reds up by a 6-5 score.
"It was a big hit for me and for our team, really. We needed something positive to happen around here. Luckily that fell in against a really good pitcher," said Schumaker, who has a five-game hitting streak. "The inning got started from me grounding out and I didn't want to make two outs that inning."
The Reds were trying to avoid their first 10-game losing streak since 1998. They did it in rather robust fashion.
"It was just a good all-around game for us to get [Keyvius] Sampson off the hook and get some smiles around here for a change," Schumaker said.
Mark Sheldon is a reporter for MLB.com. Read his blog, Mark My Word, follow him on Twitter @m_sheldon and Facebook and listen to his podcast. This story was not subject to the approval of Major League Baseball or its clubs.