Braves snap skid as Teheran quiets Rox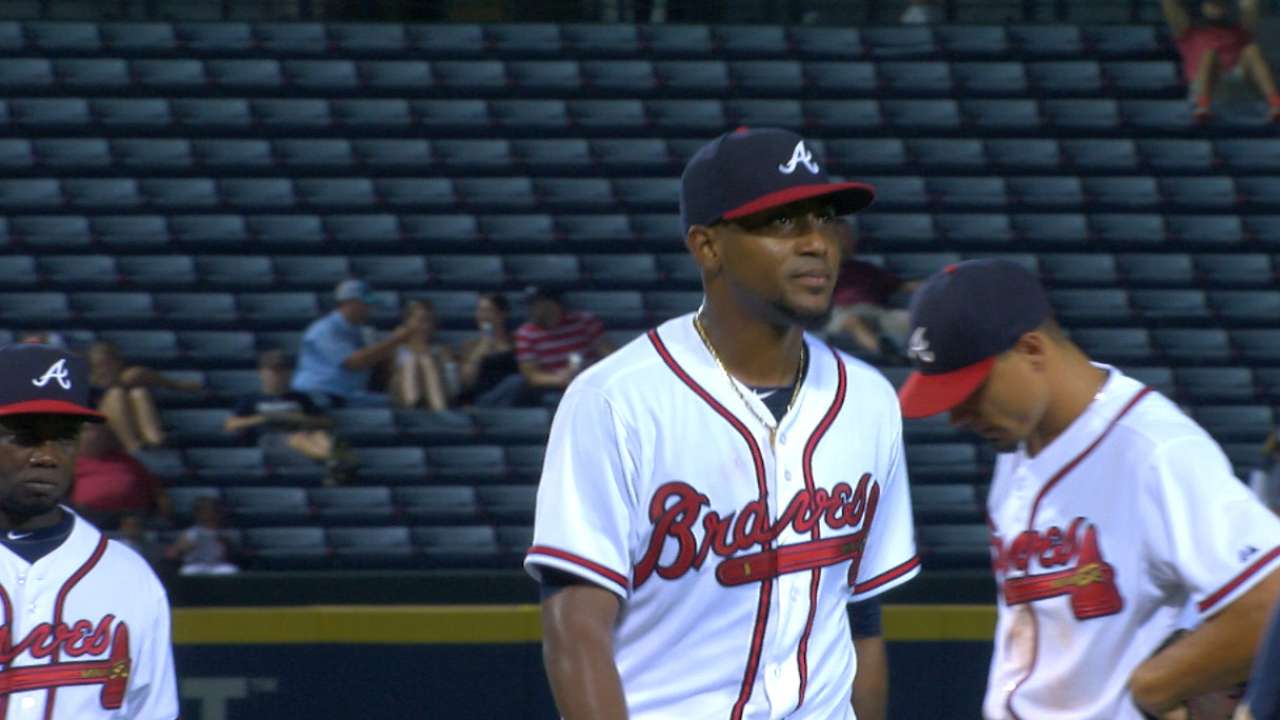 ATLANTA -- Julio Teheran went 7 1/3 strong innings and Atlanta's beleaguered bullpen held on as the Braves beat the Rockies, 5-3, on Monday night at Turner Field, snapping a seven-game losing streak.
Braves left fielder Jonny Gomes crushed a first-inning two-run homer and his defensive replacement, Michael Bourn, made a critical outfield assist in the eighth to cut down a Colorado run. The Braves won for only the third time in their last 14 games.
The Rockies, coming off a dismal 2-7 homestand, dropped their fourth straight despite a pair of early home runs from Charlie Blackmon and Ben Paulsen. After Paulsen's homer in the second, though, Teheran retired 19 of the final 22 batters he faced -- eight straight at one point -- before being pulled in the eighth.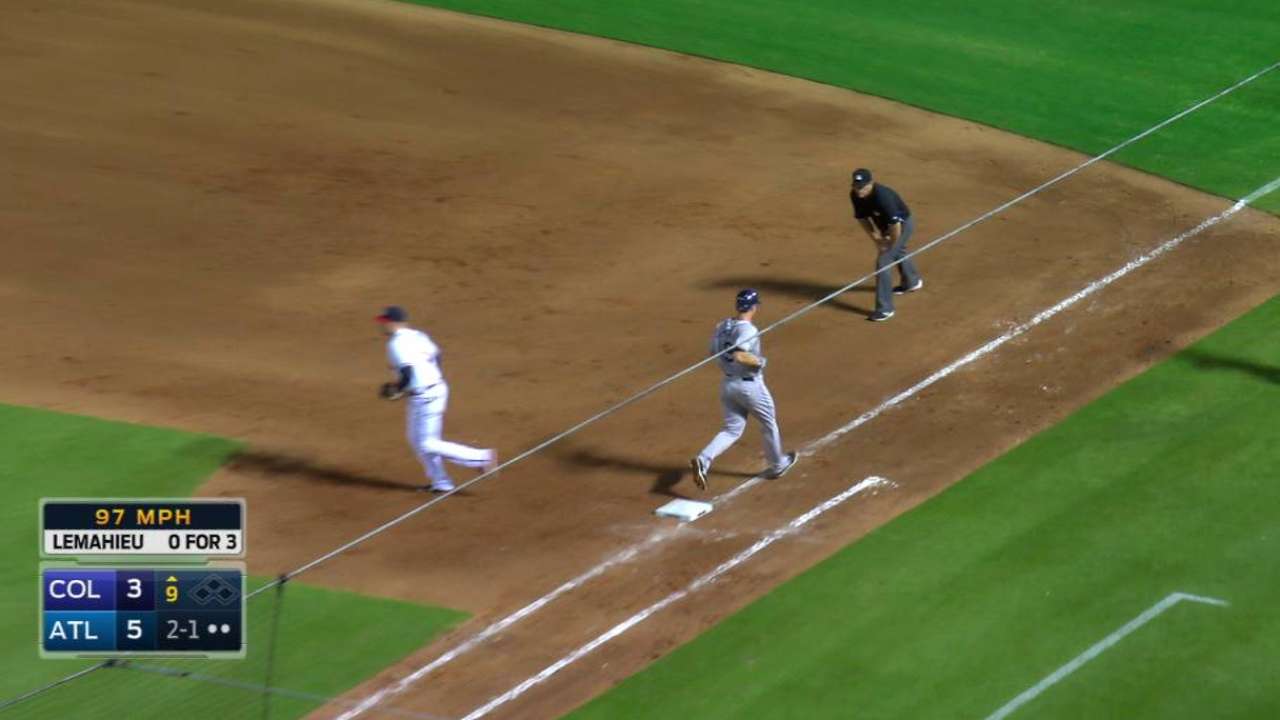 MOMENTS THAT MATTERED
No place like home for Julio: Teheran continued his dominance at Turner Field, raising his record to 7-1 with a masterful performance. He matched his season high in innings, and shook off a pair of solo homers -- only the second game this season in which he allowed two homers in a game at home -- and, after the second-inning homer by Paulsen, allowed only two hits and three baserunners over the ensuing 6 1/3 innings.
"You know it's going to be tough against Teheran," Colorado manager Walt Weiss said. "He's got a good slider. Especially to the right handers. He had it working tonight."
Getting out of a jam … barely: Colorado pinch-hitter Matt McBride's soft single to left with one out in the eighth drove Teheran from the game, and then things got funky for the Atlanta 'pen. Blackmon followed with a hard bunt down the third-base line against lefty reliever Ross Detwiler that Atlanta's Adonis Garcia fielded, but his throw to first wasn't in time. The play itself raised eyebrows; the ball could have rolled foul. With runners at first and second, Jose Reyes followed with a hard-hit ball back to a new reliever, Edwin Jackson, who made another iffy play, deciding to go to first for one sure out instead of a possible inning- and threat-ending double play. Brandon Barnes then followed with a scorching single to left to bring in a run, but Bourn's possible game-saving peg to catcher Christian Bethancourt cut down Blackmon at the plate -- the Rockies challenged, and a review confirmed it -- to end the inning. More >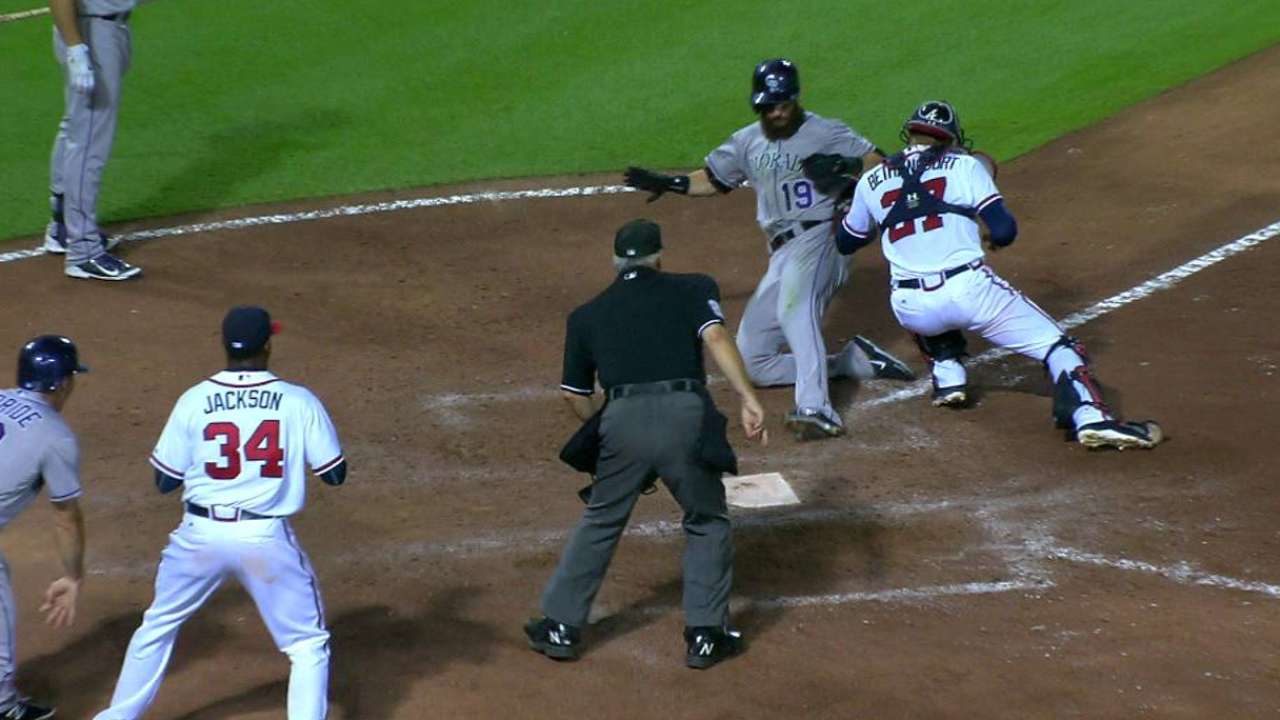 Top of the lineup: Blackmon cranked his fifth leadoff homer of the season -- the 11th of his career (adding to his club record) -- when he turned on a 91 mph fastball from Teheran just three pitches into the game and snuck it just inside the right-field foul pole. It was Blackmon's 15th homer of the season.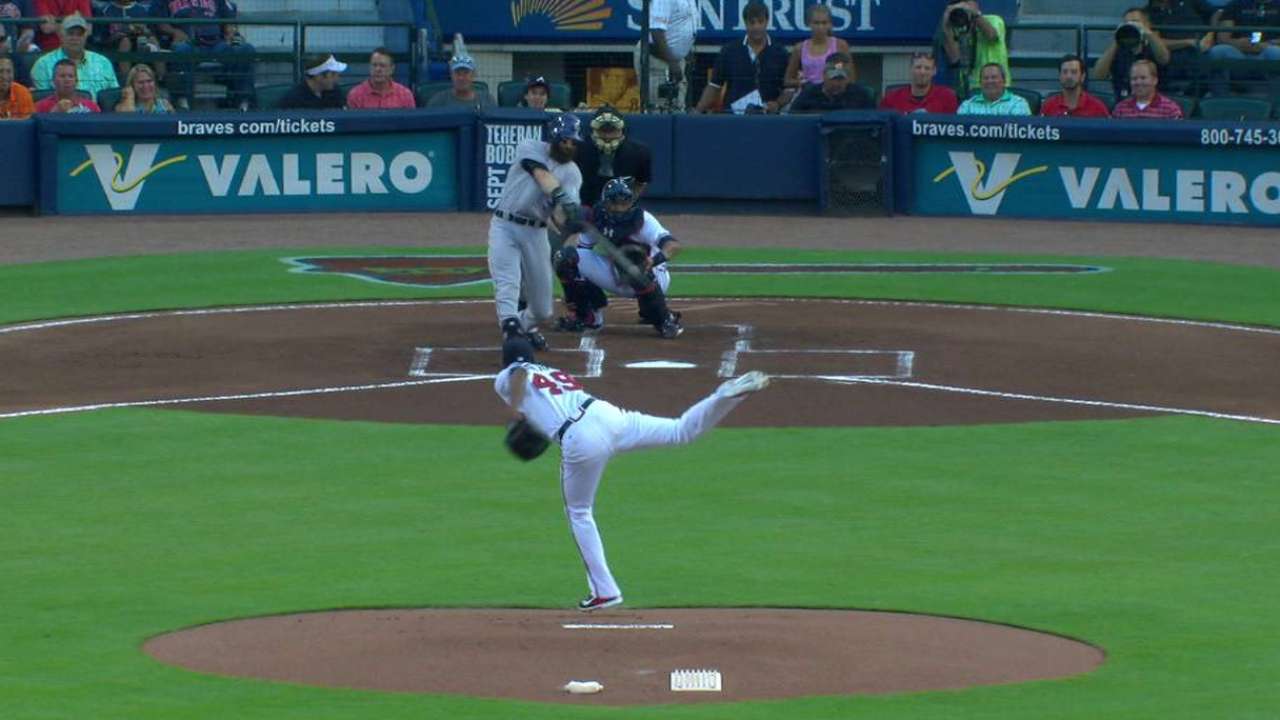 Homer happy: The first five runs of the game all came via the home run: Blackmon, Gomes' two-run blast, Paulsen's solo shot and a go-ahead solo shot from Garcia in the fourth.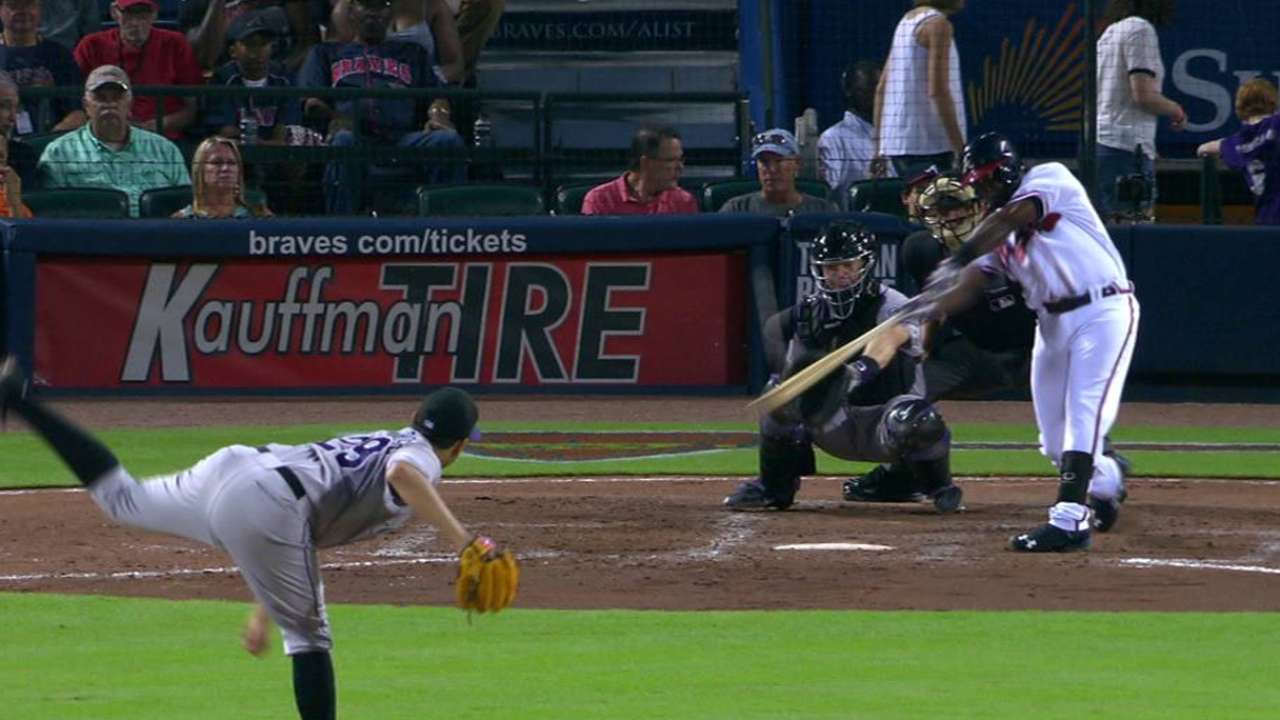 Left outs: Left fielders Gomes and Bourn came up big for the Braves, one offensively, one defensively. Gomes came into the game with one homer and four RBIs in August. He proceeded to nearly double his output, with a key two-run shot in the bottom of the first that gave Atlanta the lead after Blackmon's homer led off the game. He'd later add a key insurance run, grounding a single to center. Bourn, replacing Gomes for defense in the eighth, gunned down Blackmon to end the eighth-inning threat. More >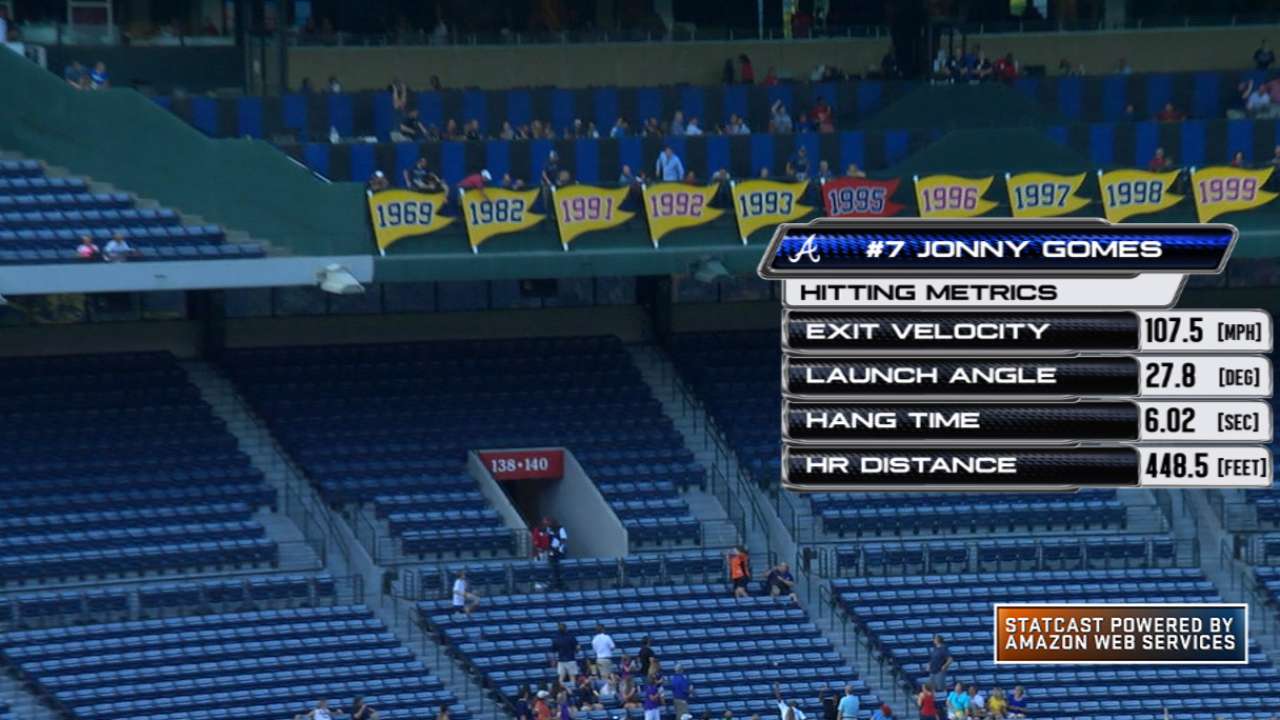 QUOTABLE
"I just get ready to prepare myself to play the game. I'm ready to go. If you can get to a guy before he really gets comfortable, you can wear him down. And that's what we were doing early on." -- Blackmon, on his leadoff home runs
"It was a little weird at the beginning because we haven't thrown in a while, but we got on the same page like always. It's good to have him back here." -- Teheran on pitching to rookie Bethancourt, who was recalled from Triple-A Gwinnett on Monday afternoon More >
INJURY EXIT
The Rockies pulled right fielder Carlos Gonzalez in the fifth inning because of soreness in his right knee, but Weiss said he was hopeful his slugger will be back for Tuesday's game. More >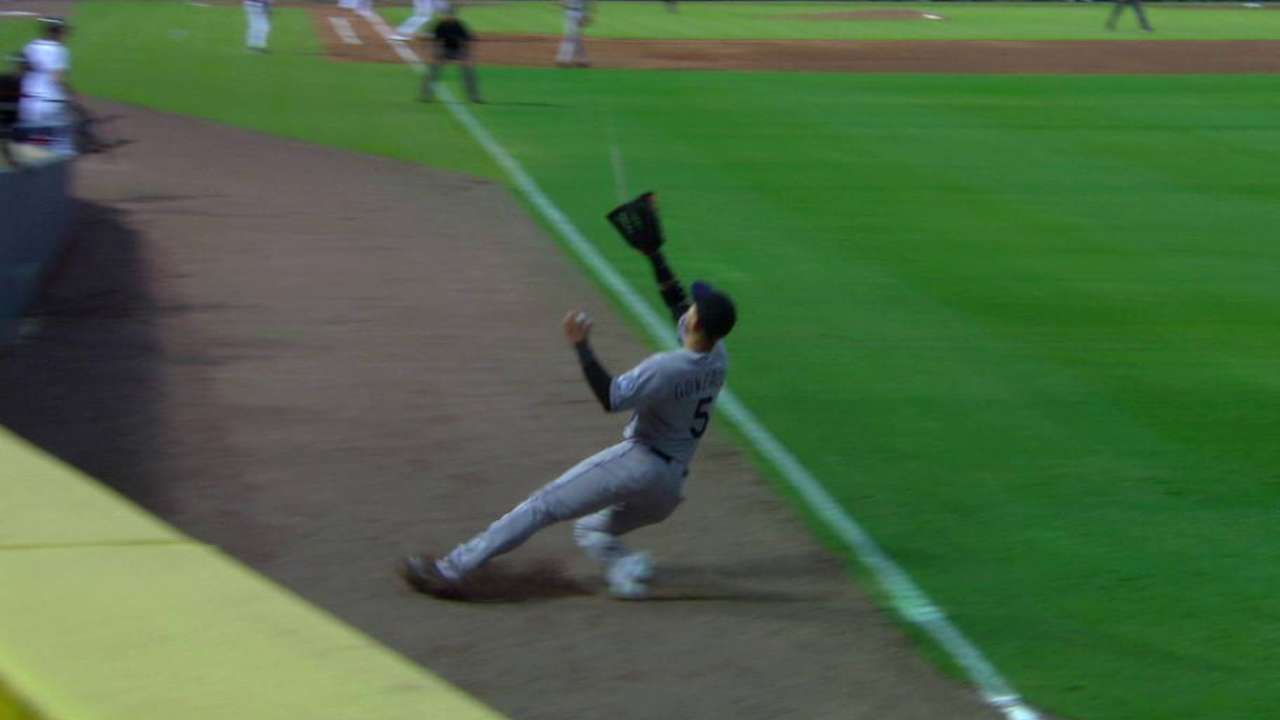 WHAT'S NEXT
Rockies: Righty Chad Bettis (2-2, 4.54 ERA) makes his return to the mound Tuesday against the Braves (5:10 p.m. MT) at Turner Field, his first action since July 18. He's been sidelined by elbow inflammation, but Weiss and team doctors pronounced him ready to go. "We feel like he's 100 percent healthy," Weiss said. "I think he's really accomplished a lot this year. He's finally settled into that starter role. I feel like he's in his element as a starter."
Braves: Hard-throwing right-hander Mike Foltynewicz (4-5, 6.06) makes his 18th start of the season for Atlanta in the middle game of the three-game series against Colorado at Turner Field on Tuesday night (7:10 ET). Foltynewicz is 4-2 at home, despite pitching to a 6.20 ERA with a .321 opponents' batting average. He is looking to turn around a tough stretch in which he's allowed 13 runs on 17 hits over his last two starts, covering 9 1/3 innings.
Watch every out-of-market regular-season game live on MLB.TV.
Jon Cooper and John Donovan are contributors to MLB.com. This story was not subject to the approval of Major League Baseball or its clubs.