MLB.com Columnist
Bernie Pleskoff
Scouting profile: Jon Gray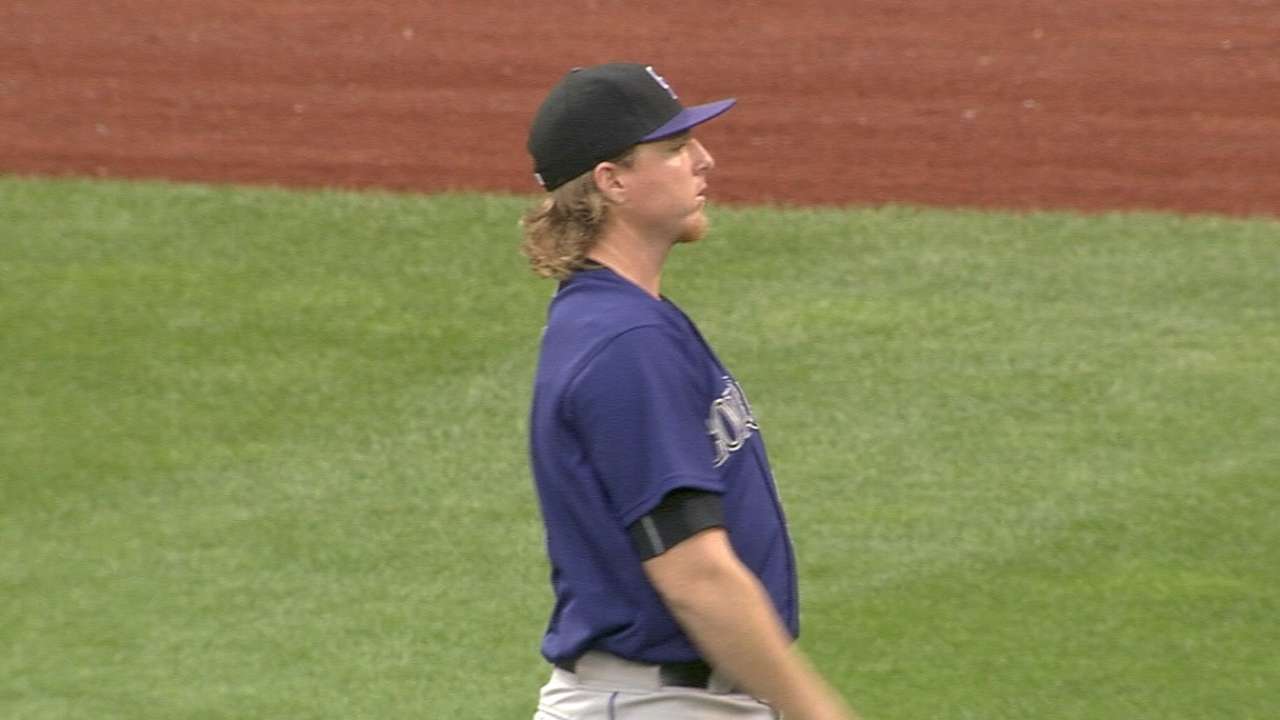 Background
A good athlete, right-hander Jon Gray played baseball, basketball and football at Chandler (Okla.) High School. He then went on to pitch at Eastern Oklahoma State College and had an outstanding tenure at the University of Oklahoma, where he was a member of the All Big-12 Team.
The Rockies took Gray with the third overall pick in the 2012 Draft. After having spent parts of two seasons and the beginning of this year in Colorado's Minor League system, he is now part of the Rockies' starting rotation.
Gray made his Major League debut on Aug. 4 at home against the Mariners. He worked four innings and scuffled a bit with command, yielding two earned runs. Gray allowed just one run in each of his next two starts, giving up a total of five hits and two walks over a combined 11 innings while striking out 10. Things didn't go well Friday, however, as he gave up seven runs on eight hits over 1 2/3 frames.
Repertoire
A big man at 6-foot-4, 235 pounds, Gray has a mix of pitches that include a high-velocity fastball that can reach 100 mph, a wicked slider and an improving changeup. Each pitch is effective, with the changeup gaining momentum as a pitch he can use with confidence to induce weak contact.
Gray's velocity had always been high, until he hit a bit of a rough patch last season. Perhaps some shoulder fatigue he encountered last season factored into the equation. Gray's velocity has declined just a bit recently, and he generally sits in the mid-to-high 90s. He doesn't need to hit 100 to be successful. Gray is fine where he's currently sitting.
Gray's slider may be his best overall pitch. While he uses both sides of the plate and pitches up and down in the zone with his fastball, he takes advantage of missing the plate with his late moving slider. Gray induces plenty of swings and misses with that approach, and it works. His fastball/slider combination may work very well at hitter friendly Coors Field, where missing bats or getting hitters to pound the ball into the ground are the best approach. When Gray is in sync, he can dominate a lineup.
Gray is making progress with his changeup. If he can keep the same release point on that pitch as he has with his other two offerings, he will be very tough to hit.
Gray is No. 2 on Colorado's Top 30 Prospects list.
Mechanics
Appropriately aggressive, Gray has a consistent no-nonsense delivery with little extraneous movement. He can be intense. Gray has a high leg lift and a three-quarter arm slot. He comes right after hitters with good extension, repeating his delivery and retaining the focus on his target.
Gray uses his large frame well in pitching downhill and gaining arm speed and momentum with a slow beginning to his well-balanced landing. His landing hasn't always been as smooth as it is now. Gray's mechanics have become smoother and more consistent over time, leading to better command and control.
Strengths
Gray is a power pitcher with an ability to miss plenty of bats and keep his team in the game. He uses the entire strike zone in his approach. Deploying a solid three-pitch mix, Gray can keep the hitter off balance and change his eye level.
Weaknesses
Gray can get wild at times and lose command of his pitches. When that happens, I have seen him try to increase his velocity, only to fall further behind in counts.
All of Gray's pitches will have to be either down in the zone or at very high velocity if he gets the ball up at hitter-friendly Coors Field, his home park.
I find this interesting
Gray is late in developing his changeup, because he was missing bats so frequently in college with his high-velocity fastball. He only threw the changeup once or twice a game. He has said he holds his fastball a bit different than most pitchers, using a small circle on the outside of the ball.
The future for Gray
Gray has the ability to be a top-of-the-rotation starter. Much will depend on his ability to pitch at Coors.
Gray in a word
Serious
Bernie Pleskoff has served as a professional scout for the Houston Astros and Seattle Mariners. Follow @BerniePleskoff on Twitter. This story was not subject to the approval of Major League Baseball or its clubs.