Bryant comes up clutch again
After homering twice Sunday, third baseman smashes walk-off shot vs. Indians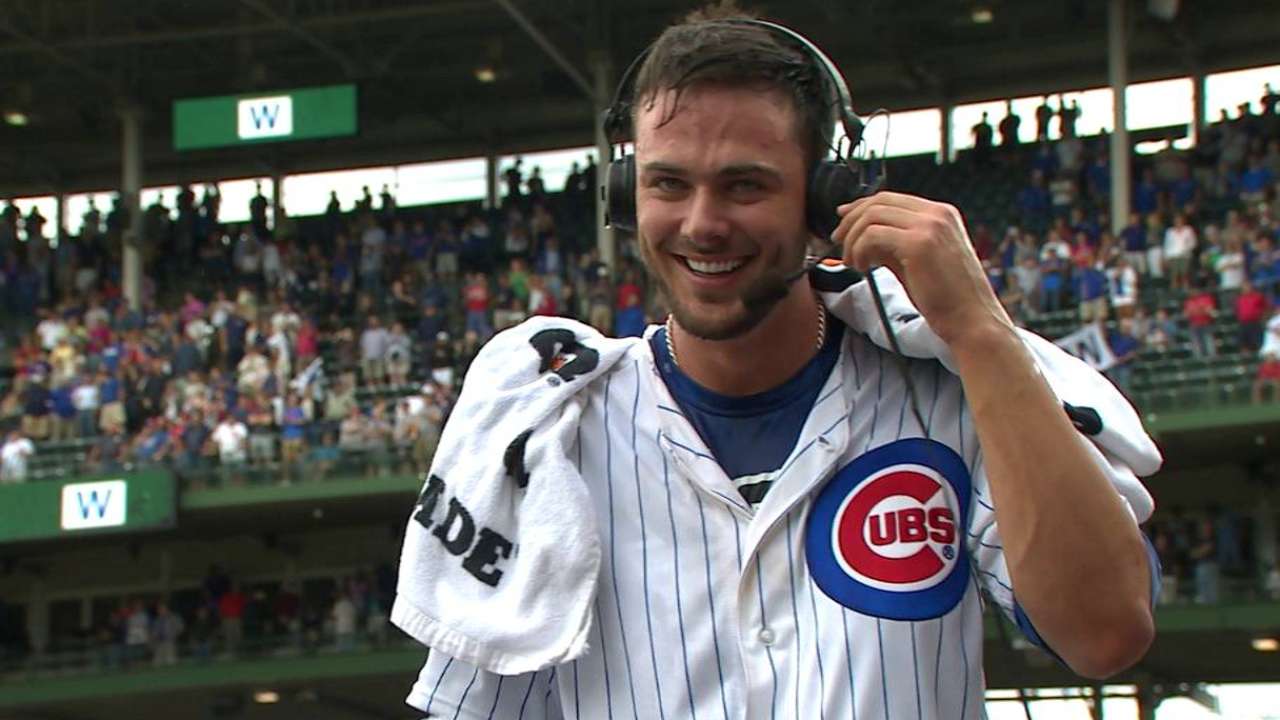 CHICAGO -- Kris Bryant stepped up to the plate with two outs in the ninth inning, his team tied at 1 with Cleveland, but he wasn't thinking about hitting a home run to win the game. Really, he was thinking about hitting a fly ball.
The 23-year old had already flown out once in the game and entered 0-for-3 before his at-bat. This time, Bryant hit the first pitch he saw -- a curveball -- over the wall in right field to give the Cubs a 2-1 victory over the Indians on Monday at Wrigley Field.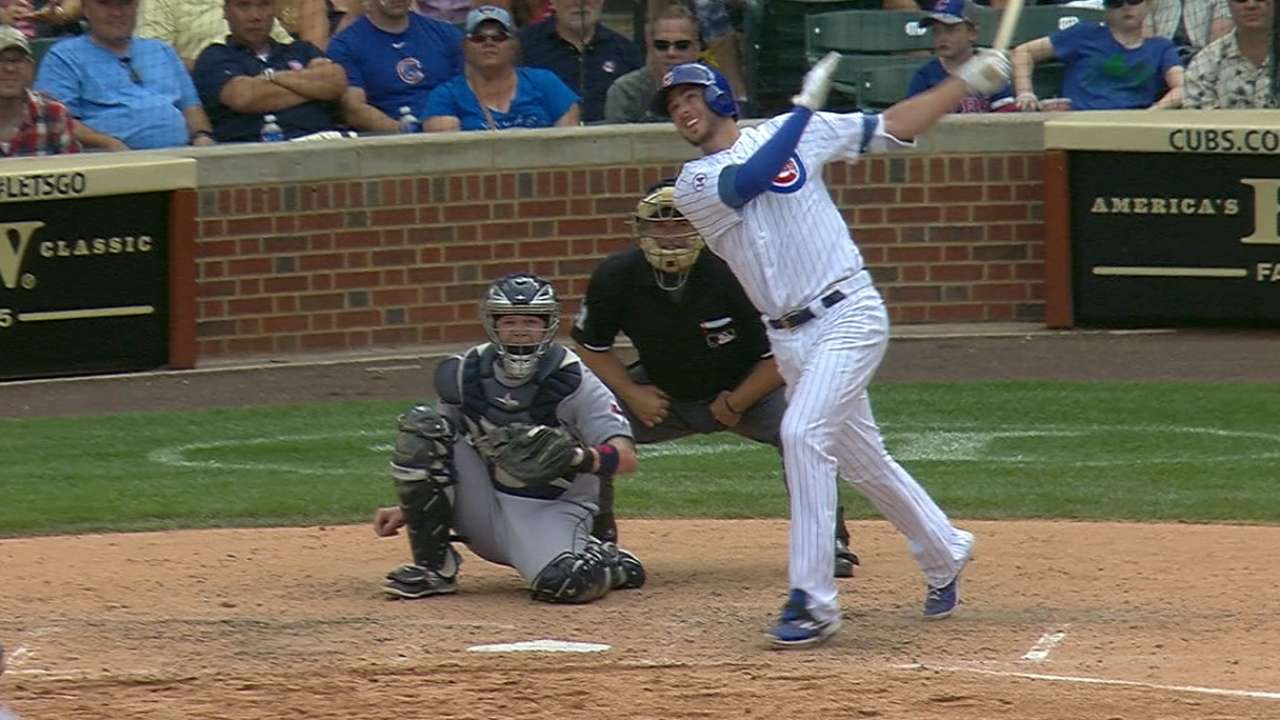 "When I'm thinking home run, I don't hit one," Bryant said. "Today, with the wind blowing out, it's a good time to hit a fly ball, and I was able to accomplish what I wanted to do.
"There weren't that many fly balls hit the whole game. I think that's because there were two great pitchers on the mound. But you figure someone was going to hit a fly, and I was happy it was me, and I was happy it was our team."
Pedro Strop ran beside him as he approached home plate, the rest of his teammates waiting to swarm him. Some dumped buckets of Gatorade during the postgame interview. It was the second time he's experienced such a feeling -- he hit a walk-off home run on July 27 against the Rockies.
The rookie third baseman is now reaping the benefits of "subtle and minor" changes he has made with the help of hitting coach John Mallee.
Bryant hit two home runs in Sunday's game and now has 20 on the year. He became the first Cubs rookie to hit 20 home runs since Tyler Colvin did so in 2010.
Midway through the year, Bryant had struggled to maintain his power and consistency, though. He hit .168 in July and watched his on-base percentage dip to .270. In August, he's hitting .343 with a .446 on-base percentage.
"He's definitely not intimidated by the moment," said Cubs manager Joe Maddon. "With KB, the thing that I really love is that he's had to fight through adversity. [He] doesn't quit. Some kids would, but he has not.
"He's battled through it, continues to play good defense, and now the offense is coming back to him. Kudos to him, that's outstanding."
Bryant is now 10th in the National League in on-base percentage and is in the top 20 in home runs, RBIs and WAR.
"I think at times [it's easy to forget he's a rookie]," said starter Jon Lester. "He plays above his age, or experience. But I think that's kind of what's expected."
Greg Garno is an associate reporter for MLB.com. This story was not subject to the approval of Major League Baseball or its clubs.