Span activated, returns to top of Nats' lineup
Club sends Roark to Class A Advanced Potomac to transition to starting role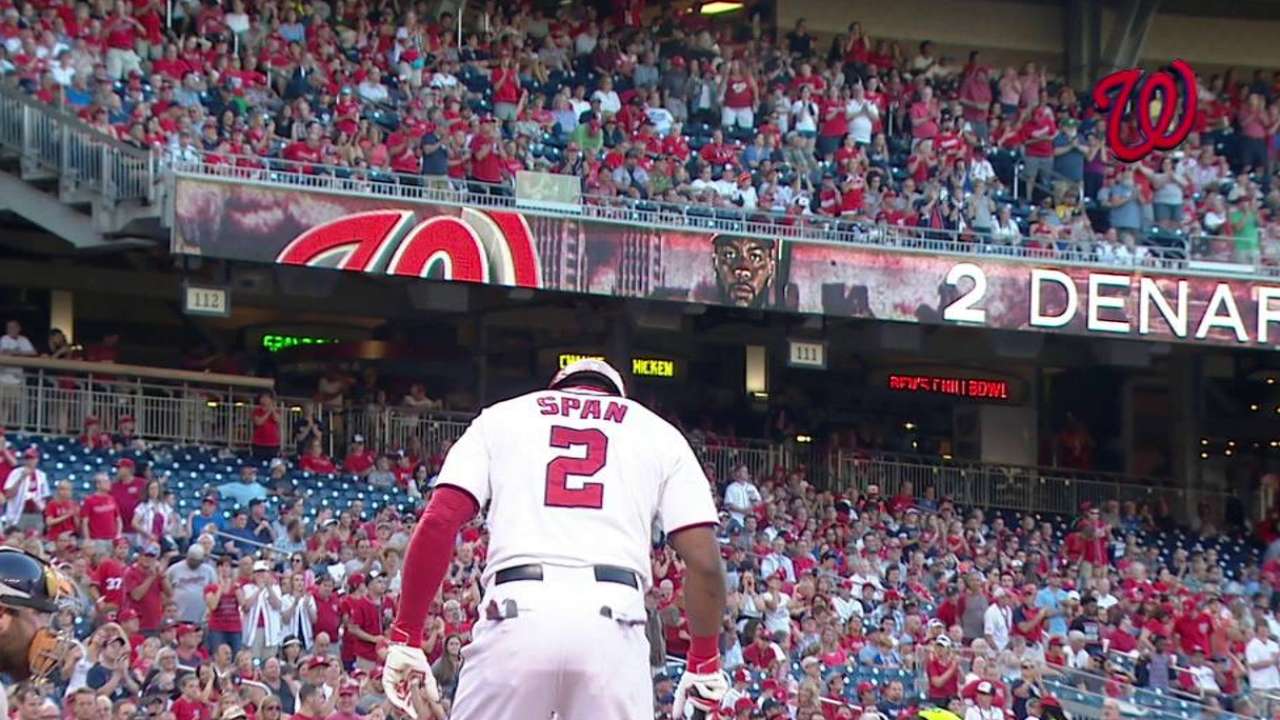 WASHINGTON -- For the first time in 2015, in the 124th game of the season, the Nationals had all eight projected Opening Day starters in their starting lineup.
Washington activated Denard Span off the 15-day disabled list before Tuesday's 8-3 win against the Padres, the final touch on a lineup that -- instead of running away with the National League East like many predicted -- trails the Mets by 5 1/2 games.
"He brings speed," manager Matt Williams said of his center fielder. "He brings Gold Glove-caliber defense. [He's an] on-base threat certainly. It allows us to stack our lineup the way it was intended to be done. Certainly everybody in this room knows about the record with him in the lineup, so that's important for us, too. What we hope for is he can play as many games as he can play and helps us win those games. He does a lot of things on the baseball field that allows us to have more success."
• Span can provide boost for Nats
Span battled recurring back spasms for more than a month before being placed on the disabled list on July 10. He batted .304 with a .367 on-base percentage in 59 games, and the Nationals were 35-24 with him in the starting lineup.
The 31-year-old's return brings hope that the Nationals can reclaim first place from the scorching Mets -- and his numbers suggest he will certainly help out -- but with an abbreviated rehab stint, Span is somewhat cautious about his current state.
"I don't have a crystal ball. I'm just going to go for it," Span said.
"I played one nine-inning game [while rehabbing.] I was sore after that game. Unfortunately, given the circumstances, I didn't have time to play as many games as I wanted to. The first week or two, skip told me to just let them know how I'm feeling. They're going to ease me into it, and hopefully after a week or two I'll be in better shape."
Right-hander Tanner Roark was sent to Class A Advanced Potomac in the corresponding move, restocking the Nationals' bench with five position players.
"It just provides us more options," Williams said. "It provides us options within the course of a game, not necessarily just in the ninth inning. If we need to get a guy in scoring position to take advantage of something, we can use Trea [Turner] in that regard. We've got guys that can play multiple positions. [Michael Taylor] can play any of the outfield positions. If Danny [Espinosa's] not in there, he can play all of the infield positions. So it gives flexibility."
Taylor has played admirably in his rookie season, handling center field in Span's absence. He was hitting .242 with 13 home runs, 55 RBIs and 15 stolen bases in 108 games. Taylor was out of the starting lineup on Tuesday.
In the six games before Span's return, the Mets went 5-1 and scored 14 runs or more in three of the games.
"There is no question that we're running out of time," Span said. "We've got to play good and quick. We got to win series and take it one game at a time. And hope that the Mets fall into a slump, so we can start gaining some ground."
Jacob Emert is an associate reporter for MLB.com. This story was not subject to the approval of Major League Baseball or its clubs.