Experience will balance Rodriguez's inconsistency
Refinement of third pitch expected to help rookie work deeper into games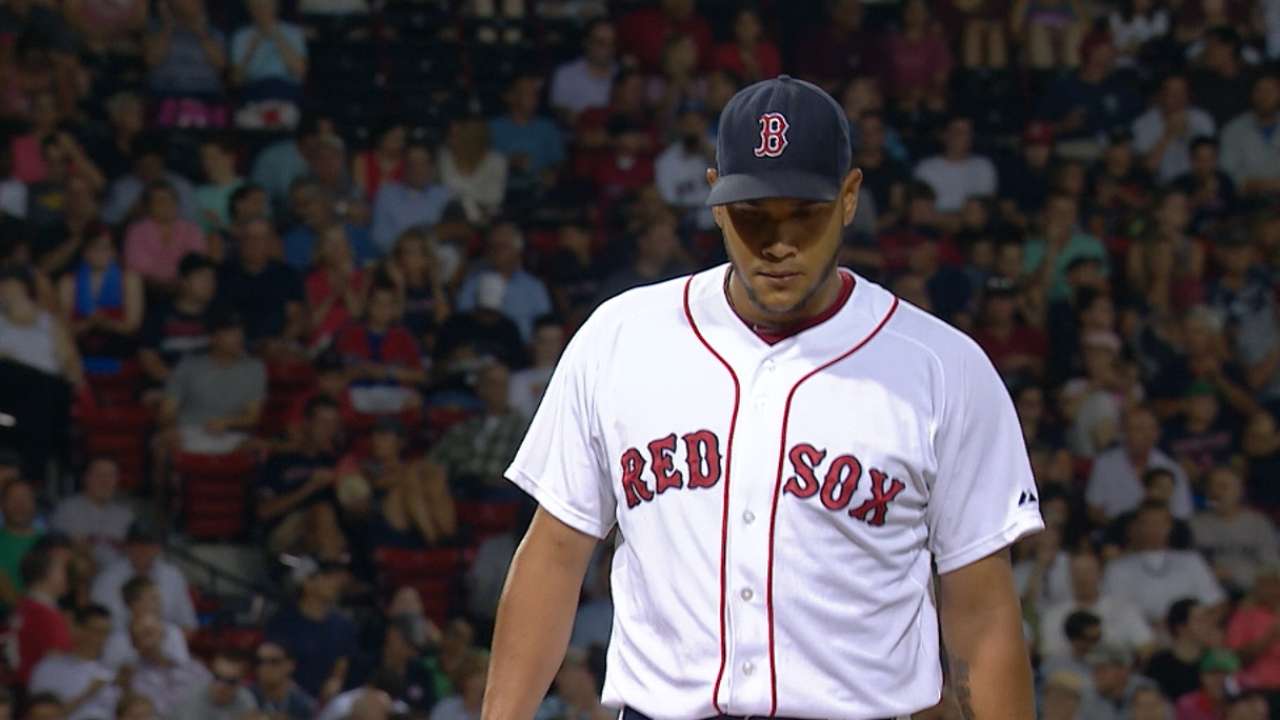 BOSTON -- On his first night with the Red Sox, president of baseball operations Dave Dombrowski made a phone call to manager John Farrell as he began treatment for Stage 1 lymphoma. In the background of their conversation, Eduardo Rodriguez stood on the mound at Fenway Park, poised, powerful and in control.
The rookie left-hander was on his way to completing eight innings of one-run ball against the Indians -- arguably his most dominant outing as a Major Leaguer -- and quickly caught the eye of Boston's new top baseball executive, whose first order of business this winter will be improving the pitching staff.
"'Gee, it looks like we'll win a lot of games when we throw Rodriguez in 162,'" Dombrowski said he told Farrell. "I don't mean that as anything [negative] about any of the other pitchers, but he's got a chance to be a No. 1 type of pitcher."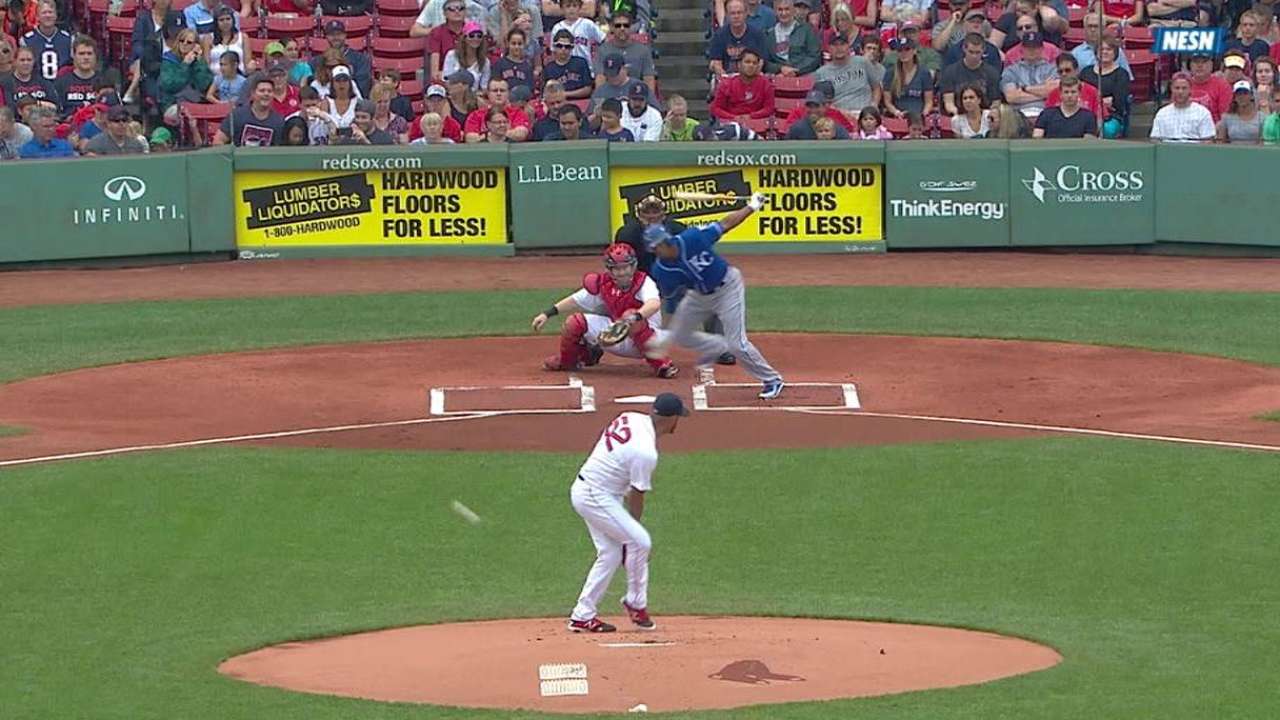 That one of baseball's most successful talent evaluators praised Rodriguez without being prompted indicates just how vital the left-hander could be to the rebuilding effort. But for as bright as his future appears, a rookie campaign full of boom-or-bust games has left some puzzled.
In 12 of his 16 starts, Rodriguez has logged a 1.75 ERA and 61 strikeouts to 20 walks. The 22-year-old's other four outings all lasted five innings or fewer, and they feature earned run totals of six, seven, eight and nine.
Rodriguez's outings are either excellent, or else they end in early exits. So why has the middle ground been so difficult for him to find? Kevin Boles, who oversaw his early-season development as manager of Triple-A Pawtucket, can offer one explanation.
Rodriguez features three pitches: A fastball that he throws over 65 percent of the time, a changeup and a slider that he only began to incorporate into his arsenal this season. With so much reliance on the fastball, the result has been opposing hitters slashing .320/.365/.536 against him in their second trips to the plate.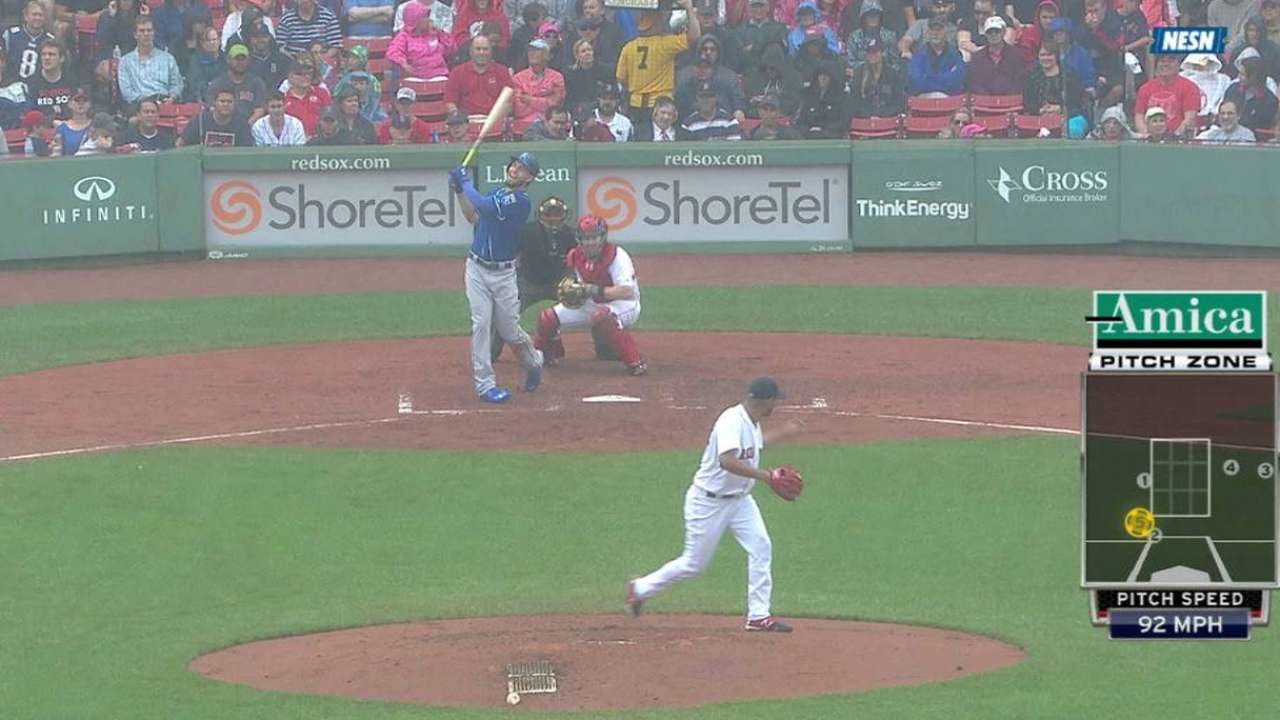 The slider, in particular, has been hit for extra bases.
"To get through a Major League lineup three or four times, you got to have a mix," Boles said. "You can't just rely on two pitches. And so I think developing that slider came in a short amount of time, but it's also effective. When he's got the three-pitch mix, when he's got that usage, he's got a chance to be special."
On Saturday, six-time All-Star pitcher Curt Schilling gave further insight on Rodriguez at the 2015 SaberSeminar, noting that the size of his hands should allow him to develop more movement on his breaking pitches.
Another factor at play in Rodriguez's inconsistency is the large talent gap between Triple-A and the Majors. When the Orioles hit him around for six runs in 3 2/3 innings on June 25, word leaked that Rodriguez had been tipping his two secondary pitches. Baltimore took advantage.
"You face a lineup like Toronto or Baltimore, it's a little bit different than facing clubs in the International League," Boles said. "But does he have the weapons that could match up to a lineup like that? Absolutely."
Rodriguez, who attentively heard advice from veteran starter Clay Buchholz following that game, worked to eliminate the tell. He responded five days later by holding the potent Blue Jays to one run over six innings.
"Sometimes I know what the hitters want, what pitches they wanted sometimes," Rodriguez said after his last start. "That's why I tried to make the other pitches, don't throw the pitches they want."
For as much as Rodriguez's first season has been about learning, the southpaw also flashes a Corey Kluber-like stoicism on the mound that cannot be taught.
Against the Royals on Sunday, for example, Rodriguez induced an easy ground ball that could have been a double play, but his defense committed two errors that led to a pair of unearned runs. He finished with four runs (two earned) over six innings.
The trait should serve him well moving forward.
"Typically what a young pitcher will do is continue to let that linger and give up six or seven runs, and we got to pull him out of the game in the fourth inning," Red Sox interim manager Torey Lovullo said. "And I expressed to him exactly what that meant to him, to the rest of the pitching staff and everybody that was watching him, that he was able to get through six innings and have a really good outing. He didn't crumble."
Success came quickly for Rodriguez thanks to his natural talents. As he continues to accrue more service time in the Majors, using what Lovullo calls "learning moments" to better harness those skills in game situations, the Red Sox hope it will translate to more balanced starts in 2015 and beyond.
"Sometimes we have to challenge ourselves," Rodriguez said. "We have to be fine with that."
Alec Shirkey is an associate reporter for MLB.com. This story was not subject to the approval of Major League Baseball or its clubs.