Caminero diversifies pitching arsenal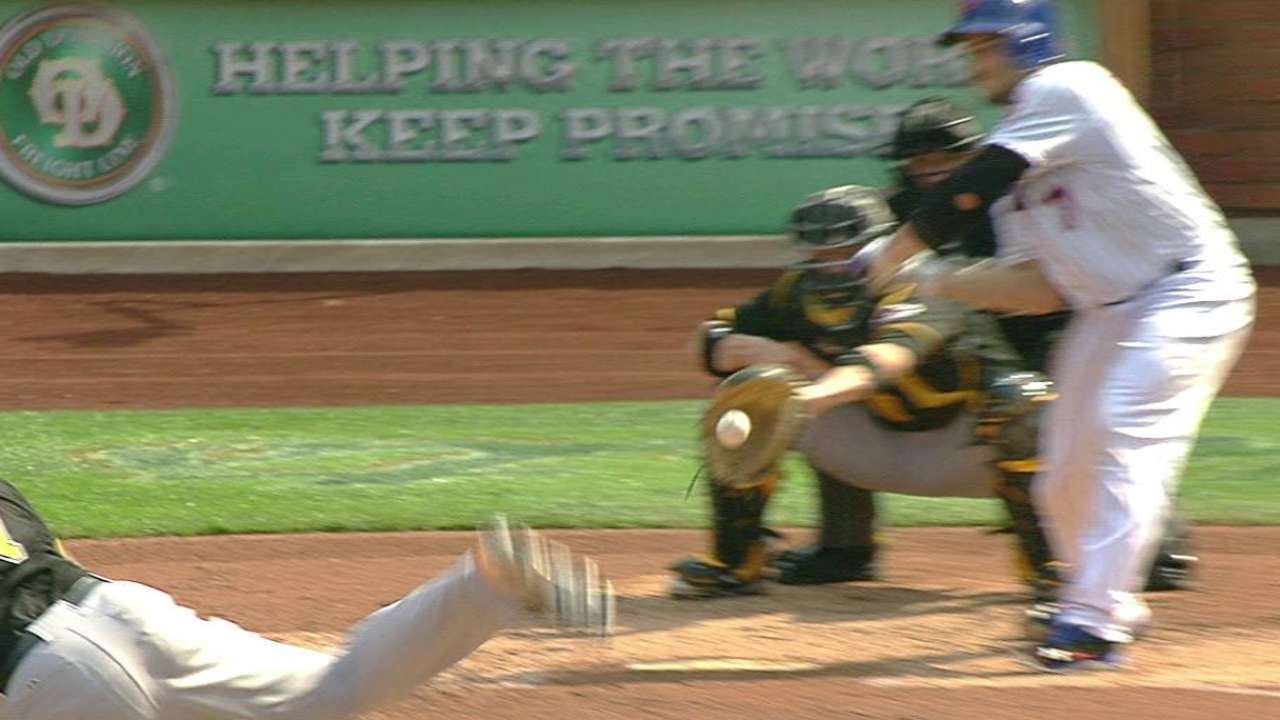 MIAMI -- Pirates reliever Arquimedes Caminero is known for his blazing fastball, a pitch that often clocks in faster than 100 mph. But he has quietly, and quite successfully, diversified his arsenal recently.
Caminero has essentially improved upon his signature pitch, a four-seam fastball, by making frequent use of a sinker. He began throwing the pitch on Aug. 1, according to PITCHf/x data, and it's been his go-to offering ever since.
"I've been mixing it up. Just trying to turn my fastball into another pitch," said Caminero, who also utilizes a cutter, slider and split-fingered fastball. "It's not four pitches now. It's probably five."
He hasn't lost much zip, either. His sinker has clocked in at an average of 97.3 mph, according to BrooksBaseball.net, compared to the four-seam's average of 99.05 mph.
Caminero said Monday that he'd thrown a sinker before, but not often. He worked with pitching coach Ray Searage and bullpen coach Euclides Rojas to refine the pitch, eventually reaching the point where he was confident enough to throw it in a game.
And after a rough stretch from June 23-July 25 during which his ERA climbed from 2.97 to 4.47, Caminero has turned it around.
The right-hander entered Monday's game at Marlins Park having tossed 15 straight scoreless innings over his last 12 appearances. Caminero has faced 56 batters during that stretch, inducing ground balls from nearly half of them.
"You have to make adjustments, and that was one of them," Caminero said. "In the big leagues, you need a two-seamer. It's working very good."
Around the horn
• Right-hander A.J. Burnett (elbow) is scheduled to throw a bullpen session on Tuesday at Marlins Park, possibly mixing in more than just his fastball for the first time since going on the disabled list.
Burnett has made remarkable progress in less than a month, and Pirates manager Clint Hurdle believes the 38-year-old's final season isn't over yet.
"There's an intense want-to, and I believe he's also being smart with the guys he needs to be smart with, listening on the how-to on the pitch-to-return plan," Hurdle said. "I think he's healthy, [if he] proves he's healthy, [his return] could come sooner than later."
• Now that they're back at full strength, questions about the left side of the Pirates' infield will be a recurring event every day for the rest of the season. On Monday, Hurdle opted to start Jung Ho Kang at third base and Jordy Mercer at shortstop.
One reason for that alignment, Hurdle said, is that he plans to rest veteran third baseman Aramis Ramirez on travel days like Monday, when the Pirates landed in Miami just before 4 a.m. ET.
Adam Berry is a reporter for MLB.com. Follow him on Twitter at @adamdberry.Berry is a reporter for MLB.com. This story was not subject to the approval of Major League Baseball or its clubs.