Teixeira feels better, available to pinch-hit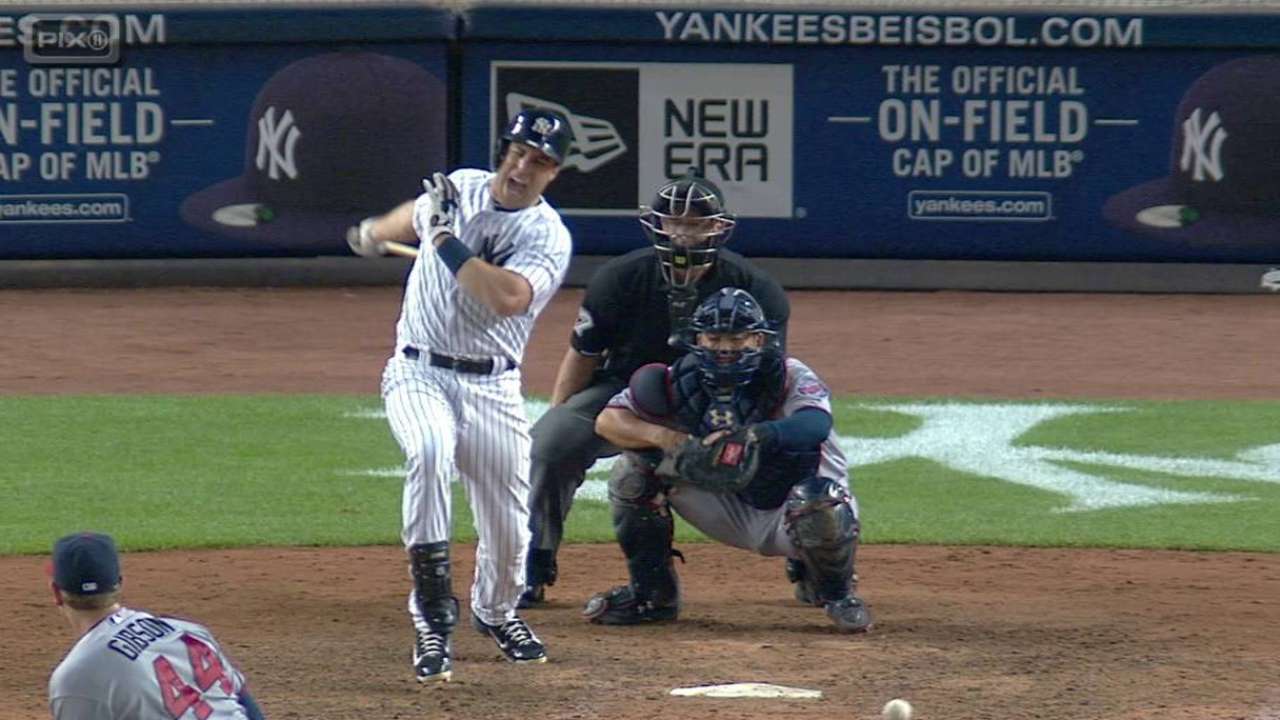 NEW YORK -- Mark Teixeira told the Yankees that he was available off the bench as a pinch-hitter on Monday, which is a much better scenario than what the slugger initially feared when he sustained a deep bone bruise in his right leg on a foul ball last week.
"I thought I broke my leg when I did it, so this is really good compared to what I thought happened," Teixeira said before the Yanks' game against the Astros. "Flashes of Jermaine Dye."
Dye, while with the A's, broke his left leg after hitting a foul ball just below his left knee during Game 4 of the 2001 American League Division Series against the Yankees.
Teixeira appeared on deck in the ninth inning of the Yankees' 1-0 victory over the Astros, but did not bat because Carlos Beltran drove in the winning run with a sacrifice fly off Chad Qualls. Yankees manager Joe Girardi said that he is "hopeful" that Teixeira will be able to play on Tuesday.
"Hitting was actually really good today," Teixeira said. "Hitting was a lot better, fielding ground balls was a lot better. The running is still a little bit of a struggle, so hopefully that just comes back quick."
With Teixeira out of the lineup, rookie Greg Bird has been receiving steady playing time at first base. Teixeira would have pinch-hit for Bird, who went 0-for-3 in the victory. Girardi said that he would have not played Teixeira in the field if the game went to extra innings; Brendan Ryan would have manned first base in that case.
Worth noting
• Alex Rodriguez will bring his glove on the Yankees' upcoming trip to Atlanta, but Girardi said that he is not planning on giving the 40-year-old any reps in the field during those three Interleague games. A-Rod's last appearance in the field was on May 23, at first base.
"We haven't talked about it," Girardi said. "I don't really have any plans of doing that. Just from a physical standpoint, I think it would be difficult. Now, you get in a National League ballpark and you have to make a double-switch? All bets are off."
Bryan Hoch is a reporter for MLB.com. Follow him on Twitter @bryanhoch, on Facebook and read his MLBlog, Bombers Beat. This story was not subject to the approval of Major League Baseball or its clubs.