Springer tests right wrist, takes on-field BP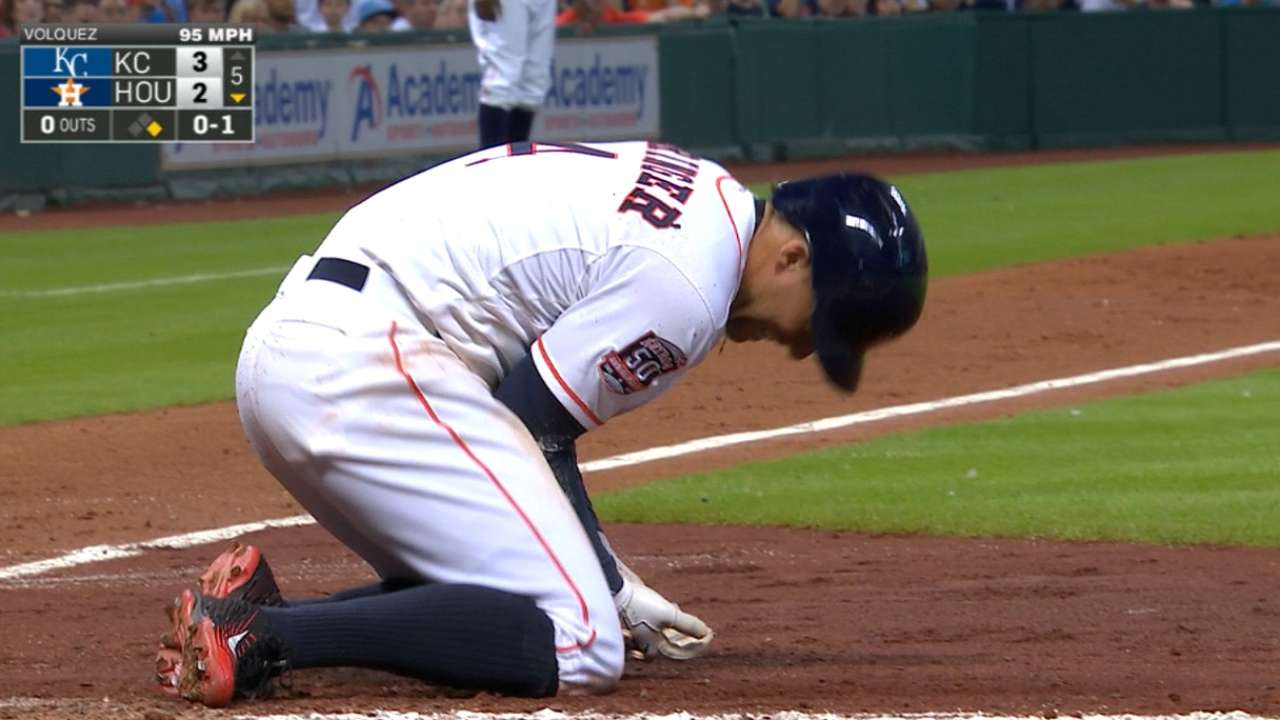 NEW YORK -- Astros outfielder George Springer took a big step toward returning to action when he took batting practice Monday afternoon at Yankee Stadium for the first time since fracturing his right wrist July 1.
The Astros have missed Springer's presence in the lineup, going 22-22 in the first 44 games following his injury. He was hitting .264 with 13 homers, 29 RBIs and 14 steals in 75 games before being struck by a pitch thrown by Kansas City's Edinson Volquez.
"It was good to see him on the field," manager A.J. Hinch said. "I joked with him that he looked like a real player again. It was nice to see him swing the bat. He swung the bat well. He started getting agitated about his swing, which is a good sign. He's getting closer and closer to wanting to dial it up a little bit. It was good to see him swing the bat."
Springer said he wasn't trying to do too much in his first batting practice since the injury, but said it was exciting to be back on the field.
"It felt good just to be back out there again and take it one day at a time," he said. "We'll see how my hand responds and we'll go from there."
Hinch said Springer will hit on the field again Tuesday and will be evaluated after that. Hinch said if things keep trending in the right direction, "we can get him out playing shortly thereafter."
Springer presumably would need a few games in Minor League rehab before rejoining the Astros for the stretch drive of the playoffs.
"When you think about not doing anything for six weeks, general hand soreness, the swings, the resistance with the ball, it's Spring Training all over again," Hinch said. "We're trying to have a crash course in Spring Training in the span of a week to get him ready to play, and September is here. There's not much more he can do other than work to get his swing right and get back in the flow of being an everyday baseball player. He's heading in the right direction."
Worth noting
• Third baseman Jed Lowrie, who left Sunday's game with a right thumb contusion, was available to play Monday but wasn't in the starting lineup. Hinch said he likely wouldn't have started Lowrie anyway, so his injury isn't thought to be a long-term issue.
"It's feeling better today," Lowrie said.
Brian McTaggart is a reporter for MLB.com and writes an MLBlog, Tag's Lines. Follow @brianmctaggart on Twitter and listen to his podcast. This story was not subject to the approval of Major League Baseball or its clubs.