MLB.com Columnist
Bill Ladson
Eyes wide open: Turner at dawn of career
Nats' No. 2 prospect discusses his learning process and going against the Padres, who traded him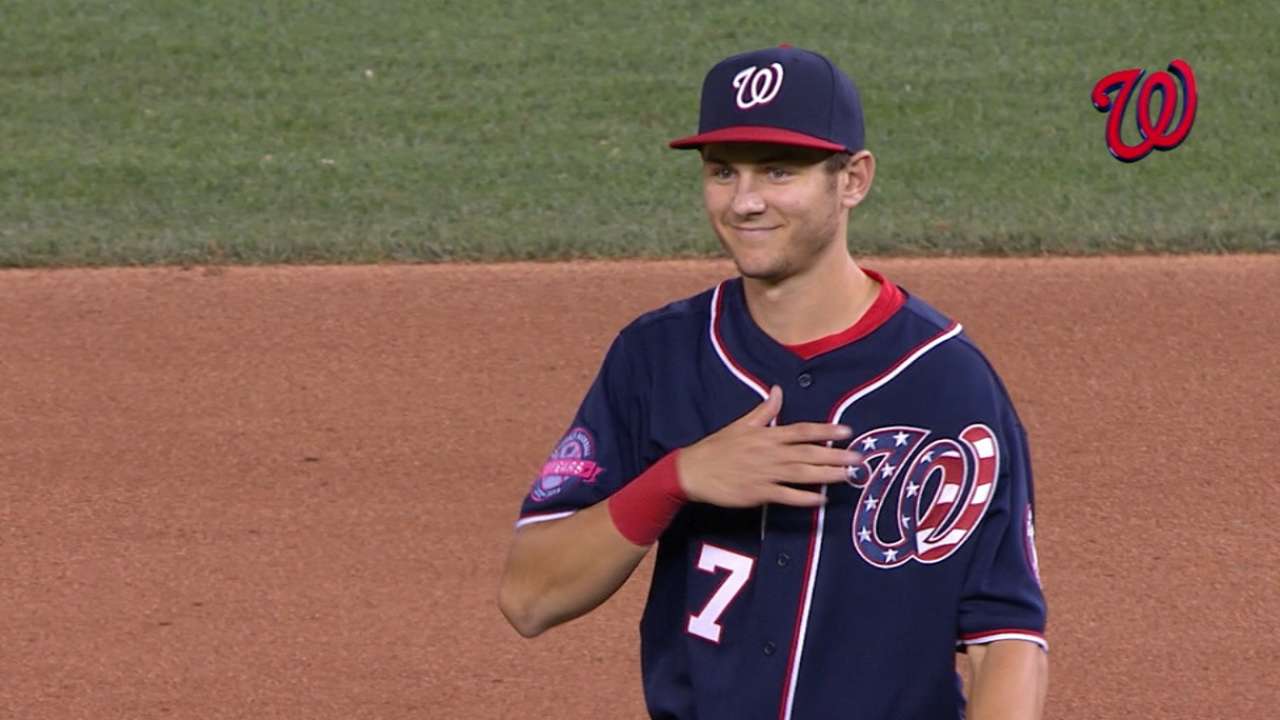 Shortstop Trea Turner -- the No. 2 prospect in the Nationals' organization, according to MLB.com -- made his big league debut this past Friday and is heading into Tuesday's series opener against the Padres, who traded him and right-hander Joe Ross to the Nats as part of the three-team deal that sent outfielder Steven Souza Jr. to the Rays and outfielder Wil Myers to the Padres.
For now, Turner is expected to come off the bench and provide, as general manager Mike Rizzo put it, speed, youth and athleticism. By next year, Turner is projected to be the starting shortstop, replacing Ian Desmond, who will become a free agent at the end of this season.
MLB.com caught up with Turner to talk about his brief time with the Nationals and his future in baseball.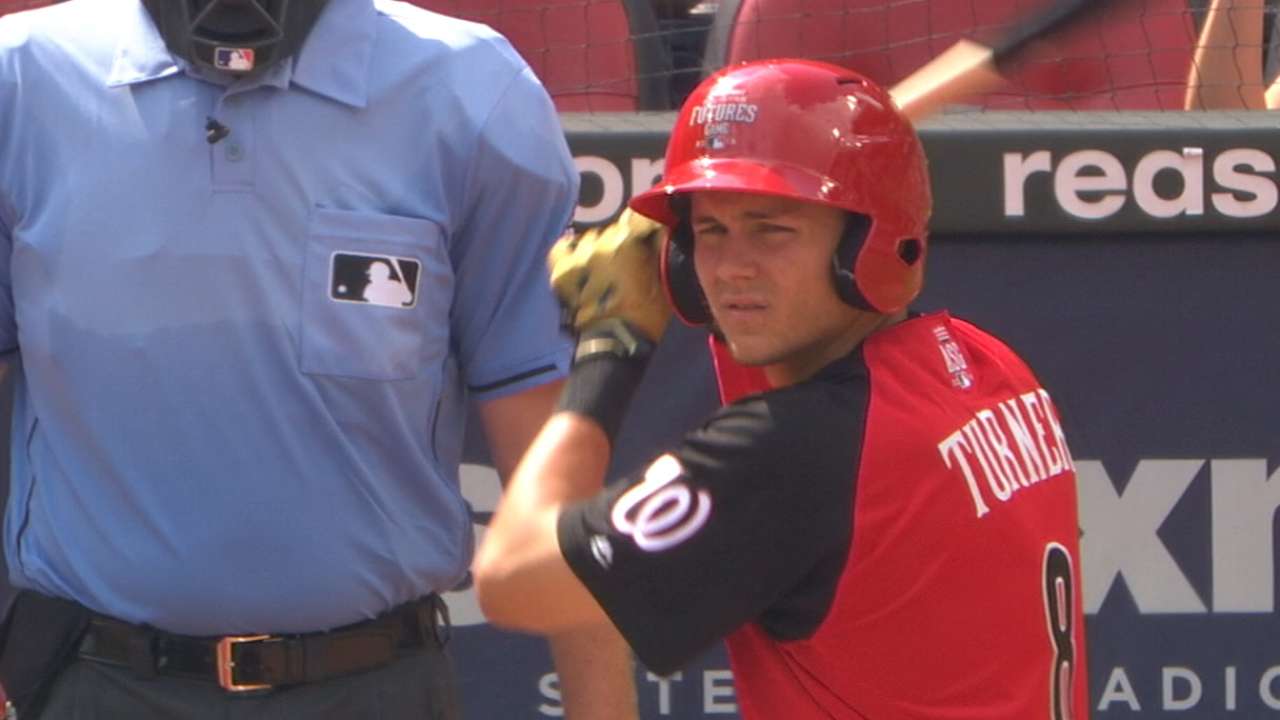 MLB.com: What is the biggest thing you have learned about the big leagues so far?
Trea Turner: I'm learning the ins and outs of coming off the bench. I was talking to [first baseman] Clint [Robinson] a lot [on Saturday] about when I should get warmed up, when to expect to go in and learning the situations, like how many pitches a pitcher has. I'm learning about double-switches. That's what I've concentrated on the last few days. I'm just learning the small things like that to make sure I'm prepared when the skipper calls on me.
MLB.com: What did you expect when you entered the Major Leagues?
Turner: I honestly didn't know. I was surprised that I got the call. I'm obviously happy and excited about it. My own expectations are to be a good teammate and do whatever is asked of me. Whatever the skipper wants -- pinch-run, pinch-hit, get a start here and there, whatever it is, that's fine. They haven't told me too much. But I expect anything, everything and whenever. You have to be ready for whatever is thrown at you. That's what I do.
MLB.com: We noticed that you were working at second base before the game. How do you feel about playing second base?
Turner: I'm still getting used to it. I played it throughout my life, not as much as shortstop and other positions, but I've played it. I'm just getting out there and trying to become consistent. The same thing with shortstop. I've played shortstop the last three years in a row. I'm trying to be consistent every day. I'm just trying to get some work in.
MLB.com: Last year, you were drafted by the Padres. They will be playing the Nationals this week. How do you feel about playing against San Diego?
Turner: It's kind of funny that's the case. All you can really do is laugh and enjoy it. It is what it is. It's in the past now, and I think it has worked out for the best. I have no complaints about it. I'm pretty close to some of those guys. There are coaches I was able to get close to during Spring Training and when I was in the [Arizona] Fall League. No hard feelings, and I'm excited to see them.
MLB.com: The trade is not even a year old and it has worked out for the Nationals, so far.
Turner: It's funny looking back on it. I don't know if the Padres or anybody knew what Joe was going to do this year. Joe has pitched great. He has great composure out there.
I just go and try to play every day and try to get better. We've come a long way in the last year. It's kind of funny we are playing our old team.
MLB.com: What do you expect out of yourself for the rest of your career?
Turner: Consistent is what I want to be. I had a chance to watch Derek Jeter and Tony Gwynn growing up. They were consistent. I think that's what made them so great. ... I try to be consistent, go out there, have good at-bats, make the double plays as I can and run the bases well. I expect to do the small things right and be a consistent player.
MLB.com: Jeter and Gwynn. Why those two guys?
Turner: I liked the way they played the game. Jeter is one of the best shortstops of all time. It's something I want to strive for. The same thing with Tony Gwynn. Both players had a lot of respect. I think that trait is special. It's hard to do, obviously.
I was drafted by the Padres, and I was able to learn more about Tony Gywnn, the stats he had. The low strikeouts impressed me. If I can do anything remotely close to that, that would be awesome in my eyes. That's very impressive. Small things like that. Jeter did the small things. He made big plays, I think, because he showed up every day and was consistent. You obviously remember the walk-off hits, his diving plays into the stands.
Bill Ladson is a reporter for MLB.com and writes an MLBlog, All Nats All the Time. He also can be found on Twitter @WashingNats. This story was not subject to the approval of Major League Baseball or its clubs.