Phenom Correa set for Yankee Stadium debut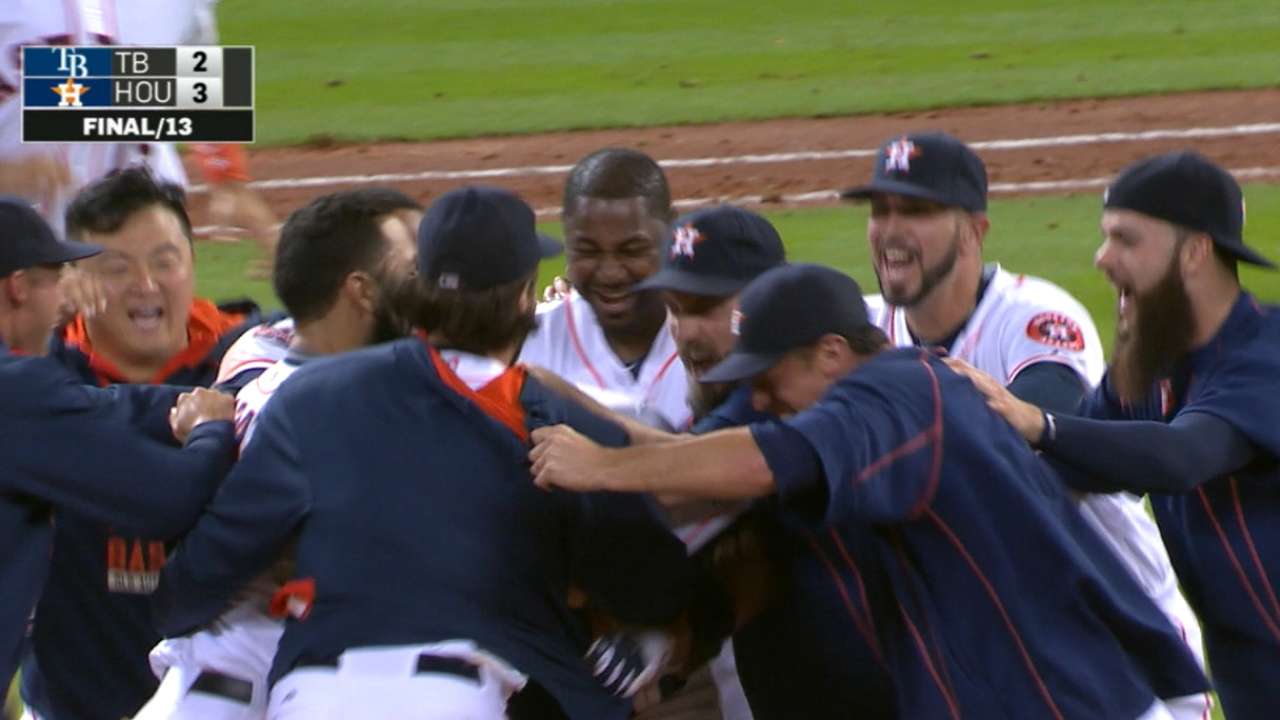 NEW YORK -- The first two times Carlos Correa came to New York, it was for a glimpse of the future. When he takes the field on Monday night at the same position as his longtime baseball idol, Derek Jeter, it will mark his first time playing shortstop in the city, as well as his debut at Yankee Stadium.
Correa attended the 2012 MLB Draft in Secaucus, N.J., as the top overall selection by Houston. In '13, he came in as a designated hitter replacement for the World Team in the SiriusXM All-Star Futures Game at Citi Field, but he did not see action.
On Monday, the future was here: the front-runner for the American League Rookie of the Year Award -- despite spending the first two months in the Minors -- and the dirty-uniformed shortstop for a first-place club that comes into the Bronx for a three-game series.
Correa started his day by visiting the MLB.com studios in Manhattan. He spent time in the social media room for Snapchat and Twitter interaction as the guy behind @TeamCJCorrea, toured the Instant Replay room and then sat down for an interview with Sam Ryan that will be televised on MLB Network on Tuesday night in the lead-in for the MLB Network Showcase game against the Yankees.
"The Yankees are a team with a lot of tradition and history, so it's really cool to be out here in New York and be able to play against the Yankees in Yankee Stadium," Correa said during his tour. "I'm really looking forward to it. … To be able to play in the same ballpark … as Derek Jeter is amazing."
Correa and the Astros enter this trip to New York and Minnesota leading the AL West by four games coming off a three-game sweep of the Dodgers at Minute Maid Park. Their only real problem this year has been what happens when they leave Houston. The Astros were 2-7 on their last road trip and they have a 24-35 road record this season.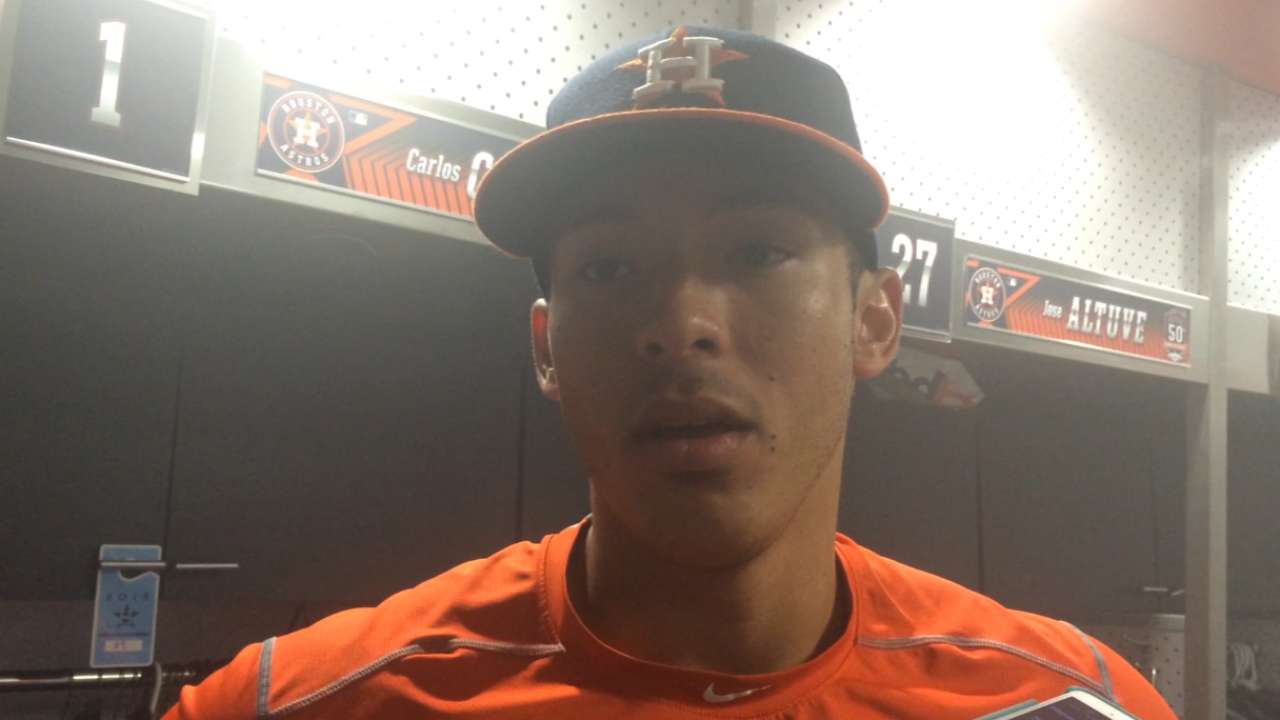 "It's really important," Correa said. "We are playing great at home, we have had some struggles on the road, so we are trying to turn that around and win some games on the road."
After debuting on June 8, Correa leads all Major League shortstops in slugging (.518) and OPS (.863). He ranks second in on-base percentage (.345) and leads all AL shortstops in home runs (15).
"It's all about making adjustments every single day, and you just have to go out there and figure out what the pitchers are trying to do to get you out," Correa said. "Then you've got to figure out a way to make an adjustment and to succeed."
The Majors' youngest position player at 20, Correa said he is proud to be one of those representing an unprecedented crop of 25-and-under talent. According to the Elias Sports Bureau, there have been only two players in Major League history to hit at least 15 homers before turning 21 in fewer games than Correa (62 games). Those were Willie Mays (55th game, in 1951) and Frank Robinson (58th game, in '56).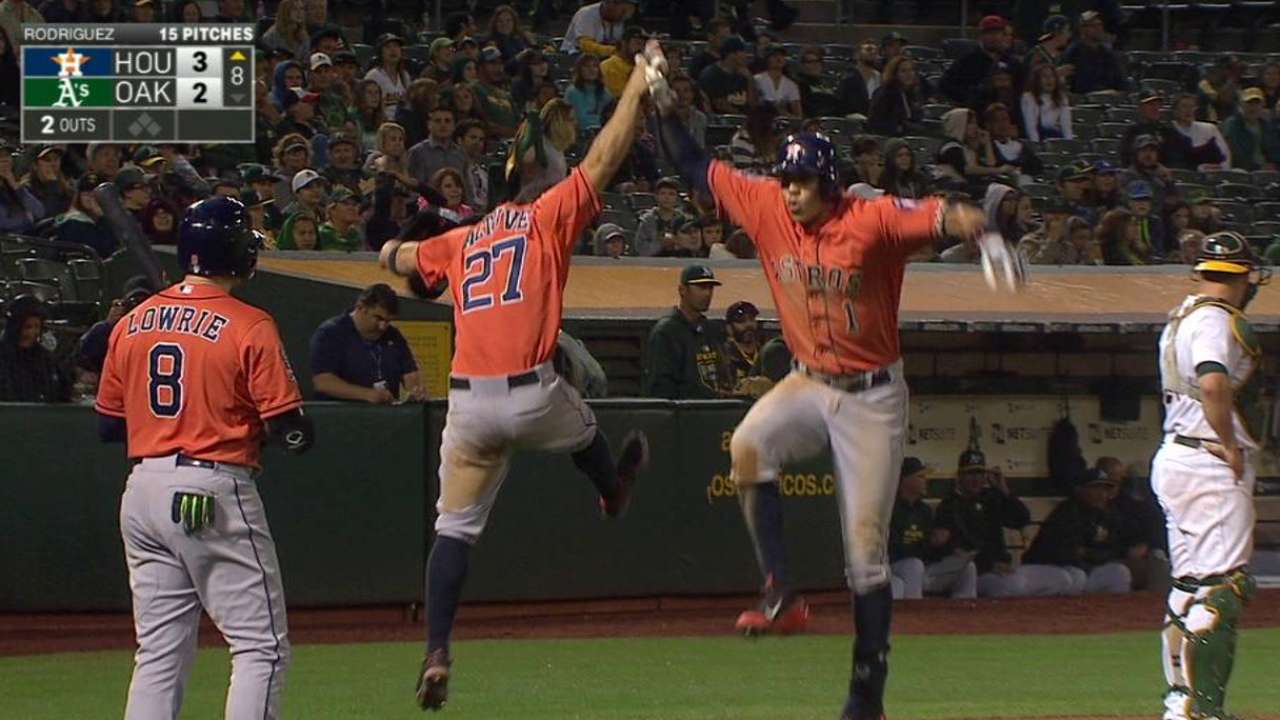 Correa wears No. 1 not just because he was the first Puerto Rican drafted overall, but also, he said, as a daily reminder to "work hard and work smart" to be the best player on the field.
"There are a lot of talented players out there," said Correa, who turns 21 on Sept. 22. "In the Minor Leagues, we're getting a lot of help from our farm systems, so the players are getting better every single year. To be one of the guys under 25 making an impact in the big leagues means a lot. You work your entire life to get to the big leagues at some point and help your team win ballgames, and when you are doing that, you feel like you have accomplished something."
Correa has advice for kids playing baseball, those who aren't all that far from him in age, so he can relate to those just starting out.
"Just go out there, play baseball and have fun," Correa said. "At the end of the day, it's just a game, so have fun."
Mark Newman is enterprise editor of MLB.com. Read and join other baseball fans on his MLB.com community blog. This story was not subject to the approval of Major League Baseball or its clubs.