Heavy workload improves Allen's pitching
Closer uses extra time on mound to make adjustments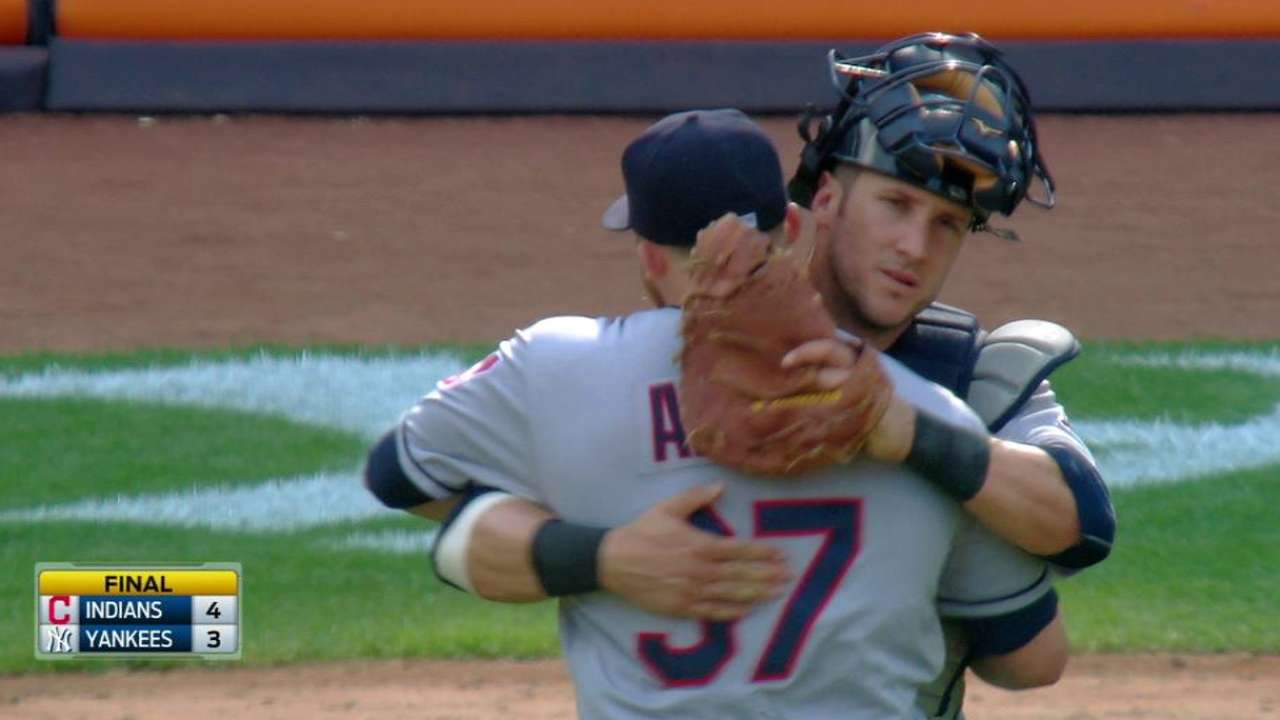 CHICAGO -- Days off are not always kind to Indians closer Cody Allen. When the hard-throwing right-hander has a prolonged down period, he feels he sometimes loses his rhythm on the mound. A heavy workload over a short time period gives him a chance to work out any kinks.
"Absolutely," Allen said on Monday. "When you're scuffling and you're out there a few days in a row, it gives you a chance to kind of work through some things and battle. If you look like a starting pitcher, he's out there for six or seven innings at a time, he's got six or seven innings to maybe work around some innings where he didn't throw the ball great. It can be the same thing for a reliever."
That creates a challenge for Indians manager Terry Francona.
Both Allen and Bryan Shaw have shown a tendency to be sharper when used more often. That makes it tempting for Francona to lean heavily on the back-end duo, but the manager also needs to keep their well-being in mind. Prior to this season, for example, Allen appeared in 153 games and logged 140 innings over the 2013-14 campaigns, so Francona has to guard against using him too much.
"Everybody's different," Francona said. "Some guys, you see if you get them the proper rest, they can go do it, but if you pitch them too much, their stuff becomes a little stale. With Cody and Shaw, if they don't pitch, it's the other way around. When they don't pitch, they look like they've pitched eight days in a row, as opposed to when they have enough reps, their delivery is intact, they're crisper. I stress about it because I care about them and their future."
Francona said what helps is that Allen and Shaw are honest when the manager asks how they feel on any given day.
The statistics back up the talk, too. This season, the 26-year-old Allen has held batters to a .586 OPS with no days of rest between outings, but that number rises with one day of rest (.705) and two days off (.735). That holds true for Allen's career, which has included a .618 opponents' OPS with no rest, but higher marks with one day of rest (.656) and two days off (.773).
Allen pointed to 2013, when he gave up four runs in his first three innings of the season, but then found his rhythm in a three-inning appearance against Boston on April 16 that year. Including that appearance, he then posted a 1.14 ERA in a 22-game stretch and ended the season with a 2.17 ERA in his final 74 games.
"It really allowed me to go out there and iron some things out," Allen said. "I think the more and more you get out there, the more and more you can kind of figure out kind of what's going wrong, or just kind of get yourself into a rhythm and kind of bottle it up and go."
Like that outing against the Red Sox, Allen has shown a knack for impressive multi-inning efforts, including his four-out save against the Yankees on Sunday. For his career, the righty has turned in a 1.53 ERA in 38 games (58 2/3 innings) consisting of at least 1 1/3 innings. Over the 2014-15 seasons, Allen has a 1.50 ERA in 17 appearances (24 innings) of at least 1 1/3 innings.
"It gives you a little boost of confidence before you go back out there for the ninth," said Allen, who has a 3.83 ERA, 26 saves and 77 strikeouts in 51 2/3 innings this year. "But also, too, it gives you maybe a little bit of a glimpse of, 'OK, this is what the hitters are trying to do, this is what I have today, and this is how I'll try to get them in the ninth.'"
Jordan Bastian is a reporter for MLB.com. Read his blog, Major League Bastian, follow him on Twitter @MLBastian and listen to his podcast. This story was not subject to the approval of Major League Baseball or its clubs.