A's name Washington 3B coach; Gallego dismissed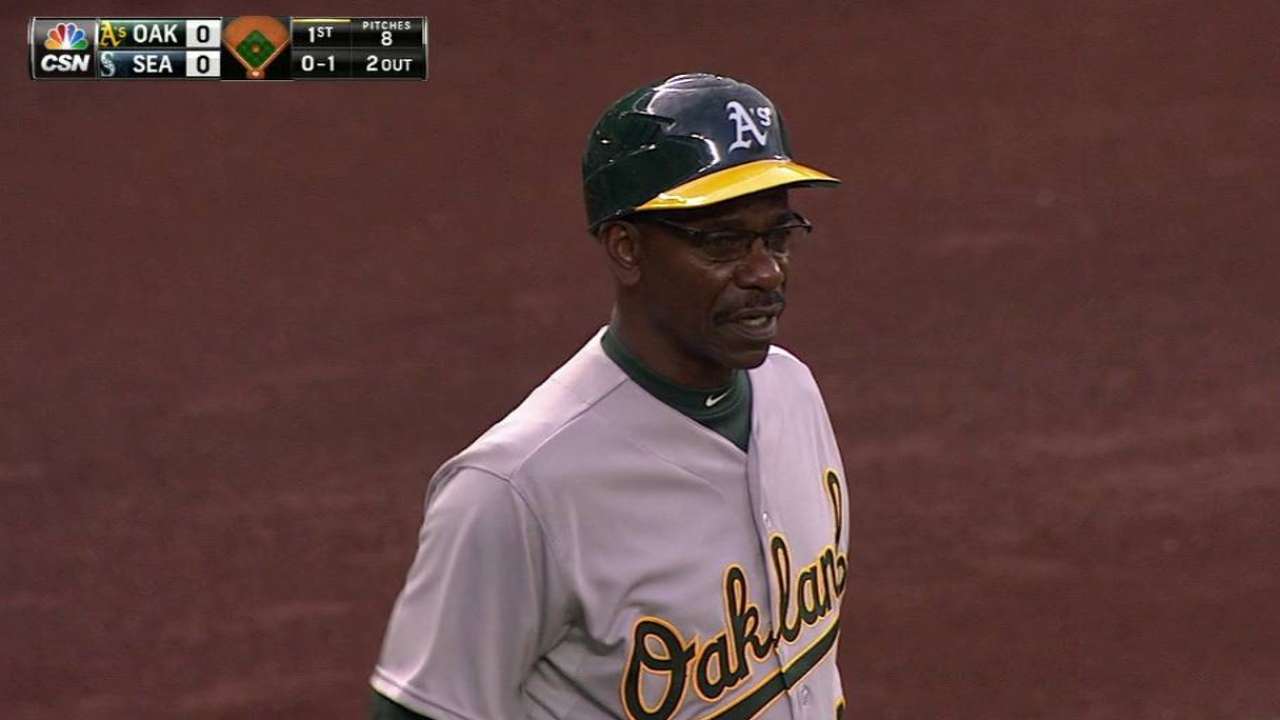 SEATTLE -- Oakland reinstalled Ron Washington as its third-base coach Monday, dismissing longtime A's fixture Mike Gallego ahead of the club's series opener in Seattle.
Gallego was in his 19th season in the A's organization and seventh as third-base and infield coach, but he was under a microscope for much of the year in the wake of myriad defensive and baserunning issues -- including several over the weekend.
Enntering Monday, the A's have had 19 runners thrown out at home this season, tied with Detroit for most in the Majors, and they've committed 100 errors, also most in the Majors -- more than half of them coming from rookie shortstop Marcus Semien (31) and third baseman Brett Lawrie (20).
"That's not a complete indictment on him," said A's manager Bob Melvin, who deemed the change "a hard decision."
"There were a lot of different variables to it," Melvin said. "I'd like to thank him for his contributions to the Oakland A's. He's been instrumental on this staff over the last several years, but when you go through some tough seasons, you have to try to identify some of the issues that you're going through, and we've had a lot of them, and that's why we're in the position that we're in."
Semien's growing pains led the A's to bring in Washington as an infield coach in May, while choosing to keep Gallego in his same role. It was at that time Gallego acknowledged he could have been let go to make room for Washington, which ultimately seemed inevitable -- but not until the offseason, making Monday's timing somewhat surprising.
But Melvin admitted "it's been a little uncomfortable" having Gallego and Washington work in overlapping roles and said, "This was the direction we were going to go at the end of the season, anyway."
Washington returns to the dugout for the first time since September, when he stepped down as Rangers manager following nearly eight seasons at the helm in Texas.
Before his wildly successful tenure with the Rangers, Washington spent 11 seasons as third-base coach with the A's from 1996-2006 and was credited with the development of some of Oakland's top young infield talent, including six-time American League Gold Glove Award winner Eric Chavez and former AL MVP Miguel Tejada.
Unable to be in uniform during games in recent months because the A's already employed the maximum number of field coaches, Washington said Monday, "I'm just happy to be back in the dugout.
"I don't expect to be no perfect third-base coach, but I know I'm a damn good third-base coach," Washington said. "Sitting up top, you see everything, so it helped me get another perspective, but this is where I want to be, on the field."
"He's a very energetic guy and very passionate about what he does," Melvin said. "He brings a very energetic attitude and demeanor that I think rubs off on players, and that's why he's been so successful not only as a third-base coach but as a manager as well."
Melvin believes Gallego will get another big league job.
"The only time you notice a third-base coach is when he does something wrong, which isn't fair, but my guess is he's going to land somewhere in a good place that's for him," he said. "It's the most difficult job on the field, and he's been doing it for a long time. We just felt we had the luxury of having another great third-base coach in house, and we felt it was time for a change."
Jane Lee is a reporter for MLB.com. This story was not subject to the approval of Major League Baseball or its clubs.