Breaking down Sano's game-changing tools
Twins rookie blends patience, power and consistency in historic start to career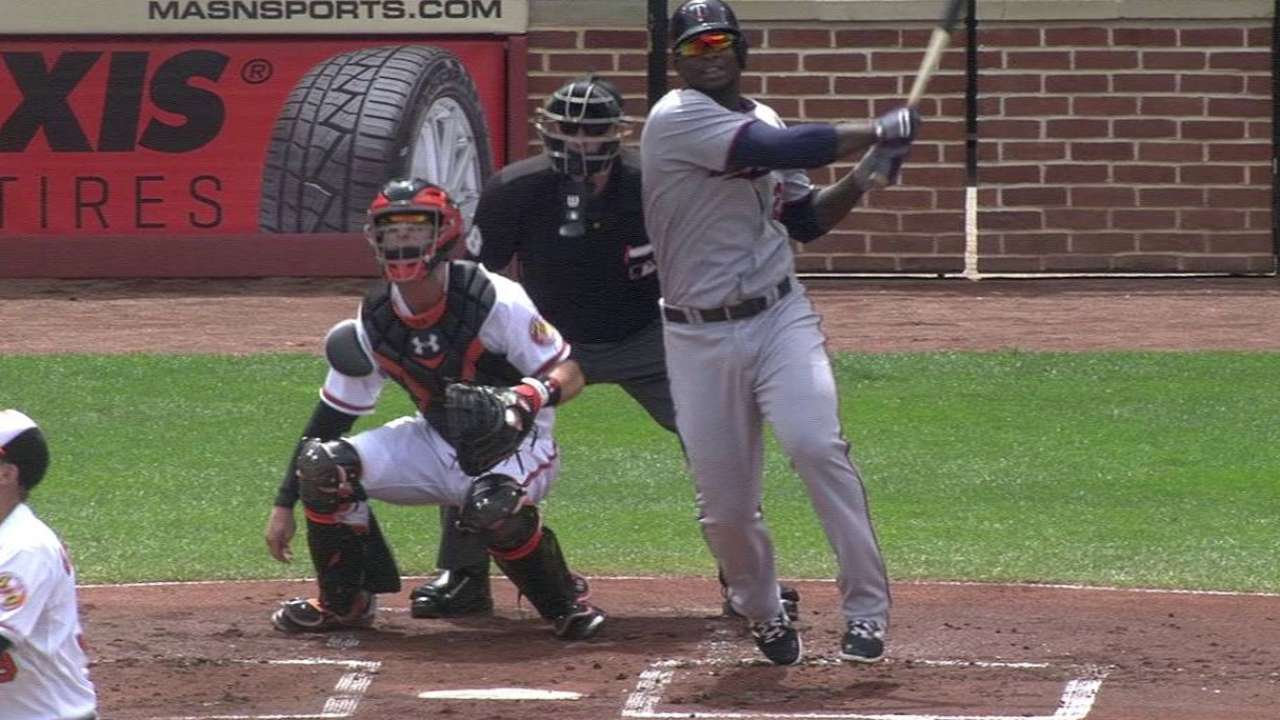 ST. PETERSBURG -- When the Twins called up Miguel Sano from Double-A Chattanooga on July 2, they were hoping the 22-year-old could help spark the offense as the club's everyday designated hitter.
Sano has done just that and more in a historic start, as he became the fastest Minnesota rookie to reach 10 homers, doing it in 41 games. He's shown power and patience at the plate, hitting .288/.397/.582 with 11 homers, 12 doubles and 34 RBIs in 44 games.
"I think the reason he's been able to do what he's done so far is because he understands hitting better than most 22-year-olds do as far as how he can give himself the best chance at-bat in and at-bat out," Twins manager Paul Molitor said. "Whether it's understanding how he's being pitched or what a guy has, what's working for that guy that day. And then understanding how to execute his swing to give himself a chance. He's the one guy who will keep his hands inside and on line almost every swing."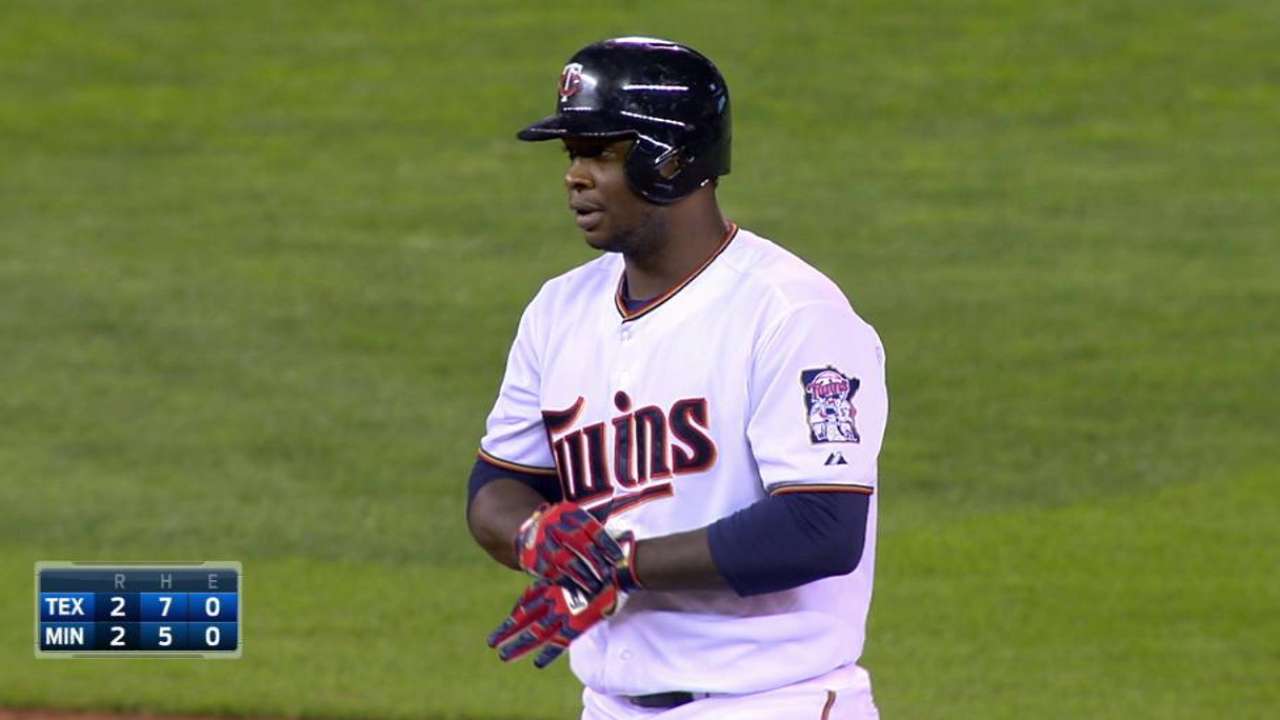 Here's a look at what has made Sano so successful at the plate in his first big league season after missing all of last year due to Tommy John surgery on his right elbow.
Patience
Sano has a good eye for the strike zone and he is willing to work the count. He sees 4.31 pitches per plate appearance, which is the fourth-highest mark in the Majors. Sano is selective at the plate, swinging at 41.7 percent of the pitches he sees, which is roughly six percent lower than the league average, according to Fangraphs.com. And while he's struck out 65 times in 184 plate appearances, he's swinging at 24.5 percent of pitches outside the zone, which is much lower than the league average of 31.3 percent.
Hard contact
According to Statcast™, Sano's average exit velocity is 94.5 mph, which is tied for fifth in the Majors. Fangraphs.com also tracks hard-hit percentage, and Sano hits the ball hard 48.9 percent of the time, which is second only to Giancarlo Stanton's 49.7 percent hard-contact rate. He's also not afraid to hit the ball hard to the opposite field, as he's batting .526 with five doubles on balls hit to right field. Of Sano's 44 hits, 22 were pulled, so he's using the whole field.
Power
It goes along with hard contact, but Sano has been showing off his massive power. Sano has an isolated power (slugging percentage minus batting average) of .294, which is the fourth best in the Majors, behind only noted sluggers Stanton, Bryce Harper and Mark Teixeira. Since launching his first homer on July 7, the longest Sano has gone without a homer is five games.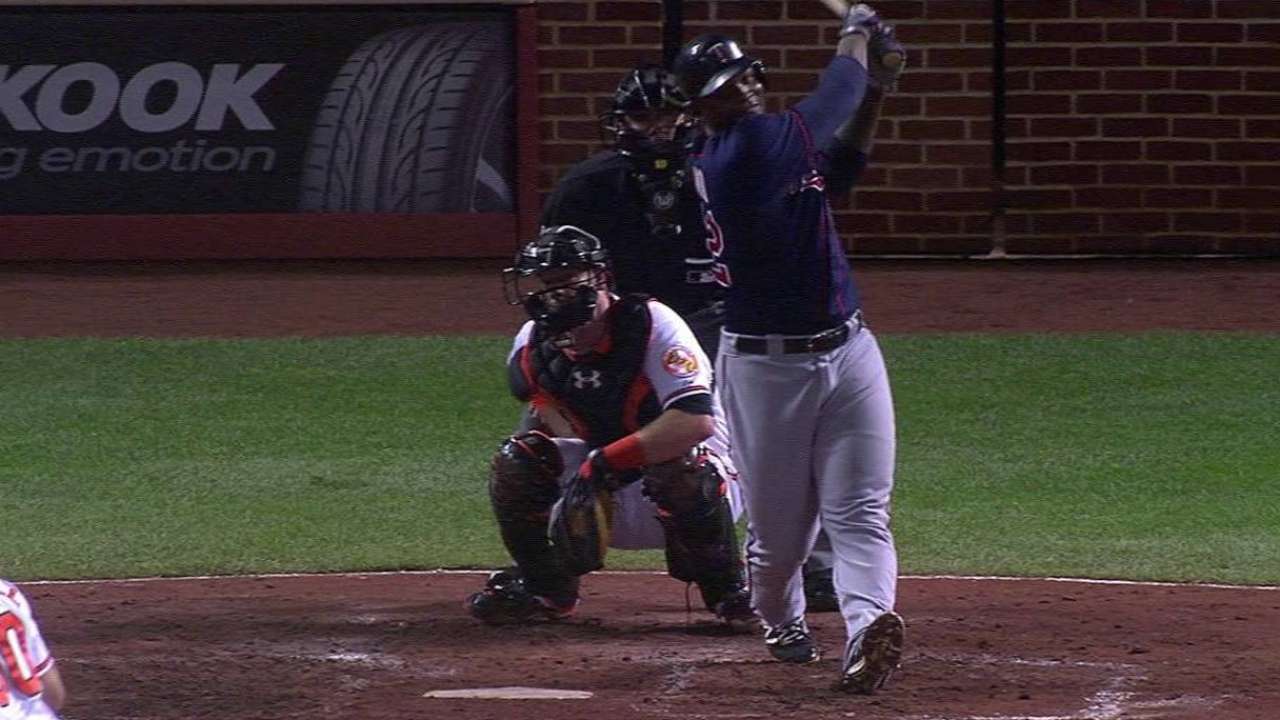 Routine
One of the more impressive things about Sano's success is the fact he's done it while serving as the designated hitter in 36 of his 44 games. It's not easy to find a routine when you're not playing in the field, but Sano has found a good balance, as he stays into the game by watching intently from the dugout and stays loose in between at-bats by hitting in the cages with assistant hitting coach Rudy Hernandez. Sano came up with just three games of DH experience in the Minors, but he has made it look easy so far.
Preparation
Not only does Sano utilize video to find out more about the opposing pitchers he's facing, he also watches video of other hitters to get a feel for what makes them so successful. He's been compared to a young Miguel Cabrera, and there's no coincidence that Cabrera is one of Sano's favorite players to watch on video. They have similar swings and incredible balance, which allows them to not get cheated on pitches, as they have consistent swings. When asked about it, Sano said, "I learn from Miguel Cabrera, but hit like Miguel Sano."
Rhett Bollinger is a reporter for MLB.com. Read his blog, Bollinger Beat, follow him on Twitter @RhettBollinger and listen to his podcast. This story was not subject to the approval of Major League Baseball or its clubs.