Cubs place Motte, Soler on disabled list
La Stella, Rosscup recalled in corresponding moves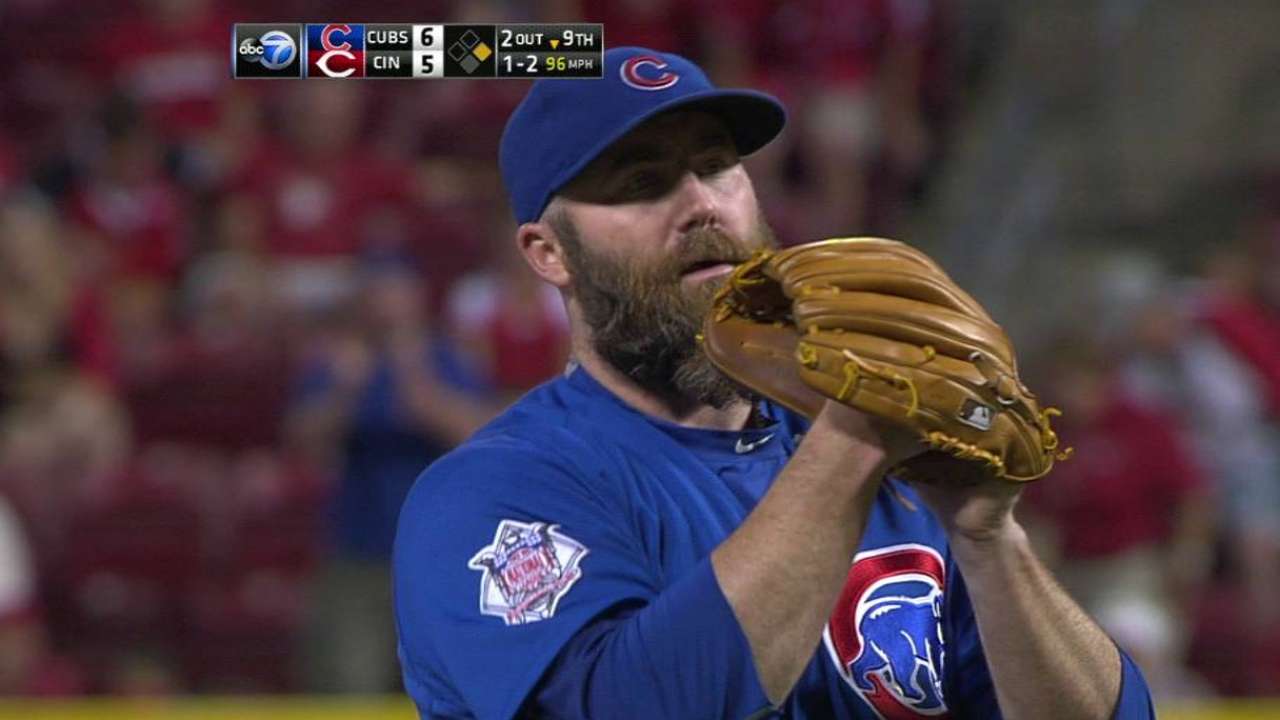 CHICAGO -- The Cubs' push for the postseason will be more difficult after right fielder Jorge Soler and reliever Jason Motte were both placed on the 15-day disabled list on Monday, Soler with a left oblique strain and Motte with a right shoulder strain.
Infielder Tommy La Stella and reliever Zac Rosscup were recalled from Triple-A Iowa in corresponding moves. La Stella started in Monday's 2-1 win over the Indians at second base and went 0-for-3.
Both Soler and Motte will miss at least three weeks, leaving the Cubs with a challenge as they hang onto the National League's second Wild Card spot.
"It's just one of those things that happens," Cubs manager Joe Maddon said. "Everybody faces the different dilemmas this time of year, and you have to play through the bad lie. … You have to have depth."
Soler will be out approximately a month, the Cubs said. The rookie outfielder was removed from Sunday's game against the Braves in the sixth inning, but Maddon was unsure how he was injured.
This season, the 23-year old is batting .265 with 42 RBIs and seven home runs in 90 games after he missed much of June with a sprained left ankle. Chris Coghlan moved from second base to fill the hole in right field, where he will likely see most of his playing time for the immediate future, Maddon said.
La Stella will split time with Starlin Castro for a starting spot at second, depending on pitching matchups. In nine games at Triple-A, La Stella hit .333 with six RBIs and one home run. He was a member of the Cubs' Opening Day roster, but he was placed on the DL on April 14 before he aggravated the injury in May.
He was chosen over another young infielder, Javier Baez, to fill the spot. Maddon said Baez is "definitely on the radar screen" as he impresses with Iowa.
Baez is hitting .304 with 55 RBIs, 12 home runs and 15 stolen bases with Iowa, but he has struck out 70 times in 62 games this season. The 22-year old infielder has gone through a hot stretch as of late, hitting .421 with eight RBIs in his past eight games.
Baez could be in line for a callup in September when Major League rosters expand to 40 players, but he will continue to work on plate discipline for now.
"He's doing really well," Maddon said. "The plan with him is just to continue to do well. Just because a guy starts doing well does not mean he has to be called up immediately.
"He's still learning his craft. I'm hearing he's getting better with his swing and his approach in his at-bats, which is all good. His time will be coming."
Motte's hole is just as substantial as Soler's, leaving Chicago without one of its best arms out of the bullpen. The right-hander recorded his eighth win of the season on Friday -- best in the Majors -- on top of his nine holds and six saves. He's posted a 3.91 ERA in 48 1/3 innings pitched.
It's the first time Motte said he has experienced such an injury, but he said he felt discomfort warming up on Sunday. An MRI revealed the right shoulder strain.
"It stings, because obviously you want to be out there," Motte said. "Things like this happen. All you can do is rest it and do what you need to do to get back out there."
Rosscup makes his return trip to the Cubs, having made 26 appearances before he was placed on the DL on June 17. In eight relief appearances with Iowa, he struck out 13 batters while carrying a 7.36 ERA.
Shortstop Addison Russell was not in Monday's starting lineup after he left Sunday's game with "tightness in the groin," according to Maddon. He was also gone to be with his fiancée for the birth of his child. He was listed as day to day, but he could be used off the bench.
"I've been looking to give the guy a rest anyway," Maddon said. "Maybe this little sign indicates, 'Back off.' You'd rather be proactive."
Greg Garno is an associate reporter for MLB.com. This story was not subject to the approval of Major League Baseball or its clubs.