Casali showing much-needed power for Rays
Catcher has eight homers for Tampa Bay since the All-Star break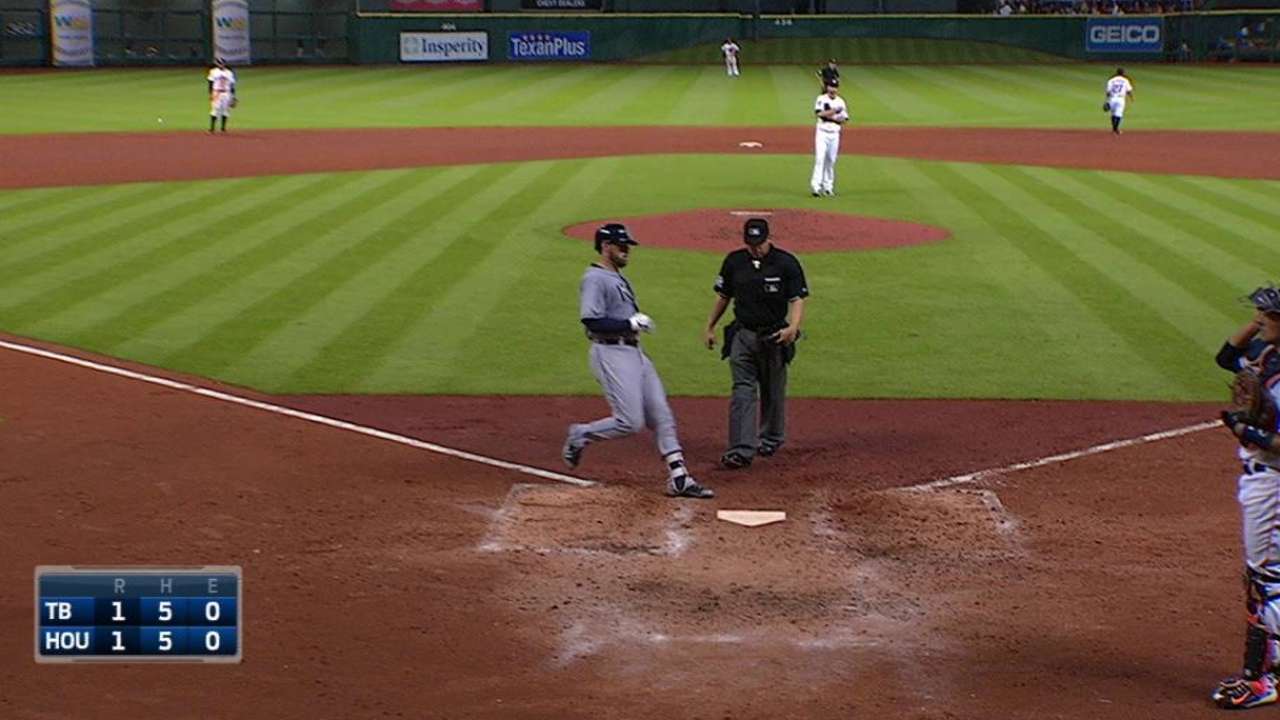 ST. PETERSBURG -- "Good-hitting catcher" sounds like an oxymoron these days. Do such animals even exist?
Curt Casali would like nothing better than to change that perception. The lack of offense provided from the catcher position has been a haunting reality compounded by the Rays' decision to pass on future All-Star Buster Posey in the 2008 Draft.
Alas, the Pirates, Royals and Orioles also passed on Posey before the Giants selected him. Perhaps it's time to move on.
With Posey in the rearview mirror, Tampa Bay has continued to look for the guy who could handle the club's pitching staff while giving the offense a little punch. Gripes from Rays fans about the lack of offense by the team's catchers reached a crescendo in 2014, when the catching tandem of Jose Molina and Ryan Hanigan combined for 89 hits -- a .187 average -- with five home runs and 44 RBIs.
Given those numbers, Casali's 2015 season is particularly refreshing.
Casali is hitting .235 with nine home runs and 17 RBIs in 98 at-bats. He leads American League catchers and is tied for second among all Major League catchers with eight home runs since the All-Star break, and 65.2 percent of his hits have gone for extra bases.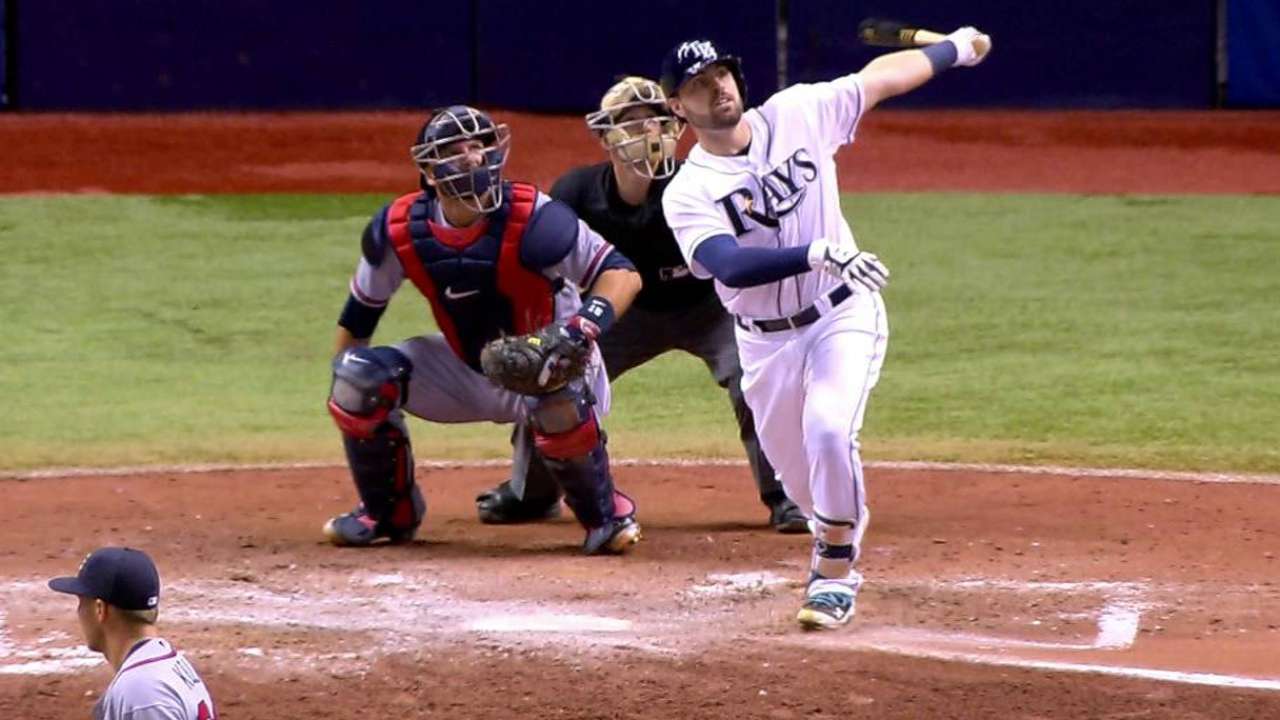 The numbers look funny next to Casali's name, since he's never shown much power. He hit just seven home runs as a senior at Vanderbilt and just 26 in 958 Minor League at-bats heading into the 2015 season.
According to Tampa Bay manager Kevin Cash, the difference for Casali has been the decision to swing for the fences.
"Just watching him in Spring Training and when he first came up, you've got a 6-foot-3, 230-pound guy that looked like he kind of wanted to carve the ball, hit the ball the other way," Cash said. "Have ultra-quality at-bats, and all that."
Cash said Casali has changed his approach to where he wants to look for his pitch and take a rip when he gets it. Cash credited hitting coach Derek Shelton and assistant coach Jamie Nelson for implementing the change.
"They've kind of let him go," Cash said. "Go hit. You can get tied up, especially a young player, in trying to do so much, and, 'I don't want to swing at a ball out of the zone,' and, 'I don't want to roll over.' It's kind of like, 'Who cares? Go hit.' It's allowed him to be free and we've seen the power. He's hit some mammoth bombs."
Casali always thought of himself as a "situational hitter and just trying to get the guy over, doubles and things." Now he uses a high leg kick, a more aggressive approach at the plate and a slightly different grip. And that's "made a world of difference for me in harnessing more power."
Striking out more is an offshoot of taking a bigger cut at the plate, which Casali acknowledged he was "not too thrilled" about, but he recognizes the value of the change.
"If I can compensate for [striking out more] by driving the ball and getting guys in, I think it's a fair compromise," Casali said.
Since becoming more of a deep threat, Casali has noticed changes in the way opposing pitchers are pitching to him.
"It's been a lot of breaking balls earlier in the count," Casali said. "I guess it's trying to eliminate me trying to swing earlier in the count and get a fastball. I'm still able to get fastballs. I think it's an approach thing. A pitcher-by-pitcher thing. An at-bat thing. I'm slowly starting to grasp how to attack these guys after I've seen them once or twice, which is really key."
Casali feels more confidence, which he attributes to the change in his approach as well as the "trust [the Rays have] instilled in me, both behind the plate and offensively.
"If they're trusting me to take an aggressive approach at the plate, then I'm going to take it," Casali said. "I'm trying to hit the ball really, really hard every time I take a swing. It seems to be working so far."
Bill Chastain is a reporter for MLB.com. This story was not subject to the approval of Major League Baseball or its clubs.