Bucs' bullpen going above and beyond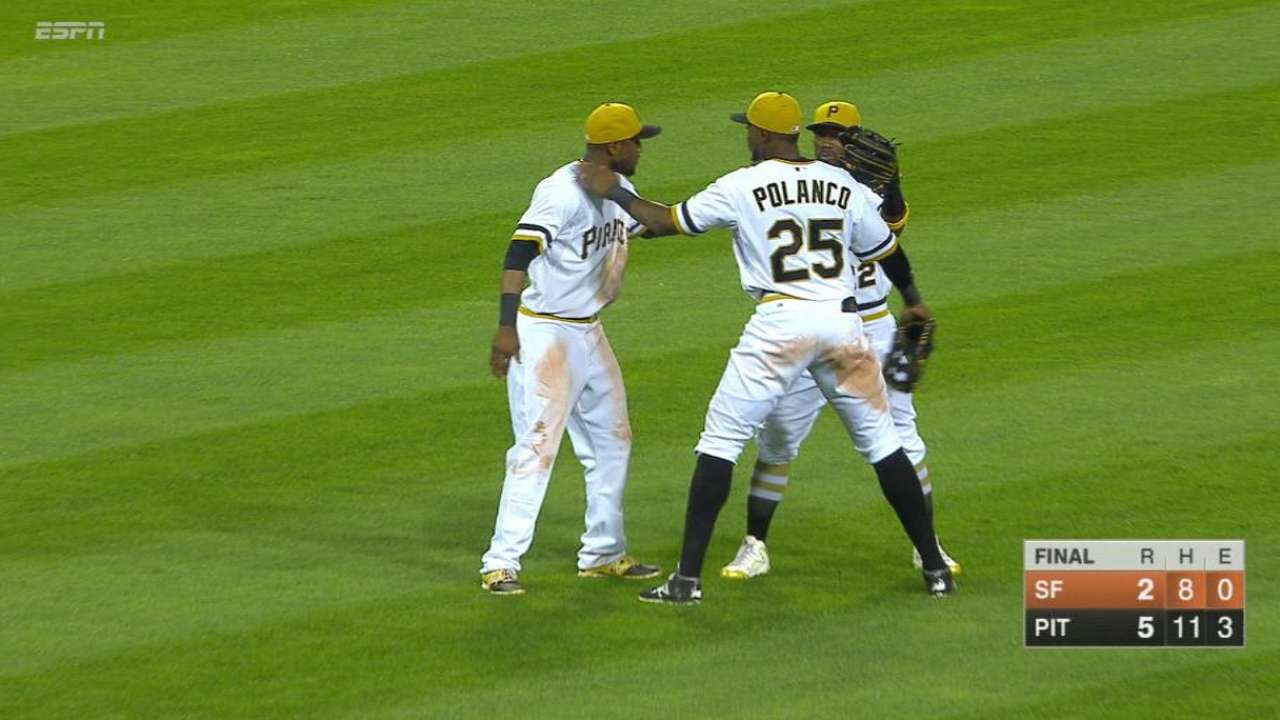 PITTSBURGH -- In discussing the freaky good relievers in his otherworldly bullpen, Pirates manager Clint Hurdle dropped an inadvertent malaprop the other day.
"I feel confident in them. They're convicted," Hurdle said.
He of course meant to say "committed," but the truth is that if holding up leads and holding down teams were crimes, the Bucs' Magnificent Seven would be featured on America's Most Wanted.
Four of them contributed a typical 3 2/3 one-hit shutout innings to Sunday night's 5-2 victory over the Giants. Their efforts stretched the bullpen's latest prolonged mastery to three earned runs allowed in 36 2/3 innings. That's the equivalent of an ERA of 0.74.
"They've been fantastic, the way they've taken the ball," Hurdle said after Arquimedes Caminero, Joakim Soria, Tony Watson and Mark Melancon nailed down the fifth win of the seven-game homestand and the 44th win of this 64-game home season. "They're a big part of the reason we've been able to win a lot of games here in the second half."
Sunday's biggest reason was Caminero. The other three got to work with a little cushion, after late homers by Andrew McCutchen and Pedro Alvarez. Caminero entered a boiler in the sixth: 3-2 lead, one run in, one out, two men on.
"My mentality is to just be aggressive and throw strikes," said Caminero.
He threw two of them to Matt Duffy, who was already 3-for-3, then a ball, then a 90-mph slider Duffy grounded to shortstop Jung Ho Kang for a delayed inning-ending double play -- delayed by the replay review that allowed the out call at first base to stand.
Caminero walked off the mound having extended his shutout streak to 16 innings, one of the longest active ones in MLB.
"That was the biggest sequence, when Caminero came in," said Hurdle. "He kept the game in check and tipped it our way from a momentum standpoint."
After Soria put up his own adventuresome zero in the seventh -- surviving a two-out walk followed by Brandon Crawford's double -- the curtain rose on the Watson-Melancon end-game.
Six up, six down. The Pirates improved to 28-3 when that tandem closes out games.
Watson and Melancon are as valuable in the bullpen as they are when they come out of it.
"When you have guys like Watson and Melancon who've been here a long time, it creates that teamwork mentality," said the under-appreciated cog in this marvelous relief corps, bullpen coach Euclides Rojas. "The new guys, [Joe] Blanton and Soria, they fit right in, which was really good to see."
The bullpen's credits are piling up like crazy. Like 18 straight relief wins, a Major League best since 1909 Bucs relievers won 22 in a row.
"It really is remarkable," Rojas said. "We are all very proud of them. They're very professional, they prepare themselves very well, sticking to the same routine every day. Truth is, every night, they're ready before the phone rings."
And it's never a wrong number, whichever one Hurdle asks for.
Tom Singer is a reporter for MLB.com and writes an MLBlog Change for a Nickel. He can also be found on Twitter @Tom_Singer and on his podcast. This story was not subject to the approval of Major League Baseball or its clubs.