MLB.com Columnist
Richard Justice
West-leading Astros brimming with confidence
Baseball's best story of 2015 poised to make postseason noise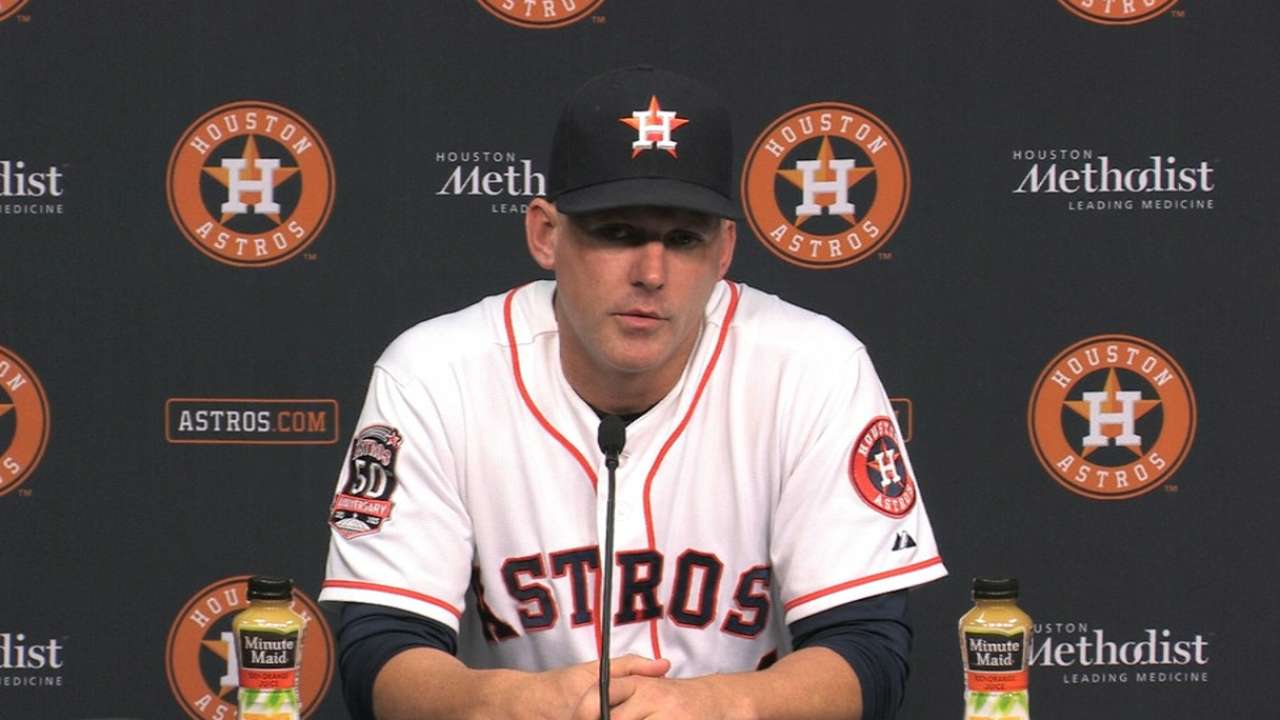 HOUSTON -- Jason Castro was the right guy to finish another magical day for a team that has had plenty of them. He was here when the reconstruction of the Houston Astros began three years ago, and he endured some of the toughest times.
Castro made the American League All-Star team in 2013 as the Astros were on their way to losing 111 games. Even then, he saw hope.
"I always believed in the process," Castro said. "I could see we had a plan and we had good people in charge. Obviously, losing is tough, but it was easy to see there were good things happening."
So more than perhaps any of the other Astros, Castro has earned the right to soak in every sweet moment of this 2015 season. He got a huge one Sunday afternoon by lofting an opposite-field home run into the left-field seats at Minute Maid Park in the 10th inning for a 3-2 victory over the Dodgers.
That home run came after the Astros rallied from a 2-1 deficit in the ninth inning and finished a three-game sweep of the Dodgers and a 7-3 homestand. In doing so, they regained some momentum lost from a 2-7 road trip in which their lead in the AL West fell to a half-game at one point.
But they got back to Minute Maid Park and came from behind five times and celebrated four walk-off victories. Oh, and there was that Mike Fiers no-hitter Friday night. This team that averaged 104 losses the past four seasons is now 69-56 and leading the AL West by four games.
Welcome to baseball's most amazing story of 2015.
"We've still got five weeks to play our best and get to the position we want to get," Astros manager A.J. Hinch said. "The personality of this team continues to shine through at moments where maybe you don't expect it."
When a team keeps doing take-your-breath-away stuff, it begins to feel like the norm. It's simply who the Astros are -- a young club playing with energy and enthusiasm.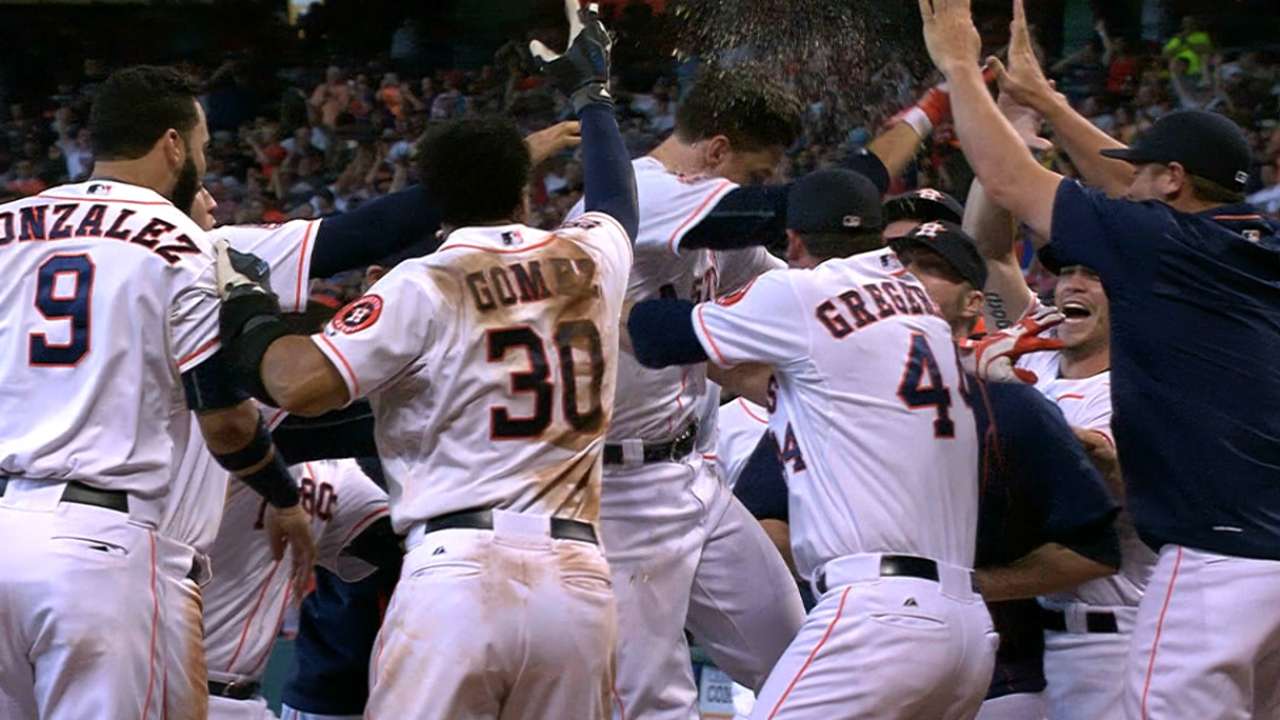 During the seven-win homestand, Houston's rotation led the Majors in ERA (2.13) and innings (67 2/3). And the bullpen was right behind with a 1.48 ERA, third best in baseball during the stretch.
The Astros are the byproduct of a great farm system and a general manager, Jeff Luhnow, who upgraded the roster at almost every position last offseason. At the non-waiver Trade Deadline, he added center fielder Carlos Gomez and two starting pitchers, Scott Kazmir and Fiers. Houston hopes to get its young star right fielder, George Springer, back from a broken wrist in a couple of weeks, just in time for the final sprint into October.
Perhaps most important, the Astros believe. Hinch has pushed every right button, including the confidence one. That one he works constantly. They don't see themselves as a fluke. They've won enough this summer that the newness of it has worn off.
With dazzling rookie shortstop Carlos Correa in the middle of the order and Springer likely to return from the DL in perhaps two weeks, Houston believes it will be nicely positioned for a dash to the finish line.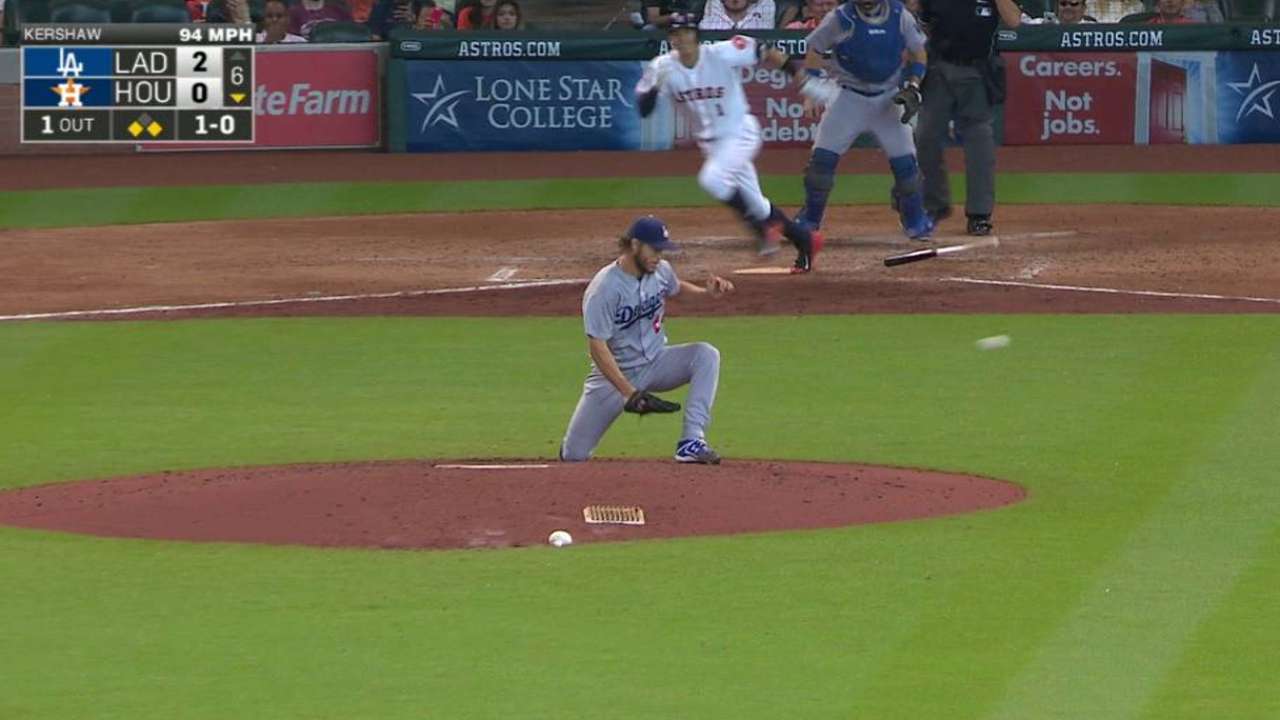 "We don't have a confidence problem," Hinch said. "We don't panic. We don't pout. We don't do things that would distract us from playing our complete game."
The Astros won Sunday because rookie Lance McCullers, who was given most of the month off to freshen him up for the final weeks, returned to the rotation and allowed two earned runs in seven innings.
They won despite Gomez getting thrown out in an attempted steal of home. The Astros get thrown out a lot on the bases, but that's part of their approach. Run hard. Play hard. If they sometimes run at the wrong times, so be it. They are young and spectacularly entertaining to watch.
"This is why we do this -- to win -- even though the stress continues all the way until the end," Luhnow said. "It's a fun journey."
On Monday, they'll begin a six-game road trip to play the Yankees and Twins. That'll be an important litmus test for a club that has lost 17 of 21 on the road but has stayed in first place by running up the best home record in the AL (45-21).
What's one more little test when you've already passed dozens of them?
"It feels great to complete games, to play resilient baseball, to get to the finish line of every night feeling like you've maximized your 27 outs," Hinch said. "You did everything you could to win that night's game."
Richard Justice is a columnist for MLB.com. Read his blog, Justice4U. This story was not subject to the approval of Major League Baseball or its clubs.