Angels hold team meeting, remain confident
Club loses hold of Wild Card spot while being swept by Blue Jays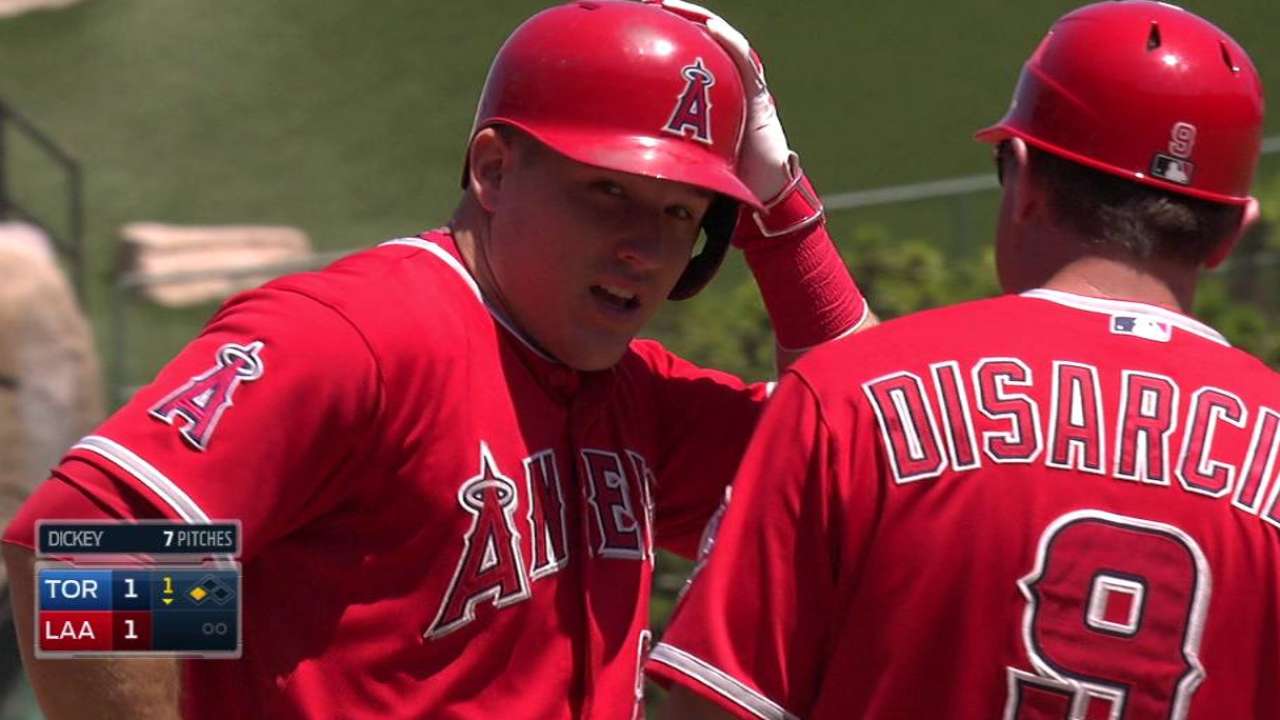 ANAHEIM -- The Angels held a meeting after Sunday's series finale against the Blue Jays, a 12-5 loss at Angel Stadium that finished off a sweep in which the Angels allowed 36 runs -- a franchise record for a three-game series -- fell to third place in the American League West and ceded their AL Wild Card spot to the Rangers.
"We talked about a couple of things," manager Mike Scioscia said. "I think everybody's realistic about this weekend and where we've been the last couple of weeks. But there's still a lot of confidence in that room and we need to bring it on the field and start playing games like we can."
Of the Angels' clubhouse, Scioscia reiterated, "The leadership in there is fine.
"The confidence that this team has needs to show up on the field," he said. "And these guys feel good about our team. We just need to start executing better on the field."
Since July 22, the Angels have fallen from 14 games over .500 to just two games over, at 63-61, and the series against Toronto was their worst of the stretch. It left them 5 1/2 games behind the Astros in the AL West, but they're only 1 1/2 games behind the Rangers in the Wild Card standings.
"We're right in the middle of this thing," Scioscia said. "And all it's gonna take is really maybe one good game, hopefully, playing the way we can, setting up on our terms and moving forward from there. Because these guys are busting their butts. They're playing hard. We just didn't do anything the way we need to this weekend."
On defense, the Angels dropped popups, missed fly balls and booted grounders. On offense, even with a five-run first inning on Sunday, the Angels managed just 10 runs in the series and scored in only five of the 27 innings they played.
And the Angels' starting pitchers combined for just 12 innings in the three games, allowing 21 runs (17 earned) for a 12.75 ERA. The relievers had to pitch 15 innings, and they allowed 15 runs.
"Nobody in here is panicking; there's a lot of baseball left to play," said Garrett Richards, who allowed a season-high nine runs in five-plus innings on Sunday. "I mean, obviously we're losing, but everybody in here is ready to play every day."
The season is closing in on its final month, though, and if the Angels want to make a playoff run, they don't have room for the mistakes they made against Toronto.
"Obviously when you lose, you're disappointed. No one like to lose," said Mike Trout, who went 3-for-4 with an RBI triple on Sunday, rebounding from going 0-for-6 with four strikeouts on Friday and Saturday. "We know we're a good team. We can't hang our heads now."
David Adler is an associate reporter for MLB.com. Follow him on Twitter @_dadler. This story was not subject to the approval of Major League Baseball or its clubs.