Orioles left fuming after being swept at home
Machado boots costly play at shortstop in loss to Twins
BALTIMORE -- Entering Sunday, the Orioles had not been swept at home during a four-game series since 2008, and Manny Machado had never played shortstop in the Majors. Those two random items intersected nastily for the reeling club.
Machado's 12th-inning error led to the go-ahead run after closer Zach Britton coughed up starter Kevin Gausman's lead in the ninth inning, as Baltimore dropped its fifth straight overall, 4-3, in 12 innings to Minnesota.
Switched from third base to shortstop as a defensive change in the 12th after Ryan Flaherty and J.J. Hardy were subbed out, the 23-year-old Machado muffed his very first fielding chance. He booted a grounder from Eduardo Escobar, who hustled to second base after Machado was late in covering the bag. Two batters later, Escobar scored the decisive run on third baseman Jimmy Paredes' fielding error.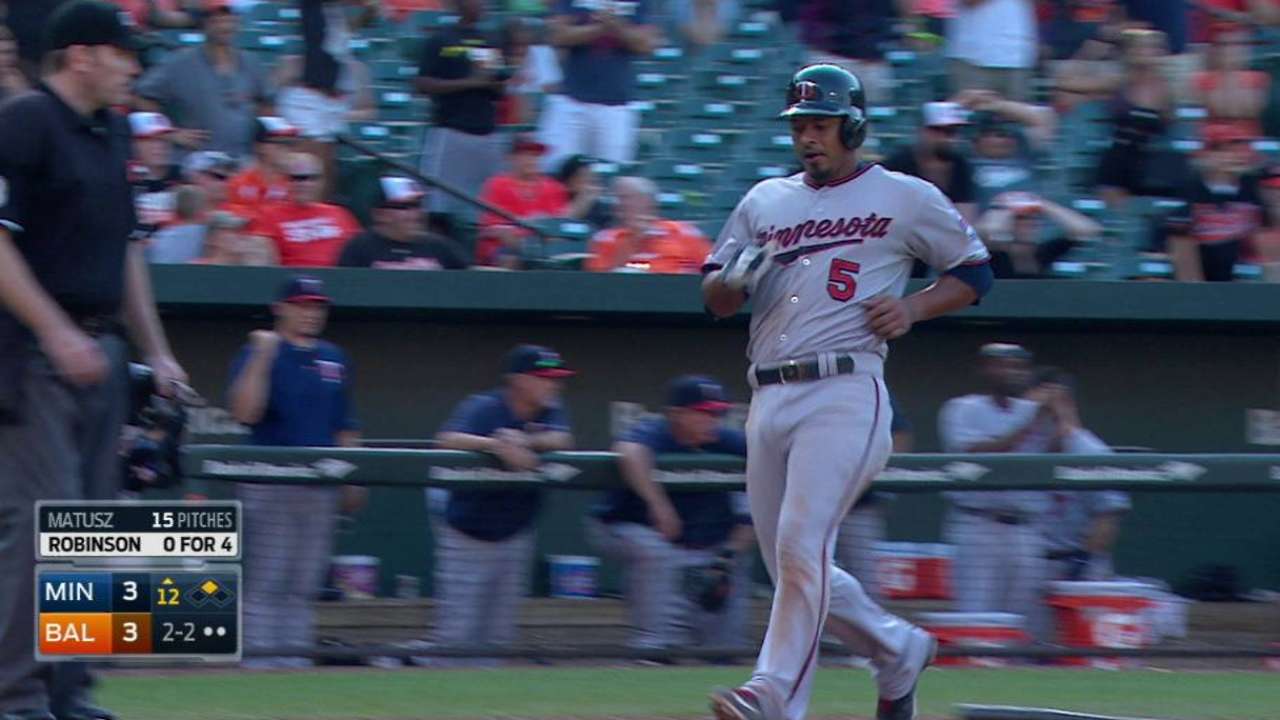 Machado, who also committed an error in the seventh at third base, used plenty of colorful language throughout his postgame media session, starting with an inquiry as to what happened on the play.
"What do you think happened? We lost, plain and simple," Machado said. "I'll go back out there and play shortstop again, get the opportunity to come back and help the team win again. We've just got to keep playing baseball.
"We lost the game in the ninth inning, bloop hits. [Stuff] ain't going our way. We've got to keep our head up and keep playing the game."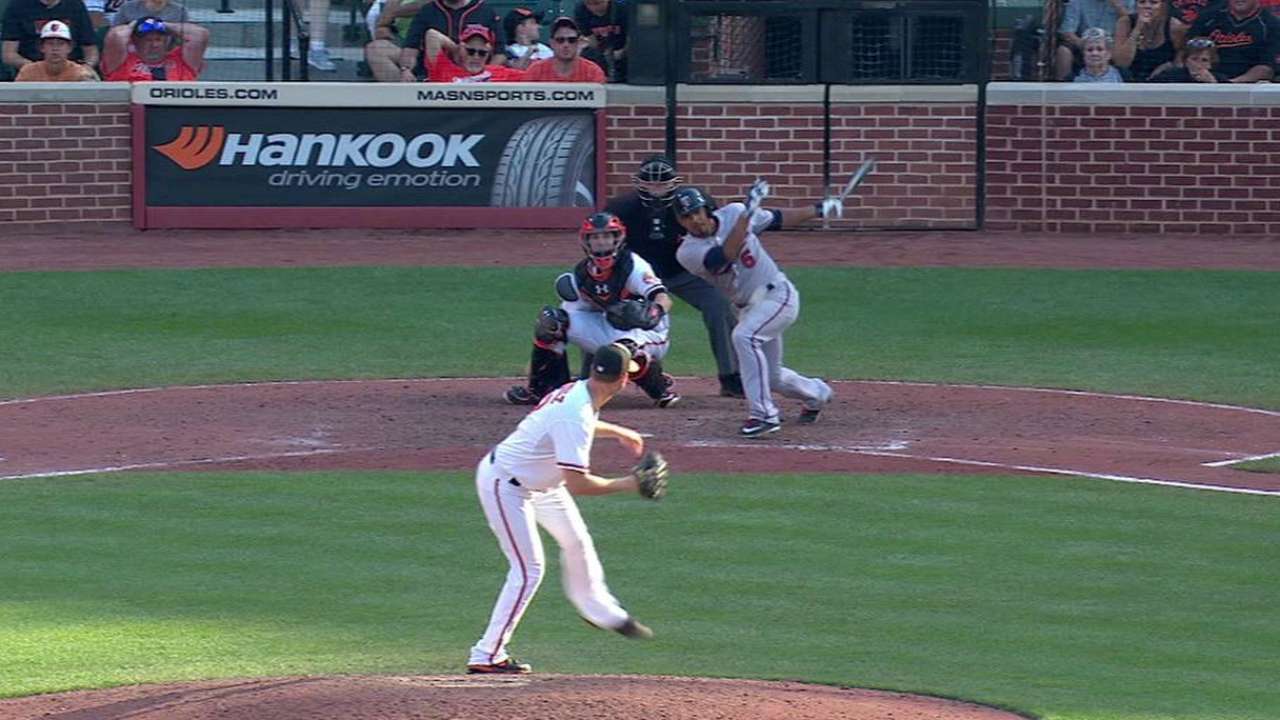 Asked about any unfamiliarity playing a different position, he said, "No. I missed the ball, plain and simple. There's no excuses here. I missed the [expletive] ball and that's it."
When it comes to bad breaks, the Orioles hope that's it for them after losing three straight one-run games.
"Just feel like sometimes you can't quite catch a break, and you've got to make them, too," Orioles manager Buck Showalter said. "We had some opportunities we didn't cash in on, uncharacteristically had some errors at the end that cost us."
After a rocky first inning that included a two-run homer by Miguel Sano, Gausman retired 17 straight batters and 19 of his final 20.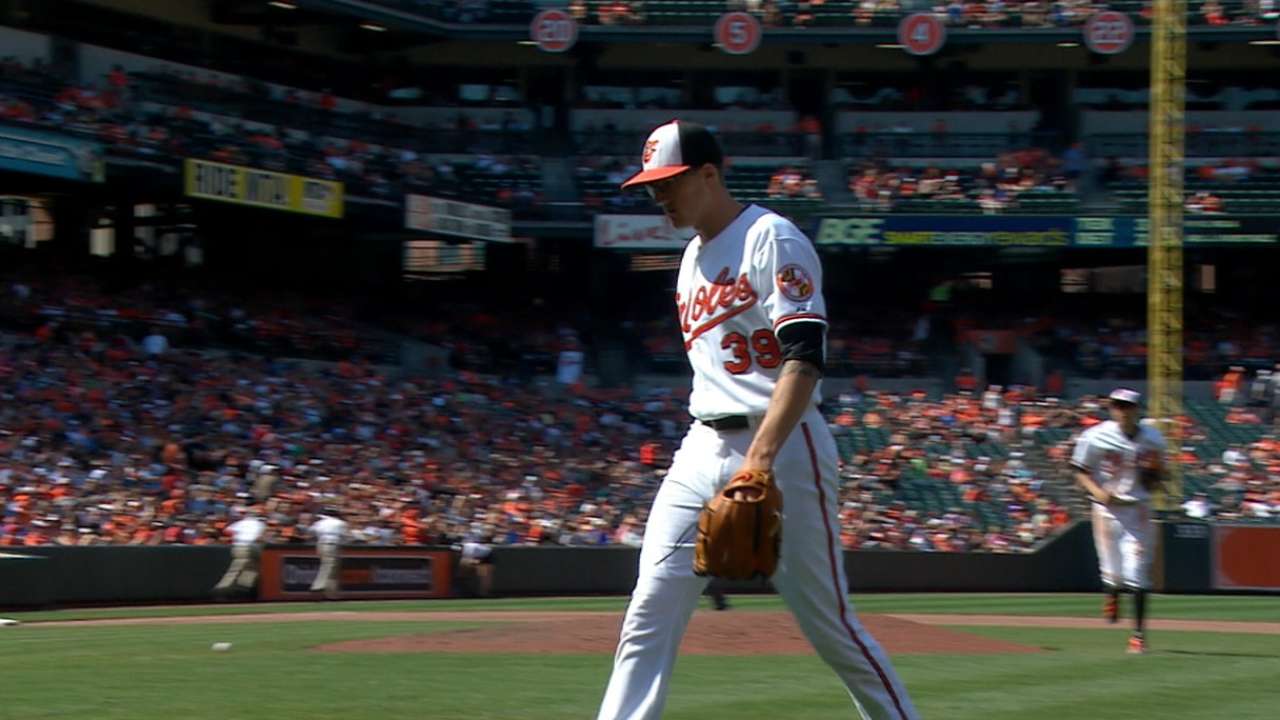 "I felt good. I felt like I settled in after the first inning. Once I started mixing in everything, I felt like I kept them pretty off-balance," Gausman said. "After the first, I'm sure a lot of people probably didn't think I could go seven."
He also matched his season high with eight strikeouts.
"That might be about as good an outing as he's had," Showalter said.
That's certainly not the case collectively for the Orioles, who now start a seven-game road trip against Kansas City and Texas. The Royals have the American League's best record.
In perhaps the ultimate silver lining comment, Adam Jones saw a positive with the oh-so-close losses.
"It's not how I feel like I should, it's about the reality of it," he said. "It's good that it happened. It shows how much ... fortitude these 25 men have. Let's go on the road and handle our own destiny. It's in our hands. It's not in no one else's, so we just have to execute."
Ben Standig is a contributor to MLB.com. This story was not subject to the approval of Major League Baseball or its clubs.