Hale features strikeout stuff in historically wild start
Righty fans nine, throws Rockies record four wild pitches, two of which plate runs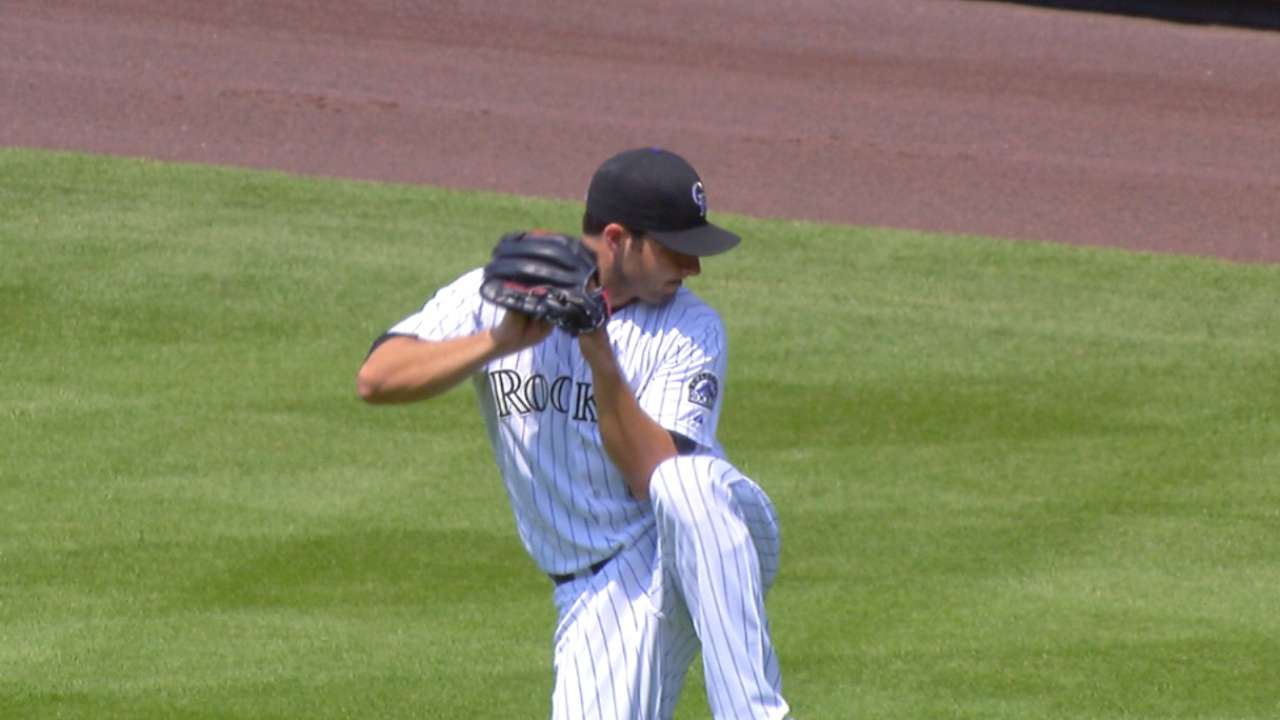 DENVER -- A pinch of wildness, a dash of effectiveness and a helping of weirdness was the recipe for David Hale's start on Sunday afternoon.
In Colorado's 5-1 loss to the Mets at Coors Field, Hale uncorked a Rockies single-game-high four wild pitches, tied a career high with nine strikeouts and retired the final 10 hitters he faced. In total, Hale yielded six hits and five runs (four earned) over six innings.
As far as the wild pitches are concerned, Hale said he's still working out the kinks with some mechanical adjustments he made in between starts.
"It's been about three days now," Hale said. "I really like them, and I've just got to groove them now. [The adjustments are] keeping myself more in line and being less rotational. I've always worked on that in the past, but this thing is the most immediate change that I've seen. I'm really happy with that, and I'm going to stick with it."
Of Hale's four wild pitches, three of them came in the second -- and two were rather costly.
With Anthony Recker batting and runners on second and third, Hale bounced back-to-back wild pitches that allowed both runners to score. It was the first time in more than two years that a pitcher unleashed two straight wild pitches that both plated runs with the same hitter at the plate. The White Sox's Nate Jones last completed this dubious feat on April 30, 2013, while facing Texas' Adrian Beltre.
"Early on, he looked a little out of whack," Rockies manager Walt Weiss said. "I think there were some things running through his mind mechanically. But he grinded through that."
After the Mets took a 5-0 lead through three, Hale settled in. He ultimately struck out six of New York's nine starters, including Juan Uribe three times. It was the second game this season where Hale punched out nine.
In doing so, Hale became just the 10th pitcher since 1914 to throw at least four wild pitches and have at least nine strikeouts in a game, joining a list that includes Hall of Famers Nolan Ryan, Phil Nierko and Walter Johnson. Before Hale, the last pitcher to accomplish such a feat was the White Sox James Baldwin, who did it on Sept. 18, 1996, against the Indians.
"It's tough [to make mechanical adjustments in-season] because I start thinking about it out there," Hale said. "That is difficult, but I think it's something for the better."
Dargan Southard is an associate reporter for MLB.com. This story was not subject to the approval of Major League Baseball or its clubs.