MLB.com Columnist
Lyle Spencer
Jays sitting pretty thanks to scorching attack
Runs coming in bunches as new-look squad stands atop AL East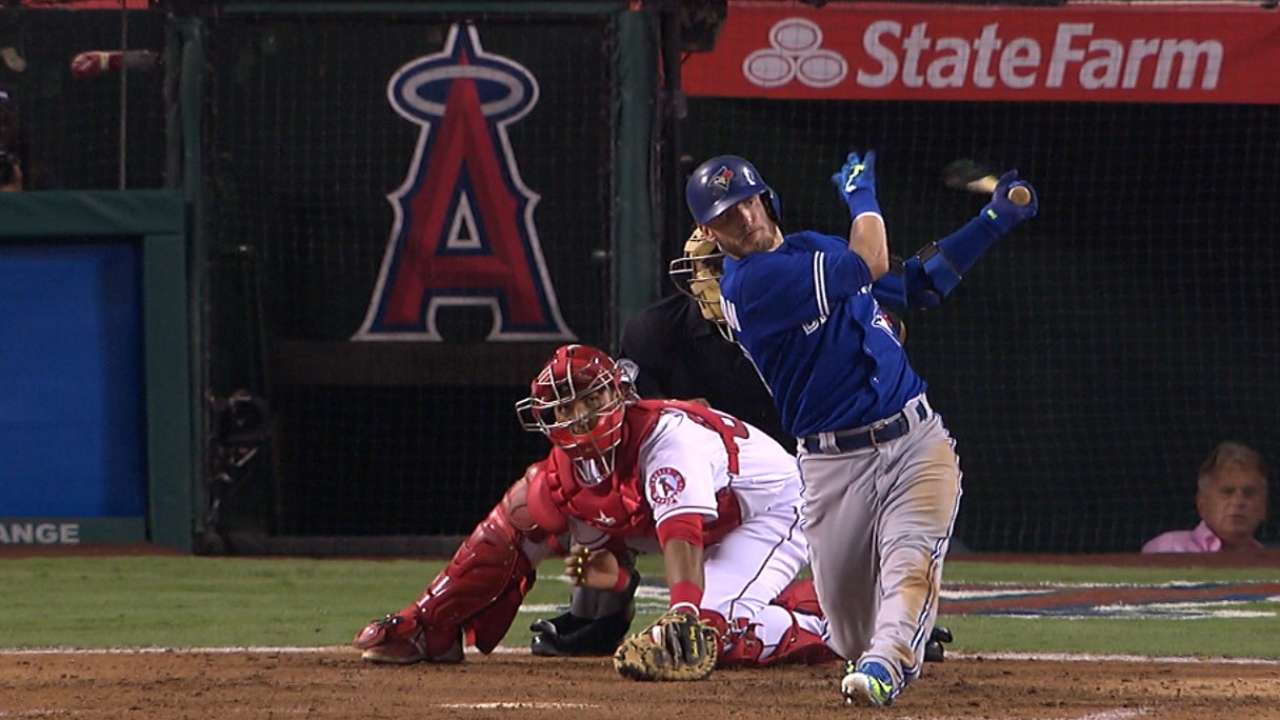 ANAHEIM -- The Blue Jays and Angels were packing their bags late Sunday afternoon, heading in different directions. The Jays were going to Texas, the Angels to Detroit.
In terms of baseball flight paths, however, their destinations appeared reversed. The Blue Jays, brand new leaders of the American League East, are soaring north. The Angels, hoping to keep their heads above water, are splashing in a southbound direction.
With Sunday's 12-5 triumph completing a three-game sweep at Angel Stadium, Toronto vaulted over the Yankees by a half-game. The Jays are 16-4 in August, 23-9 since the All-Star break. In winning 19 of their past 23 games, they have outscored opponents by a whopping 70 runs: 140-70.
"Your team gets on a roll like that," Toronto manager John Gibbons said, "everybody feels good, confident."
Troy Tulowitzki, the Blue Jays' new superstar shortstop, joined the party Sunday with a pair of hits and an RBI, scoring twice. He's hitting only .218 in his new uniform, but the Jays are 18-3 when he's in the lineup.
"I don't care how good a player you are," Gibbons said, "when you change teams, there's a transition."
The Blue Jays' other new position player, left fielder Ben Revere, is hitting .450 with eight runs scored over the past five games.
Their 36 runs over the past three games represented a franchise record for a three-game series. That is really saying something for a club that had a stacked lineup in winning back-to-back World Series in 1992 and '93.
The Angels came roaring out of the All-Star break with six consecutive wins. Since then, they are 9-20, drifting behind the surging Rangers into third place in the AL West, 5 1/2 games behind the front-running Astros.
A pitching staff that has kept the club afloat is feeling the stress of its burden, getting pounded for 44 runs during a four-game losing spin.
With an already powerful attack fortified by the acquisitions of Tulowitzki and Revere, the Jays have the weapons to punish any pitching staff. Josh Donaldson, Jose Bautista and Edwin Encarnacion took turns launching balls at Angel Stadium.
Donaldson had eight hits, 19 total bases and nine RBIs in the series. Bautista and Encarnacion hammered back-to-back homers against Richards on Sunday, combining for seven hits. Encarnacion, pushing his hitting streak to 19 games, had three singles to go with his homer.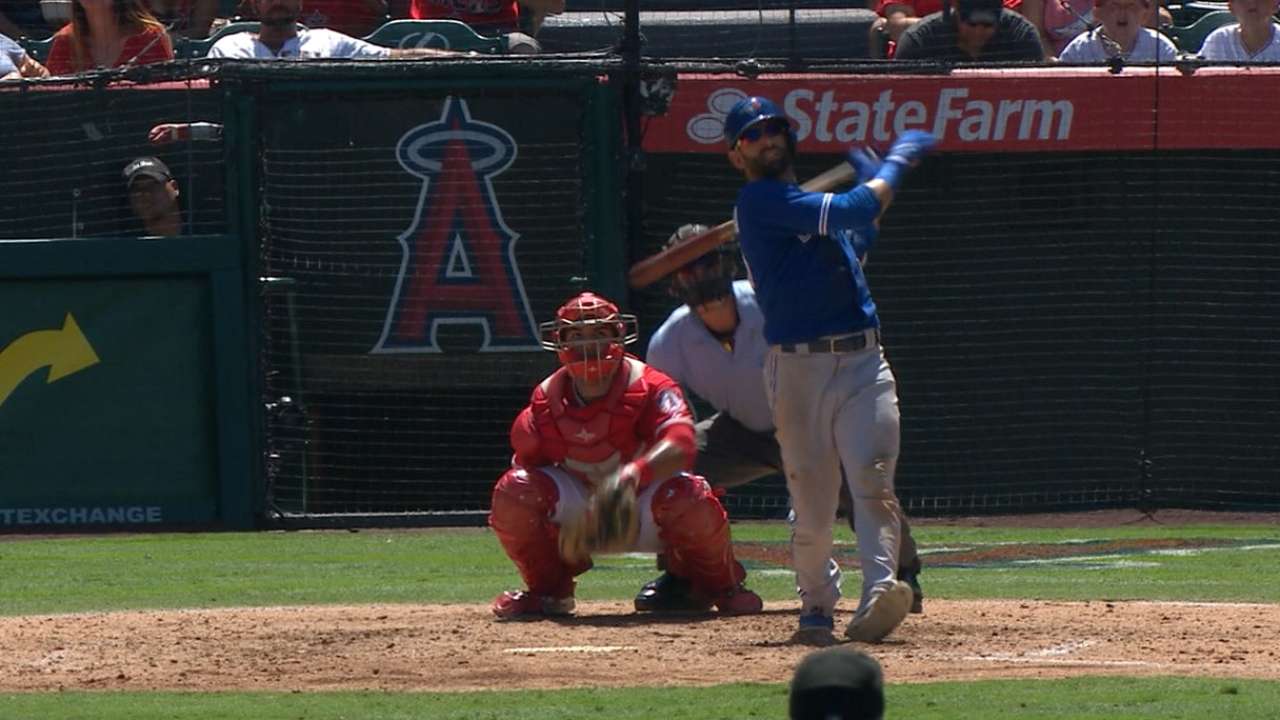 Donaldson, the former A's star stunningly acquired Nov. 28 for four players, is thoroughly enjoying his role with a new wrecking crew affording him "more good pitches to hit" than in the past, "not to disrespect the A's".
"The AL East is definitely more beneficial for hitting," Donaldson said. "The AL West has some parks that are graveyards. For the most part, the only exception is Houston -- and center field is not open there. Getting to play 82 games in Toronto is more of an advantage."
Racking up runs in bunches can do wonders for the ego, apparently. The Blue Jays acted right at home at Angel Stadium.
The matching blasts by Bautista and Encarnacion give the Jays 167 home runs. Only the Astros have more -- 168 -- and Toronto has outscored Houston by 138 runs.
If run differential is your guide to rating teams, the Blue Jays stand alone. Leading the Majors in runs with 670, Toronto has outscored opponents by 164. Next best is National League-leading St. Louis with a plus-118 run differential.
The Yankees, second in the Majors in runs scored with 585, have outproduced opponents by 67 runs. The AL Central-leading Royals are plus-77, the AL West-leading Astros plus-81.
Outscored 36-10 in the three games, the Angels have scored 499 times while giving up 501.
Bright spots Sunday were a five-run first-inning eruption against R.A. Dickey and Mike Trout's return to form. The reigning AL MVP Award winner had a triple and two singles and was robbed of a fourth hit by Tulowitzki.
"With Tulo out there up the middle, that spinning play [on Trout's ball], that's huge," Gibbons said. "I guarantee you the pitchers feel different about it. That gives them confidence."
The Jays are averaging 5.4 runs while limiting opponents to 4.08.
Returning to the glory days of Toronto's back-to-back champs, the 1993 crew was the more formidable offensively. It averaged 5.2 runs per game with a plus-105 run differential. The '92 club averaged 4.8 runs and was plus-98 in run differential.
Toronto's all-time offensive powerhouse was the 2003 outfit. It scored 894 runs for a 5.5 average per game but finished third in the division at 86-76. That was a highly offensive era. The Red Sox, runners-up to the Yankees in '03, rang up 961 runs, 5.9 per game.
In this new age of pitching dominance, the new-look Blue Jays have an attack that stands apart. There is no hotter -- or better -- team at the moment.
Lyle Spencer is a columnist for MLB.com. This story was not subject to the approval of Major League Baseball or its clubs.