Walk-off trending: Astros get 4th in 8 games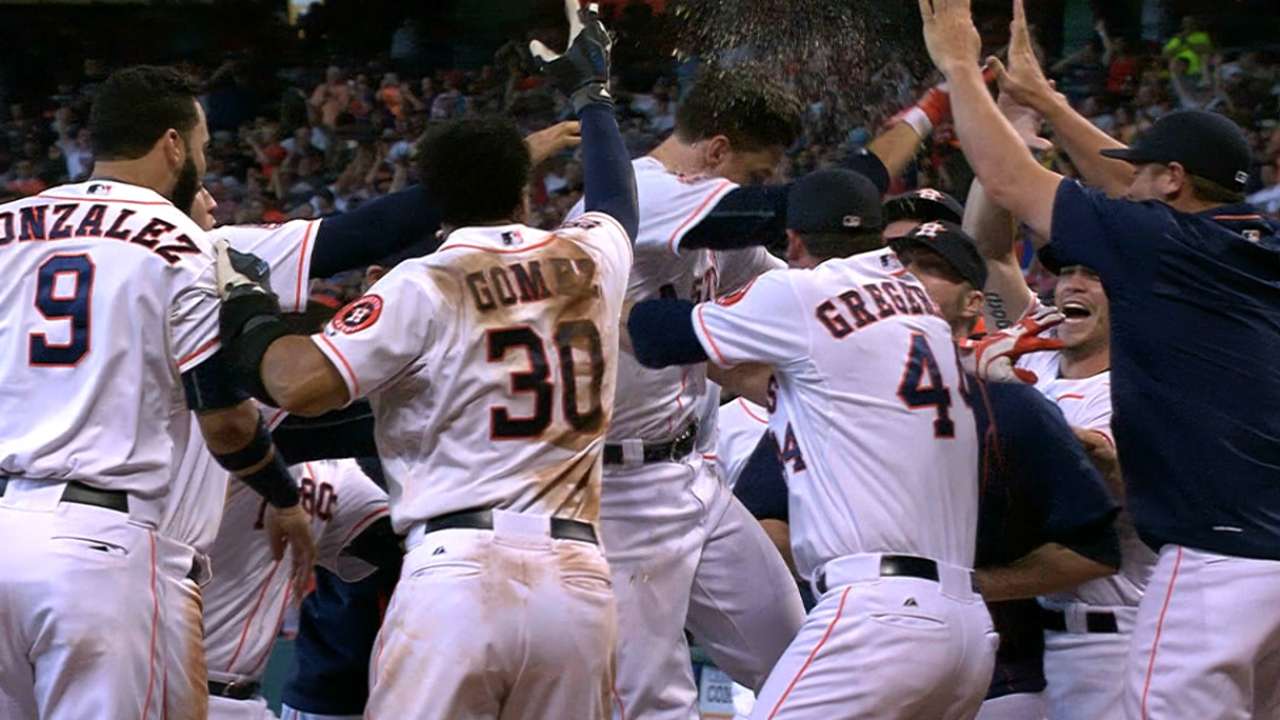 HOUSTON -- First it was Jose Altuve -- the reigning American League batting champ -- lacing a ninth-inning single to win a series. Then Marwin Gonzalez, a utility man not guaranteed to see his name on the lineup card each night, ending a game in the 10th on a full-count homer two days later.
The next day Carlos Correa, the rookie phenom chided by his manager for tackling Altuve after his heroics, got in the mix with a walk-off single.
Sunday it was Jason Castro -- the sage Astros veteran who's endured more Houston baseball misery than perhaps anyone in the clubhouse -- hitting his third career walk-off home run as Houston won 3-2, finishing a sweep of the first-place Dodgers, including victories in games started by former Cy Young winners Zack Greinke and Clayton Kershaw.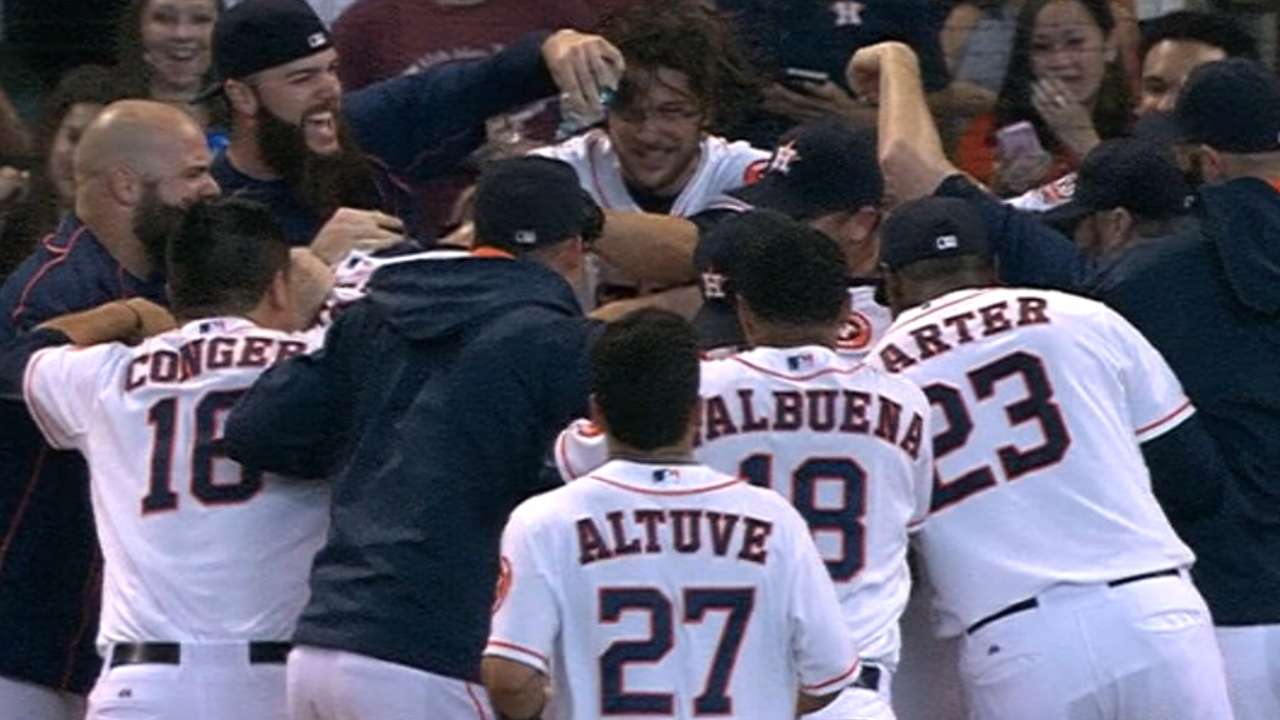 The walk-off was the Astros' fourth in eight games and gave Houston a 7-3 homestand, a feat some thought improbable given the daunting pitching it would be facing and the offense's recent inconsistency.
• Justice: Astros brimming with confidence
"It underscores the idea that you've got to play complete games and you've got to get 27 outs against us to beat us," manager A.J. Hinch said of the walk-offs. "And sometimes baseball will run into this momentum issue where, early in the game, if someone is dominating you or getting you out it doesn't impact the next at-bat. We really are good at staying in the moment and it impacts us later in the game."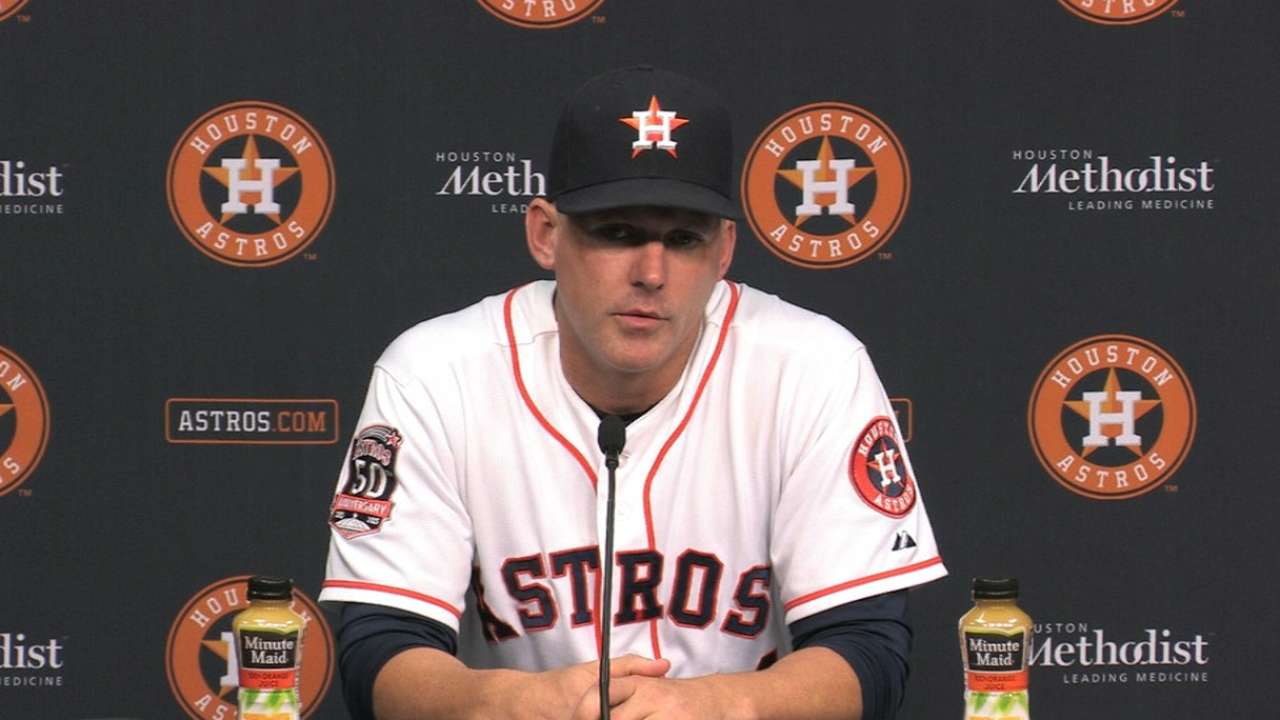 Take Gonzalez, for example. He was crowned a hero for a fleeting moment Sunday, singling in Correa off Dodgers closer Kenley Jansen to tie the game with two outs in the ninth.
Prior to the at-bat, Gonzalez couldn't solve Kershaw, striking out three times.
"I was getting worse, he was getting better," Gonzalez said. "It was a tough day, I couldn't even touch the ball the first three at-bats. Thank God I was able to put the ball in play at that last at-bat."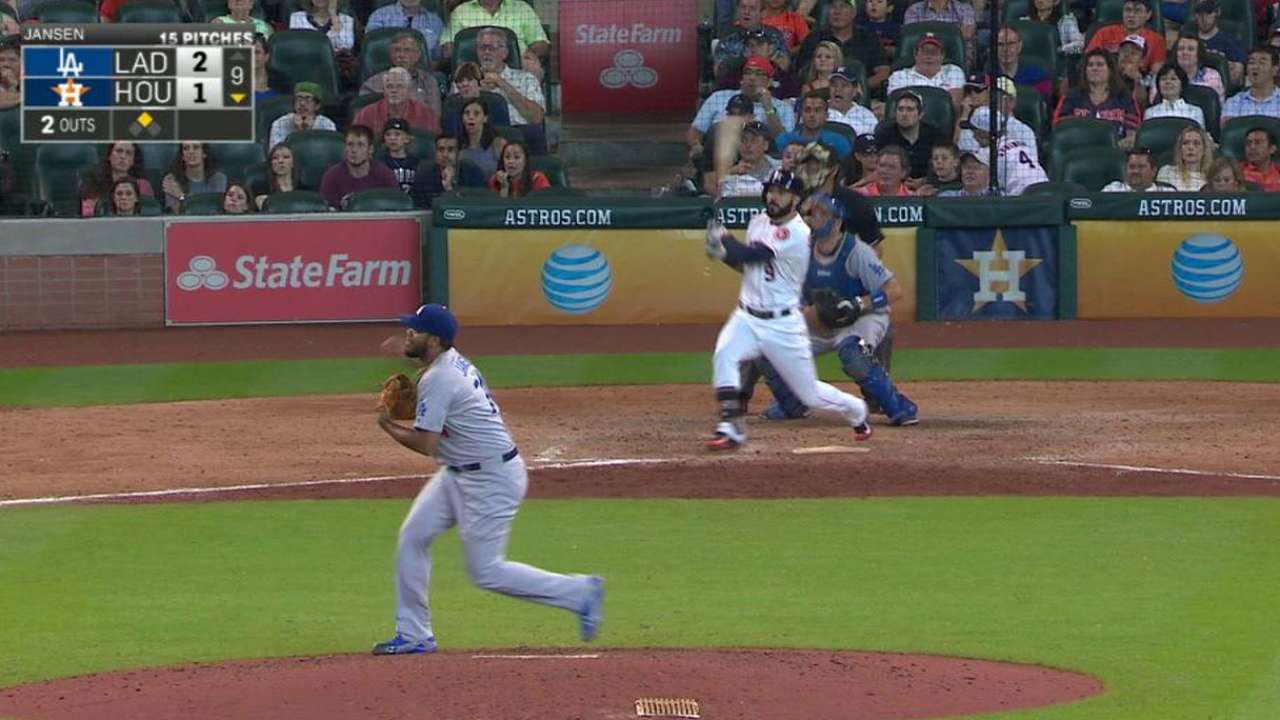 Castro had a similar afternoon. Kershaw got him looking in his first two at-bats, once on his patented breaking ball, before Castro flew out in the eighth.
The 2-0 fastball from reliever Chris Hatcher, though, found just where Castro was hunting, giving the Astros their 34th come-from-behind win.
"We've been in so many of them this year it's just that mentality that we're comfortable playing from behind late," Castro said. "I think that's an attribute that's going to serve us well going forward in the playoffs and toward the end of the year and that kind of thing especially. We don't give up and we have that 'never say die' mentality. "
It's that same atmosphere present every day in the clubhouse -- even from football video games going down to the final seconds drawing big gatherings.
This Astros team, one so many wrote off as too young or too inexperienced before the season, isn't privy to caving. The expected letdown so many predicted after the All-Star break hasn't happened, and if you're to believe the vibrant bunch, it never will.
"We are confident that we have one of the best teams in baseball and we just go out there and try to beat everybody," Correa said. "Nobody's going to take that from us. We have the desire to go out there and win every single game. So that's what we're doing."
Chandler Rome is an associate reporter for MLB.com. This story was not subject to the approval of Major League Baseball or its clubs.