Growing pains contribute to Braves' road woes
Young pitchers working through rough stretch trying to improve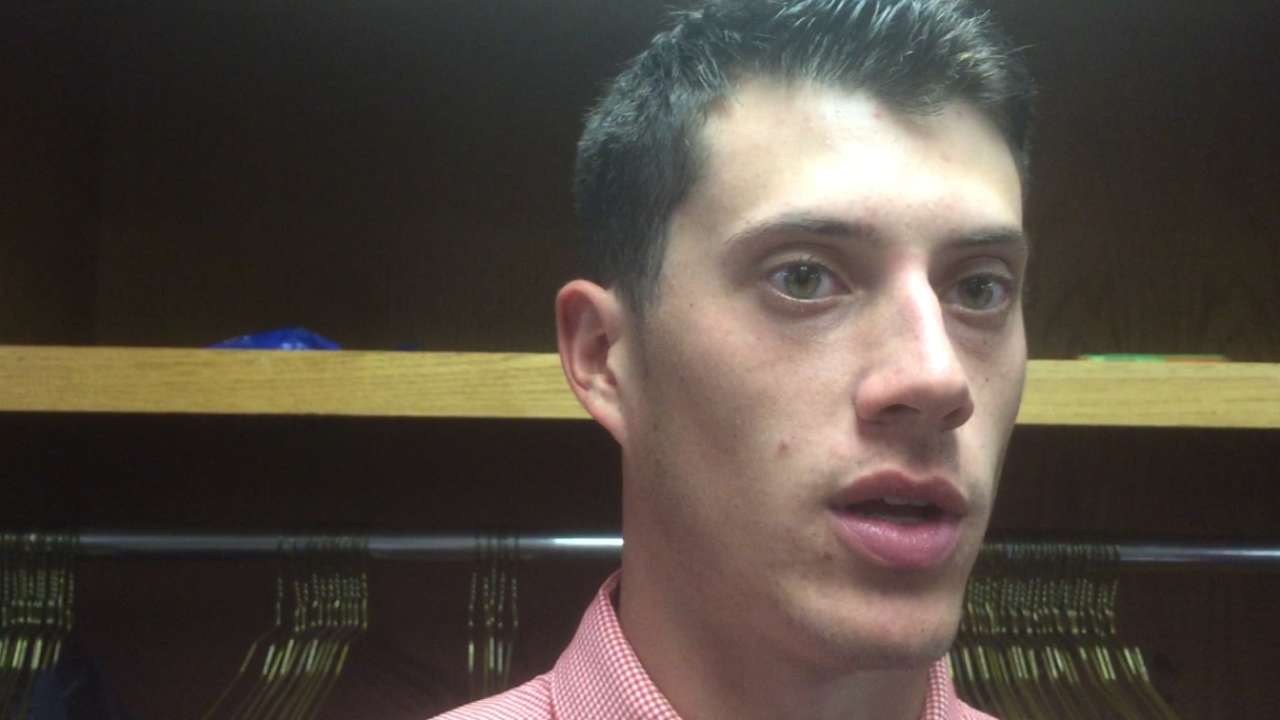 CHICAGO -- Somewhere in the near future, the Braves hope to look back on this year and remember it as the one that allowed them to consistently field championship-caliber clubs. Unfortunately, the reconstruction process has put them in a position where they must endure their current frustrations, which were extended on Sunday, when they concluded a winless seven-game road trip with a 9-3 loss to the Cubs.
"We've got three rookie [starting pitchers], and even the guys [in the rotation] that aren't rookies are still 24 or 25," Braves first baseman Freddie Freeman said. "We've got a young rotation, and they're getting to log some innings. Hopefully, they can learn from all their mistakes and end on a positive note with their last few starts."
As the Braves surrendered 12 homers during this weekend's four-game series at Wrigley Field, they sent three rookies -- Mike Foltynewicz, Williams Perez and Matt Wisler -- and their 24-year-old ace Shelby Miller to the mound. Miller was the only member of this group to complete the fifth inning. Each of the three rookies surrendered at least six runs before making their respective early exits.
"There was some kind of study that came out five or six years ago that said you're not a Major League starter until you get 40-45 starts under your belt," Braves manager Fredi Gonzalez said. "All three [of the rookies] combined might not even have 40 [starts] yet."
Foltynewicz (14), Perez (13), and Wisler (12) have combined to make 39 starts, all this year. Their inexperience has factored into the Braves losing 22 of their past 24 road games. But this rough stretch has been influenced by more than just a young rotation.
With the same span that encompasses the 24 road games, the Braves have gone 9-7 at Turner Field. They have averaged 3.9 runs at home during this stretch and 2.6 runs on the road. Their starting pitchers have produced a 4.48 ERA during those home games and a 5.98 ERA within those road games.
As for the makeshift bullpen that lost Jason Grilli, Jim Johnson and Luis Avilan to either injury or trade in July, it has produced a 3.02 ERA during this 16-game home stretch and a 5.51 ERA over these past 24 road games.
"It's tough to win on the road," Braves veteran Jonny Gomes said. "It's tough to win in a hostile environment. It's tough to figure out your routine on the road to where you've got to wake up, get dressed, find something to eat, get a cab and get to the yard. Anything that tweaks with your routine a little bit, things can happen."
There is no doubt the Braves were weakened as injuries prevented Freeman from starting 44 of the 53 games played between June 18 and Aug. 18. Now that Freeman is back and Hector Olivera could join the lineup at some point this week, Gonzalez can only hope that his offense is capable of more consistently masking the inconsistencies Wisler, Foltynewicz and Perez experience as they endure their growing pains.
"You keep running them out there, and they'll be better off for it next year," Gonzalez said.
Mark Bowman is a reporter for MLB.com. This story was not subject to the approval of Major League Baseball or its clubs.