Tazawa comes up on wrong end of duel
Closer loses 10-pitch showdown with Moustakas, takes loss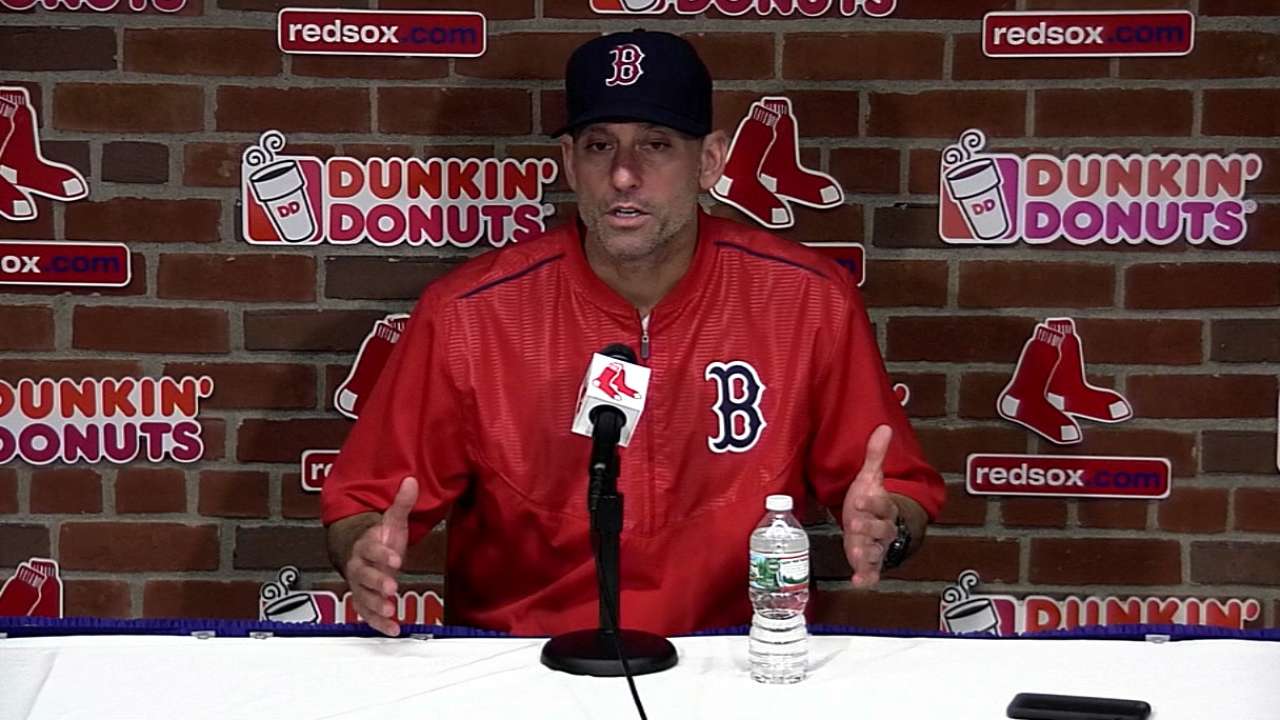 BOSTON -- For all of the wacky plays that preceded Red Sox closer Junichi Tazawa's ninth-inning duel with Mike Moustakas, Sunday's series finale at Fenway Park still came down to a classic battle at the plate.
Working with the bases loaded and two outs, Moustakas had worked Tazawa for nine pitches, taking two balls and at one point fouling off five in a row in the game-deciding showdown. As Tazawa's pitch count climbed higher, the right-hander finally relented, as the Royals' third baseman tattooed a two-run double into the right-center-field gap that sunk Boston to an 8-6 defeat.
Tazawa found himself desperately fighting to thread his pitches onto the corners of the strike zone, trying to get Moustakas to whiff but knowing he could not afford to walk him.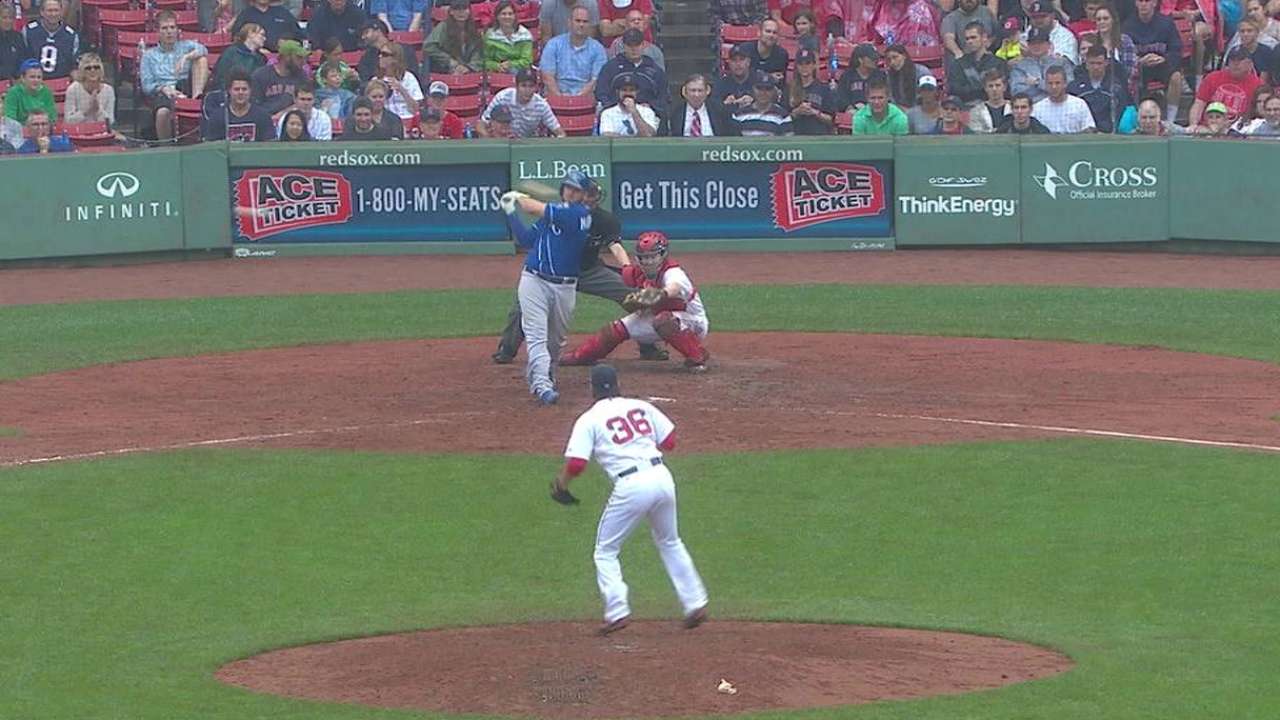 "He was getting to all of the pitches that were borderline, fouling off a lot of pitches," Tazawa said through a translator. "I was still in with a solid ball, obviously I was trying to get through it. He got the best of me."
Tazawa finished his inning of work charged with four runs, six hits and a walk. He took the loss, falling to 2-6 on the season, and has now blown five save opportunities in his last nine appearances.
Following Sunday's collapse, Tazawa now owns an 8.68 ERA since July 31.
"The pitches that got hit [were] obviously a little bit higher than I was trying to pitch," Tazawa said. "I felt a lot of responsibility since the team had got the lead for us and I wasn't able to keep it."
Tazawa insisted that this season's heavy workload has not factored into his recent struggles. Red Sox interim manager Torey Lovullo echoed the belief that Tazawa is not suffering from fatigue.
More than workload, perhaps the conditions played a part in Tazawa's lapses of command. Catcher Ryan Hanigan seems to think the misty weather made pitching difficult for much of the afternoon.
"The ball gets wet as soon as it hits the ground," Hanigan said. "My glove is wet as soon as it hits the ground. Nothing is dry. It is hard to command. He made some good pitches, but the times he missed, he was trying to go away. A lot of reasons why. It's tough when it's muddy like that."
Tazawa's recent promotion to the closer's role could be another culprit affecting the successful setup man's recent performance. With Koji Uehara out for the season with a fractured right wrist and a dearth of other proven options in the bullpen, the Red Sox recognize that they will need to be patient down the stretch as Tazawa tries to adjust.
"I think he's bumped up a role," Lovullo said. "As I've been saying over the past couple days, we're just going to be patient through the process -- with a lot of these guys changing their roles -- and continue to give him the ball. It's a learning moment for Taz. As we keep moving forward, he's going to be better off for this moment."
Alec Shirkey is an associate reporter for MLB.com. This story was not subject to the approval of Major League Baseball or its clubs.