Harper foils shift twice by going opposite way
Hits a pair of doubles against defensive alignment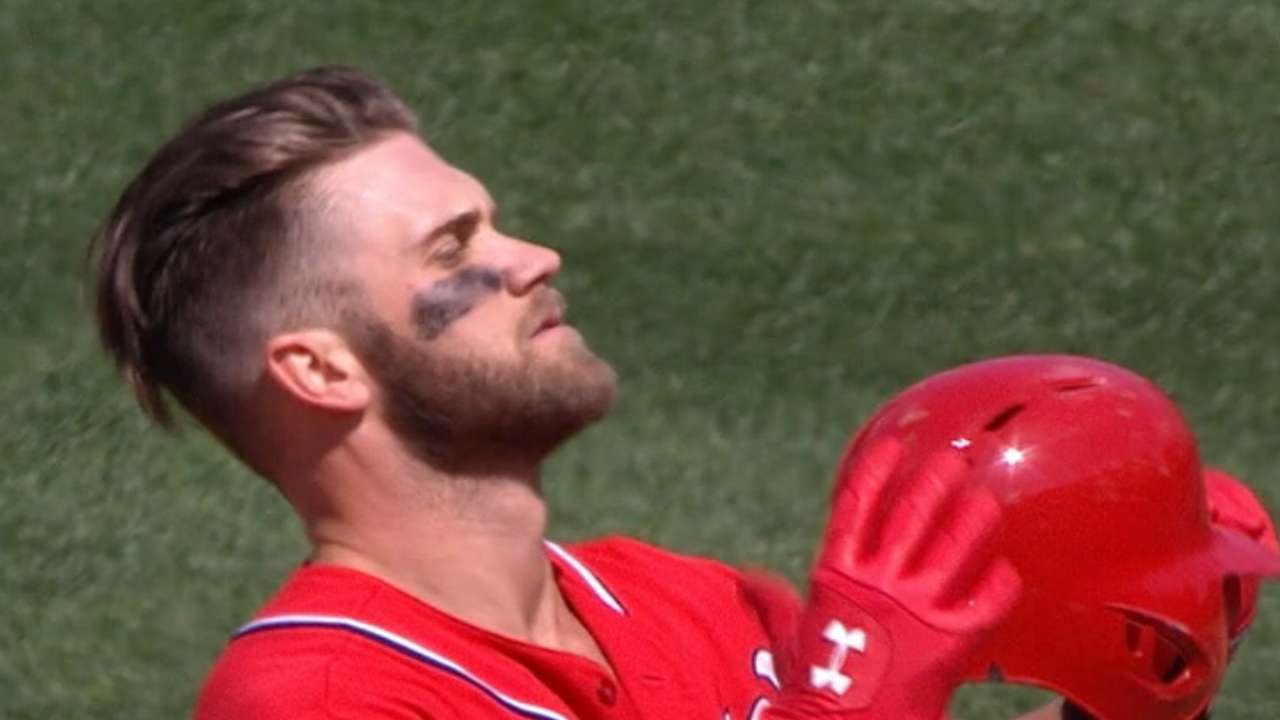 WASHINGTON -- In theory, the Brewers' defensive shift against Nationals outfielder Bryce Harper on Sunday was designed to induce outs from a pull hitter. In actuality, it opened up an entire side of the infield for one of the league's best hitters.
"I really don't care if there's guys on the other side or there are guys on one side, I really don't," Harper said after Washington's 9-5 win. "I know I can hit the ball to [the left] side of the field any time I want. So, it doesn't really bother me at all."
• Braun learns the hard way that Harper has a cannon
With a 2-1 lead and Anthony Rendon on first base in the third inning, the Brewers shifted three infielders to the right side, same as they had in the first inning and opposing teams several times before that.
Harper, who showed off his defensive ability with an outfield assist to second base in the first inning, quickly fell behind 0-2 after fouling off a pair of Matt Garza offerings.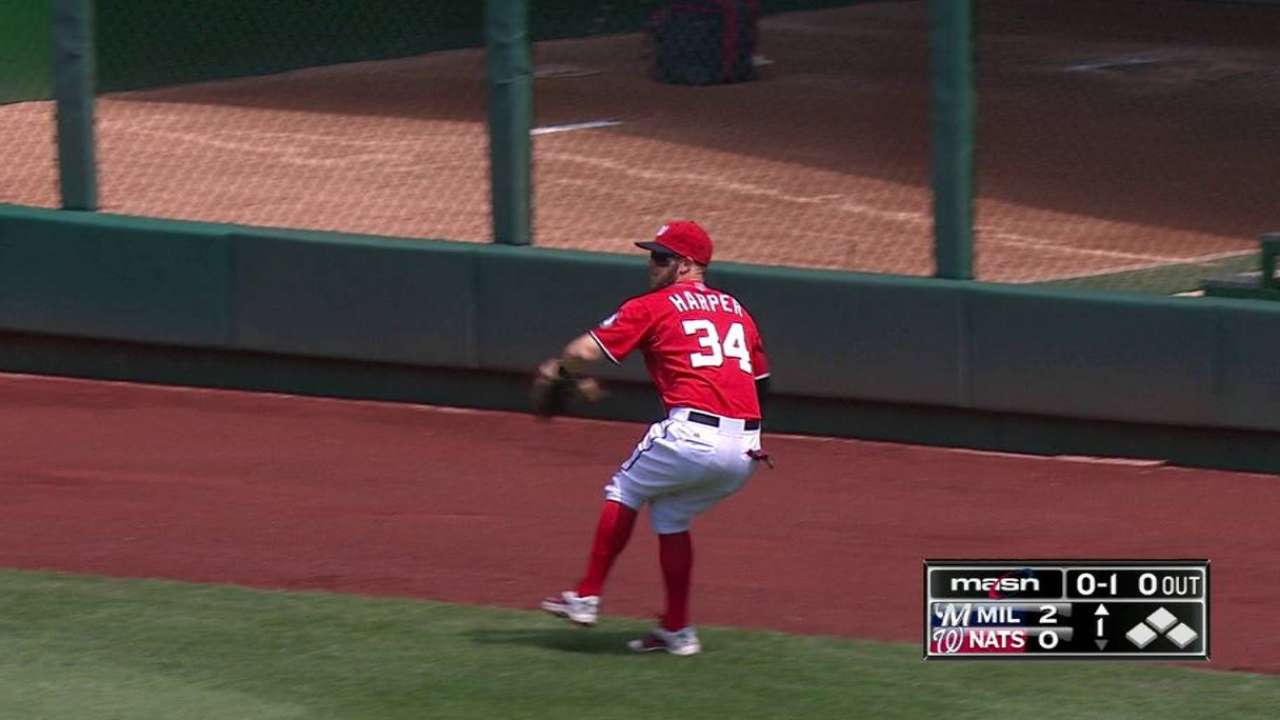 "I don't think [Harper] changes anything until he gets to two strikes," Nationals manager Matt Williams said on Harper's approach at the plate against an offset defensive alignment.
On the third pitch, Harper hit a ground ball between Elian Herrera -- the sole defender on the left side -- and the third -base line. He cruised into second base for an easy double.
"We've seen him do that, I don't know, five or six times this year, where he'll get to two strikes and just hit a ball on the ground to third base," Williams said. "It's easier said than done, believe me. But until two strikes, he wants to get a pitch to drive that he can drive in the gap and get on second base for us."
Five more Nationals would bat in the inning, and they ended up grabbing a 5-2 lead.
In the next inning, Harper once again produced a hit that against a traditional defensive alignment would have likely been an out. On the first pitch in his third at-bat, he blooped a double into shallow left field.
Before Sunday's game, Harper had pulled more than 46 percent of his batted balls, according to fangraphs.com, with 19 percent toward left field.
"I'm just trying to get a hit, really," Harper said. "Garza painted [the corners] on some pretty good pitches on me. Tough out there today. Pretty tired, pretty sore. I was trying to get some good at-bats, put the bat on the ball and just try to get on base for the other guys."
Jacob Emert is an associate reporter for MLB.com. This story was not subject to the approval of Major League Baseball or its clubs.