Andrus, Moreland come up big in key 6th inning
Shortstop lays out to reach first, first baseman knocks go-ahead double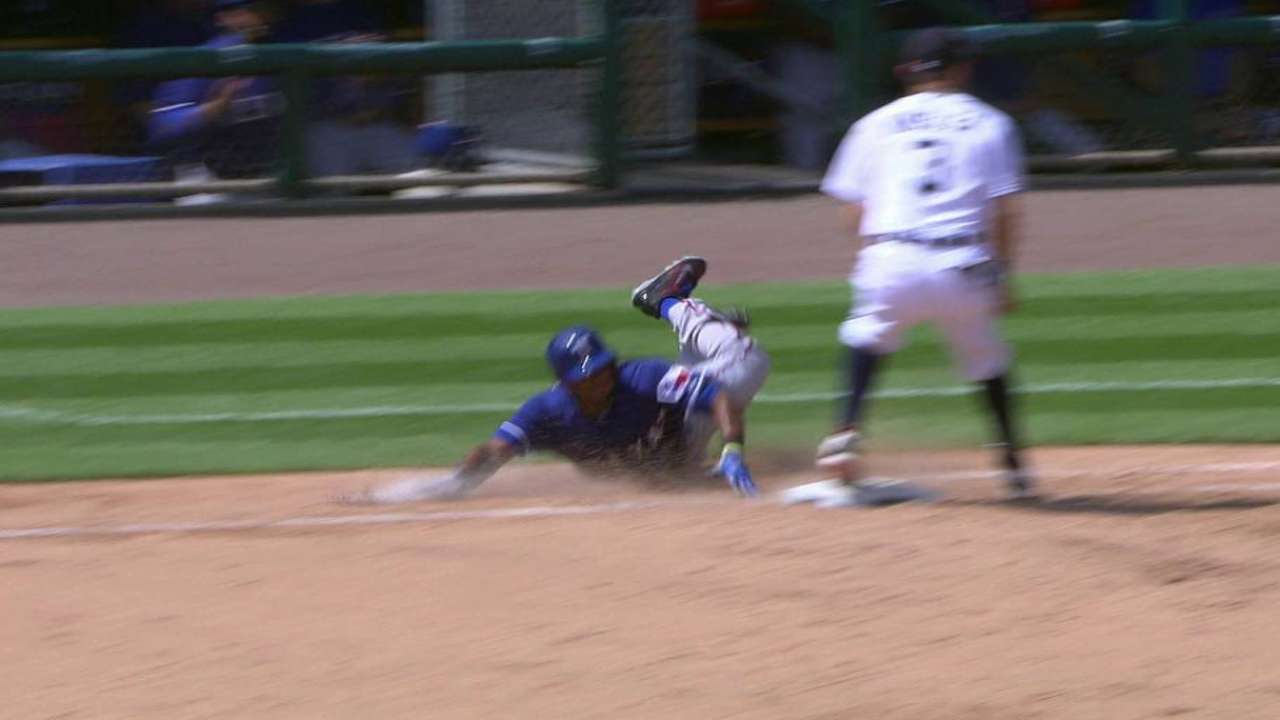 DETROIT -- Shortstop Elvis Andrus was supposed to have Sunday afternoon off as a potential final break during the Rangers' push for a postseason berth.
Third baseman Adrian Beltre's fifth-inning ejection meant Andrus had to play after all, but manager Jeff Banister was ultimately pleased with the result. Andrus' hustling effort in the sixth helped spark a rally, and the shortstop scored the go-ahead run during Texas' 4-2 win over the Tigers at Comerica Park.
After Shin-Soo Choo was hit by a pitch to lead off the inning, Andrus pushed a bunt down the first-base line. It was fielded by Victor Martinez, who tried to tag the shortstop as he sprinted up the basepath. Andrus avoided Martinez's glove, then dove headfirst to touch the bag with his left arm.
"For a guy that needed a day off to come off the bench and really do that and get down the line -- he really had some sore wheels today -- to beat that play out, nice slide to get in there and set up that whole inning," Banister said. "There is a lot of fight in these guys."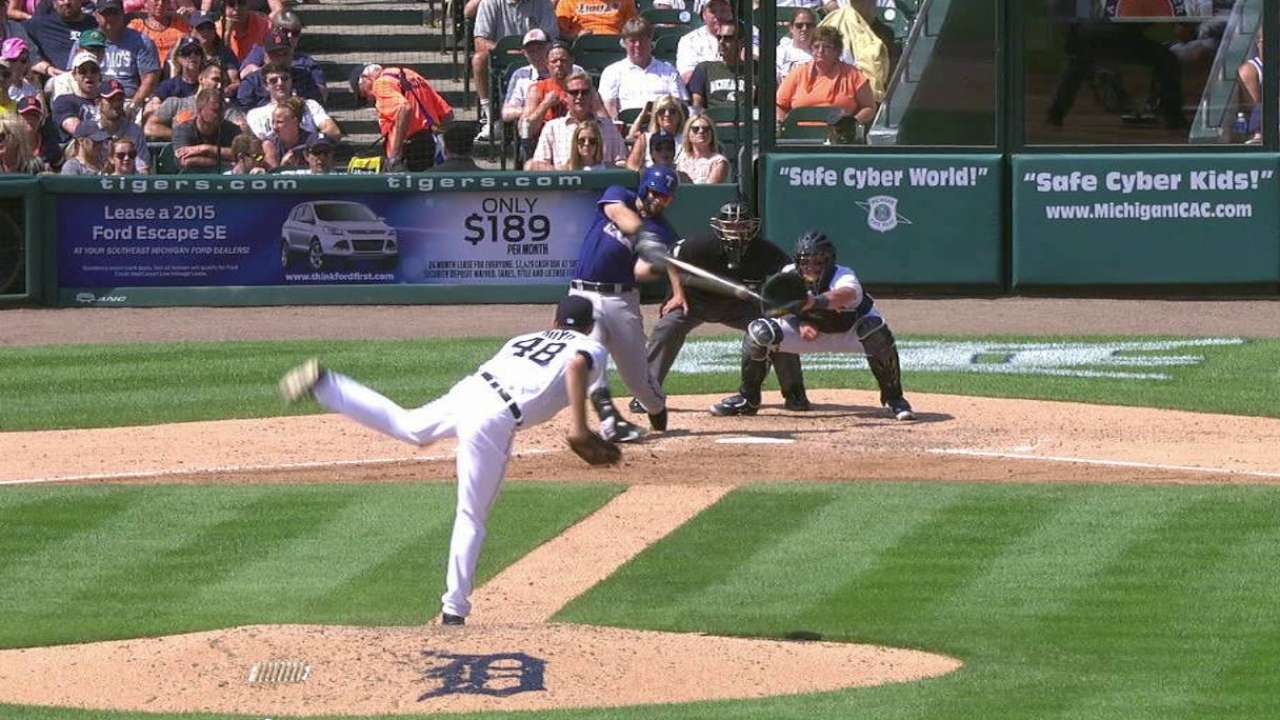 Mitch Moreland, the batter after Andrus, fell behind in an 0-2 hole, but he took advantage of a hanging slider from Tigers starter Matt Boyd and laced a double into the right-field corner. That scored Choo and Andrus, and Texas added an insurance run with Mike Napoli's solo shot in the eighth inning.
"Not a lot of hits," Banister said of his club's offensive production, "and none bigger than Mitch Moreland's ball that he drove down into the corner that put us ahead."
That two-run double -- Moreland's 20th two-bagger of the year -- gave the first baseman his 65th and 66th RBIs of the season, good for second-most on the team. But Moreland hadn't had success recently. He entered Sunday having gone 2-for-19 with four strikeouts over his last five games.
"It's huge, especially after getting down in the count early and trying to fight back and make something happen," Moreland said of his clutch double. "It was a team effort today. Elvis busted it down the line, Choo just took a pitch in the back.
"Elvis busted it down the line and then scored from first. It's a team game, and we've got a good one here."
Andrus certainly won't play Monday -- the Rangers have a day off -- but his contributions off the bench Sunday ensured his club will retain possession of the second American League Wild Card spot.
"There is a lot of fight," Banister said. "These guys, they know what's in front of them and where they want to go."
Alejandro Zúñiga is an associate reporter for MLB.com. Follow him on Twitter @ByAZuniga. This story was not subject to the approval of Major League Baseball or its clubs.