Rupp keeps homering during Nola starts
Backstop hits fourth blast this month -- each coming while catching touted prospect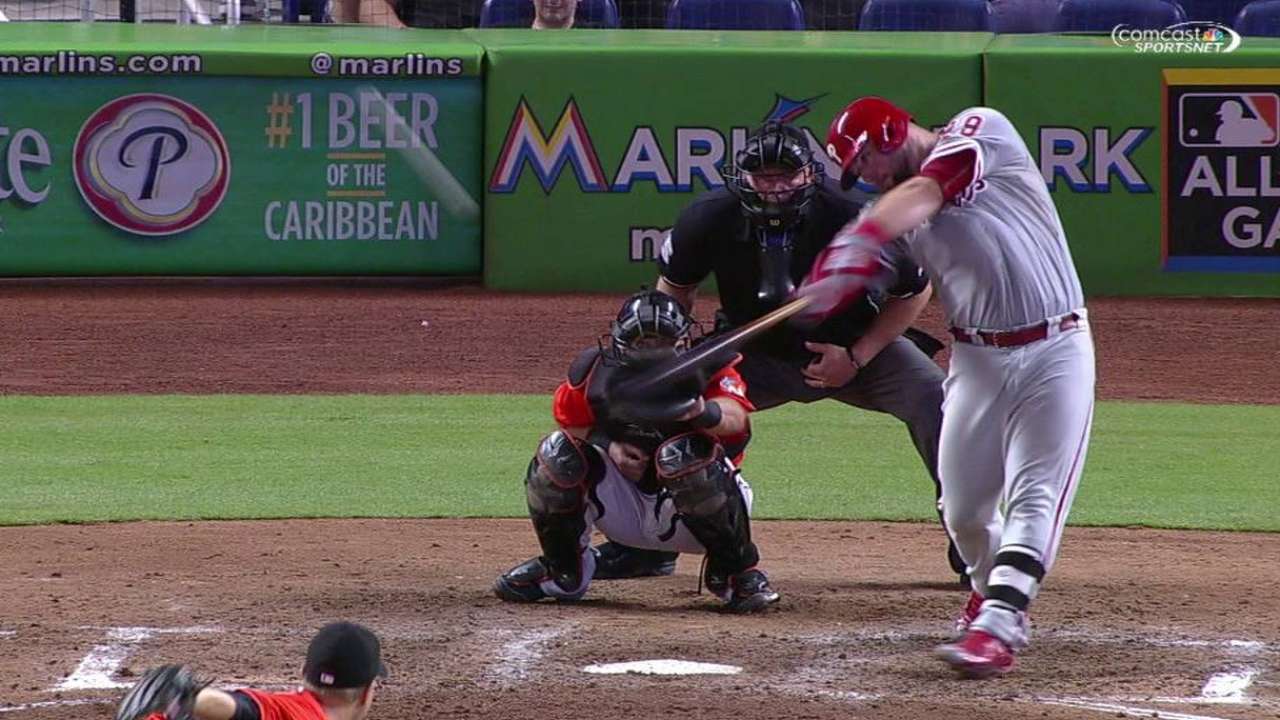 MIAMI -- It's hard to blame Phillies catcher Cameron Rupp for wanting to see Aaron Nola on the mound more than every fifth day. For four straight Nola outings, Rupp has started and homered each time -- as was the case once again in Sunday's 2-0 win at Marlins Park.
"I wish he would pitch every day then," Rupp joked.
While Sunday's homer -- a seventh-inning solo shot to right field that stretched Philadelphia's lead to two runs -- was Rupp's fifth of the season, it was his fourth long ball in just 11 August appearances.
Before Sunday, the 26-year-old catcher also homered on Aug. 1, 7 and 12.
"He's been good," interim manager Pete Mackanin said. "He's a strong-armed catcher and he needs to show that he can hit enough. The home runs are good hits. I like those hits. He'll catch [Nola] next time out then."
Rupp finished the contest 1-for-3 to boost his season average to .247 in 53 games and 179 at-bats. He's now batting .325 in the month of August (13-for-40).
But Rupp affected Sunday's game with more than just his bat, as he also caught Derek Dietrich stealing second base in the first inning before throwing out Dee Gordon (41 steals) at second base in the sixth on a well-timed pitchout.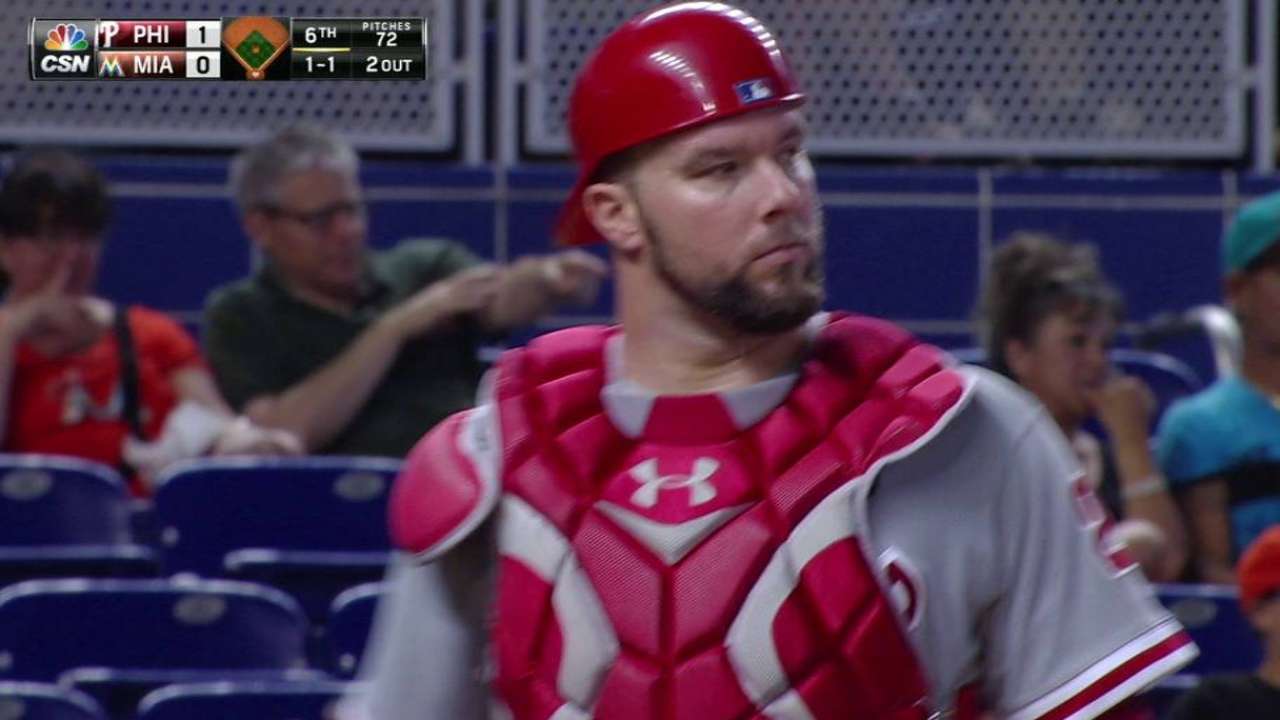 For the season, Rupp has caught 13 of 36 potential basestealers.
"It's huge -- that's a big change in the game," Rupp said. "It can shift either way, especially if you need some kind of momentum and you throw a big guy out at a critical point in the game. It can change the game."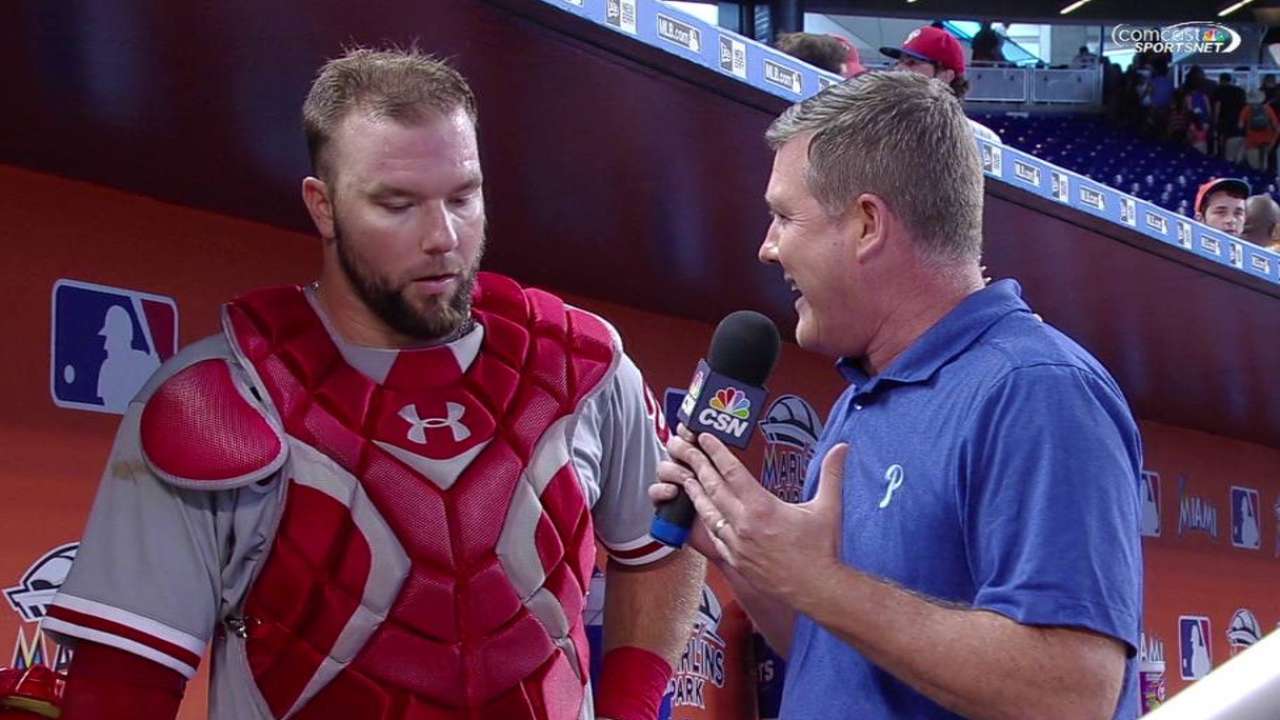 But while Rupp's 36 percent success rate on steal attempts is impressive, it's hard to top his home run rate while catching Nola.
"Someone told me that last week," Nola said. "It's a pretty cool stat."
Steve Wilaj is an associate reporter for MLB.com. This story was not subject to the approval of Major League Baseball or its clubs.