Lucroy puts focus on increasing contribution level
Hit fifth homer on Sunday; hitting just .241 for season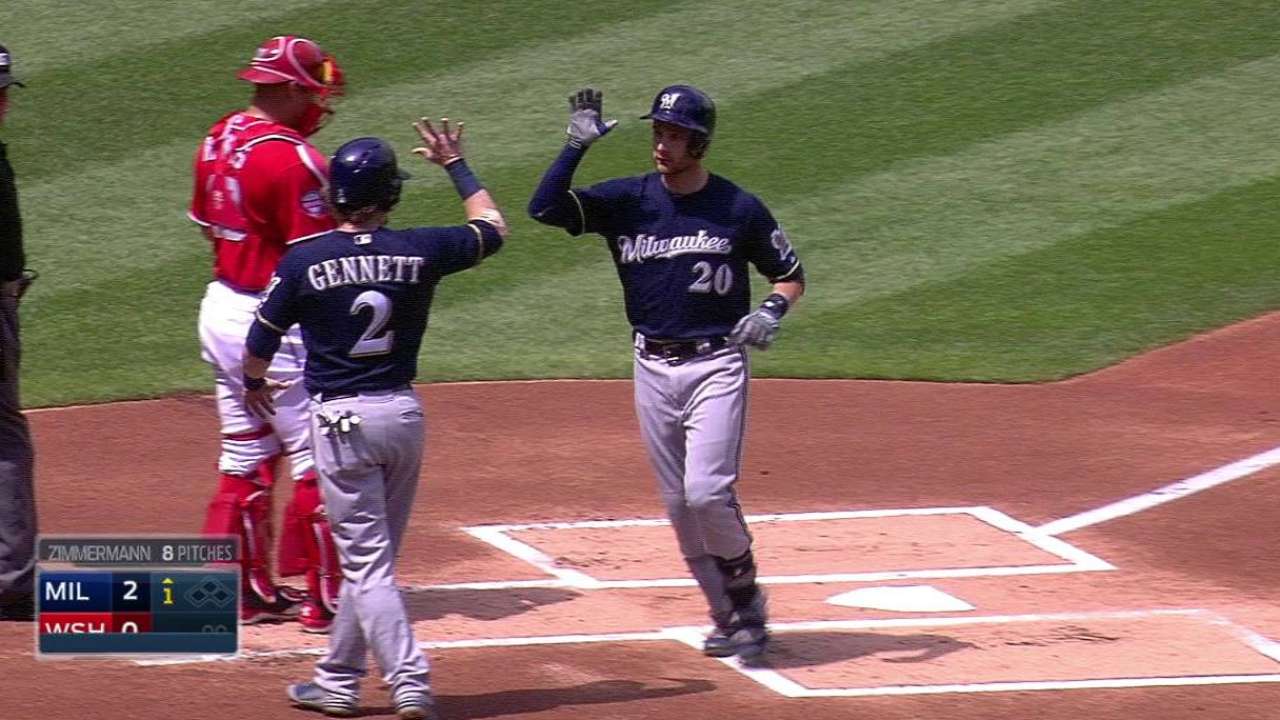 WASHINGTON -- After hitting his fifth home run Sunday in an admittedly subpar season, Brewers catcher Jonathan Lucroy expressed a simple approach to his remaining games.
"I want to contribute," Lucroy said after the Brewers' 9-5 loss to the Nationals. "That's all it is. Play up to my ability. Stop playing down; play up. Get back to my level."
He showed a glimpse of it in the first inning against Nationals starter Jordan Zimmermann, who served up hard-hit baseballs to each of the first three batters he faced. Lucroy, the second of those batters, delivered an authoritative, two-run home run to left-center for a 2-0 Brewers lead.
It was his fifth home run in a season marred by a horrible early-season slump followed by a five-week stint on the disabled list for a broken left toe. Lucroy is batting .241 with a .346 slugging percentage; last season, he batted .301 with 13 homers and a .465 slugging percentage, fueled by his Major League-leading 53 doubles.
"It's an uphill battle, but it's all good," Lucroy said. "I feel good, I'm seeing the ball good, and I'm just mishitting it sometimes. I ran into one today."
Manager Craig Counsell has been pushing the idea that many Brewers players still have things to play for during the team's final six weeks. Lucroy is in that group.
"We've got almost 40 games left. We've got a quarter of the season left. I don't think there's anybody who's not included in that," Counsell said. "That's a big chunk of the season left to flip your season around or get it back to where you expect. I know Luc is trying to do it. He swung the bat well in this series."
Adam McCalvy is a reporter for MLB.com. Follow him on Twitter @AdamMcCalvy, like him on Facebook and listen to his podcast. This story was not subject to the approval of Major League Baseball or its clubs.