Garza walks himself into two-out trouble
Free passes, misplayed chopper lead to 14th loss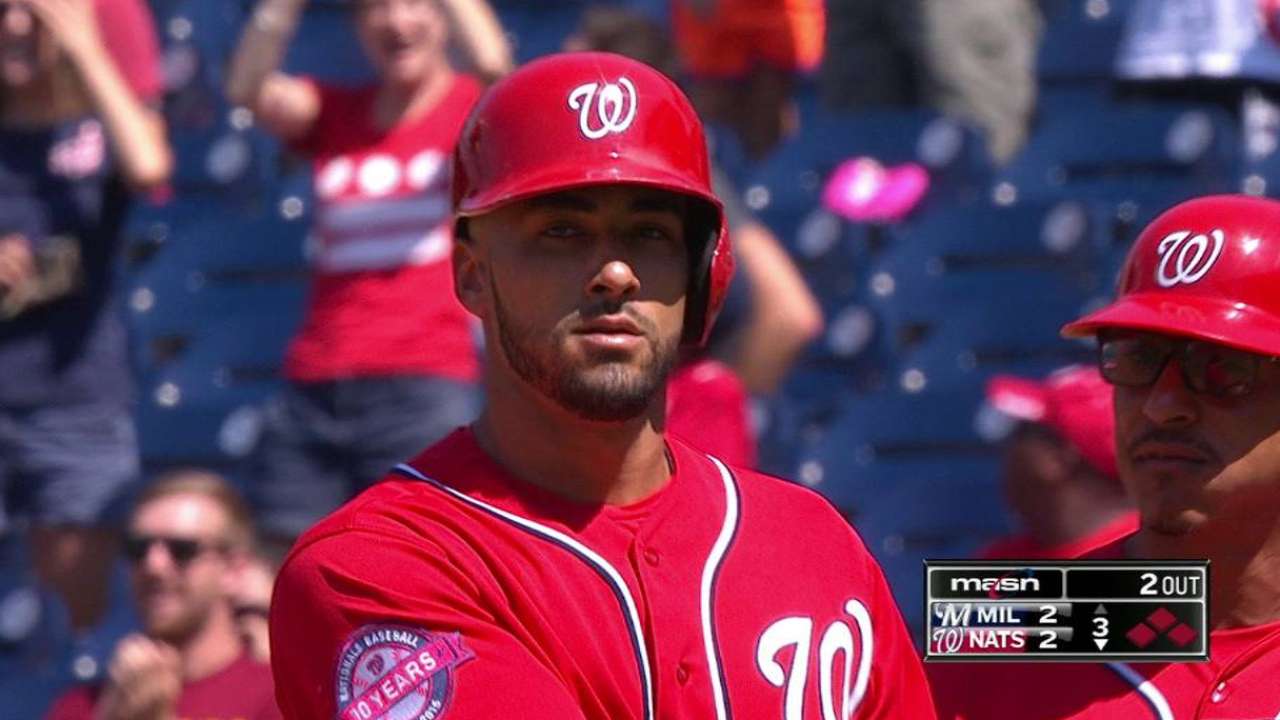 WASHINGTON -- As Matt Garza looked skyward, the thought running through his head, he would say later, was, "You've got to be kidding me." In the midst of his maddening season, one maddening bounce contributed to his undoing in Sunday's 9-5 loss at Nationals Park.
"I just have to keep going, keep grinding," Garza said. "Like I've said before, this is not a year I'm going to brag about. But it's going to be the year I'll learn the most from."
All told, Garza was charged with seven earned runs on eight hits and six walks in only 4 2/3 innings. He fell to 6-14, joining the Phillies' Aaron Harang as the only pitchers in the Majors with 14 losses. Only one Brewers pitcher -- Wily Peralta in 2013 -- has endured as many defeats in the past 11 seasons.
Garza's walk total matched a career high set in June 2009 against the Blue Jays, when he still pitched for Tampa Bay. Garza's ERA for the season rose to 5.26, and his ERA in eight career starts against the Nationals rose to 7.17.
And the whole outing turned on one gigantic bounce.
The situation: Bottom of the third inning with the Brewers leading, 2-1, on Jonathan Lucroy's two-run home run. Garza struck out the first two batters of the inning before issuing a two-out walk to Anthony Rendon. Bryce Harper followed by beating the Brewers' defensive shift with a double right over third base, and Garza loaded the bases with another walk to Ryan Zimmerman.
Up next was Ian Desmond, who hit a chopper that struck home plate and went skyward. While Desmond sprinted down the baseline, Garza appeared intent on shoveling the baseball, underhanded, to first base, as he often does to overcome yips throwing to bases.
But Garza fumbled the exchange, and Desmond was awarded an RBI infield hit. It tied the game at 2, but not for long, because two pitches later, Danny Espinosa, hit a hanging curveball for a bases-clearing double and a 5-2 Nationals lead.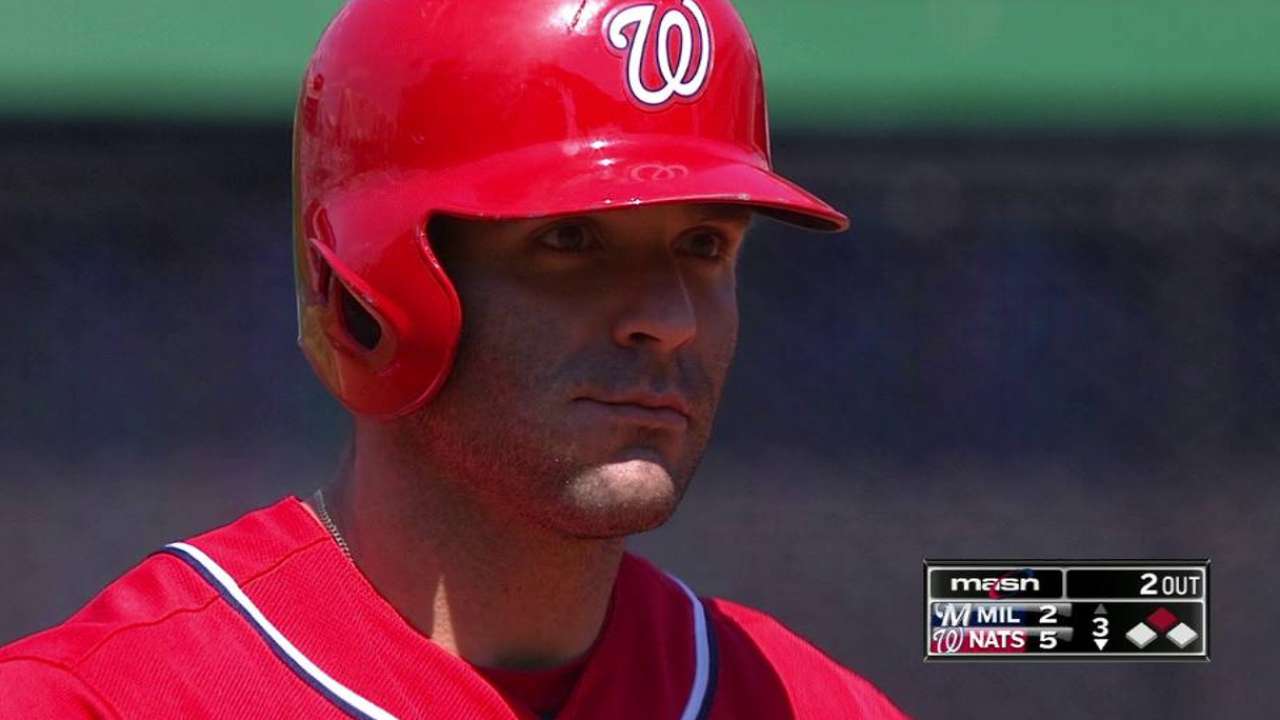 "I looked at it, and I don't know how I could have made that play," Garza said of the high hopper. "It was so high. The only thing I could think of was maybe try to swat it like a volleyball player. Because I'm watching it come down and the guy is three feet from the bag, so I'm thinking, 'Just try to do whatever you can to get it over there.'"
Opinion in the Brewers clubhouse was split. Had he fielded the ball cleanly, would Garza have had a play on Desmond?
"Possibly," Lucroy said. "He would have had to be quick and perfect with it."
"Maybe," first baseman Adam Lind said. "It was really high."
"I don't know," manager Craig Counsell said. "It looked like he was going to do it underhanded. I don't think he would have got him."
The worst part, Garza said, is that it all happened with two outs.
"Those types of balls, they always find me in this yard," said Garza, who has logged only seven innings in three career starts at Nationals Park, charged with 18 earned runs in the process. "Harper hits a double that somehow jumps over the bag and I'm just like, 'Wow, OK, let's go.'
"But I did it to myself. Two-out walks killed me. I walked six guys. That is absurd. I punched out seven guys, so I was around the strike zone. Just, I put myself in holes and I couldn't get out of them. …
"The worst part is, everything was with two outs. I know how to finish innings, and I didn't finish them. I kept dragging them out. That's not acceptable at any level."
Adam McCalvy is a reporter for MLB.com. Follow him on Twitter @AdamMcCalvy, like him on Facebook and listen to his podcast. This story was not subject to the approval of Major League Baseball or its clubs.