Dejection to elation: Anderson blanks Reds in return
Back from Triple-A, right-hander throws 6 2/3 scoreless innings vs. Reds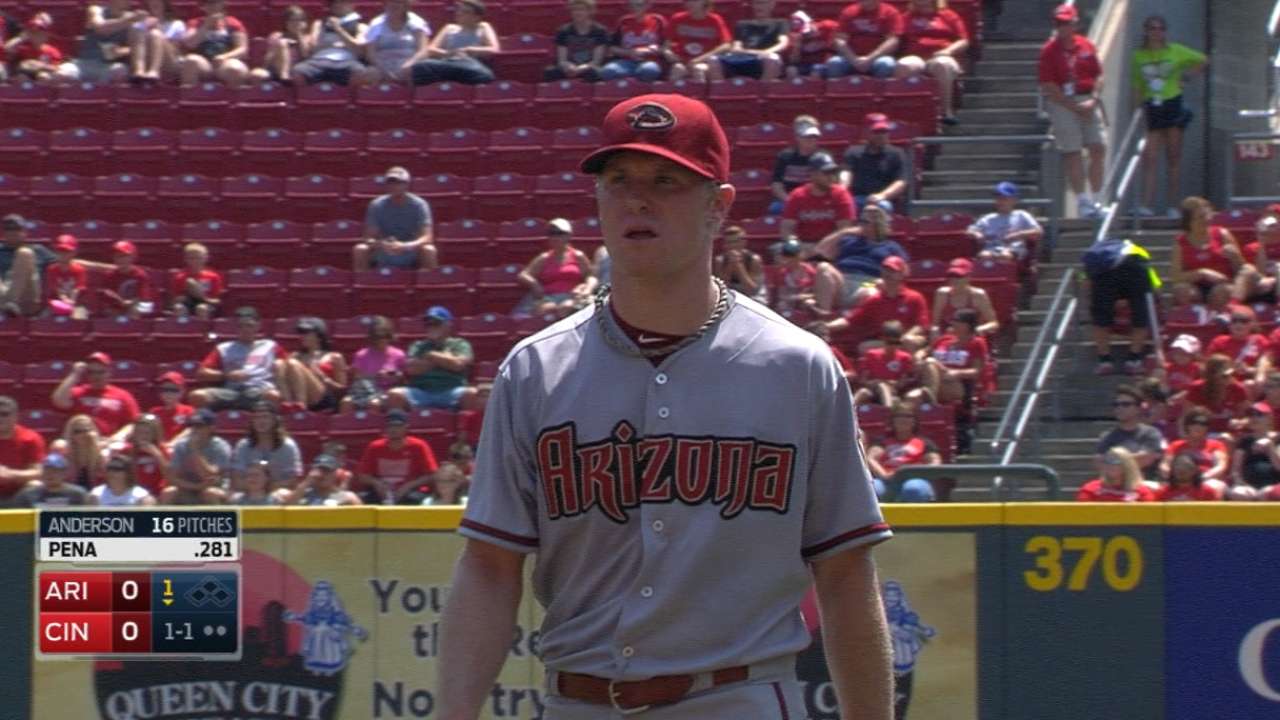 CINCINNATI -- If things had gone as planned, Chase Anderson wouldn't have been on the mound Sunday afternoon in Cincinnati, but the D-backs are happy he made the start.
Anderson threw 6 2/3 scoreless innings, giving up just five hits to lead the D-backs to a 4-0 victory over the Reds and complete the four-game series sweep. After a rough patch, Anderson was optioned to Triple-A Reno on Tuesday, but was recalled on Thursday when Jeremy Hellickson was placed on the disabled list.
The original plan was to give Anderson a few starts with Reno to get back on track, but he was able to do just that in the Majors on Sunday.
"I left a couple up in the first inning and gave up some hits, but just understanding that, make that adjustment right there and I got out of it so I'm thankful for that," Anderson said.
"Getting the sweep first of all for our team is awesome. Just to sweep guys on the road is tough to do no matter who you are playing, but, yeah, it feels really good," Anderson added about getting the win after his eventful week. "I'm thankful just to be back here and for the opportunity to be sent down then to get called back up in 36 hours. Doesn't really happen very often."
Anderson started off the season hot with a 2.84 ERA in his first 13 starts, but had struggled of late. Entering Sunday's start he had surrendered 36 earned runs over 42 1/3 innings in his last eight starts for a 7.65 ERA.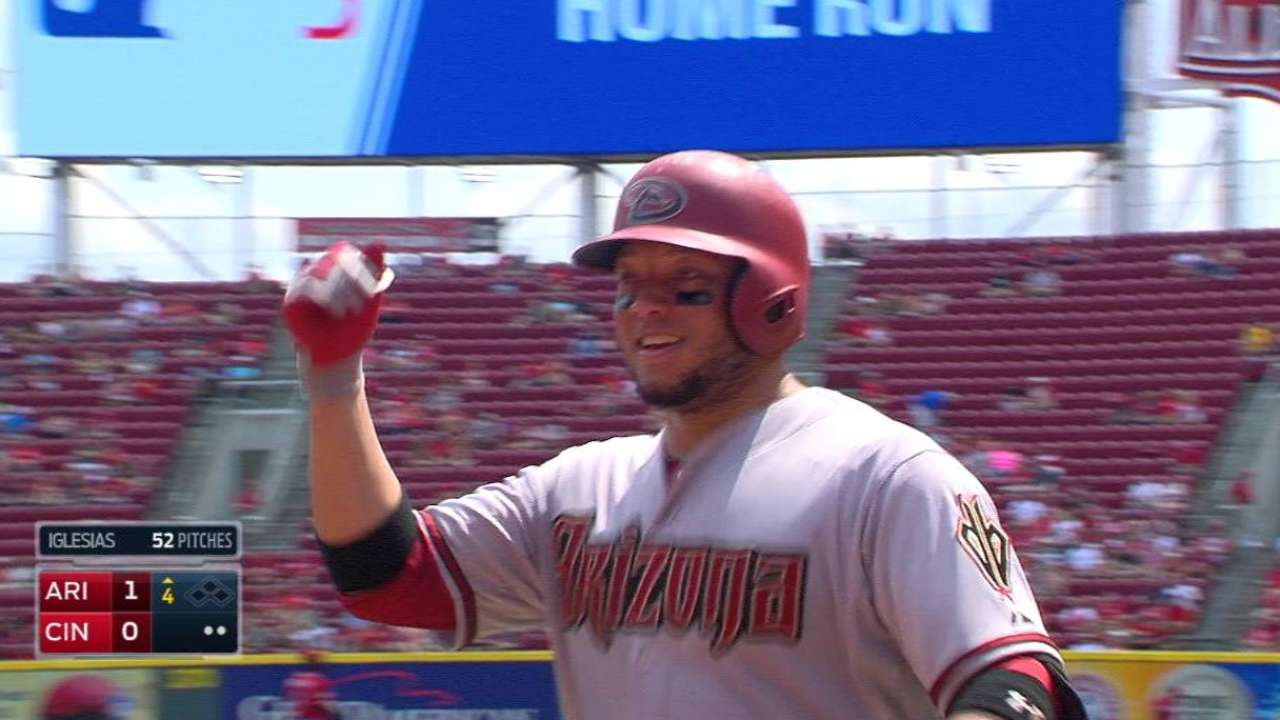 That stretch provoked D-backs manager Chip Hale to send him to Reno to work on a few things. While Anderson didn't have the opportunity to work out the kinks in the Minors, Hale said his ability to keep stuff down was the difference maker on Sunday.
"I just think getting the ball down," Hale said. "His stuff is good enough, that's what we talk about. We had a meeting, I talked to him for a while and said 'listen you obviously have good enough stuff to get guys out. You were our best guy for the first couple months, let's get back to that.'"
Hale added that he could have left Anderson in a little longer, but wanted to get him out of there to make sure he left with a good feeling.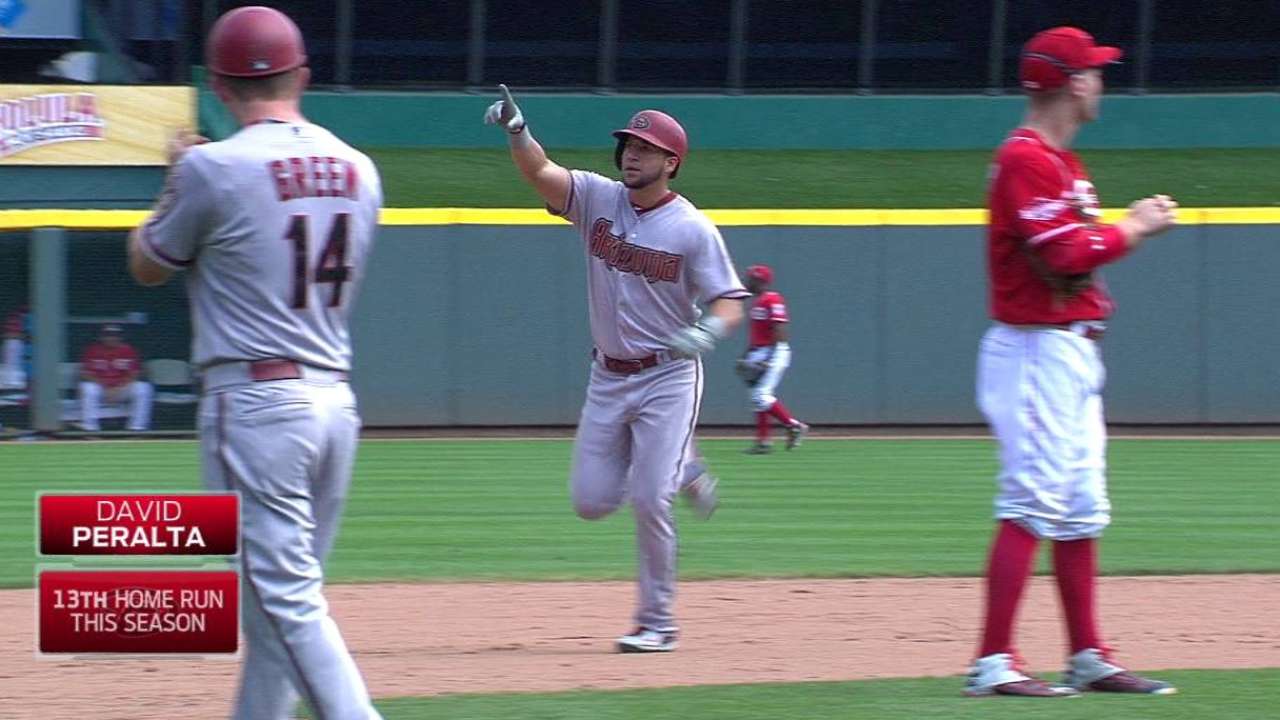 Maybe facing the Reds was all Anderson needed to break out of his funk. The one bright spot during Anderson's eight-game slump was throwing seven scoreless innings against Cincinnati on Aug. 7 to pick up the victory.
Reds rookie outfielder Ryan LaMarre didn't face Anderson earlier this month, but had previously gone up against him in the Minors, and after the game acknowledged his ability to avoid hard contact for most of the day.
"He had a pretty good three-pitch mix going," LaMarre said. "He got ahead with some fastballs but, in hitter's counts, he wasn't afraid to throw a breaking ball or a changeup. He had just enough of a wrinkle. I don't think he punched out many, but he avoided hard contact most of the day, and that's the name of the game when you pitch."
Robert Bondy is an associate reporter for MLB.com. This story was not subject to the approval of Major League Baseball or its clubs.