MLB.com Columnist
Bernie Pleskoff
Chi Chi on path to spot in Texas rotation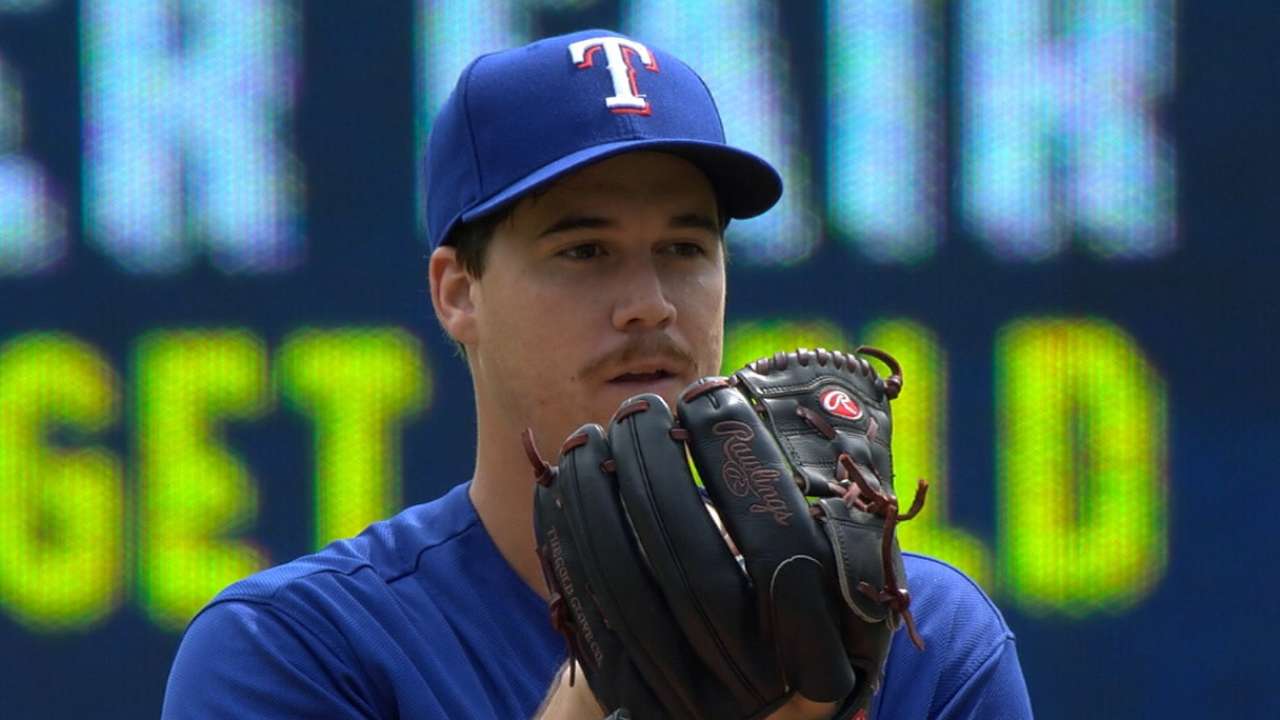 Chi Chi Gonzalez was first selected by the Baltimore Orioles in the 11th round of the 2010 Draft out of Boca Raton (Fla.) Community High School. Instead of signing with the Orioles, he attended Oral Roberts University in Tulsa, Okla.
After compiling a 9-5 record and a 1.83 ERA in 15 starts for the Golden Eagles in his junior year, the Rangers selected Gonzalez at No. 23 overall in the first round of the 2013 Draft.
Gonzalez made quick work of his Minor League development, graduating to the big league club for a debut start against the Red Sox on May 30. He held the Red Sox hitless for the first five innings and came away with the win.
Gonzalez returned to Triple-A Round Rock for more seasoning and was recalled in August to pitch as a spot starter, after which he was sent back down following a solid start vs. the Mariners.
Repertoire: Gonzalez has a wide range of quality pitches that he uses at any time in the count. He throws both a two-seam and four-seam fastball that can touch 97 mph but generally sits around 91-94. He also throws a cutter/slider at 85 mph, a changeup at 84 and a curveball at 77.
Gonzalez makes the most of using his fastballs and cutter/slider combination to set up his changeup and an occasional curve. When I've seen him pitch, his second pitch looks much more like a cutter than a slider.
Mechanics: Everything Gonzalez throws moves, and moves late. That late life changes the balance and the eye level of the hitter. His sinking fastball helps induce ground balls, and he gets plenty of swings and misses. All four pitches project to improve over the course of time and with repetition. When his development is complete, his arsenal forecasts to be very effective.
Using a three-quarters arm slot, Rodriguez generally repeats his delivery. However, there are times when he "short arms" the ball and throws slightly across his body and loses direction and crispness on his pitches.
Gonzalez is very efficient at using all four quadrants of the plate.
Strengths: Gonzalez is maturing and gaining confidence in his repertoire. He has a relatively strong but rather lean frame at 6-foot-3, 210 pounds. He uses his longs legs very well in his delivery.
Gonzalez's fastball and cutter/slider combination are well above average and form the basic foundation of an improving, deceptive and deep arsenal. The movement on his pitches causes weak contact.
Weaknesses: Gonzalez is still only 23. He is working on his command and control, which elude him at times. While he is consistently around the strike zone, he can miss badly if he alters his release point and doesn't finish his pitches.
I find this interesting.
While he was born in Florida, Gonzalez's parents were born in Cuba. Gonzalez, whose give first name is Alexander, got the moniker "Chi-Chi" from his grandfather's brother when "Chi Chi" was a baby. He and his two sisters were all given nicknames. He prefers to be called "Chi-Chi."
The future: Gonzalez is a very projectable starting pitcher. He has to refine his command a bit and consistently hit his spots. Currently, his walk rate is too high. Command and control will come with time and more exposure to big league hitters.
Gonzalez can win a role in the 2016 Rangers' rotation by trusting his stuff, being appropriately aggressive on the mound and mixing that great repertoire well. He should benefit from more development time in the Rangers' system. However, his future is extremely bright as part of the big league rotation.
While he may not dominate, Gonzalez projects as a steady, reliable middle-of-the-rotation starting pitcher. He has enough strength and stamina to handle the humidity and rigors of a long Texas summer.
"Chi Chi" in a word: Movement.
Bernie Pleskoff has served as a professional scout for the Houston Astros and Seattle Mariners. Follow @BerniePleskoff on Twitter. This story was not subject to the approval of Major League Baseball or its clubs.