Lowrie exits as precaution with bruised thumb
Injury in same location as torn ligament that put Astros 3B on DL, but not expected to be an issue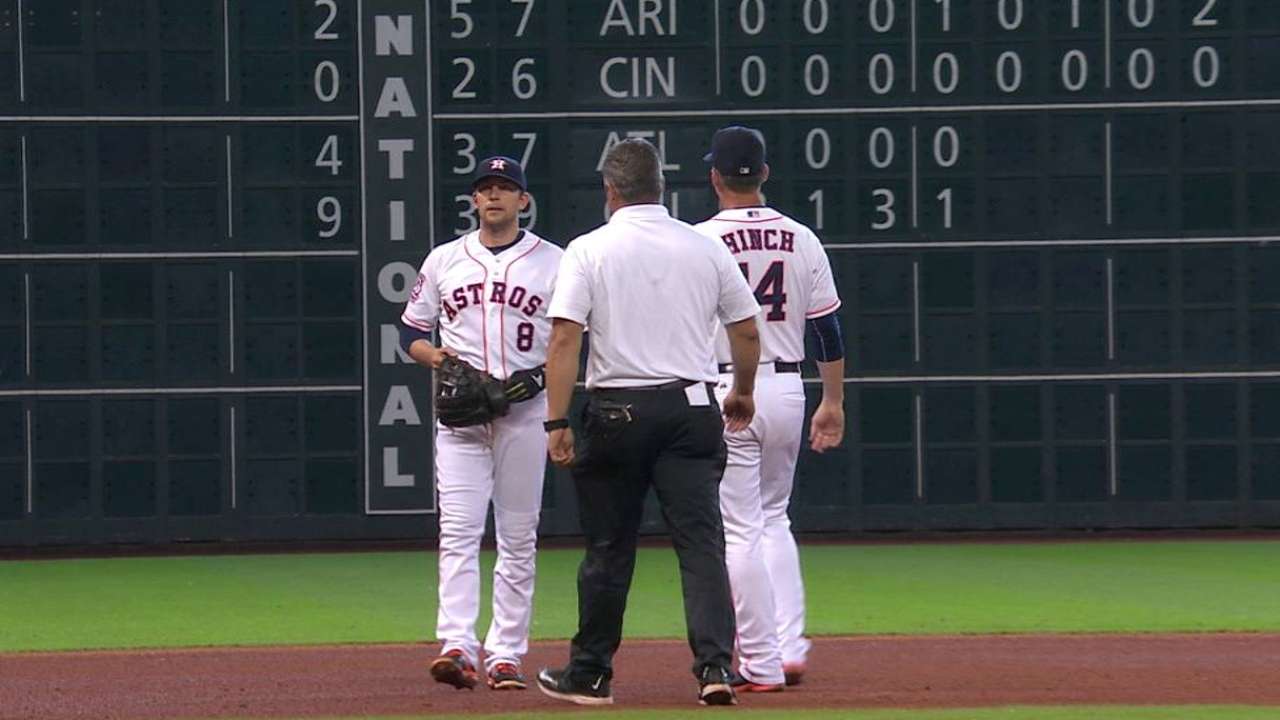 HOUSTON -- Prior to the start of the seventh inning in the Astros' 3-2 walk-off win in the 10th against the Dodgers, Houston third baseman Jed Lowrie exited with a right thumb contusion and was replaced by Luis Valbuena.
Lowrie, who fied out to right field in the home half of the sixth, came out to warm up for the seventh but summoned Astros head trainer Nate Lucero to third base. Manager A.J. Hinch soon joined, and Lowrie left the game shortly after.
"I just got jammed on the swing," Lowrie said after the game. "It got pretty swollen, but I told A.J. I could stay in there, and he said, 'Let's not take a chance. ... I couldn't get anything on the throws, that's why A.J. said let's not take a chance."
Lowrie has played 19 games since returning from a torn ligament in his right thumb that put him on the disabled list for 82 games. He plays and runs the bases with protective padding on his right hand.
Hinch said after the game that he doesn't think the injury is related to that torn ligament. Lowrie said the injury is in the same area, though he doesn't think he re-injured the ligament, either.
Lowrie was scheduled to have Monday off anyway, Hinch said, so he won't play in the Astros' series opener against the Yankees in New York.
"It's a soft tissue, sort of in the webbing of his right hand," Hinch said. "Had some soreness, a little bit of swelling."
Chandler Rome is an associate reporter for MLB.com. This story was not subject to the approval of Major League Baseball or its clubs.