Dodgers thwart Astros on steal of home
Gomez attempts to score tying run in sixth, but review confirms out call; Ellis shaken up, but passes tests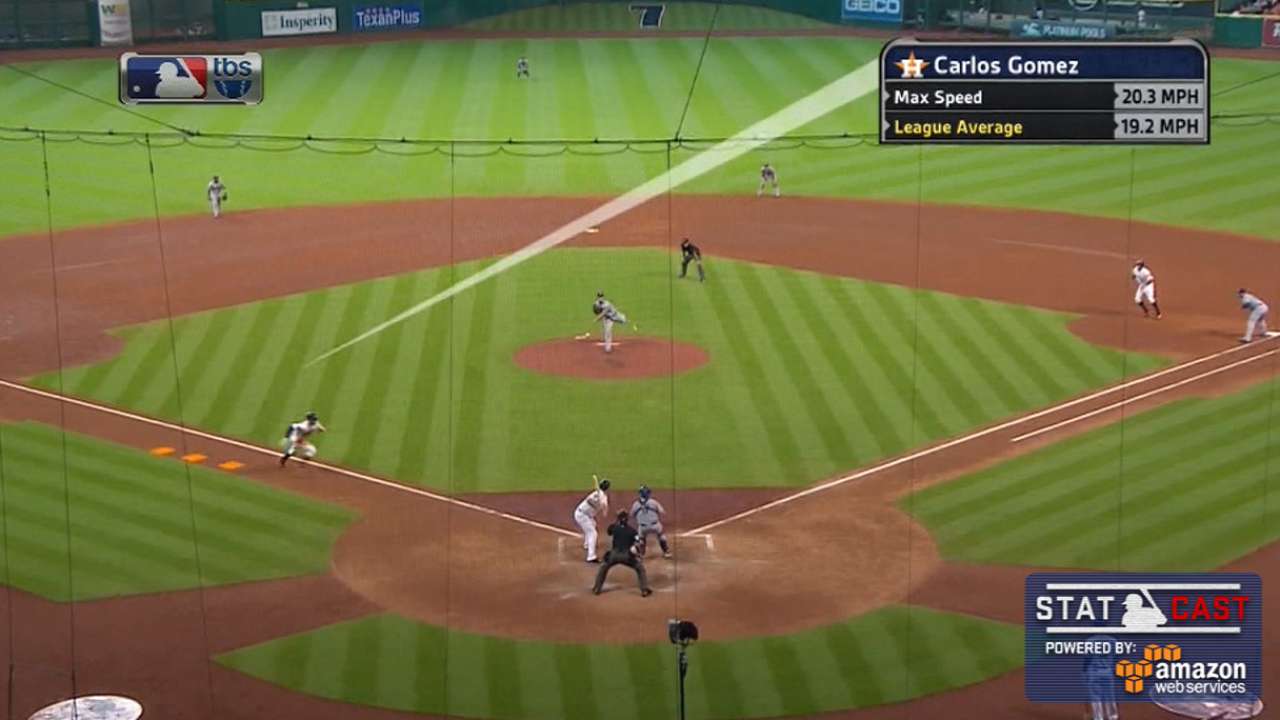 HOUSTON -- Before Houston walked off, 3-2, in the 10th on Jason Castro's reviewed homer, a rare 1-2 caught-stealing at home plate kept the Dodgers in front of the Astros and ended a sixth-inning jam for Clayton Kershaw on Sunday at Minute Maid Park.
Carlos Gomez, representing the tying run, tried to swipe home with runners on the corners and two outs, but he was tagged out by catcher A.J. Ellis.
"Gomez made an aggressive play. He's really aggressive on the bases and came pretty close to [stealing home]. ... If we can get him there, we're confident we can get anybody trying to do that," Kershaw said. "I'm always a little cognizant of [a runner on third] and took a look at him when I came set. I trust Adrian [Gonzalez, first baseman] to let me know. I know I'm not going to panic or balk there."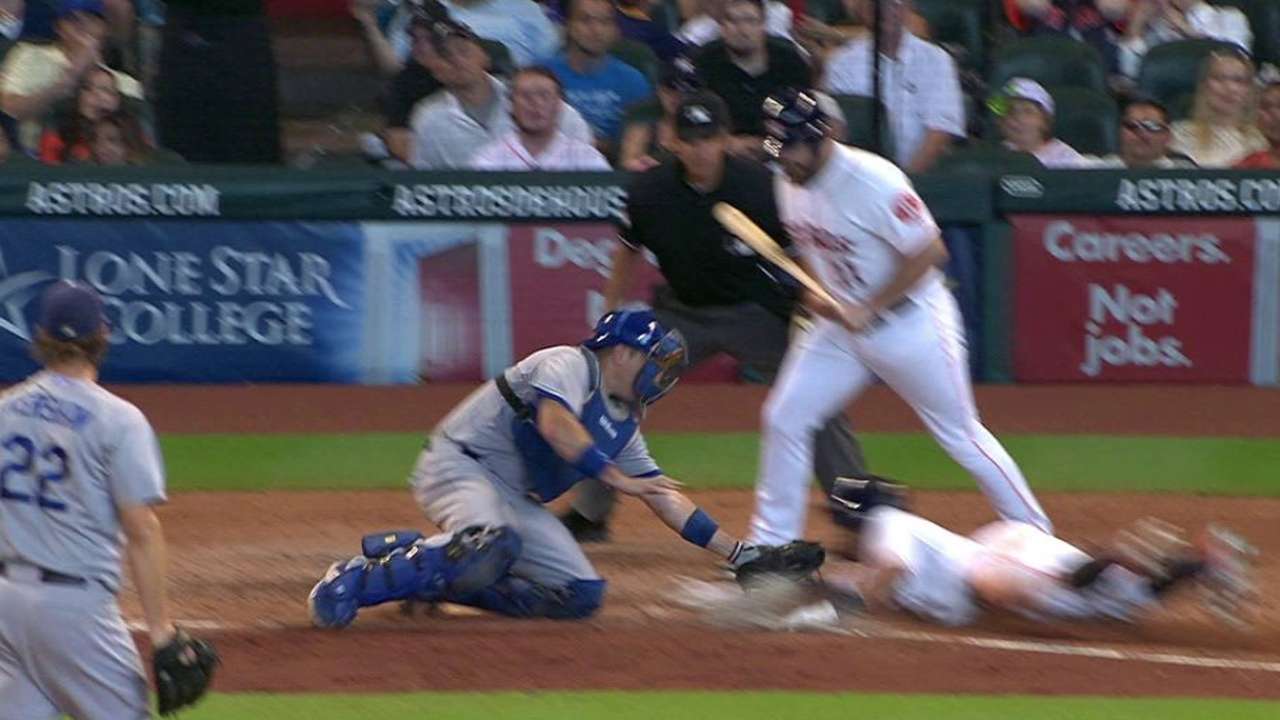 Ellis appeared to be shaken up after taking Gomez's cleat to his head on the slide. As trainers and staff looked at Ellis, the Astros challenged the call, which was confirmed after a replay review.
Ellis said after the game he passed all concussion protocol, meaning he was allowed to continue in the game. He had one more at-bat in the seventh, when he struck out to start a double play when Castro caught Andre Ethier stealing third on strike three.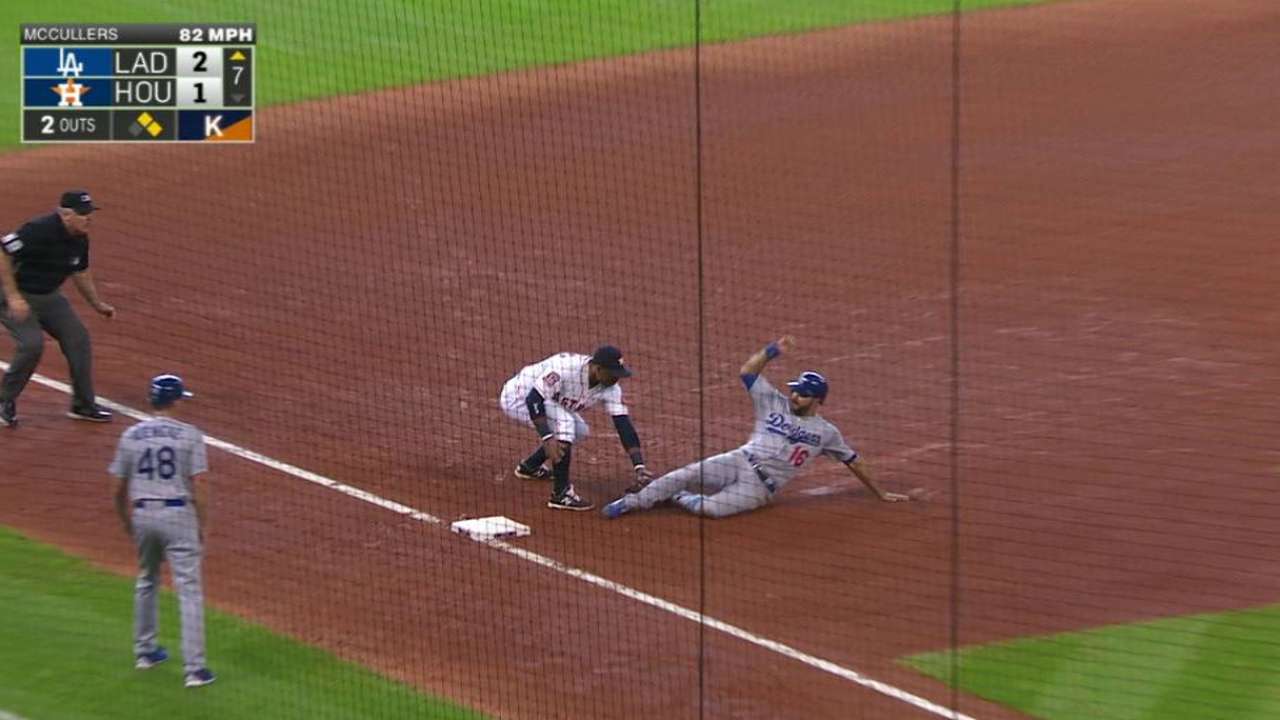 "Clayton did a great job being aware, stepping up and making a strong throw to the plate," Ellis said. "[Gomez] has a reputation in this league for being a guy who likes to take chances, and sometimes it's beneficial [to us]."
Astros manager A.J. Hinch said Gomez took off on his own, partly because of Kershaw's deliberate motion on the mound where he brings his arms all the way over his head before coming set.
"It shows everybody that we are coming out aggressive," Gomez said. "They have to watch out, because we are capable of doing things like that on the bases."
It was another example of the Astros' aggressive baserunning that an unapologetic Hinch takes pride in with the speed up and down his lineup. It comes with its fair share of mistakes, though, including another on Sunday, when Kershaw easily picked off Jose Altuve in the third inning after a two-out single.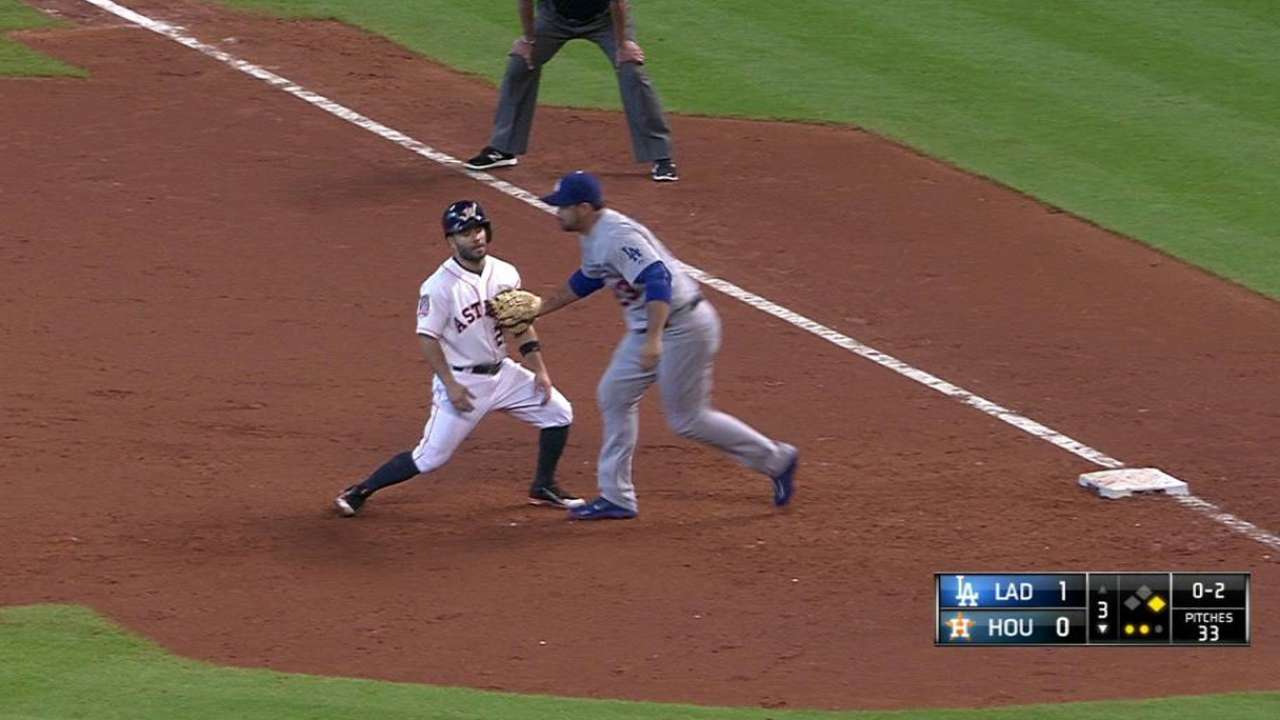 "We're a fraction of an inch away from congratulating him on one of the most aggressive plays that ties the game against an elite pitcher in the big leagues, and instead we're wondering what if at the end," Hinch said of Gomez's play. "It's a tough play all the way around, but he did that as an aggressive player ... and it fits in our aggressive mindset.
"I know it's maddening sometimes with the outs on the bases, but we're always trying to get 90 feet."
Chris Abshire is a contributor to MLB.com. Chandler Rome is an associate reporter for MLB.com. This story was not subject to the approval of Major League Baseball or its clubs.