Rodon shows no sign of fatigue in rookie year
White Sox lefty impressing manager with grit and confidence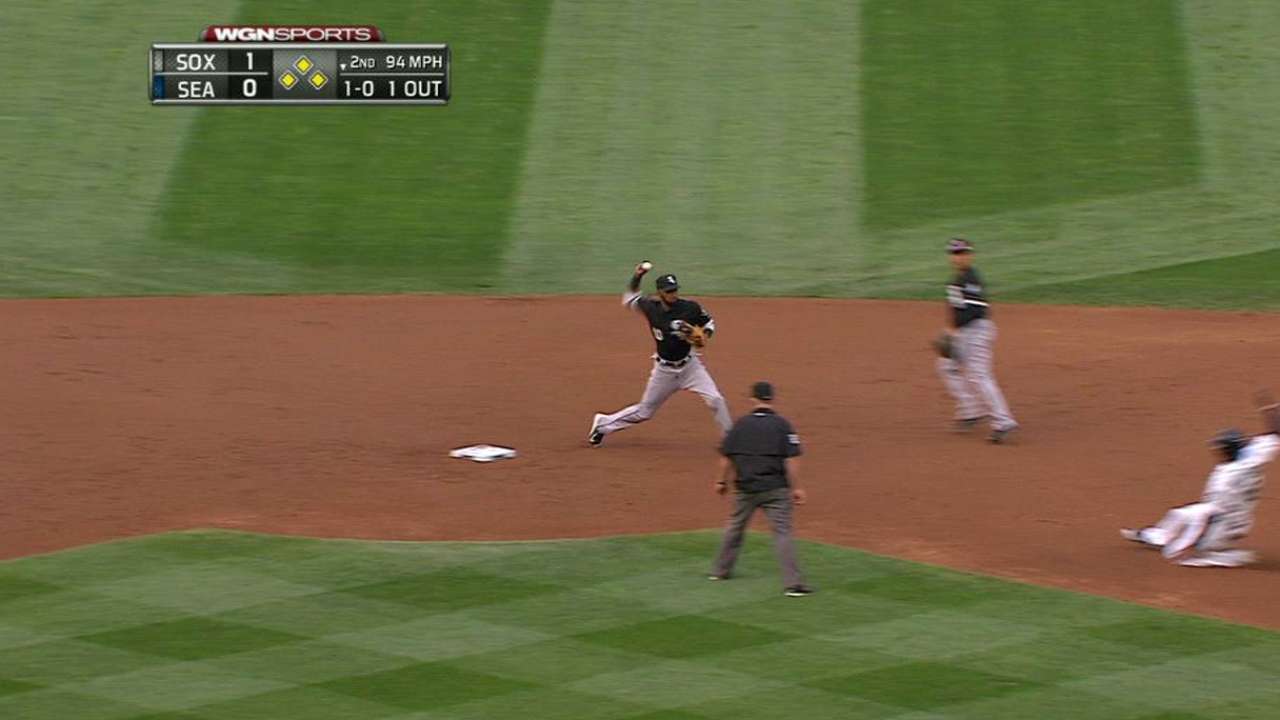 SEATTLE -- Carlos Rodon had thrown 6 2/3 innings and 111 pitches in the White Sox's 6-3 win over the Mariners on Saturday night when manager Robin Ventura came out of the third-base dugout to have a word.
Rodon had just gotten Kyle Seager to line to second for the second out of the inning, but stepping to the plate was Seattle's most dangerous hitter, Nelson Cruz.
His night was nearing its conclusion, but Rodon wanted the ball and his manager listened. The gamble paid off, as Cruz grounded out to second to end the inning after a five-pitch at-bat.
"He wanted the extra hitter. For a young kid, he understands it," Ventura said before Sunday's game. "He gets it and to want that and know it's on the line and compete like that, it's a great sign."
Staying in for an extra hitter is something Ventura said Rodon has wanted to do plenty of times this season. The difference now is Ventura has more trust in Rodon's command as he works through opposing lineups for the fourth time.
The 22-year-old lefty walked four Mariners hitters and allowed three runs in a no-decision on Saturday, but his command has generally improved in the last month, with just 10 of his 58 walks, third-most in the Major Leagues entering Sunday, coming in August.
"It wasn't a fake boast or anything like that. He really wanted it," Ventura said. "I think where he was before he couldn't have that just because of him and his command."
The challenge for Ventura now becomes one of balancing the need to monitor Rodon's innings total, which eclipsed 100 on Saturday night, with late-season improvements that have allowed him to work deeper into games. Rodon's three most recent starts have been three of his best and three of his longest, as he has gone 1-1 with a 1.23 ERA and a 3-to-1 strikeout-to-walk ratio in 22 innings since Aug. 11.
"I think for any young guy the later you get into the year and him being in here, you're always careful to watch it and see what the workload is and where he's at," Ventura said. "I think as of right now he's only gotten better."
Combining his first Spring Training, two starts with Triple-A Charlotte and his 18 starts with the White Sox, Rodon is beginning to enter a workload beyond what he experienced in any of his three years at North Carolina State. Ventura said the White Sox will look out for the tell-tale signs of fatigue, but with just over a month left in the season, Rodon hasn't shown them.
"I haven't seen him slow down at all," Ventura said. "I haven't seen his velocity go down. With the command he's now going out there featuring, it's gotten better."
Andrew Erickson is an associate reporter for MLB.com. This story was not subject to the approval of Major League Baseball or its clubs.