Flu-like symptoms sideline Giavotella
Angels second baseman feels better, but expects to miss a few more games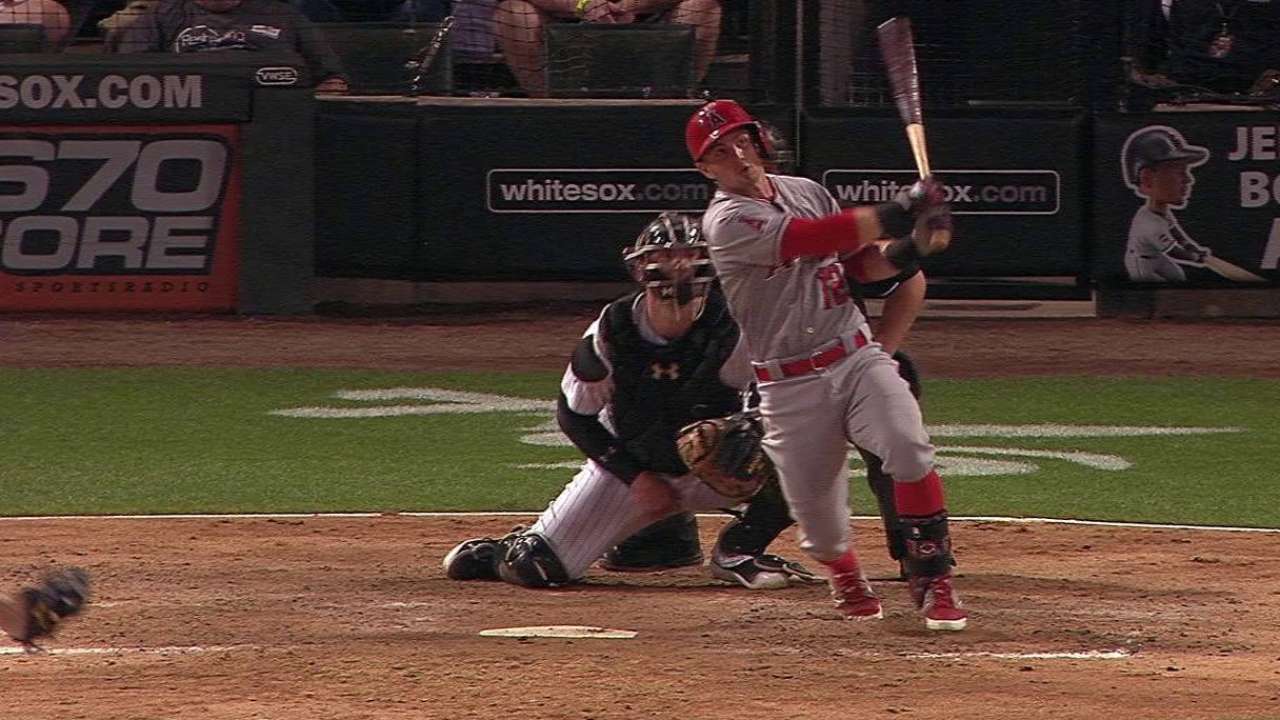 ANAHEIM -- Angels second baseman Johnny Giavotella has been experiencing flu-like symptoms and said on Sunday he will likely miss a few more games.
"I feel much better," Giavotella said. "It's gonna take me a couple more days to get back. But I'm feeling good again, getting my strength back up, and after a few days I should be fine."
Giavotella was back in the Angels' clubhouse before the series finale against the Blue Jays, and he worked out and took some fielding practice but was unavailable for the game. He hadn't been at Angel Stadium the previous two days, and he saw a doctor on Saturday.
"Wasn't feeling good at all, couldn't come to the field," Giavotella said. "It's nice to have a couple of days off, and hopefully after a few more I'll be OK."
In Giavotella's absence, Grant Green should continue to start at second base for the Angels.
Worth noting
• Manager Mike Scioscia was impressed with Matt Shoemaker's start for Triple-A Salt Lake on Saturday. Shoemaker, who was optioned on Aug. 16, pitched six innings and allowed three unearned runs.
"Matt had really a good start. The reports on him were much better than anything we've seen this year from him up here," Scioscia said. "So hopefully he went down there and got a chance to work on some stuff, and he will definitely be back up here. We'll see what that will be."
With Monday's off-day, the Angels next need a fifth starter on Saturday, and Shoemaker is a strong candidate to be recalled. Nick Tropeano would have been another, but the Angels had to option him on Saturday to make room for Green due to Giavotella's illness, so Tropeano can't return to the Majors for 10 days unless someone goes on the disabled list.
Scioscia said the team wasn't ready to make an announcement about the rotation, and that "there are still some things we're looking at."
• Reliever Cory Rasmus (right forearm strain) threw on Sunday for the first time since going on the DL on Aug. 16. Scioscia said he is optimistic Rasmus could return sooner than the Angels originally expected.
• Third baseman David Freese (fractured right index finger) started a rehab assignment with Salt Lake on Sunday. He will start at designated hitter before transitioning to third base.
• Infielder Taylor Featherston (back strain) will start his rehab assignment at Triple-A Salt Lake on Monday. Outfielders Matt Joyce (concussion/lower back tightness) and Collin Cowgill (right wrist sprain) are already with Salt Lake, with Cowgill further along in his rehab than Joyce.
David Adler is an associate reporter for MLB.com. Follow him on Twitter @_dadler. This story was not subject to the approval of Major League Baseball or its clubs.