Twins sweep season series with help from O's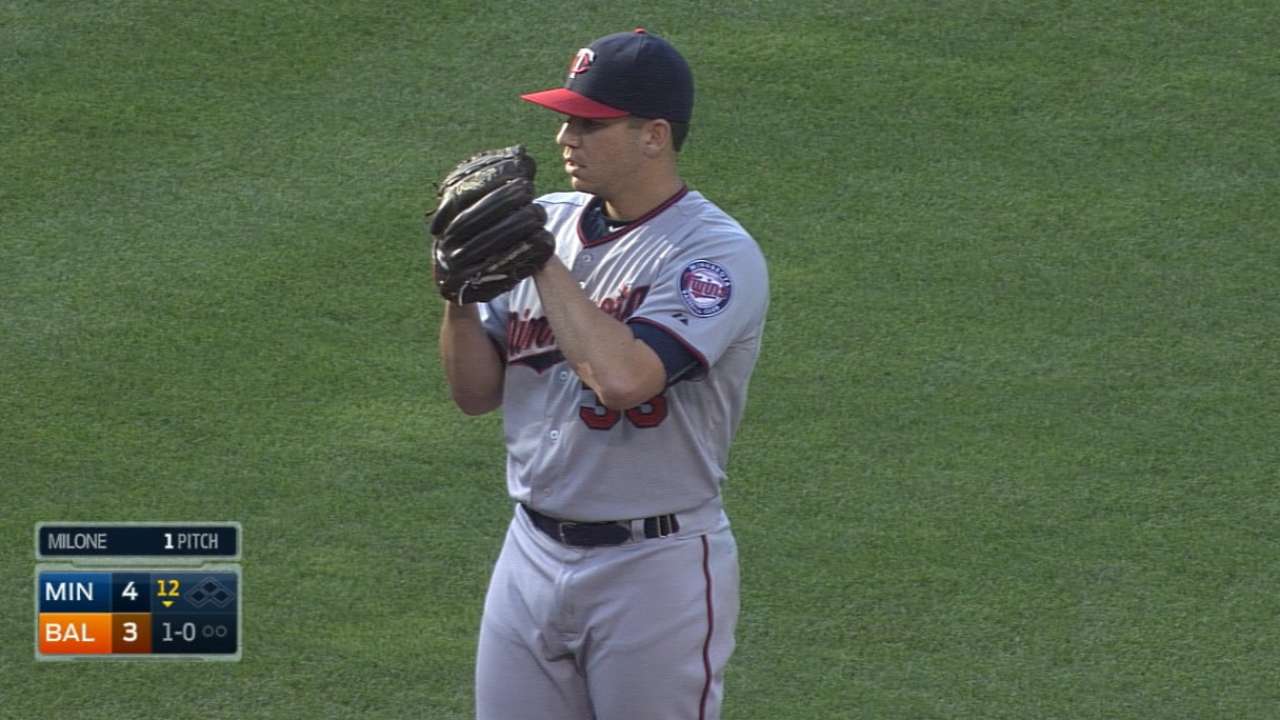 BALTIMORE -- The Twins pounced on a pair of 12th-inning errors Sunday afternoon as Minnesota beat Baltimore, 4-3, to complete the four-game series and seven-game season sweeps of the Orioles.
Manny Machado and Jimmy Paredes both recorded errors in the 12th, with the second allowing Eduardo Escobar to come across for the winning run. The game wouldn't have made it to extra innings if it weren't for Trevor Plouffe's two-out RBI single in the ninth that tied the game at 3. The inning started with a leadoff infield single from Brian Dozier, which provided the groundwork for Zach Britton's third blown save of the season.
Mike Pelfrey started the game for the Twins, but Minnesota used eight pitchers on the day with Glen Perkins picking up the win. The closer's outing came as a surprise after throwing a 25-pitch bullpen session earlier in the day to test out a neck injury. He gave up two hits and recorded a strikeout in the 11th before Tommy Milone recorded his first career save after starting Friday's game. With the win, the Twins completed their first series sweep over the Orioles since 2007, and just their second in team history. Minnesota also leapfrogged Baltimore in the American League Wild Card standings, moving 1 1/2 games behind Texas, with the Orioles two games back of the Rangers.
"We showed that we're not giving up," Milone said. "We just go out and battle and we are going to grind out games until the very end. Obviously it didn't work out for us in New York [losing three to the Yankees], but we didn't let that get us down. I think it's going to help us in the end."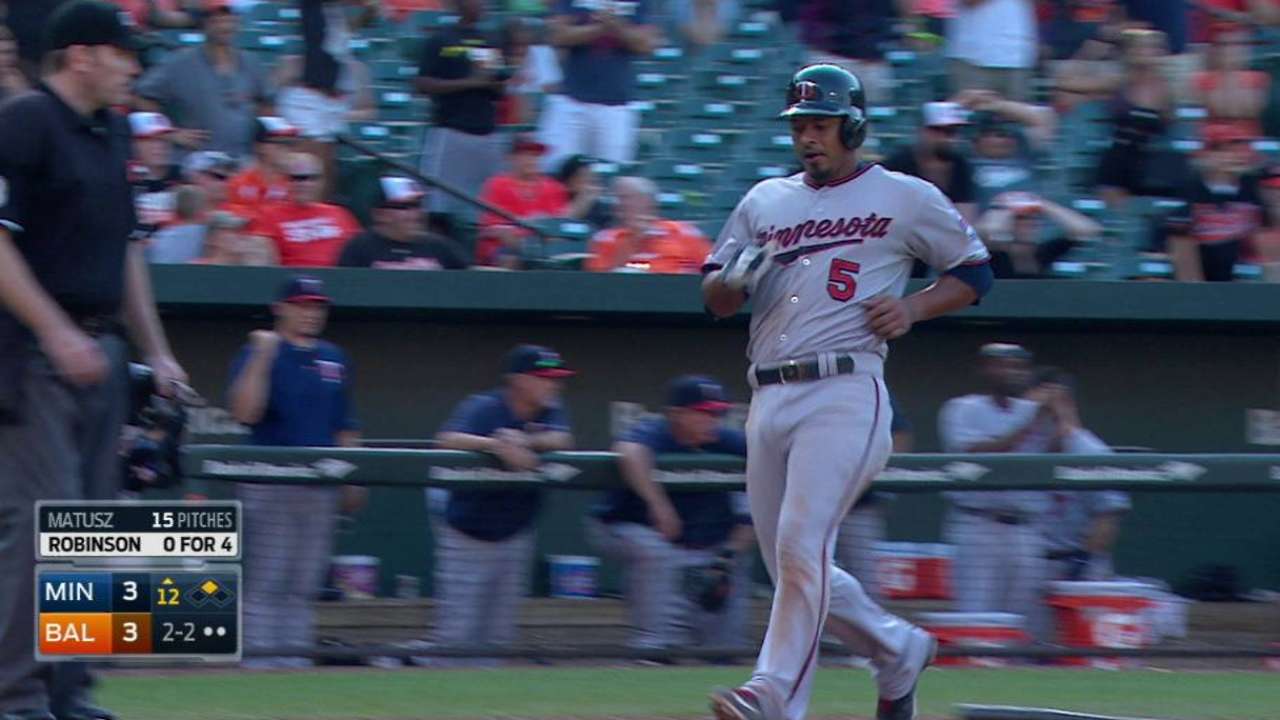 MOMENTS THAT MATTERED
Dozier executes in critical spot: Dozier sparked the game-tying rally off Britton by sliding into first base for a leadoff single in the ninth. After advancing to second on a fielder's choice, Dozier scored on Plouffe's single through the left side to tie the game up at 2. More >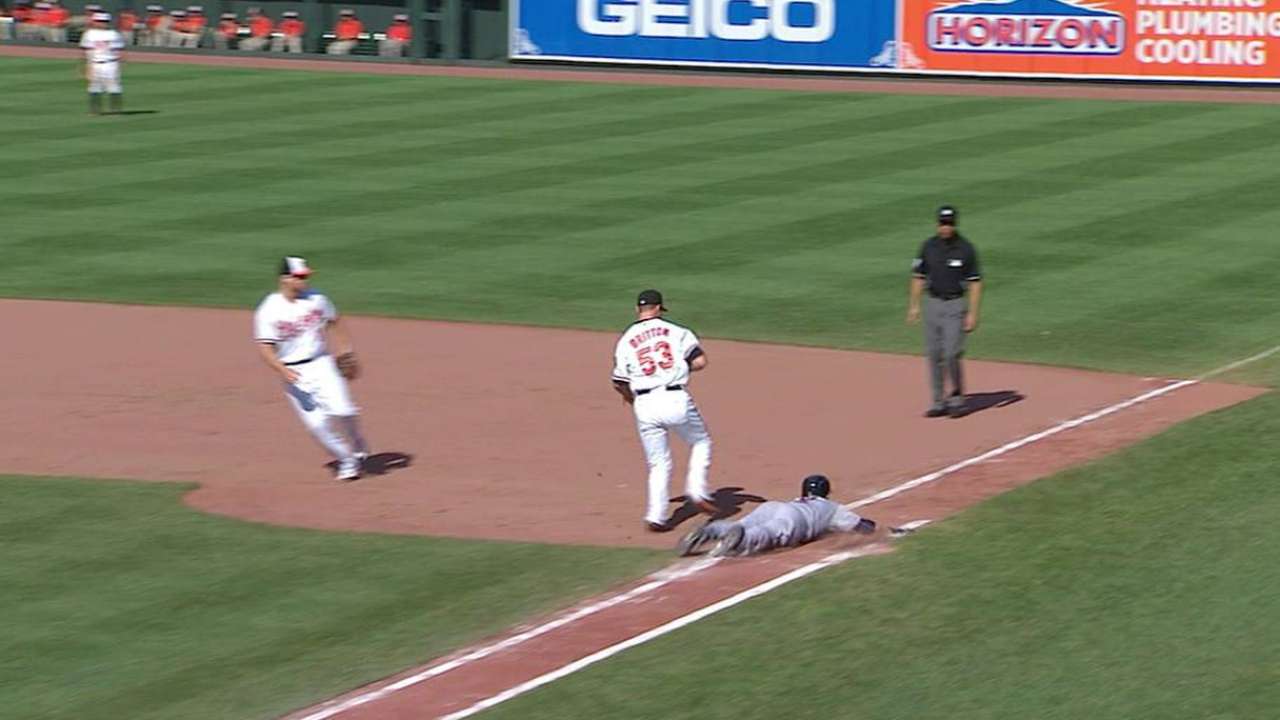 "I think there are three times you really want to slide into first," Twins manager Paul Molitor said. "A play when you have a chance to beat a pitcher over there, especially a left-handed pitcher who might tag you on the back is the time to try and get down and maybe try and get extended. It was the time to do it and might have made the difference between him being safe and out."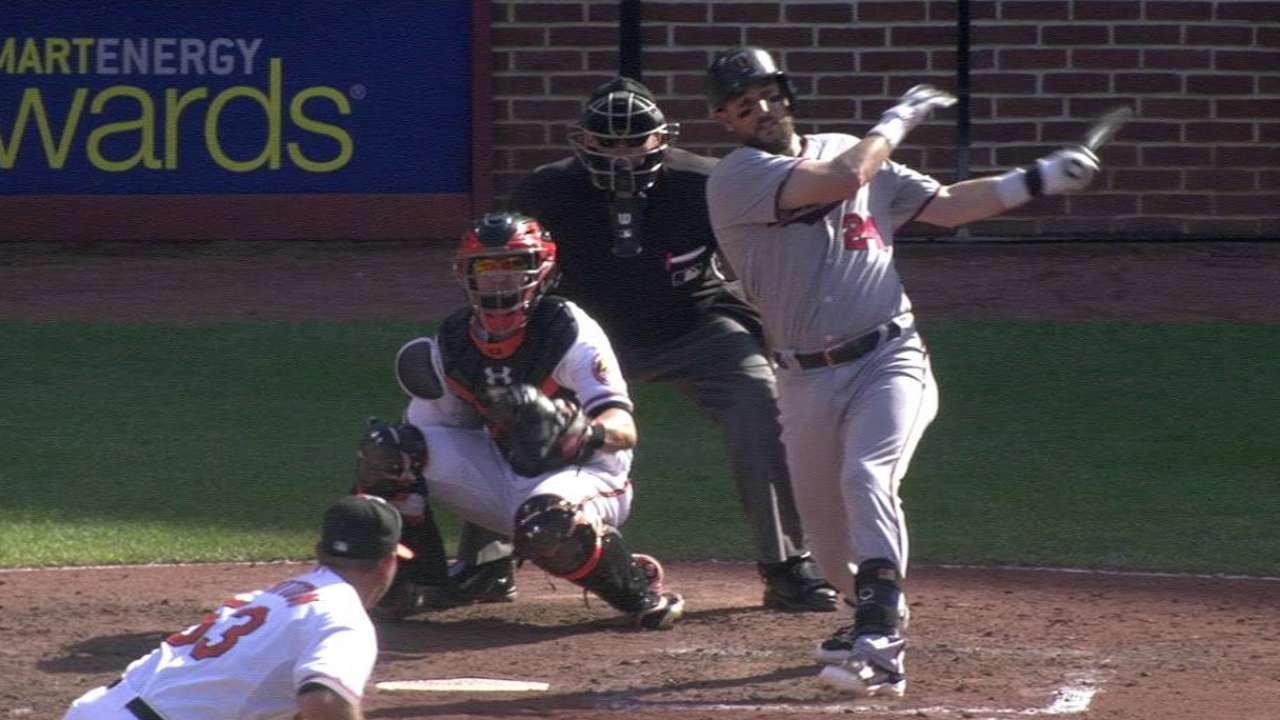 Gausman dominates: Sometimes it's not about the slow start, but how you recover. Kevin Gausman, who had lost three straight starts, allowed Miguel Sano's two-run homer in the first before completing seven strong innings. He fanned eight, recording at least one strikeout in every inning except the second. The biggest came against Eddie Rosario with one out in the seventh after Machado's throwing error put Plouffe in scoring position with Baltimore leading, 3-2. Escobar's flyout ended the frame as Gausman retired 19 of the final 20 batters he faced.
"After the first, I'm sure a lot of people probably didn't think I could go seven [innings]," Gausman said. "Had a good rhythm going. I feel once you have a couple of innings where you set guys down in a row, you kind of start to get comfortable."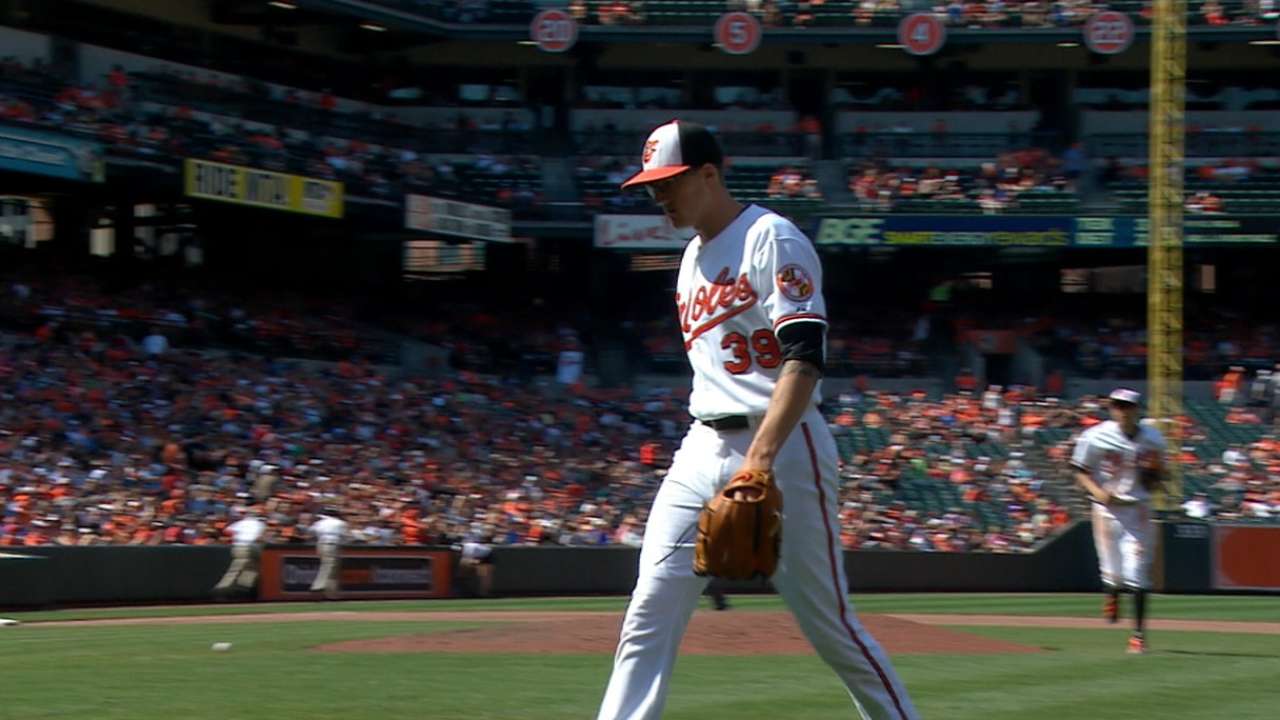 Surprise appearance: Perkins hadn't pitched since Monday due to a neck injury that required two cortisone shots last week. He played catch for the first time since the shots Saturday and threw a 25-pitch bullpen session before Sunday's game. The All-Star closer felt great after throwing, and Molitor told reporters he would throw Tuesday at the earliest. Well, Perkins trotted out and pitched the 11th, giving up two hits while striking out Adam Jones to end the inning.
"I just watched it on television and I think he was maybe feeling his way a little bit, and maybe a little more finesse than power," said Molitor, who was ejected in the ninth inning. "But he made some good pitches. Sometimes you get it in the right spot and it doesn't matter if you're throwing 95 [mph]. Got through the inning, and getting Jones out there, that was huge to extend the game."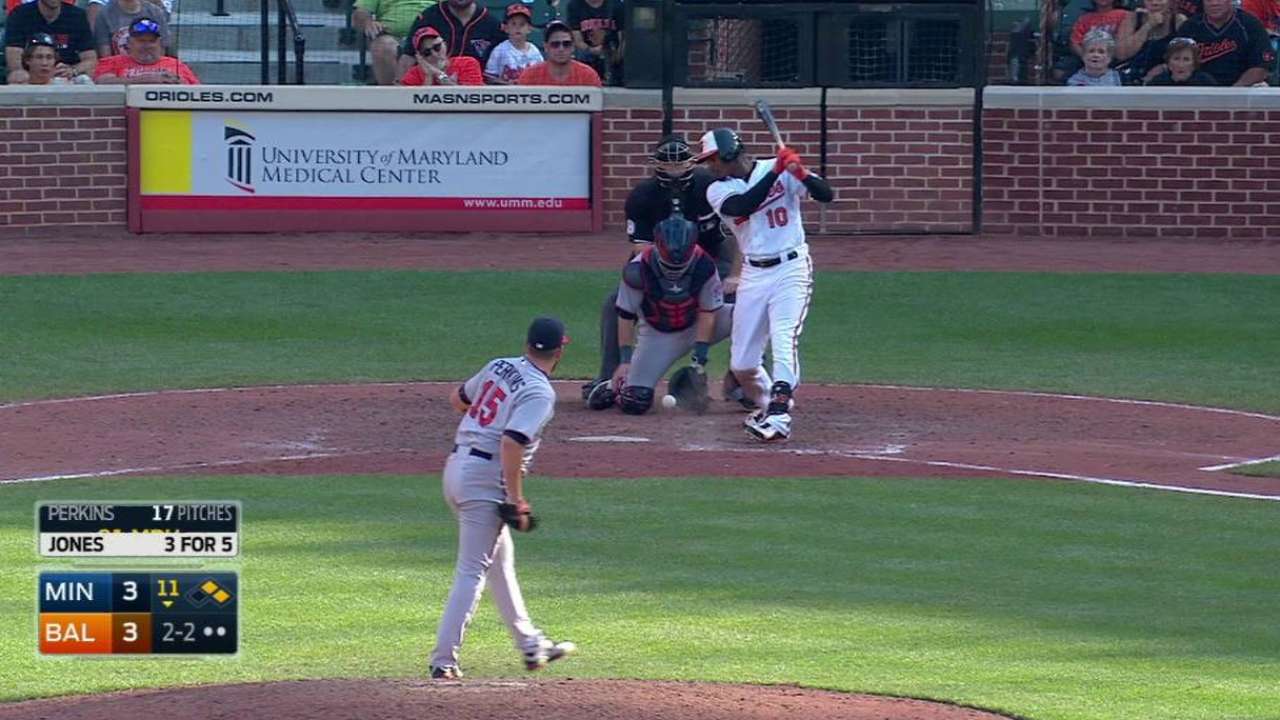 Swinging Schoop: Orioles second baseman Jonathan Schoop was second to none when batting with two outs. His RBI single in the third and two-run hit in the fifth both came after Minnesota recorded two outs. Schoop knocked Pelfrey out of the game in the fifth when his single to right scored Adam Jones and Steve Clevenger for a 3-2 Orioles lead.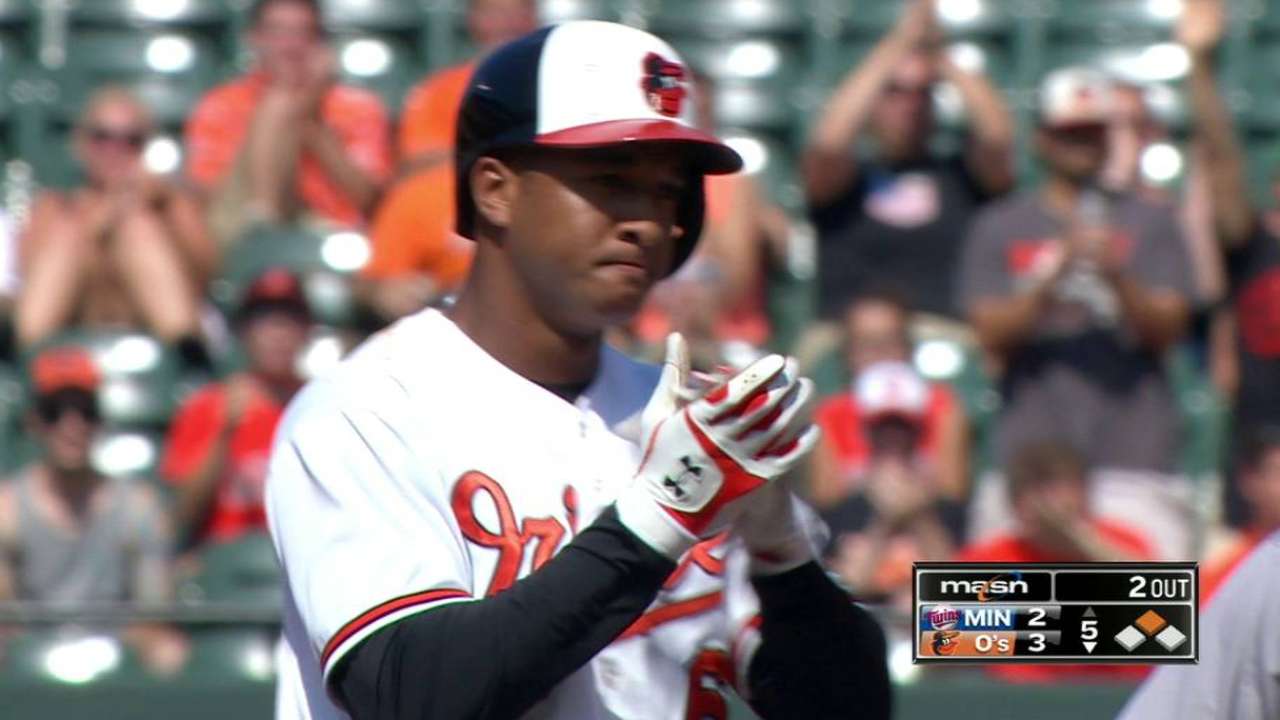 SOUND SMART WITH YOUR FRIENDS
At one point in his career, Machado's path to the Majors seemed to be at shortstop. Yet, Baltimore's third baseman never played there on the big league level until the 12th inning. The debut was anything but ideal. On his very first chance, Machado booted a simple grounder from Escobar, who hustled to second base as Machado was late in covering. Two batters later, Escobar scored the go-ahead run on Paredes' fielding error.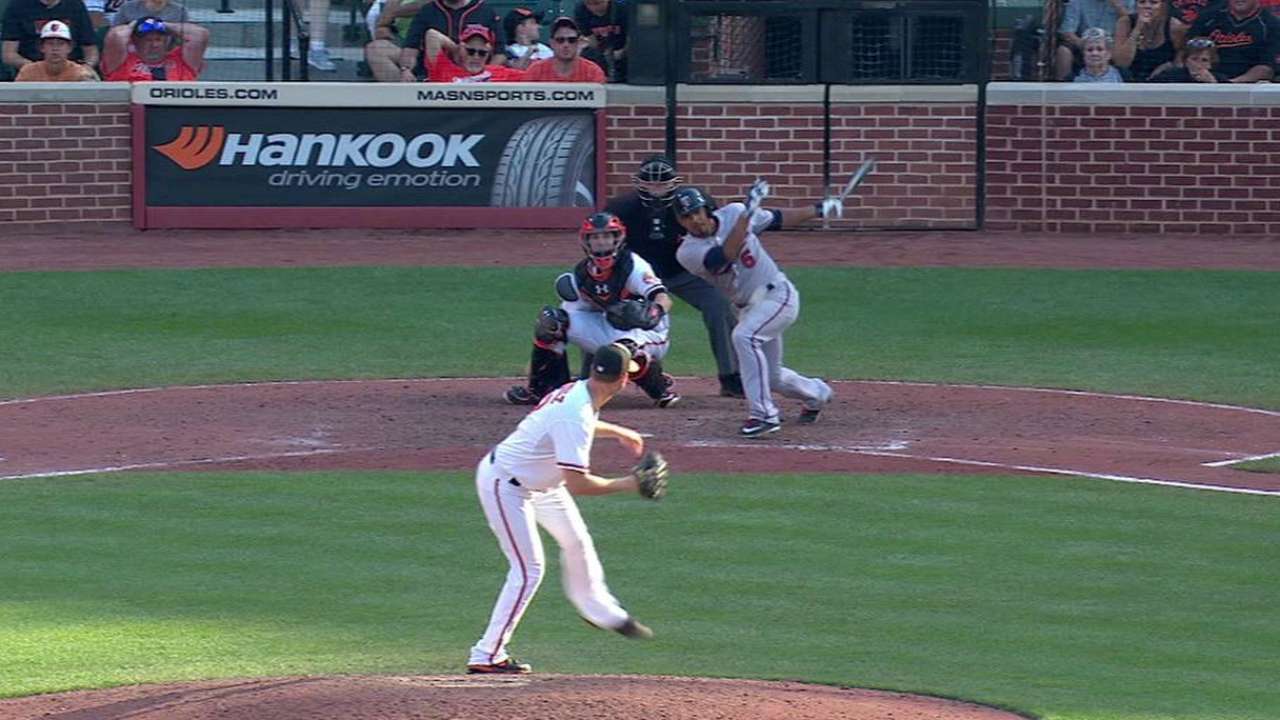 MOLITOR EJECTED
Molitor was ejected with two outs in the top of the ninth inning after Sano was called out attempting to check his swing against Britton. After first-base umpire Gabe Morales ruled it a swinging strike three, Molitor stormed out of the dugout before he was quickly tossed by both Morales and home-plate umpire Chris Conroy.
"I got thrown out twice in one game today," Molitor said. "Home-plate umpire must not have seen the first one. I knew when I went out there it's automatic, and I just thought it was time to make a stand. I thought Dozier didn't swing and I didn't think Sano swung, and sometimes you need to make a little bit of a stand, and it seemed like the right time. I don't lose emotional control often, but I was pretty hot at the moment given the fact that we are trying to find a way to stay in the game. I got what I deserved for going out there."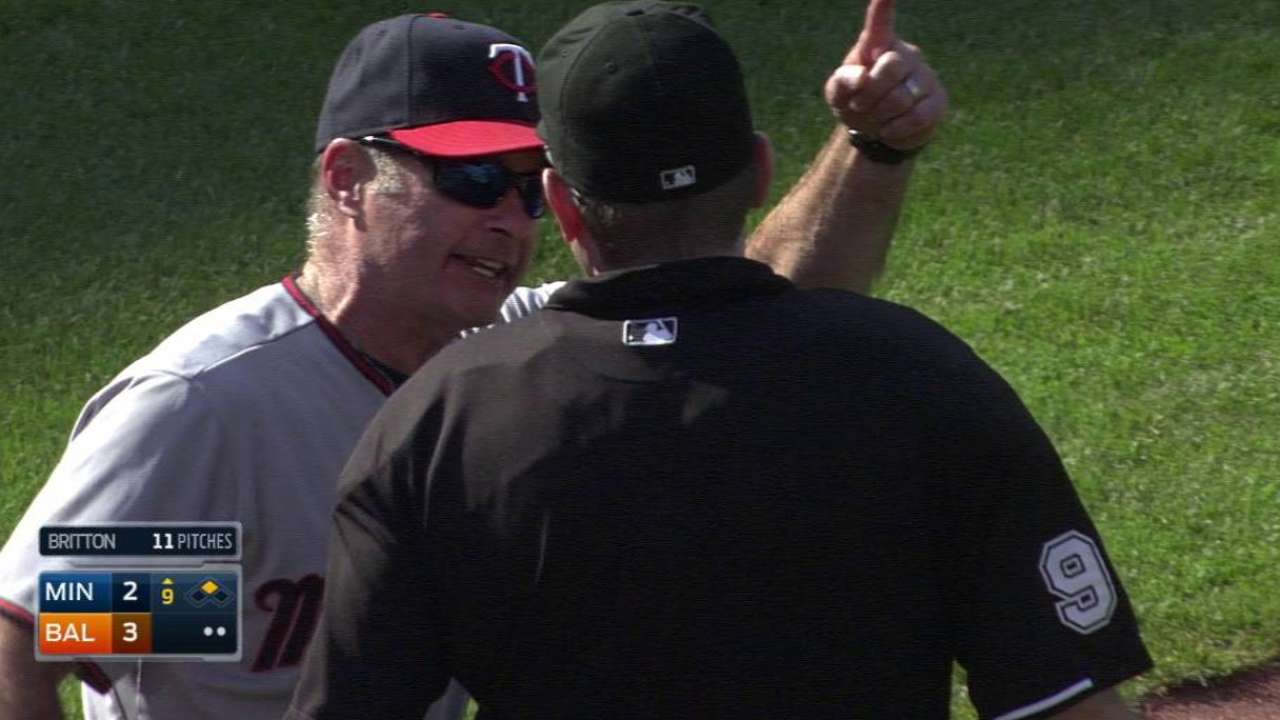 WHAT'S NEXT
Twins: Minnesota will begin a three-game road series against the Rays on Tuesday with Ervin Santana (2-4, 5.53 ERA) on the mound. He is 0-4 with an 8.46 ERA in his past five starts, but looked strong against the Yankees his last time out, other than giving up a pair of two-run homers. Santana is 6-6 with a 4.98 ERA in 14 career starts against the Rays.
Orioles: Baltimore hits the road for seven games, starting with a four-game series in Kansas City. Ubaldo Jimenez (9-7, 3.97 ERA) starts the opener against fellow right-hander Kris Medlen (1-0, 2.51). Jimenez hasn't made it past the fifth inning in his last two starts, coming away with a pair of no-decisions. He is 1-1 with a 5.16 ERA over four August starts.
Watch every out-of-market regular-season game live on MLB.TV.
Connor Smolensky is an associate reporter for MLB.com. Ben Standig is a contributor to MLB.com. This story was not subject to the approval of Major League Baseball or its clubs.