First-inning struggles for Rea, 'D' lead to loss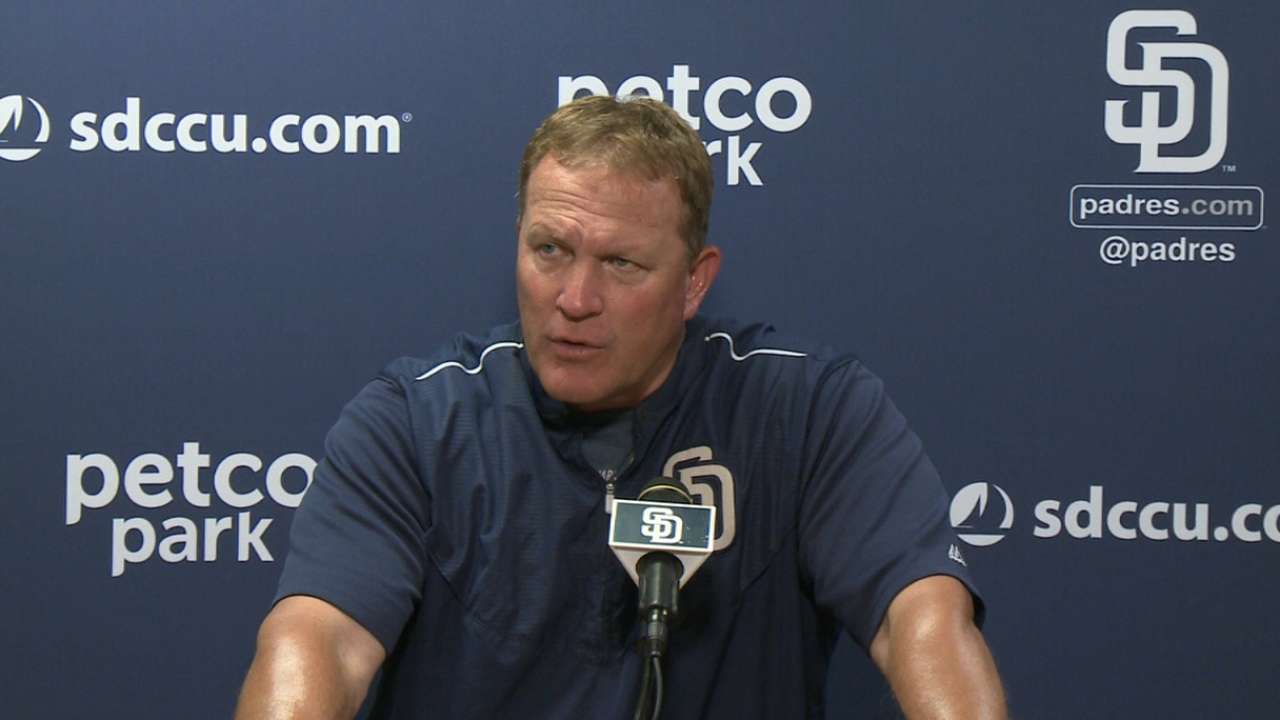 SAN DIEGO -- The Padres' chances of putting a tidy bow on what would have been a wildly successful homestand, with a chance to reach the .500 mark, took a major hit right out of the chute Sunday.
The Cardinals took advantage of two first-inning errors, scoring four runs on their way to a 10-3 victory at Petco Park.
It was their lone victory in the three-game series and it marked the only time the Padres (61-63) lost during their six-game homestand, which including three wins against the Braves.
Had things been different in that first inning, Padres interim manager Pat Murphy could have been singing a different tune heading into Monday's off-day.
"Those two plays ended up costing us," Murphy said of errors by starting pitcher Colin Rea, making his third Major League start, and third baseman Yangervis Solarte.
With one out in the first inning, Rea walked Tommy Pham, who is regarded as an above-average runner. Wanting to keep Pham close to the bag, Rea fired over to first base once. Then he did so again, but with far too much gusto, he said, as the ball sailed into foul territory.
Pham scampered all the way to third base, but didn't stay there long.
"I think I just tried to overthrow it and tried to put more on it than I needed to," Rea said.
Jhonny Peralta then hit a soft liner down the third-base line to Solarte, who tried to grab the ball and make a tag of Pham, who had wandered down the line. In the end, he did neither, as the ball glanced off his glove for an error as Pham walked home for the game's first run.
Afterward, Solarte said he was shielded by Pham.
"Solarte takes his eye off the play, thinking he has it, looking for the base, thinking he's going to double him off, and he would have, and we're out of the inning," said Murphy. "And that guy wouldn't have been at third base if Colin makes an accurate throw.
"One play changes the inning."
From there, Jason Heyward singled, as did Yadier Molina, driving in a run to make it 2-0. Stephen Piscotty, who had a monster day, hitting two home runs, added a two-run triple to make it 4-0.
Rea, who won his first two starts, also at Petco Park, didn't have his best stuff, as he wasn't able to hit the corners with his fastball. He needed 32 pitches to get through the first inning.
Rea needed nine pitches to get through the second but the damage was already done. He went four innings, allowing four earned runs.
"We should have been out of the inning easily," Murphy said.
Still, Rea wasn't about to pin all of his woes on defense.
"I wasn't very efficient, throwing a lot of pitches to each hitter," he said. "I think it comes back to being efficient to each batter, trying to minimize pitches thrown."
Corey Brock is a reporter for MLB.com. Keep track of @FollowThePadres on Twitter and listen to his podcast. This story was not subject to the approval of Major League Baseball or its clubs.