Matheny: Pham has been boost for offense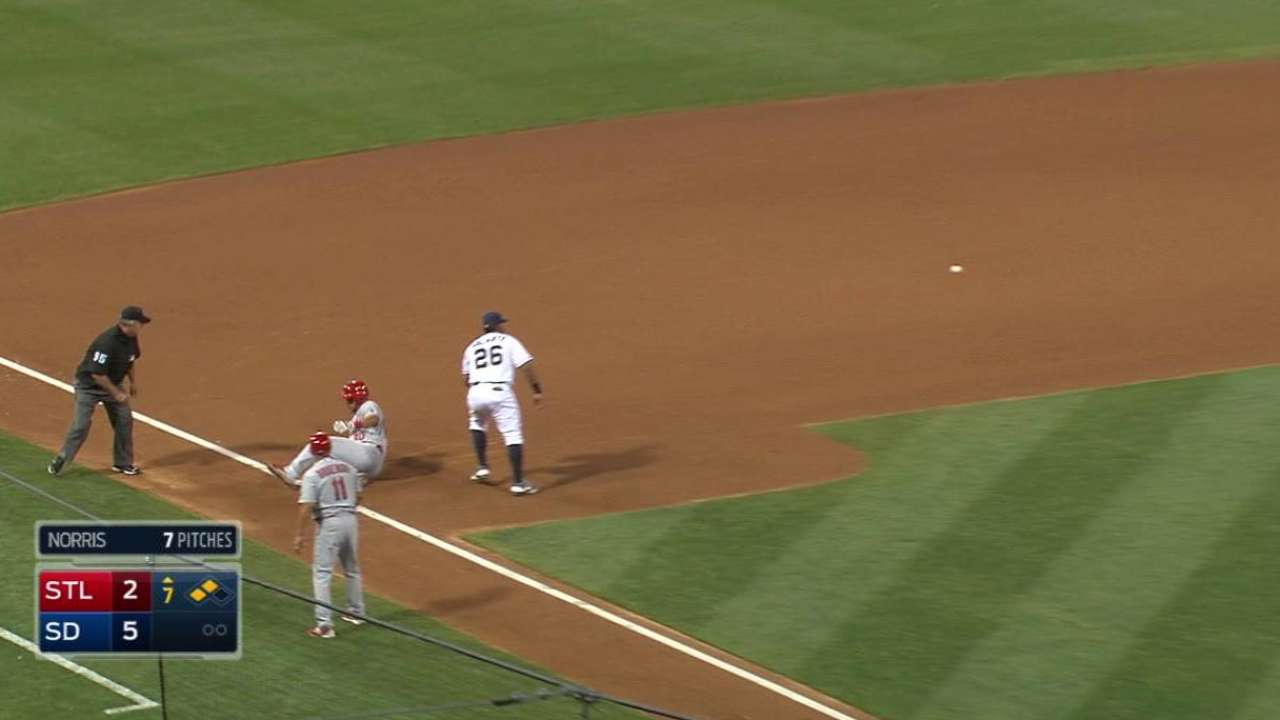 SAN DIEGO -- Cardinals center fielder Tommy Pham entered play Sunday hitting .353 in the last seven days, going 6-for-17 and scoring two runs.
Pham, the Cards' No. 23 prospect, according to MLB.com, credits getting his body into a more consistent position, keeping his bat at the right angle and, of course, swinging at better pitches as the reasons for his recent success at the plate.
"Tommy has been swinging it well, and in big situations for us, too," manager Mike Matheny said. "He's doing what we've hoped he would do -- give us a little boost to our offense. You watch him fight and really grind out [at-bats], and you see him really get the barrel to it and drive the ball to the opposite gap, you can tell he's doing something right mechanically in his swing."
Pham was called up from the Triple-A Memphis Redbirds on Aug. 18, after being sent down on July 19. Pham dealt with a left quadriceps strain earlier in the season as well.
"When I got sent down, I was disappointed in myself," Pham said. "It just motivated me to get my swing better so that the next time I got called up, I could contribute."
Pham started Sunday in center field for the 12th time this season and hit second in the lineup for the first time. Stephen Piscotty had hit second for the first two games of this series.
"Just trying to go with the hot hand," Matheny said. "Stephen, I believe, will bounce back really well today, just knowing how quick he is at making adjustments. Sometimes, putting a young guy in a different spot, especially a young guy, they do tend to put a lot on themselves at times, especially when they're in the top spots in the order.Taking advantage of a hot swing, which I'd say Tommy has now, you just throw it in there and see what it looks like. We've got to do something. We've got to figure out a way to generate some offense."
In just his first year with the Cardinals, Pham spoke about the challenges that come with playing center field, especially at a ballpark like Petco Park. Pham was sent running around on Saturday night, faltering once as Derek Norris hit a triple into the right-center-field gap.
"It's a learning experience, of course," Pham said. "Playing center here is humongous, but that just means you have to try to focus more a little bit, play a little deeper I suppose, just really read what the pitcher is doing and what the hitter is capable of."
Matheny said Pham has the speed and good instincts to cover center field.
"[Pham is] a young player just learning the league and learning the fields and all the nuances to each individual stadium," Matheny said. "He has the skill set. I don't necessarily say that he'd be a guy destined for the corner. I think he could play center field. It's a matter of how his bat continues to improve and how he takes advantage of his opportunities in the field."
Beth Maiman is an associate reporter for MLB.com. This story was not subject to the approval of Major League Baseball or its clubs.