MLB.com Columnist
Barry M. Bloom
M. Upton relishing fresh start on West Coast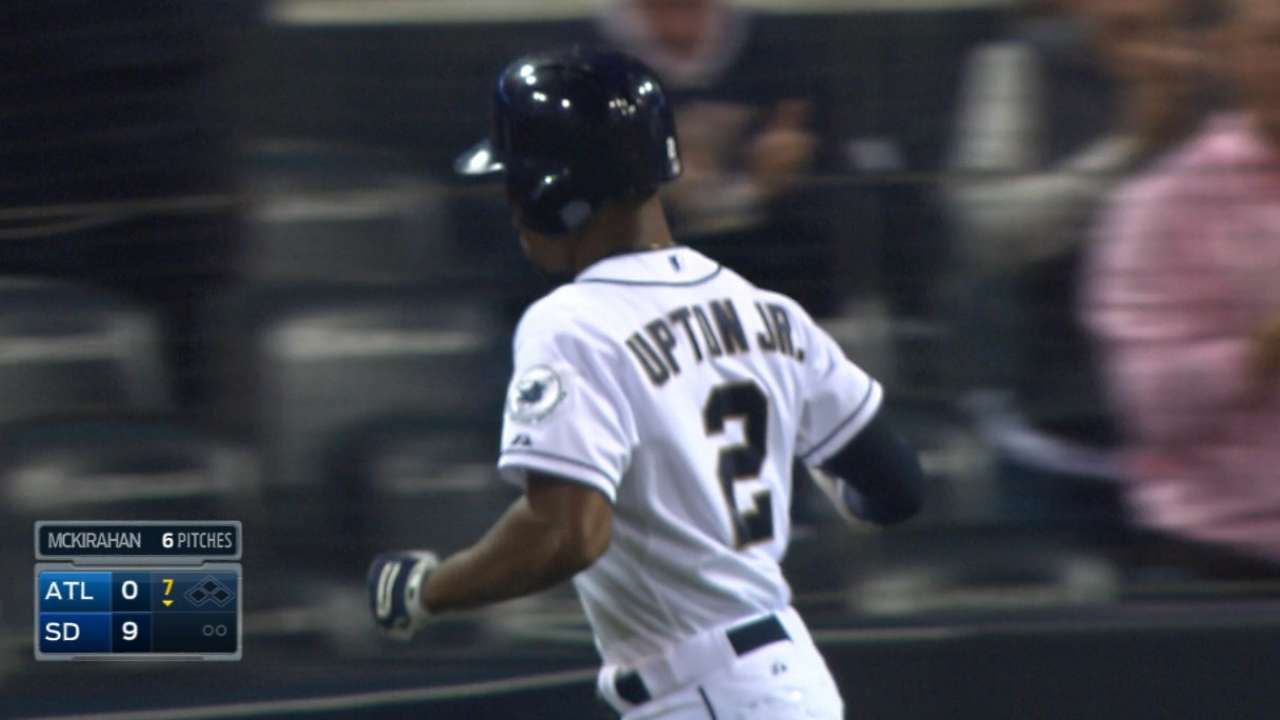 SAN DIEGO -- Sometimes there are unintended consequences for the things you do. In the case of Melvin Upton Jr. there were 75.25 million of them.
Upton has hardly been the same player since he left the Rays as a free agent, and on Nov. 29, 2012, he signed a five-year contract worth $75.25 million with the Braves. That is perhaps until now with the Padres.
Upton sat slumped in front of his locker last week at Petco Park after hitting two homers in a win over the Braves and talked almost in a whisper about his immediate past and future. He looked and sounded like a man exhausted by the experience.
"There's not much to read into it, but I will say this: I was trying to live up to the contract," Upton said. "In Atlanta, they gave me all that money and I tried to play up to it. It didn't work. It just got worse and worse. Getting here gave me a fresh start. Nobody here expects me to be anything else but myself."
Upton batted .198 with 21 homers and 61 RBIs in his two seasons with the Braves. That came after eight years when he starred in center field for Tampa Bay, batting .255 with 118 homers and 447 RBIs. With a constantly evolving roster, the Rays went to the postseason three times during his tenure there, losing the 2008 World Series in five games to the Phillies.
The Braves were so desperate to shed the final three years and $46.35 million of Upton's contract that they told clubs near the end of Spring Training that in order to acquire Craig Kimbrel, the best closer in baseball, they had to take Upton. On top of it all, Upton was shackled with a left foot injury and missed camp.
After an offseason remaking the team, the Padres did just that, trading Cameron Maybin, Carlos Quentin and then Minor League pitcher Matt Wisler to the Braves for Kimbrel and Upton on April 5, the day before the start of the regular season.
Like the kid who used to be known as B.J., when Carl Crawford left the Rays as a free agent for Boston after the 2010 season, signing a seven-year, $142 million deal, he had a similar experience. Crawford was a .290 hitter in eight years with the Rays and a .260 hitter in two injury-plagued seasons with the Red Sox before abruptly being traded to the Dodgers along with Adrian Gonzalez and Josh Beckett.
Crawford once called playing in a Boston "a scar that I think will never go away."
"I'll always remember that feeling," he said. "That place is going to be the same forever and I don't want any part of it. I'm happy where I am right now."
Crawford has continued to deal with injuries, but he's back to hitting .289 in his years with the Dodgers.
Crawford and Upton couldn't wait to get out of the penurious clutches of the Rays, but in hindsight they had an incredible comfort level there as players who were drafted and nurtured through the Tampa Bay system.
"[Crawford] went to a bigger market than I did," said Upton, who turned 31 on Friday. "But when you're playing in Tampa, which isn't the biggest market, you're relaxed and laid back all the time. It's not that you don't care, but you just go out there and play free of any pressure. You never know what you have until it's gone. And [then Rays manager] Joe Maddon was a big reason for that, too."
Back to the big Padres trade, Quentin came with baggage of his own, $8 million. The Braves immediately paid him off and released him. He went to the Mariners and abruptly retired at the age of 32.
The Padres have Kimbrel for two seasons guaranteed at $25 million. They have a $13 million option for 2018, a bargain at that price. All Kimbrel has done is save 35 games in 37 attempts. He's on his way to his fifth successive season of 40 saves or better. At 27, he already has 221 saves in six seasons. The first 186 he notched for the Braves are a franchise record.
"Kimbrel's the best in the league. I love having him," said Pat Murphy, who replaced Bud Black as Padres manager on June 16. "I wouldn't trade him for anybody. Considering the long Padres history of great closers, he fits right in."
Center fielders, though, not so much. The Padres' standouts are Kevin McReynolds on the 1984 pennant-winning team, and Steve Finley on the '98 squad that was swept in the World Series by the Yankees.
Considering the offset of trading Quentin, the Padres still had a net payout of $38.35 million for Upton, who joined the club while rehabbing his foot injury. Because of that, Upton wasn't activated to the big league roster until June 5 and he spent the next month again floundering under the .200 mark.
But so far in August, he's batting .311 with a .578 slugging percentage and .918 OPS. In contrast, wouldn't it be an incredible unintended consequence of the Kimbrel trade for the Padres to wind up with a suddenly healthy, happy and thriving Upton?
"It's great to see Melvin really come in to his own and gain some confidence," said Murphy, the manager at Triple-A El Paso when Upton was on his rehab assignment. "It doesn't matter how old you are or how much experience you have. Confidence is such a key in everything you do, and to see Melvin gain some confidence is pretty special."
To be sure, for the remainder of the season, Upton will have ample playing time next to his brother, left fielder Justin Upton, who will be a free agent at the end of the season. So will Travis Jankowski, the 24-year-old center fielder who was brought up from El Paso after Will Venable was traded to the Rangers.
Upton seems to be just fine with that, particularly knowing where his career has been so recently. He also played in Atlanta with his younger brother, who was traded to the Padres last December, and would like nothing better than the two of them to remain together in San Diego. Now he just needs to convince Justin to stay.
"OK, I'll work on that," Upton said with a laugh. "I'll see what I can do."
Finally, he can laugh, despite all the unintended consequences.
Barry M. Bloom is a national reporter for MLB.com and writes an MLBlog, Boomskie on Baseball. Follow @boomskie on Twitter. This story was not subject to the approval of Major League Baseball or its clubs.