Beltre, Banister ejected after arguing strike zone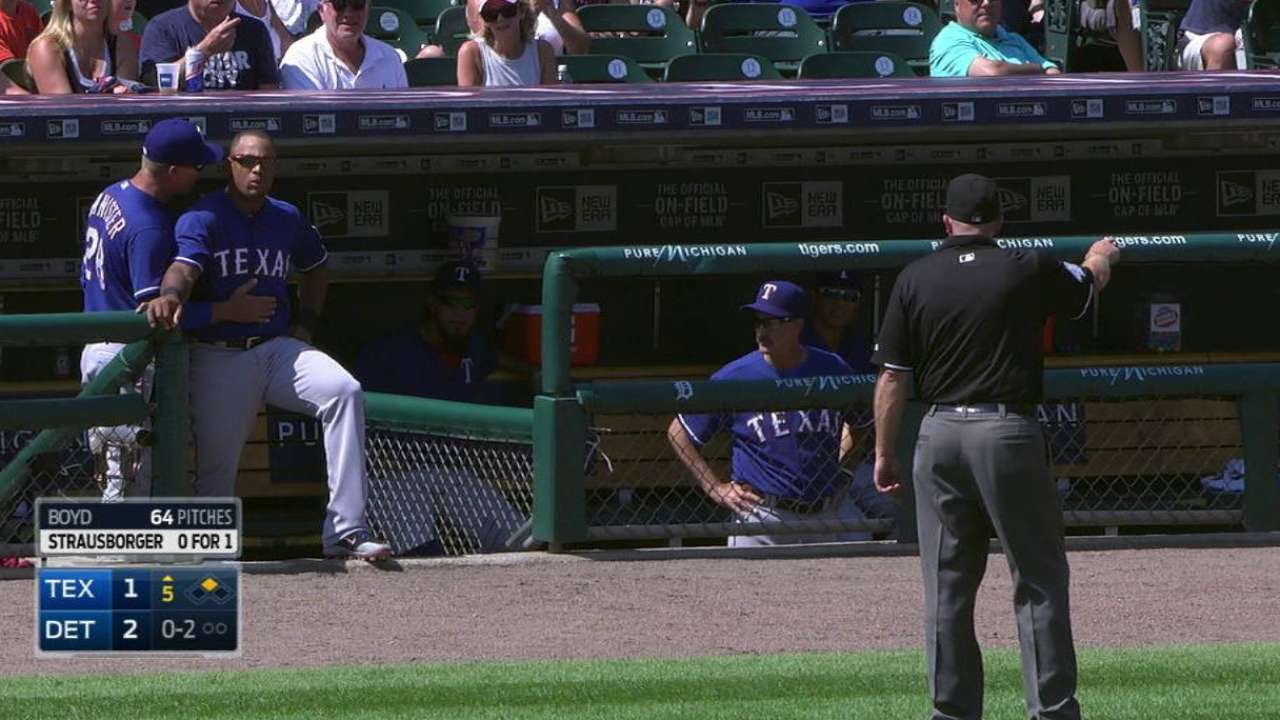 DETROIT -- Sunday afternoon, Rangers third baseman Adrian Beltre set a record for Major League games played by a Dominican-born player with 2,528. His milestone outing didn't last long.
Beltre and Texas manager Jeff Banister were both ejected in the fifth inning of the Rangers' 4-2 win over the Tigers at Comerica Park.
Beltre was tossed from the dugout by home-plate umpire Adam Hamari after the third baseman apparently argued balls and strikes during Ryan Strausborger's at-bat. Banister immediately approached Hamari to discuss the decision, but the first-year skipper appeared satisfied with the explanation and returned to the dugout.
The problem, according to Beltre, was that he hadn't been the player disagreeing with Hamari in the first place. Rather, Prince Fielder -- who had a day off -- had been the one protesting from the dugout.
"My teammate over there [Prince Fielder] was the one that said something, and he said '84,' which is his number -- like, 'Yeah, it was me,'" Beltre said. "I guess I was the ugly one, and [Hamari] threw me out.
"... I don't know if he confused 84 with 29. I don't know."
When Beltre learned he had been ejected, he began yelling at the umpires and, in the opinion of crew chief Ron Kulpa, didn't exit the dugout quickly enough. At that point, Kulpa tossed Banister, who charged back onto the diamond for a more animated discussion.
"[Banister was ejected] for not helping me get [Beltre] out of there, yes," Kulpa explained. "At that point, Beltre is just delaying the game by continuing the argument."
Utility infielder Hanser Alberto replaced Beltre at third base, and Elvis Andrus -- who was scheduled to have a day off -- entered the game to play shortstop. In the sixth inning, Andrus reached on a bunt single and scored the go-ahead run, giving Texas a lead it didn't lose.
And the positive finish made the fifth-inning drama a little more palpable for Banister.
"I was a little confused on why I was thrown out there at the end," the manager said. "Nonetheless, they can play without me. We need our guys on the field, and I'll always go out and protect our guys. … Got put in timeout and got to watch the ballgame from inside."
Alejandro Zúñiga is an associate reporter for MLB.com. Follow him on Twitter @ByAZuniga. This story was not subject to the approval of Major League Baseball or its clubs.