Seitzer helps Simmons with discipline at plate
Relationship with hitting coach has benefited shortstop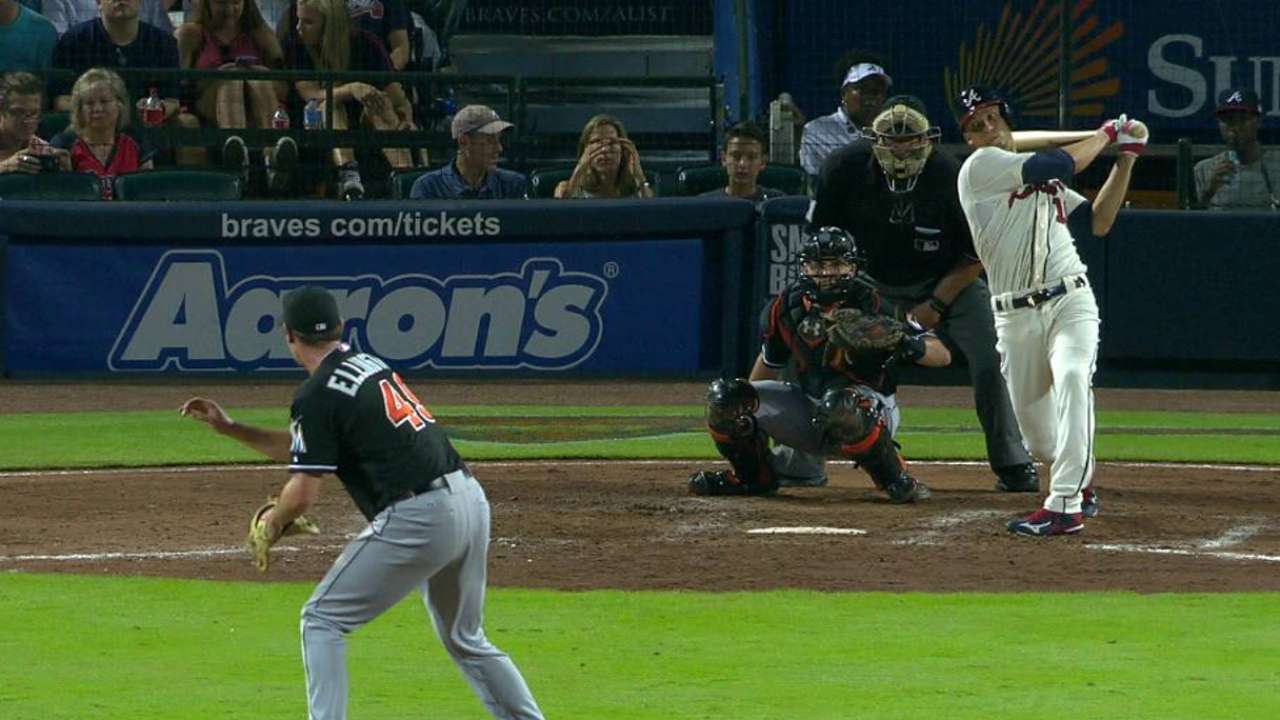 CHICAGO -- Andrelton Simmons's stubbornness and lack of patience have added to the challenge he has encountered while attempting to be a more consistent offensive threat. But as he has shown better plate discipline this season, the Braves Gold Glove shortstop has seemingly benefited from the relationship he has formed since being introduced to his new hitting coach Kevin Seitzer during Spring Training.
"We have a really good relationship, and there has been a lot of trust that has been established throughout the season," Seitzer said. "I'm really pleased with what [Simmons] has done this year. I think he is going to get nothing but better. This has been the first year where he has really been able to try to build on something."
Simmons missed Sunday afternoon's series finale against the Cubs because of a sore left knee. He tweaked the knee while racing back to third base during Saturday's sixth inning. Although he played the remainder of the game with minimal discomfort, he awoke on Sunday with some stiffness.
The Braves are hoping Simmons will need just a day or two to rest his knee before returning to the lineup.
When Simmons hit an unexpected 17 home runs while batting .248 with a .296 on-base percentage in 2013, it was hard to predict what kind of hitter he might become. More questions arose last year, when he hit .244 with seven homers and a .286 on-base percentage.
Although he might not ever be a guy who will consistently flirt with 20 homer seasons, Simmons has at least spent the past few months proving that he can provide more consistent offensive production. He has batted .261 with three homers and a .324 on-base percentage through his first 113 games.
During the 2014 season, Simmons drew a walk once every 18 plate appearances and struck out once every 9.60 plate appearances. This year he has produced a 13.67 PA/BB ratio and a 14.55 PA/SO ratio. Although he will always be aggressive in nature, he has developed a more controlled swing this year. Consequently, his missed swing percentage has dropped from 14.4 percent to 11.6 percent.
Seitzer gained a sense of Simmons' lack of patience when the shortstop wanted to alter his swing shortly after recording four-hit games on June 13 and 20. But he stuck with his approach and has reaped the benefits. Since the All-Star break, Simmons has batted .287 with a .370 on-base percentage.
"He has been like a pinball machine when it comes to his swing and his approach at the plate," Seitzer said. "Now, he is starting to really gravitate toward consistency at the plate in terms of what he's trying to do. That is the biggest thing."
Mark Bowman is a reporter for MLB.com. This story was not subject to the approval of Major League Baseball or its clubs.