CC exits finale against Tribe, may go on DL
Right knee pain forces lefty out after 2 2/3 innings in Yankees loss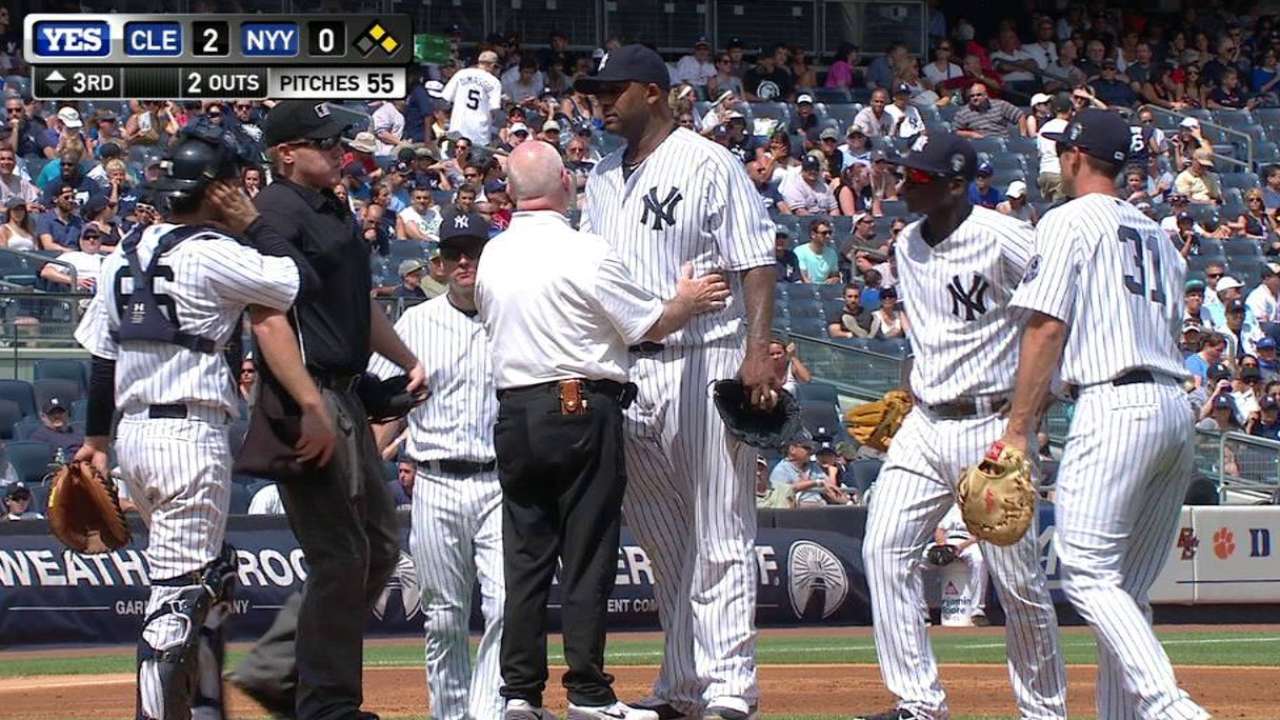 NEW YORK -- CC Sabathia could be headed for the disabled list. The left-hander exited after just 2 2/3 innings in Sunday's 4-3 loss to the Indians with pain in his right knee, had an MRI and was examined by team physician Dr. Christopher Ahmad. He'll likely be shut down for at least a couple of weeks.
"I'm guessing it's a DL off the bat just because he walked off the field without even throwing another pitch," Yankees general manager Brian Cashman said. "That just seems to imply that it's something serious. CC's tough and he's been pitching through a lot of stuff over the last number of years. So I'm just assuming we're looking at a disabled list instead of having him here for another start."
Sabathia said he knew before the game even started that something was wrong again with his right knee, one with which he's had several issues in the past. In 2014, he had season-ending arthroscopic debridement surgery on it. He's had the knee drained at least twice in 2015 and he received a cortisone shot to ease some pain earlier this week. The shot helped significantly, but the effect was temporary. Draining again, he indicated, is no longer a legitimate option.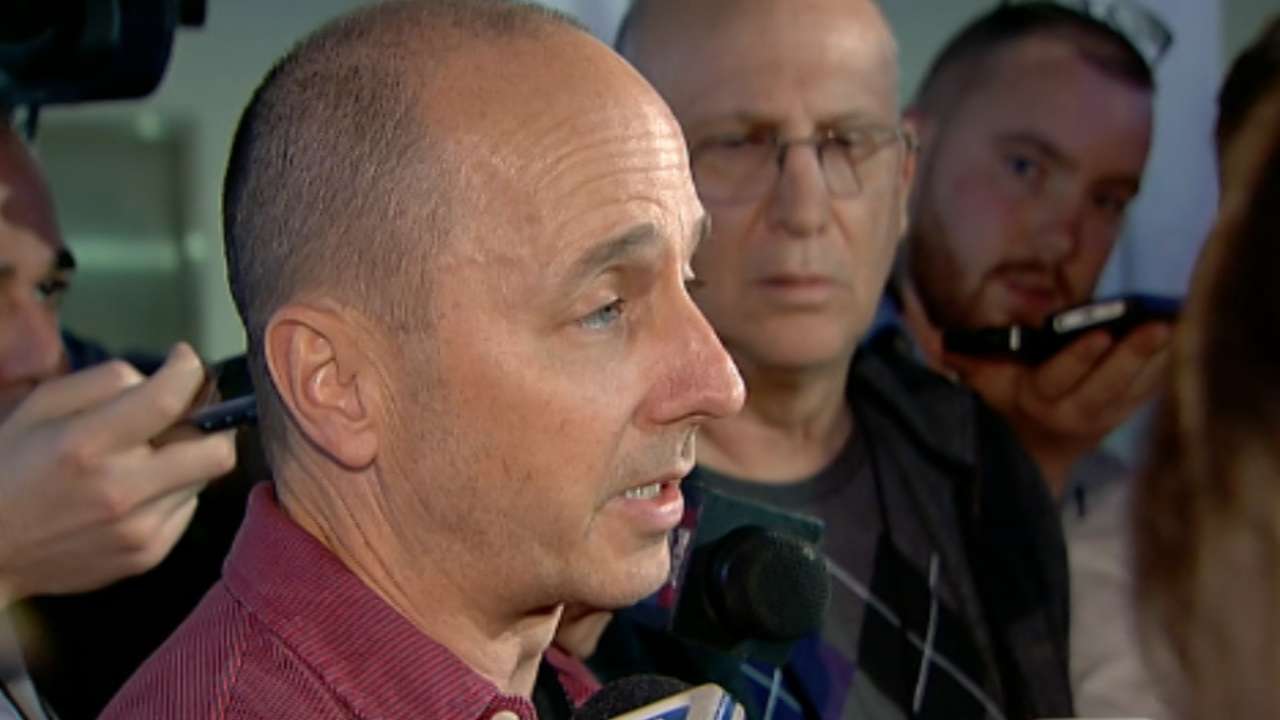 "That's the thing. There's no fluid, so there's nothing to drain," Sabathia said. "It's just been some kind of a sharp pain, so that's the toughest thing."
Sabathia struggled from the get-go on Sunday, surrendering a first-inning homer to Carlos Santana and ending the day with four walks. Yankees manager Joe Girardi said that when pitching coach Larry Rothschild made his first mound visit, Sabathia said he was fine. But the walks were a red flag.
"He usually doesn't walk people. That was kind of what tipped us off that maybe something was bothering him," Girardi said. "I actually thought that maybe it was his side, kind of the way he leaned. But he said it was his knee and I just said, 'That's enough then.'"
Sabathia's injury brings up questions about the Yankees' pitching staff and their plan to use a six-man rotation in September. For now, the rotation will go back to five men, but Girardi and Cashman will have to talk about what's ahead in terms of using extra arms down the stretch.
"I think they can handle it. It's just when you have six guys [who] are capable of doing it for the stretch drive, there's going to be some benefits to it," Cashman said. "But if we don't have that, we don't have that. So we'll go back to five, worst-case scenario."
Bryan Mitchell made a spot start on Monday, then went on the seven-day concussion disabled list with a small nasal fracture. The plan is to have him throw in a simulated game in Tampa this week, either on Tuesday or Wednesday.
"One of the things I'll kick around with Joe is, 'Do we want to stretch him out in a sim game and really stretch him out because of what just happened today with CC?'" Cashman said. "Initially we were going to try to limit it to 20 pitches or so. But now, one of the things I'll talk to him about [is], 'Do you want to consider stretching him out to 60 pitches because of what happened today?'"
As for Sabathia, the frustration was evident. His velocity has been up in his last three starts, but that's because he forced himself to fight through the pain. Now he no longer can, and he will have to play the waiting game to determine the next step.
"Just want to see how we can fix it. What can I do? What's the next step?" Sabathia said. "I know I can pitch at this level, at a high level. It's just a matter of getting out there and being healthy enough to do it."
Grace Raynor is an associate reporter for MLB.com. This story was not subject to the approval of Major League Baseball or its clubs.