Maddon enjoys consistency with few off-days
Although little time to rest toward end of regular season, manager wants to focus on the day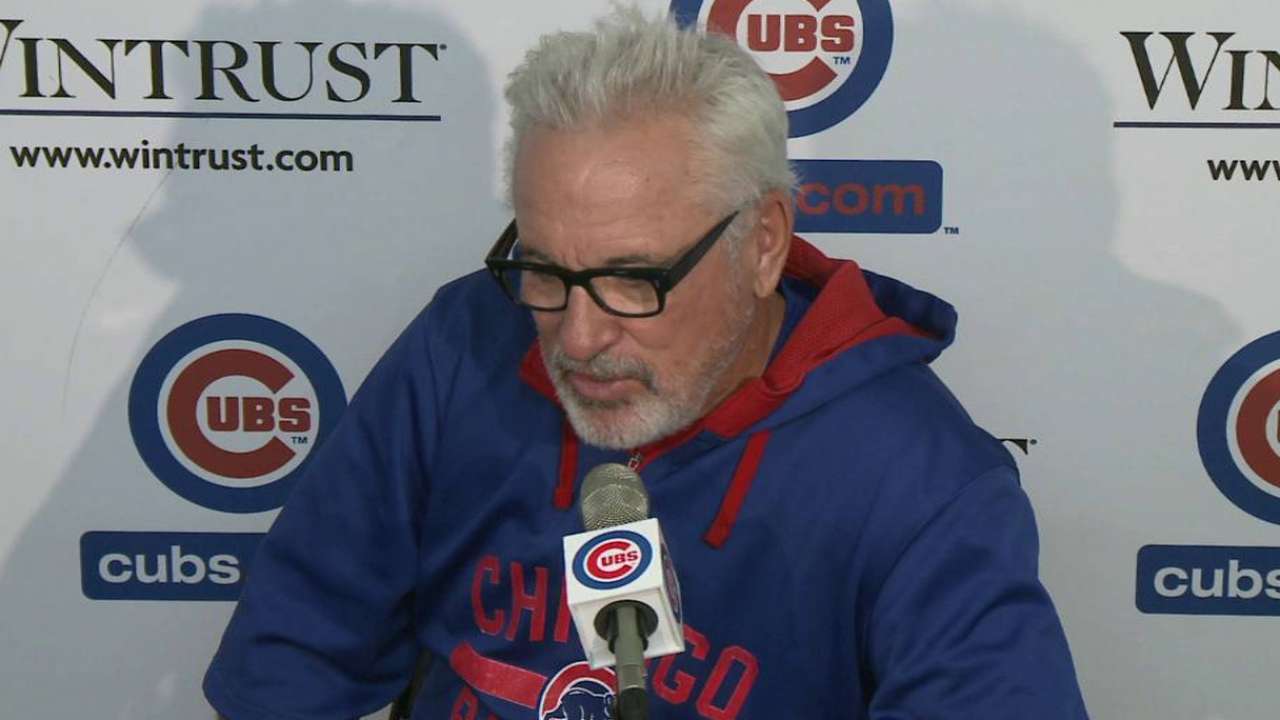 CHICAGO -- Manager Joe Maddon calls this part of the year, the one after the Trade Deadline and before rosters expand, the one players have to "fight through." But the Cubs aren't getting much relief as they make that push to the end of the regular season.
Over the course of the next month, Chicago receives just two days off as it makes up games from earlier in the season. But that doesn't worry Maddon any more than it would in May or June, he says. In fact, he has the opposite feeling.
"I'm actually liking the infrequent off-days," Maddon said. "With a young team, if you have enough people to balance it out, I think we do better anyway when we play on a consistent basis.
"I think the trap is when you get caught up in the rush to the finish line as opposed to just taking care of the moment," he added. "I will be focused on the day, and I want my players to be focused on the day."
That consistency has worked for them so far, given their 15-4 record in August entering Sunday. With the postseason looming, keeping that consistency has become even more important.
The Cubs are five games ahead in the National League's second Wild Card spot, but they still sit third in the NL Central Division.
But with four rookies on Chicago's team, the youth has been important to staying fresh with little rest in the future. Chicago once again utilized the same lineup and defensive alignment it had used the past three days.
Really, the only thing Maddon has changed is his team's arrival time, as the Cubs wrap up 'American Legion Week' in the clubhouse. Players and coaches are not allowed in the clubhouse early and do not take batting practice, harkening back to the league where players showed up and played.
"We're not doing a lot of extra work prior to the games," Maddon said. "I think with that you can be fresher. I think that's part of what tires people out. You get here too soon, you do too much before the game, and that's the part that adds up in a negative way for me."
Worth noting
Maddon has two charity events coming up on back-to-back days as part of his "Respect 90" foundation.
On Sept. 2, fans can join Maddon and some of the Cubs players for a charity boxing event at Ringside at Ravenswood Event Center, 4011 Ravenswood Ave., Chicago. It'll be a night of amateur boxing, good food and a chance to help Chicago's youth. The event will feature several local youth boxers at various skill levels as well as a special main event bout. Tickets are $300, and a portion of the proceeds will benefit Crushers Club's youth boxing program in Englewood.
Maddon's event was created to provide Chicago's inner city children and young adults with opportunities to develop championship attitudes through sports while encouraging fitness, academic and community engagement.
On Sept. 3, Maddon and his wife, Jaye, will host a "Spoxing for Charity" pop-up fitness event at Wrigley Field. Spoxing is a group class that combines spinning and boxing, with a warm-up on stationary spin bikes followed by a heavy bag and boxing glove workout. Participants will partake in a 45-minute version of the class at historic Wrigley Field.
Epic Boxing & Fitness teamed up with Chicago's Fitness Formula Club and Everlast to supply attendees with spin bikes and freestanding heavy bags for the roving Epic "Pop-Up" studio. Chicago's WADE Yoga will provide a post-workout cool-down after each session. Each "Spoxer" will receive his or her own boxing wraps, protein bar, water and an Epic workout towel. Epic Boxing & Fitness will provide the use of boxing gloves and instruction.
Registrants will also be eligible for gift giveaways and VIP swag bags. A donation of $30 is suggested. The event will be from 10 a.m. to 5 p.m. CT. Some time slots are already sold out.
Greg Garno is an associate reporter for MLB.com. This story was not subject to the approval of Major League Baseball or its clubs.