Good friends Pierre, Willis honored by Marlins
MIAMI -- Even though Dontrelle Willis couldn't be present for his recognition day on Sunday at Marlins Park, Juan Pierre -- his former teammate and still good friend who was also being recognized -- made sure the lefty was well-represented.
"Check out my Dontrelle shoes," Pierre told the media prior to Sunday afternoon's Marlins-Phillies contest, showing off his black, teal and white Nike sneakers that featured a silhouette of Willis performing his signature high leg-kick.
"I told him I'll represent for the both of us," Pierre said.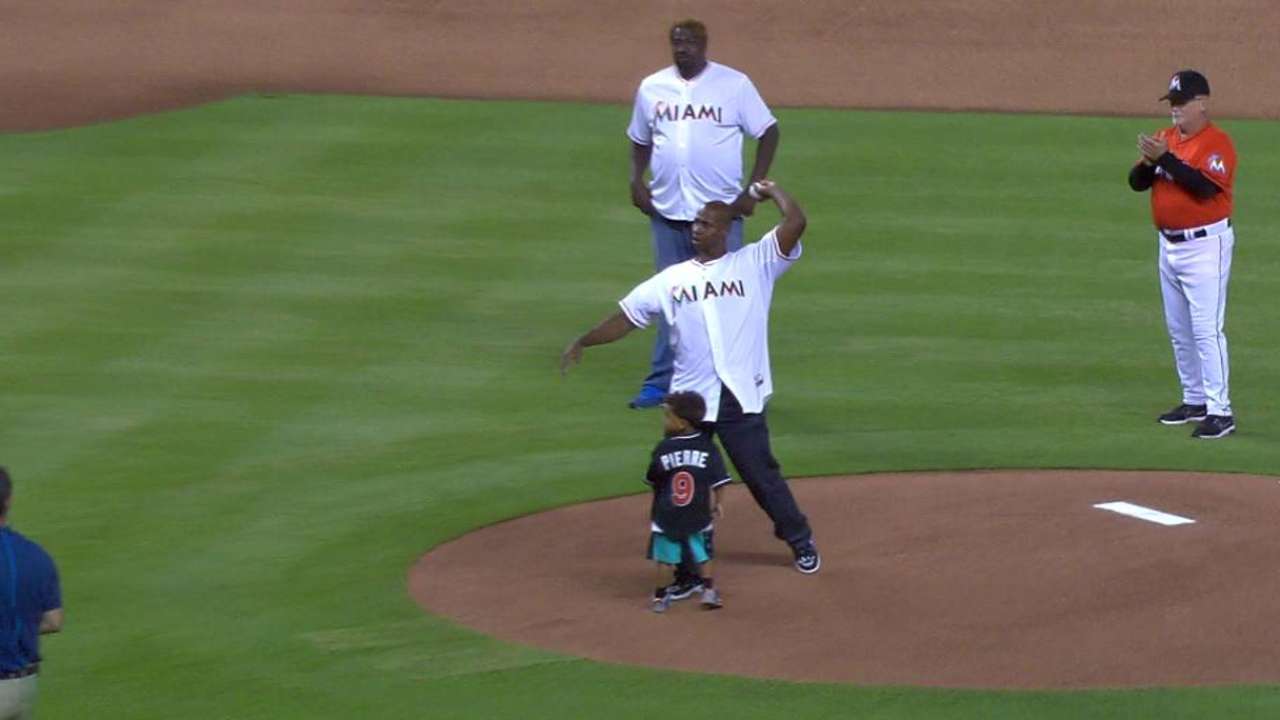 The two both represented the Marlins in an extremely successful manner -- the reason for Dontrelle Willis and Juan Pierre Day on Sunday. Key pieces to the Marlins' 2003 World Series championship team, Pierre served as the leadoff hitter and center fielder, while the lefty Willis earned National League Rookie of the Year honors and was named an All-Star in '03.
The first 10,000 fans in attendance on Sunday received either a Willis or Pierre T-shirt, and the two were to be recognized in an on-field presentation in the fourth inning. While Willis couldn't attend because of family obligations, Pierre spoke to the media before the game.
"I can do without all this stuff, but it is good to get noticed for the hard work and what I've done for the organization," Pierre said. "I thank them for doing that. I wasn't a big-name guy, but I just came in and worked every day."
Pierre played for the Marlins from 2002-05 before returning to Miami in 2013 for his final season. He holds numerous franchise single-season records, including most games played, hits, singles, triples, stolen bases and multi-hit games.
Willis, meanwhile, pitched parts of five seasons for the Marlins from 2003-07. The outgoing lefty went 14-6 with a 3.30 ERA in his brilliant debut campaign in '03, and won a franchise-record 22 games in '05 (2.63 ERA) while finishing second in the NL Cy Young Award race. For his Marlins career, Willis finished with a 68-54 record (3.78 ERA).
"That's my brother, man. I love him to death," said Pierre, who is the godfather of all four of Willis' kids. "We both came to the Marlins in '03 together. We met six o'clock in the morning in the hotel lobby to go to the field for Spring Training, and the bond has been there ever since."
Pierre recalled the '03 season of Willis, in which the lefty burst onto the scene with his unique windup.
"It was crazy," he said. "The fans, everybody wore the high socks. If there was social media out there, he would have been a phenom. He was already a phenom. He took Miami and baseball by fire. He was fresh, he was new and brought energy."
Pierre, 38, is still present in the Marlins' franchise, making appearances during Spring Training and throughout the season to work with the current players. As for Willis, 33, he joined Fox Sports this season as an on-air analyst.
"It's cool, we were young cats here and now we're married with kids," Pierre said. "So it's cool to grow up alongside of him."
Steve Wilaj is an associate reporter for MLB.com. This story was not subject to the approval of Major League Baseball or its clubs.