Castro's walk-off homer downs Dodgers in 10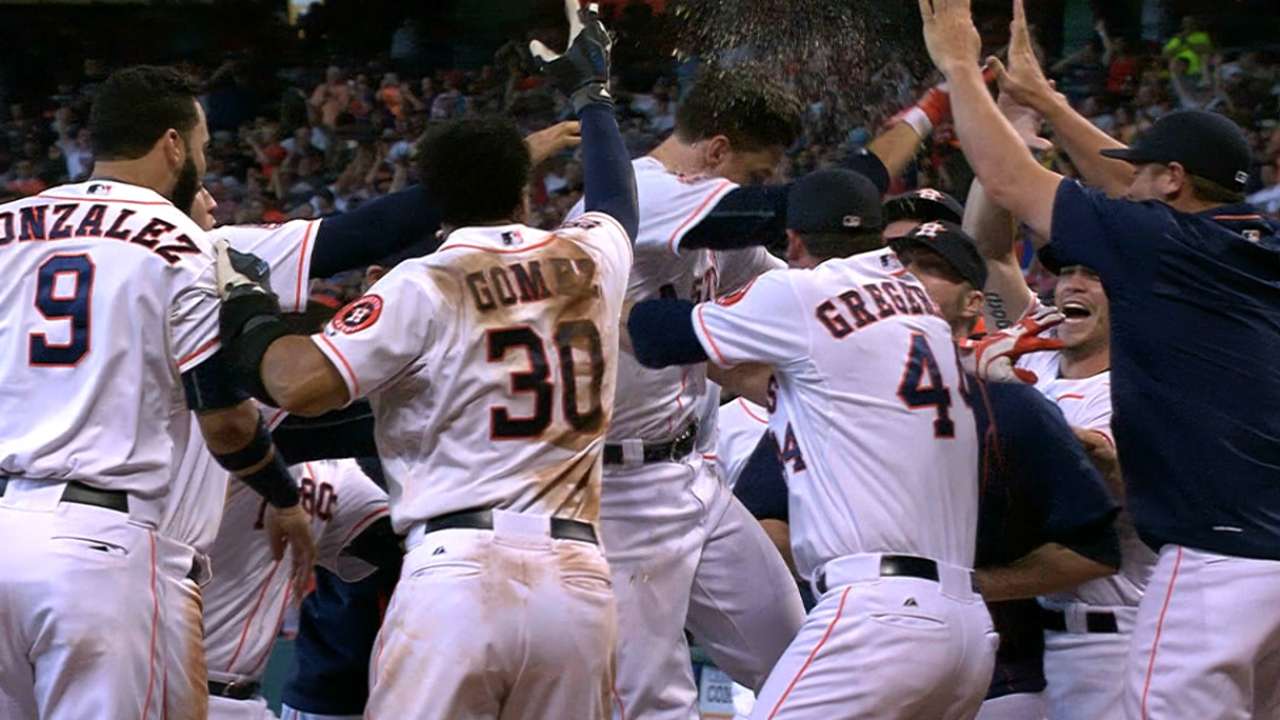 HOUSTON -- For the fourth time in eight days, there was a walk-off in Minute Maid Park. This time, Jason Castro homered into the Crawford Boxes off Dodgers reliever Chris Hatcher in the 10th inning to give the Astros a 3-2 win and a sweep Sunday -- after it was reviewed -- wasting a brilliant effort from Dodgers starter Clayton Kershaw.
Unable to solve Kershaw all afternoon, the Astros finally cracked the much-maligned Los Angeles bullpen when Carlos Correa led off the ninth with a single off closer Kenley Jansen and Marwin Gonzalez drove him in on a first-pitch single with two outs, tying the game and giving the Dodgers' bullpen its 19th blown save of the season -- tops in the Majors.
"What it underscores is the idea that you've got to play complete games, and you've got to get 27 outs against us to beat us," Astros manager A.J. Hinch said. "And sometimes baseball will run into this momentum issue where, early in the game, if someone is dominating you or getting you out, it doesn't impact the next at-bat. We really are good at staying in the moment, and it impacts us later in the game."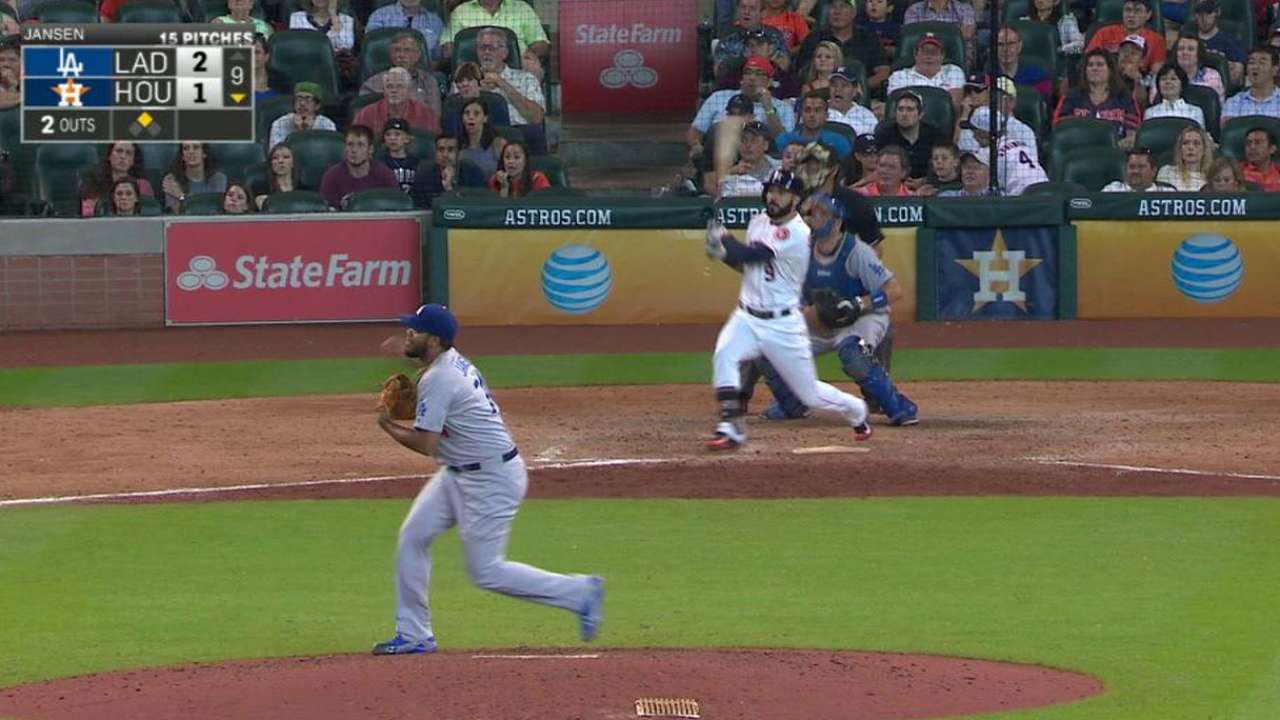 With the win, the Astros maintained their four-game lead in the American League West over the Rangers, who beat the Tigers, 4-2, earlier in the day. The Dodgers' National League West lead remained at 1 1/2 games after their fifth straight loss because the second-place Giants fell, 5-2, to the Pirates on Sunday night.
"That's the kind of baseball we're going to need to play moving forward," Castro said. "I always say it doesn't matter who you're playing, on any day, anybody can beat anybody. So it does make it a little bit nicer to play good baseball and sweep a series against a first-place team."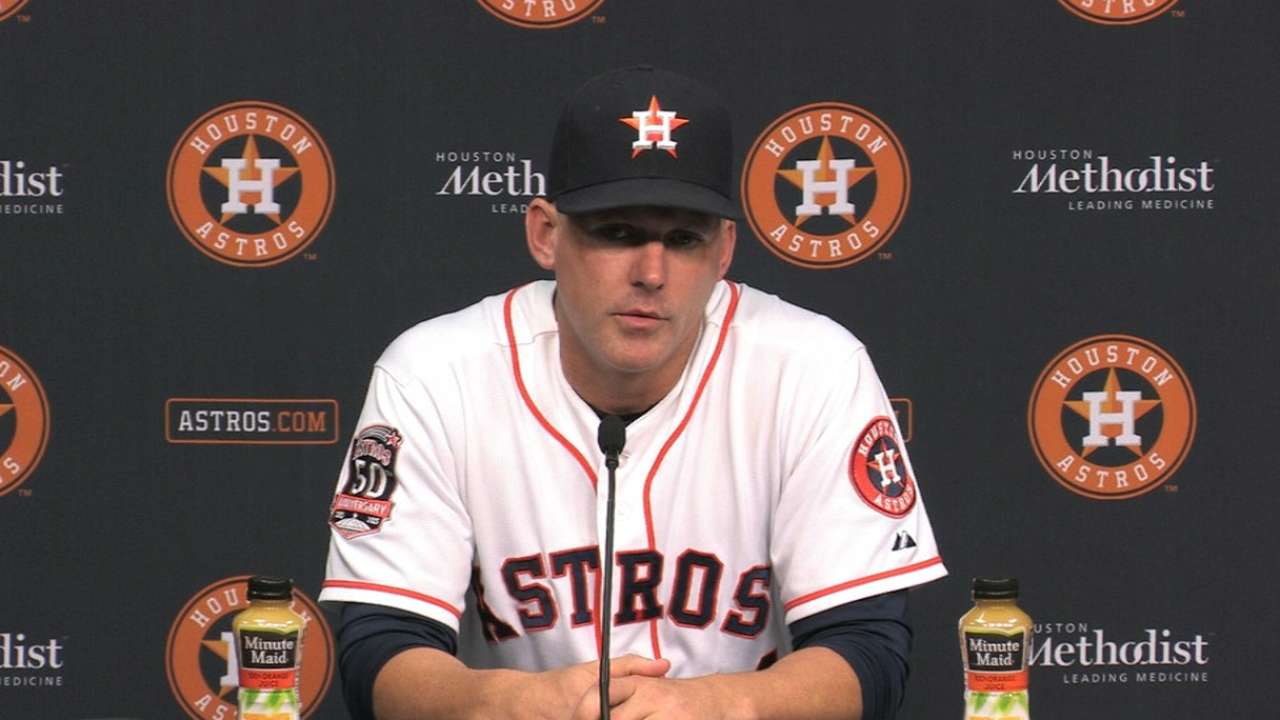 MOMENTS THAT MATTERED
Gomez gambles: The Astros seemed prime to tie the game in the sixth after stringing together three consecutive hits off Kershaw, including Correa's RBI single off Kershaw's leg. Carlos Gomez, who had challenged Dodgers right fielder Yasiel Puig by tagging up at second on Jed Lowrie's flyout and narrowly beating Puig's stout throw to third, tried to steal home while Kershaw was coming set, but he was tagged out on a close play by A.J. Ellis, who was briefly shaken up as he kept the score 2-1. Evan Gattis, the Astros' RBI leader, was at the plate when Gomez made his attempt.
"[Gomez] is really aggressive on the bases and came pretty close to [stealing home]," Kershaw said. "If we can get him there, we're confident we can get anybody trying to do that." More >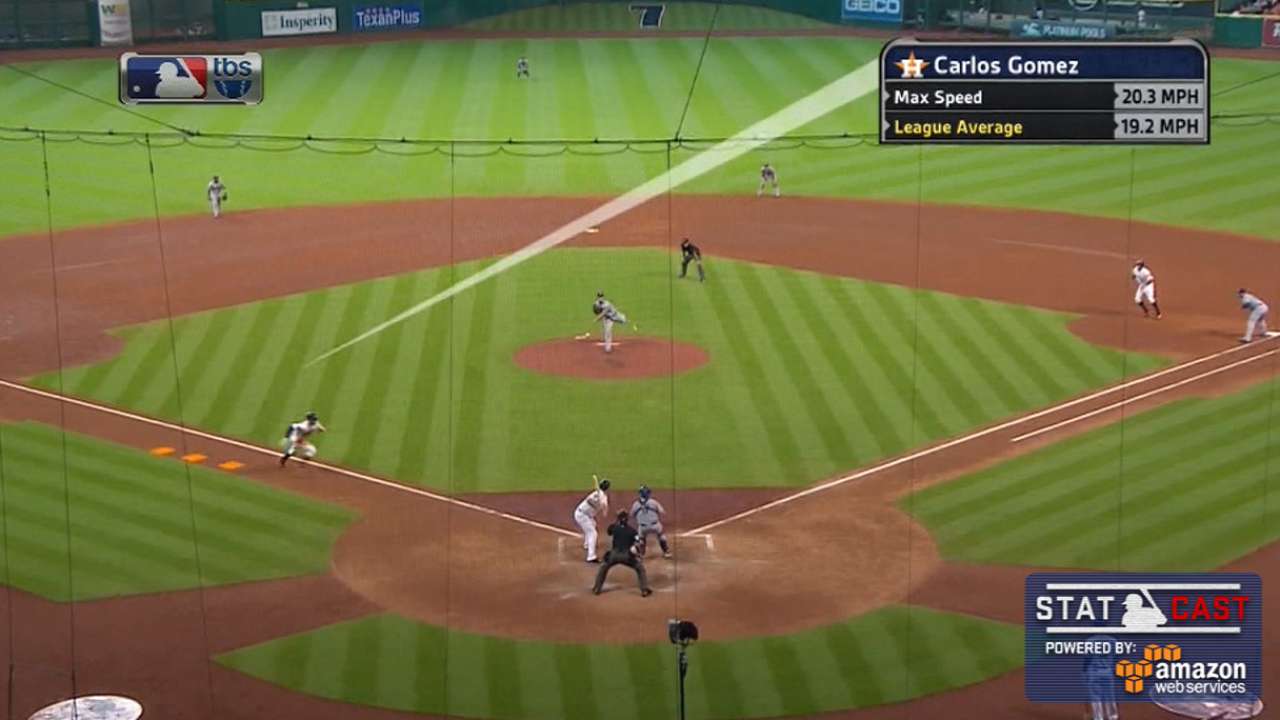 Kershaw's effort squandered: Kershaw was marvelous through eight innings of one-run ball, not allowing a runner past first base until the fifth inning. He stranded the tying run at second in the seventh after issuing a leadoff double to Gattis. Kershaw fell behind, 3-0, on the two ensuing hitters, Gonzalez and Chris Carter, before coming back to fan both and getting Jake Marisnick swinging to silence any potential threat. Kershaw finished with 10 punchouts.
• Cut4: Kershaw seamlessly picks off Altuve
"To give up another one of [Kershaw's] quality starts, in back-to-back series, it's tough," said Andre Ethier, who went 3-for-3. "And then to have the sweep, too, just makes it hurt that much more." More >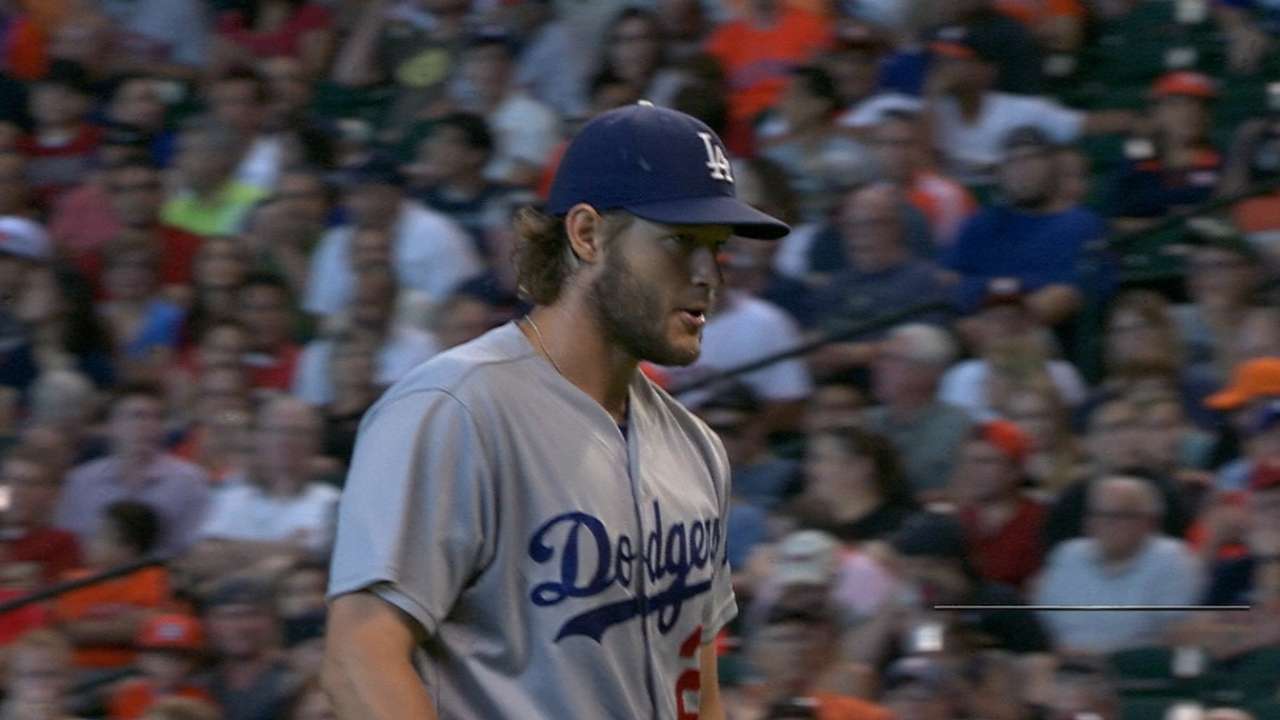 Wild, wild West: Lance McCullers pitched well in his return to the rotation after being recalled from Double-A, though three wild pitches were his undoing, all coming on his curveball. The first advanced Chase Utley to third after his one-out first-inning double, and Utley raced home moments later on Justin Turner's sacrifice fly, just beating a throw from Gomez in center field. With Ellis on second after a two-out double in the fifth, McCullers uncorked two wild pitches in the ensuing at-bat against Kiké Hernandez, the first advancing Ellis to third and the second allowing him to score the Dodgers' second run.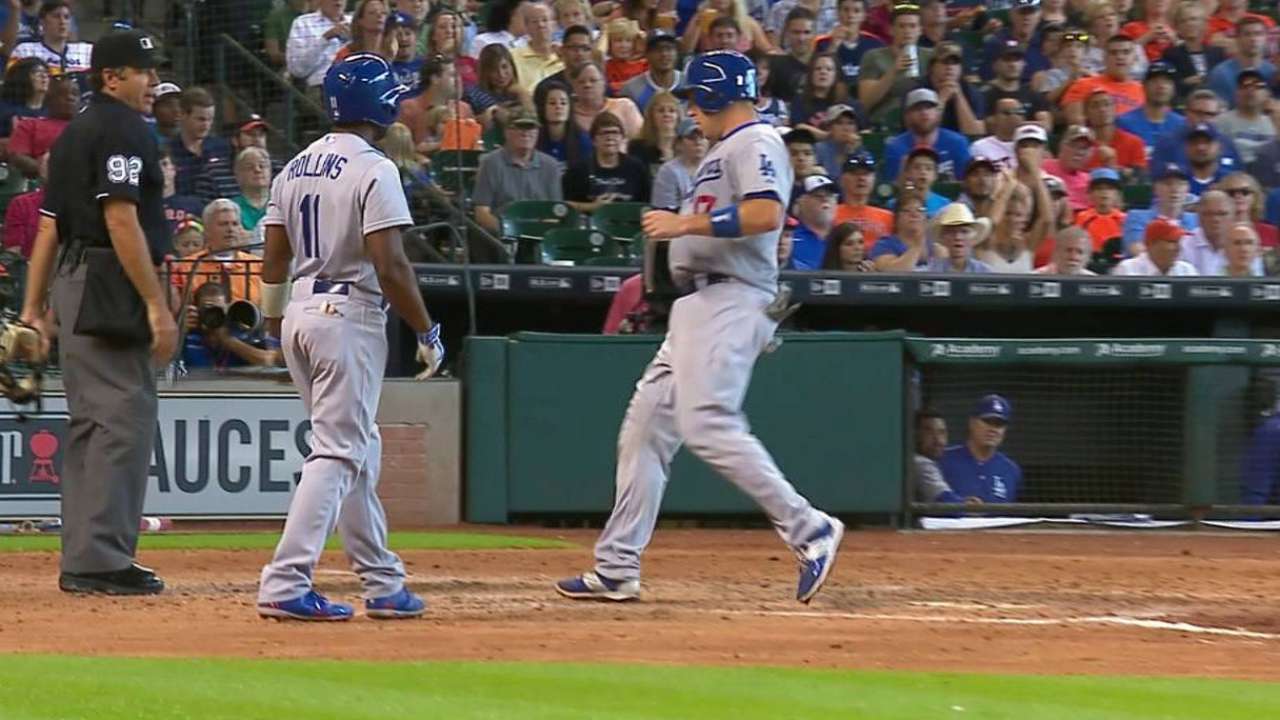 "Little hiatus away, trying to rest up, trying to give myself a break for the run down the stretch. I'm happy to be back," McCullers said. "I don't really feel like a curveball in the dirt by design is a wild pitch. Jason did the best job he can to try to block those. That's where I want to throw the ball, and Jason sacrificed himself doing the best he can to stop it ... it's just one of those things that happened, but we won the game. Jason had a great walk-off home run and caught me great the rest of the time."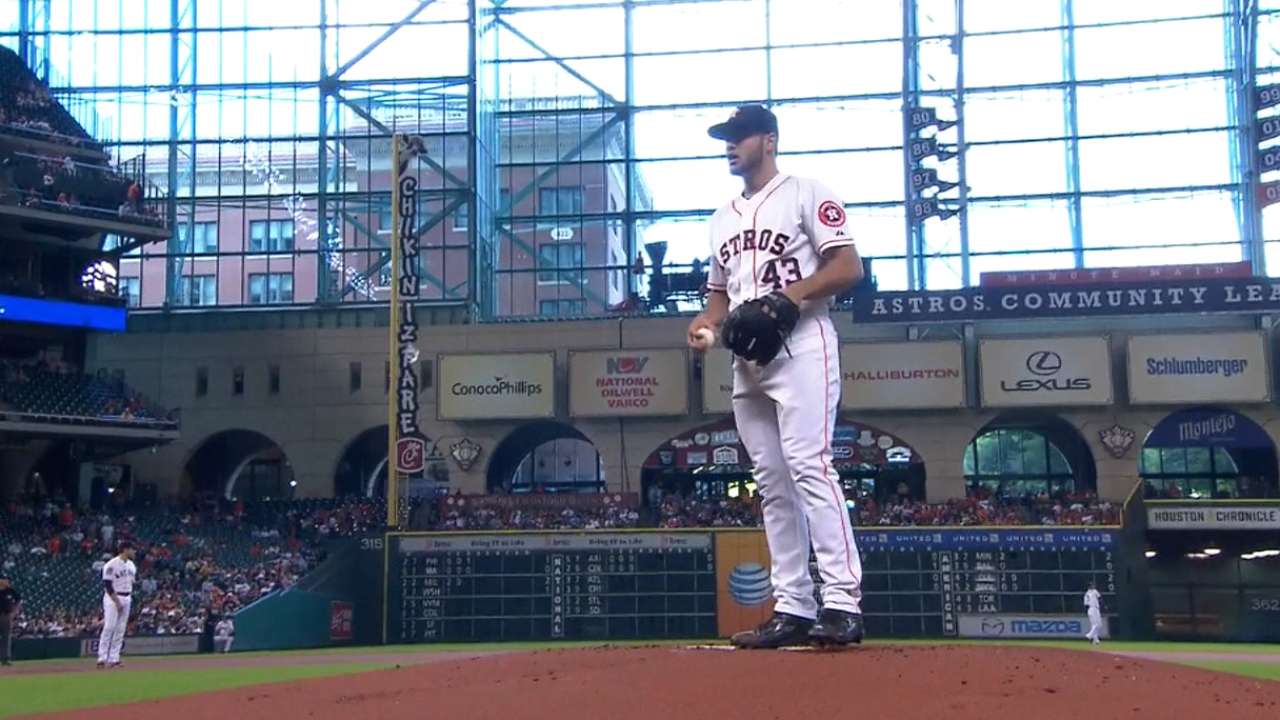 Puig tossed: Puig wasn't having a quiet day at the plate, and his ninth-inning at-bat was no different. The outfielder was ejected for arguing balls and strikes with home-plate umpire James Hoye after striking out. Once Hoye rung him up on a pitch near the low-outside corner, Puig turned in disgust and then dropped his bat as he exchanged words with Hoye. Puig went 2-for-4 and stole a base. More >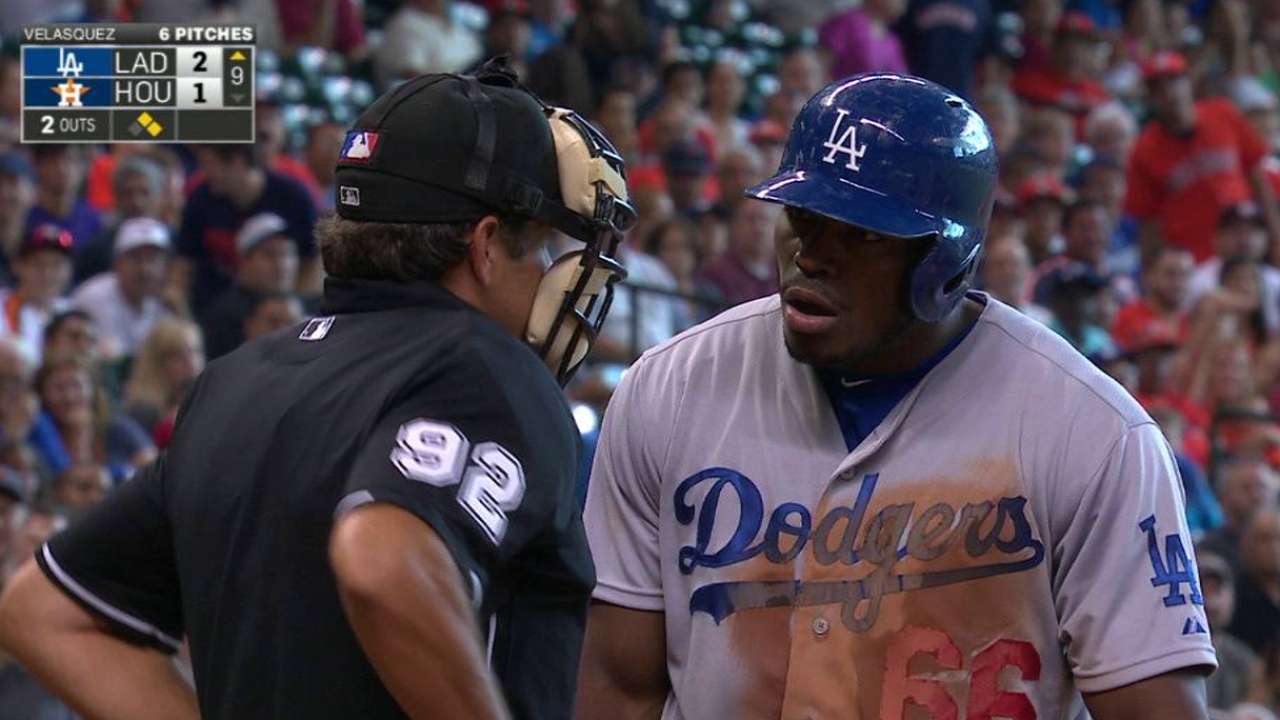 QUOTABLE
"I'm not pitching against Kershaw, man. I'm pitching for the guys in the locker room. I know a lot of people like to make it that, but I'm pitching for the 24 other guys here, not against Kershaw, so I didn't focus on that too much." -- McCullers
"He got crushed in the head. [Catchers] have my respect, they just get beat up. ... Anytime you see them down like that, it's scary." -- Kershaw, on Ellis taking a shot to the head during Gomez's steal attempt
UNDER REVIEW
• Castro's game-winning home run prompted a crew chief review after the ball made contact with a fan as it cleared the wall. The replay official definitively determined that it would have been a home run regardless of the spectator's interference, and the call was confirmed.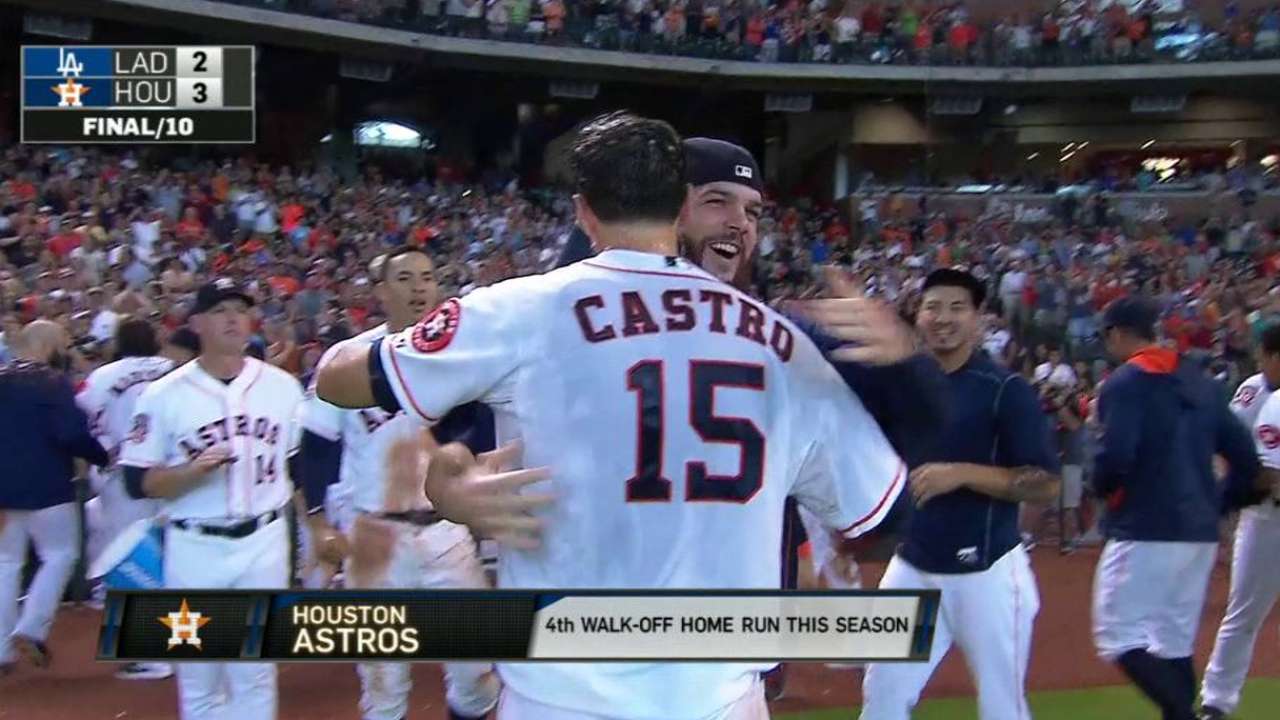 • After Gomez was ruled out on his attempt to steal home in the sixth, Hinch challenged the call, and it was confirmed after two minutes and 10 seconds.
LOWRIE INJURED
Lowrie, who was playing his 20th game since recovering from a torn ligament in his right thumb that put him on the disabled list for 82 games, left the game before the seventh inning began due to a right thumb contusion. More >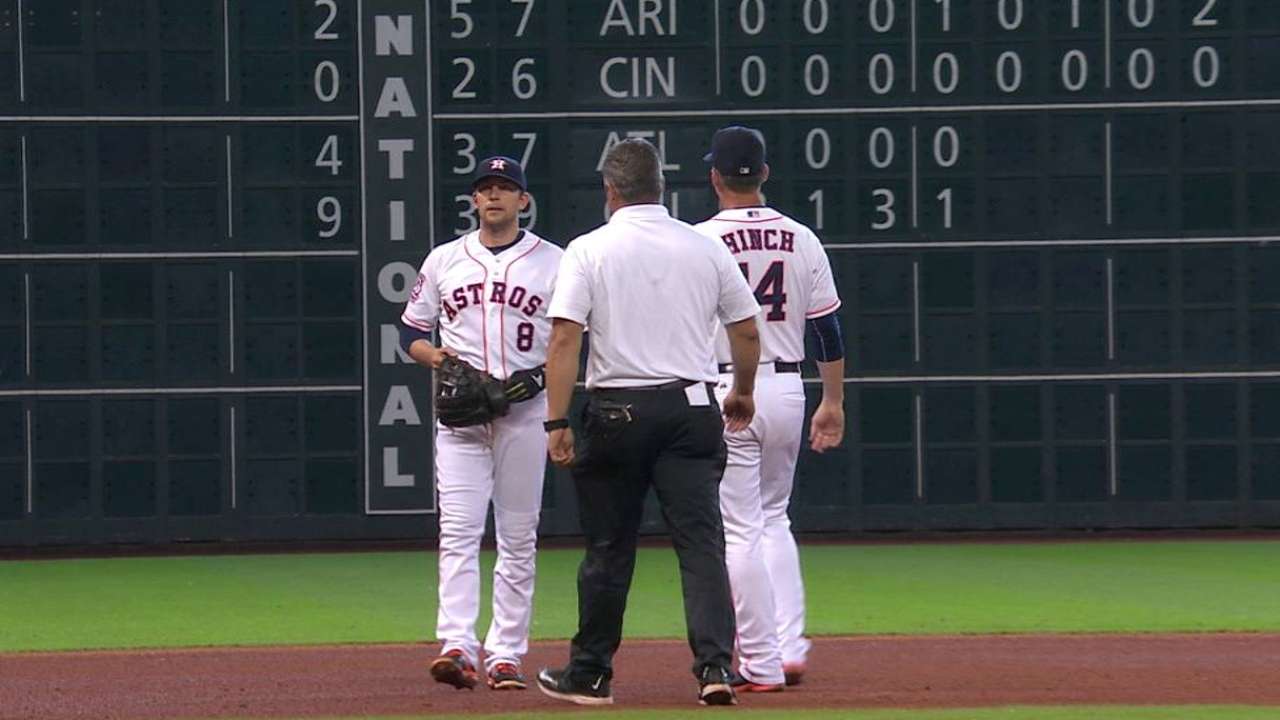 WHAT'S NEXT
Dodgers: An off-day awaits on Monday, but the team hits Cincinnati for a three-game set that begins Tuesday at 4:10 p.m. PT. Southpaw Alex Wood gets the ball as Los Angeles continues to go with a four-man rotation for now. Wood beat the Reds on Aug. 14, with 6 1/3 innings of five-hit, three-run ball.
Astros: Veteran righty Scott Feldman kicks off a six-game road swing, facing the Yankees at 6:05 p.m. CT on Monday in Yankee Stadium. It's Feldman's seventh start since being activated off the disabled list with a torn medial meniscus. In his six prior starts, he'd held opponents to a .260 average with a 2.87 ERA.
Watch every out-of-market regular season game live on MLB.TV.
Chris Abshire is a contributor to MLB.com. Chandler Rome is an associate reporter for MLB.com. This story was not subject to the approval of Major League Baseball or its clubs.