Rays rally in 9th for first time in 50 tries
'Good, now we're 1-49,' says Cash after edging A's for 3rd straight win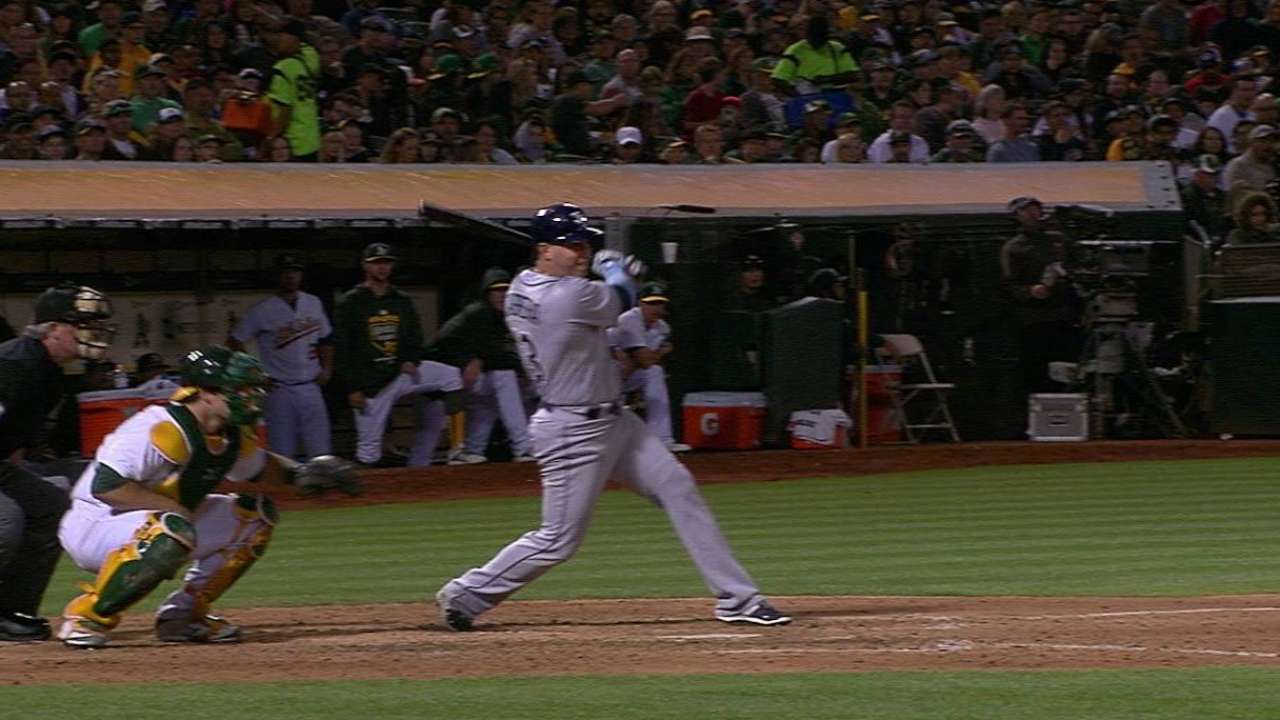 OAKLAND -- The Rays are tied for the most games in the Majors decided by two runs or fewer, so Saturday's 5-4 win over the A's was nothing new to them in one sense.
But the fashion in which the Rays surged from behind was truly unique. The win marked the first time all season Tampa Bay has gone on to win when trailing after eight innings (1-49), as Asdrubal Cabrera's two-run double proved to be the difference.
"I didn't know that [statistic]," John Jaso said. "I guess we hit the reset button and hopefully start a new trend right there. That is really important, coming back. Especially when our pitchers do so well up on the mound, it's great to back them up and get some of those guys some wins."
The Rays hit three solo homers off Oakland starter Sonny Gray, but they still trailed 4-3 heading to the ninth. In the final frame, Daniel Nava walked and Logan Forsythe doubled against switch-pitcher Pat Venditte.
Drew Pomeranz came in to pitch with one out, and Cabrera delivered the game's biggest hit, perfectly placing a ball that whizzed past first base and into the outfield to score pinch-runner Tim Beckham and Forsythe.
Cabrera -- who finished 2-for-4 with a home run and the double -- is now hitting .412 (35-for-85) in 22 games since returning from the disabled list July 28.
"He had a great night," Forsythe said of Cabrera. "Cabby's been swinging the bat so well as of late. We have confidence in all our guys going up to the plate right now. We got some guys that are hot, we got some guys that are back. Just try to keep it rolling."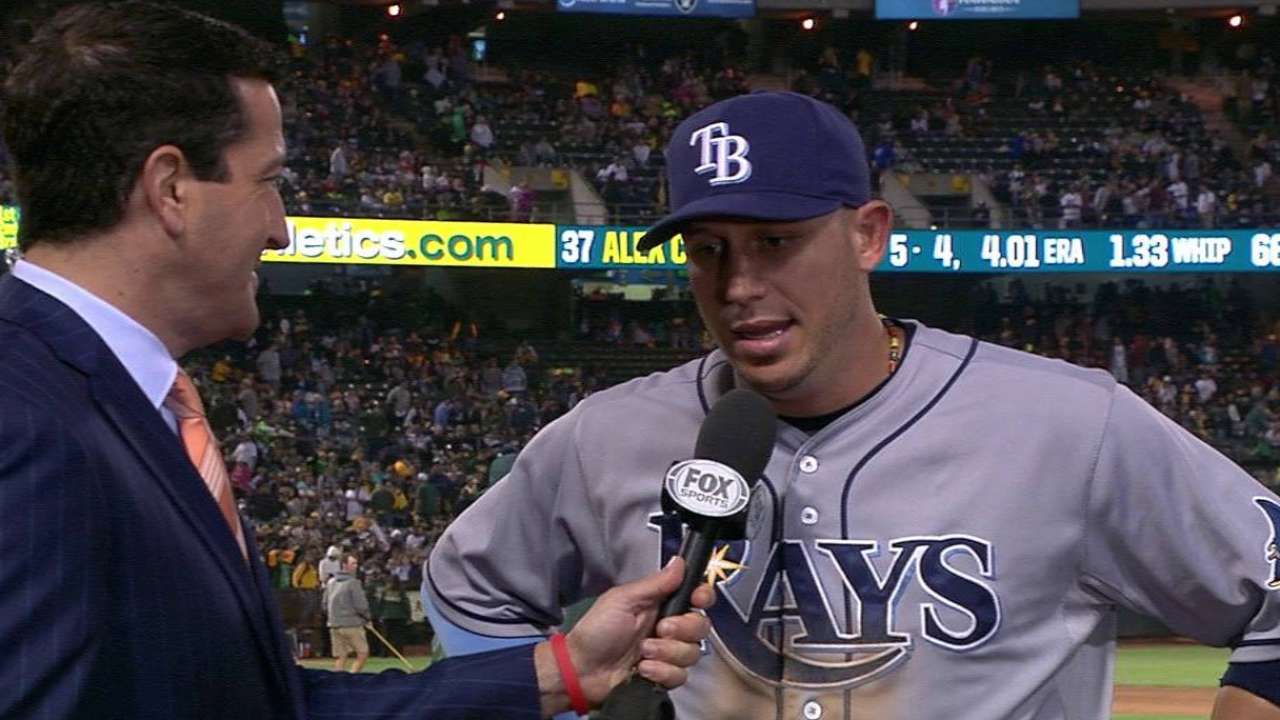 The Rays have now won their past three games by one run (1-0, 2-1, 5-4), a critical trend for a team hovering around .500 trying to make a playoff push.
Manager Kevin Cash was pleased with his team's ability to come back after surrendering the lead earlier in the game. He was also impressed with Alex Colome, who filled in for Brad Boxberger after Boxberger threw 33 pitches the night before.
Colome tossed two perfect innings on just 20 pitches and shut the A's down in the ninth after Oakland nearly came from behind in the final inning the night prior.
"Alex Colome looked outstanding," Cash said, "building confidence by the pitch, by the outing, so good for him. Just a good ballgame. We needed that one."
Cash was unaware his team was 0-49 when trailing entering the ninth inning. When asked his thoughts on curbing that trend, he responded with a simple quip.
"Good," he said. "Now we're 1-49."
Trevor Hass is an associate reporter for MLB.com. This story was not subject to the approval of Major League Baseball or its clubs.