Nicolino enjoys best start, but old foe hurts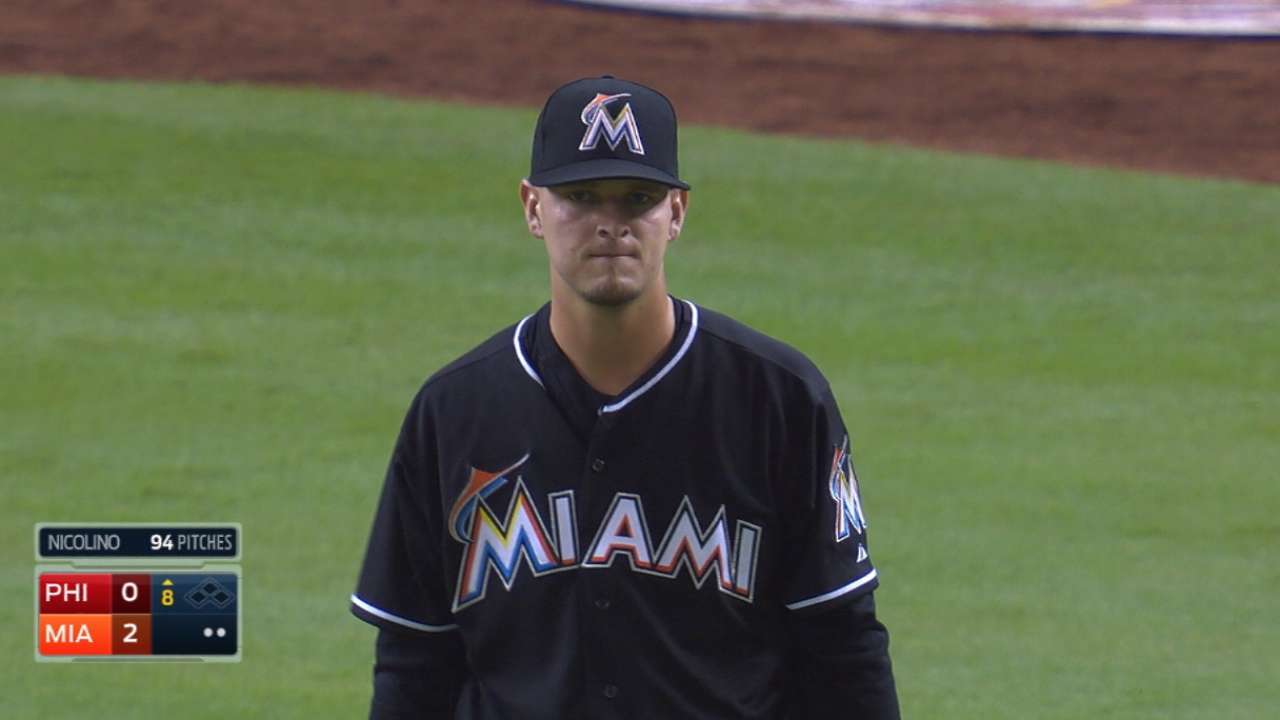 MIAMI -- Marlins left-hander Justin Nicolino made just his fifth big league start on Saturday, and first against the Phillies. But the 23-year-old is no stranger to fellow rookie Darnell Sweeney.
The two previously faced each other in three Pacific Coast League games this season, prior to the eighth inning at Marlins Park. This time, it was Sweeney who had the advantage, belting a home run that helped ignite the Phillies to a 4-2 comeback win over Miami.
Sweeney's long drive aside, it was an overall impressive performance by Nicolino, who enjoyed his best start at the Major League level. The lefty was charged with two runs in 7 2/3 innings, and he exited after 101 pitches. He had a personal high for innings and pitches.
"I felt great," the lefty said. "After that seventh inning, they told me I was going to go up and get that at-bat. I felt good, I wanted to go out there and finish that eighth.
"I got the first two outs quickly, and left that cutter too middle of the plate for Sweeney. I've been facing him all year down in Triple-A. It's been hit or miss, either getting him out or him getting a hit."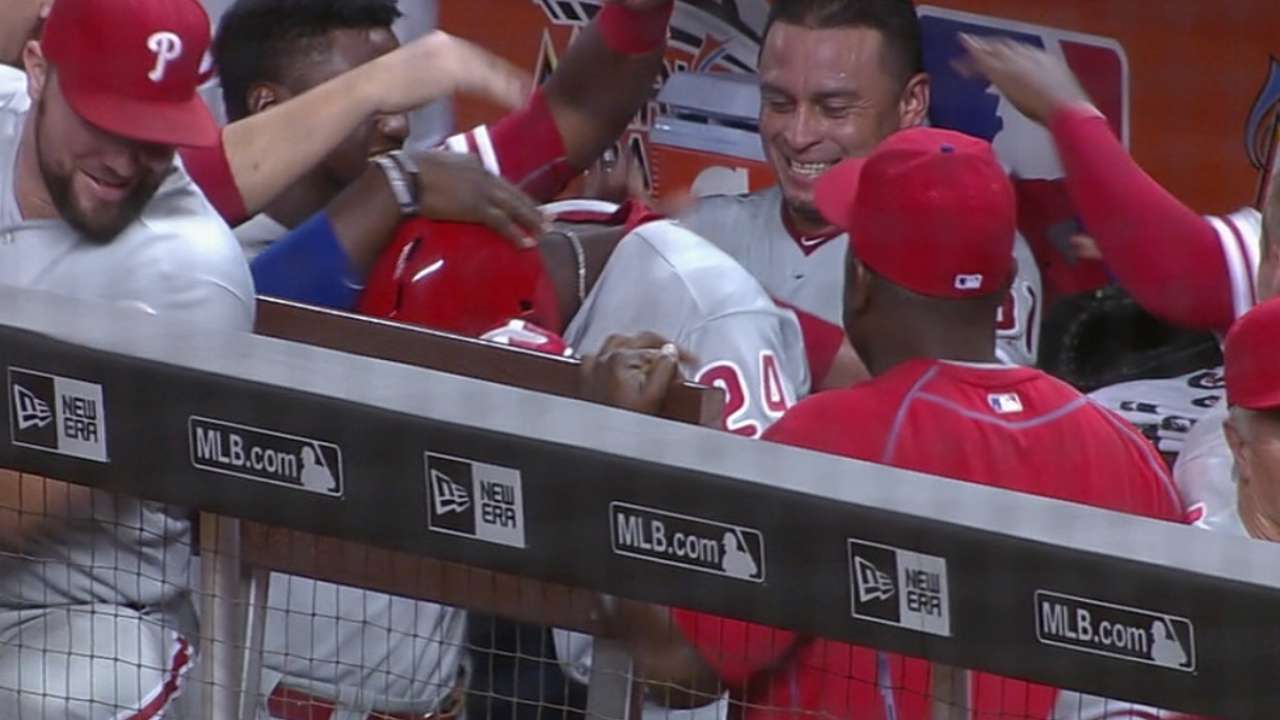 Sweeney had a no-doubter, turning on an 84-mph cutter, which had been one of Nicolino's most effective pitches on the night.
The Phillies acquired Sweeney from the Dodgers on Wednesday as part of the Chase Utley trade.
While with New Orleans, Nicolino made three starts against Oklahoma City, Los Angeles' Triple-A affiliate. Sweeney was 3-for-7 with a double off the Marlins' lefty.
"He put a good swing on it and hit a bad pitch," Nicolino said. "He's coming in pinch-hitting, he's going to ambush. He's looking for something good to hit over the plate. He executed that."
After the two-out homer, Nicolino faced one more batter. Cesar Hernandez slapped a single, and Miami went to the bullpen. Hernandez scored on Andres Blanco's double off Bryan Morris, with the run charged to Nicolino.
"Frustrating loss to waste that quality of a start by the kid," Marlins manager Dan Jennings said. "Nico, he pitched a tremendous ballgame. His pitch count was right where we wanted it to be, going out to start the eighth. He gets the two quick outs, gives up the solo home run. We're trying to get him through that inning. He gives up the base hit, we go get him."
Nicolino projects to be part of Miami's rotation in 2016, and Saturday was a step in the right direction.
"That was the biggest thing, getting the leadoff hitter every inning," Nicolino said. "We let the defense work. We did that tonight. We executed both sides of the plate with the fastball. The cutter was working a lot better, probably the best it's been all year."
Joe Frisaro is a reporter for MLB.com. He writes a blog, called The Fish Pond. Follow him on Twitter @JoeFrisaro and listen to his podcast. This story was not subject to the approval of Major League Baseball or its clubs.