Small ball comes up huge for Twins
Minnesota executes hit-and-run, squeeze in pivotal inning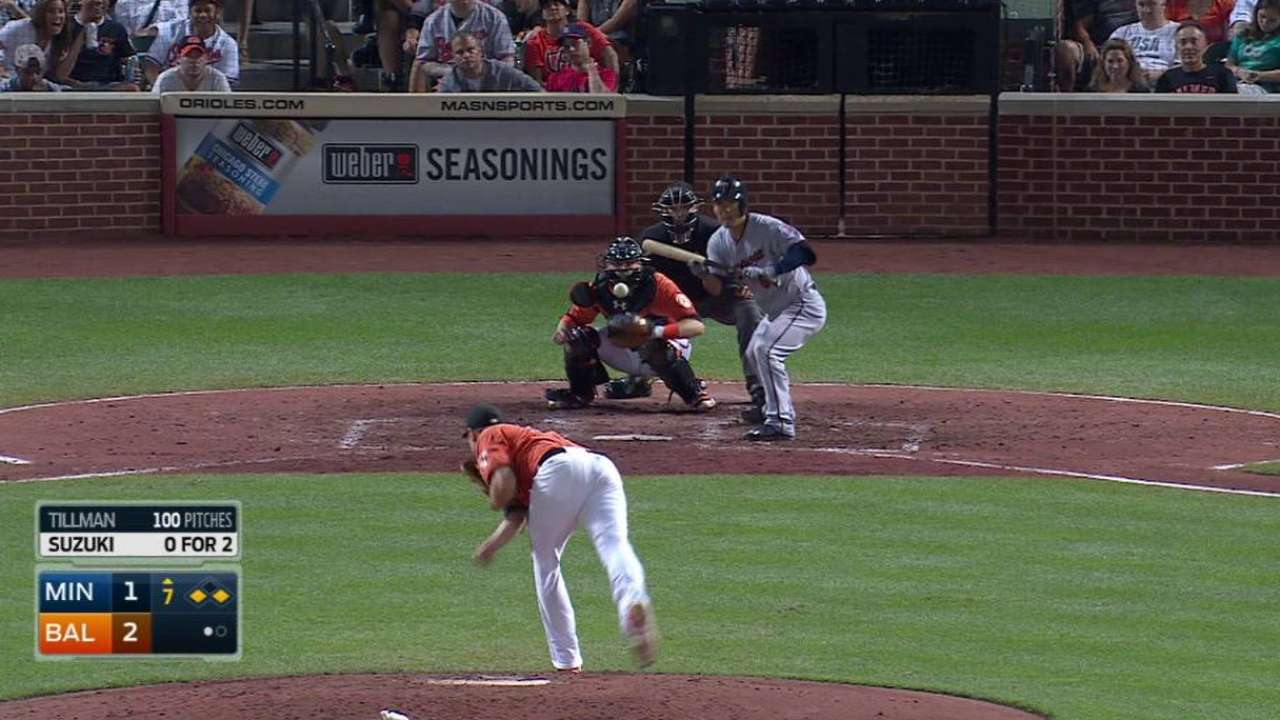 BALTIMORE -- You hear it all the time, "The little things matter." It's one of the most overused sayings in baseball, but the Twins proved its validity in Saturday night's 3-2 victory over the Orioles at Camden Yards.
Minnesota's seventh inning was as good an example as any for how to manufacture runs, as it included a leadoff walk, a hit-and-run, a safety squeeze and an RBI single.
"We have to do the small things for us to have success," outfielder Torii Hunter said. "We have to execute and do the little things possible that we can, whether it's getting guys over, hit-and-runs, bunts, whatever we have to do."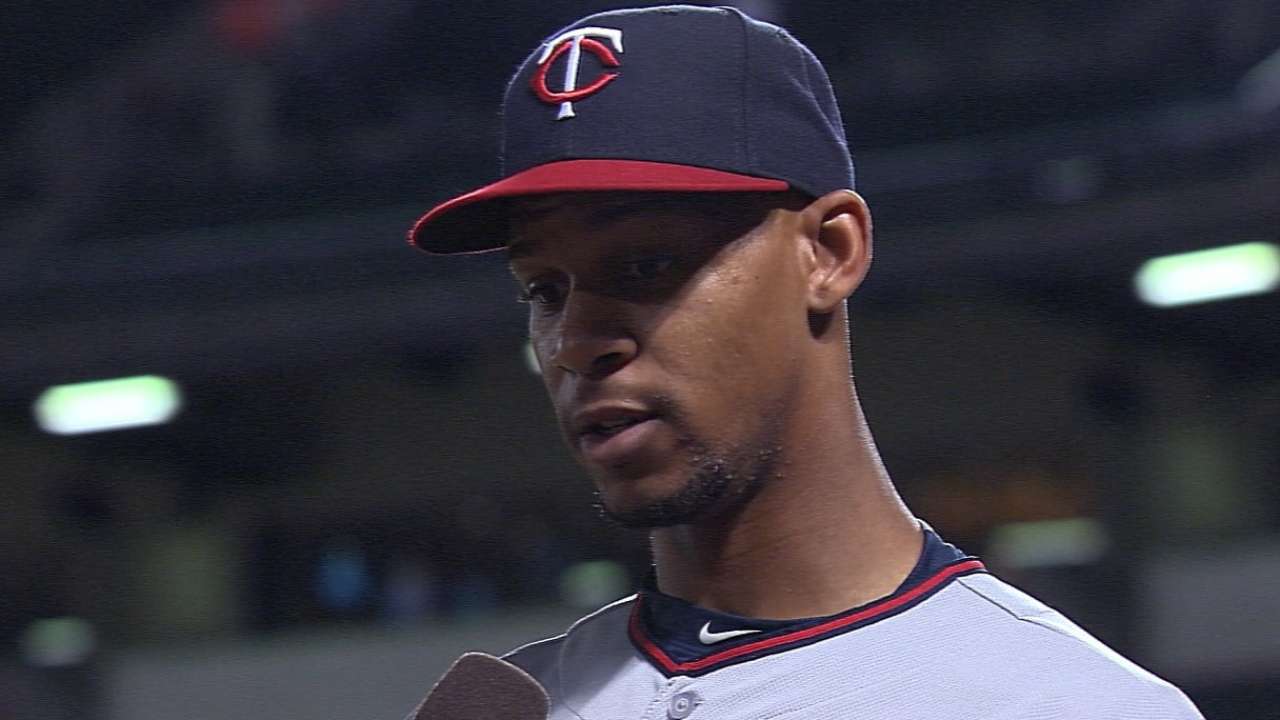 Eddie Rosario got it started with a one-out walk off Baltimore starter Chris Tillman before the Twins executed their first important play of the inning. Hunter, who was 0-for-2 heading into the seventh, perfectly executed a hit-and-run single, grounding a ball through the right side of the infield with second baseman Jonathan Schoop running to cover the bag.
Rosario rounded second and headed for third, sliding in safely to set up runners on the corners with one out.
"I like hit-and-runs," Hunter said. "I always like hit-and-runs and [Twins manager Paul] Molitor knows that. When he puts it on, I'm excited. Even if I was hot, I like hit-and-runs regardless. Especially when a guy is pitching well, [Tillman was] doing great things. If we can get a guy on first with his two-seamer today, it was just fitting do it. Molitor saw it, I felt like it was the right thing to do, so why not execute?"
Molitor said the hit-and-run set up the inning for the Twins, but Kurt Suzuki produced an equally big play, tying the game up with a safety squeeze -- that he called on his own -- down the first-base line.
These two plays and an intentional walk to Eduardo Escobar set the table for Minnesota's No. 1 prospect, Byron Buxton, to collect his first Major League RBI with a line-drive single to left field that drove in Hunter.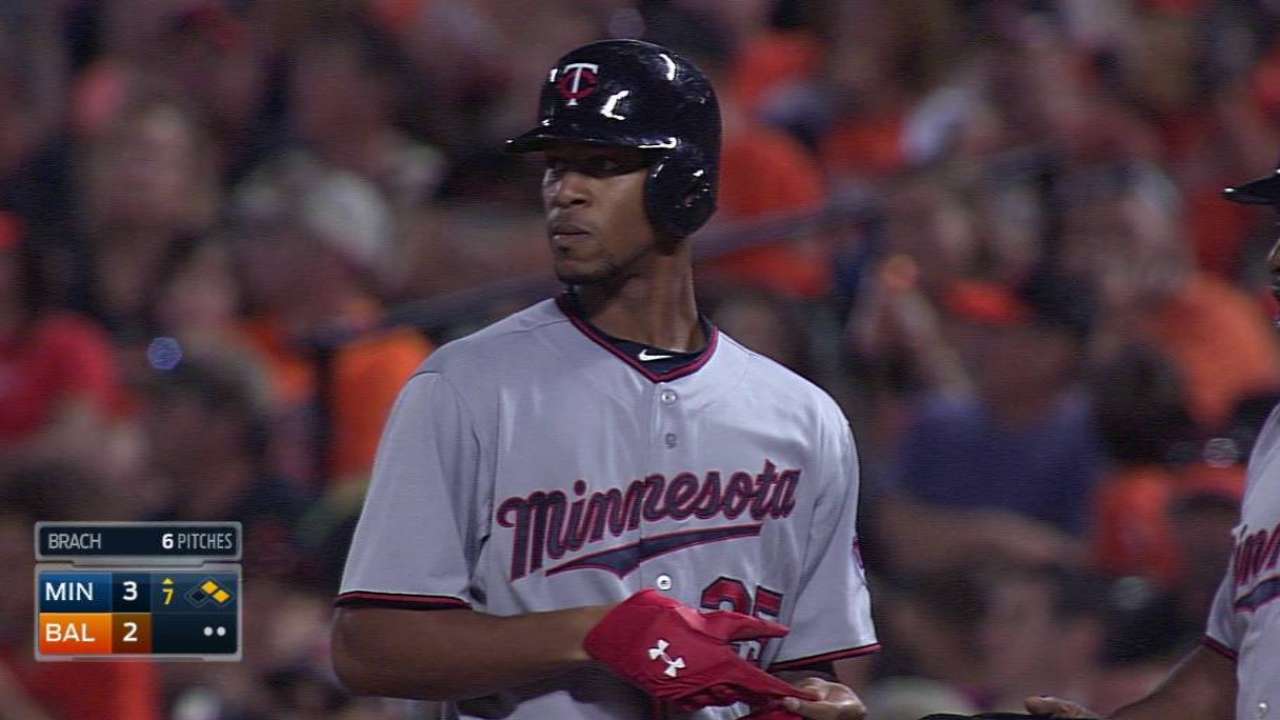 "He's a young kid who is extremely talented and he is kind of finding his way up here," Molitor said of the 21-year-old center fielder. "There are going to be days where it's going to be a little challenging for him as he adjusts to what the pitching is like up here on a regular basis. But it was nice to see him get his first RBI in a big situation."
Following the game, Buxton -- who idolized Hunter growing up -- had the 40-year-old veteran sign his first RBI ball. It was a storybook moment, but one that was only possible thanks to the "little things."
"We executed a hit-and-run, went first to third, Suzuki had a suicide squeeze and 'Buck' came up with a big hit as well to get the go-ahead run, so we did everything we possible could," Hunter said.
Connor Smolensky is an associate reporter for MLB.com. This story was not subject to the approval of Major League Baseball or its clubs.